It is that time of the year when I get up at an ungodly hour to join my fellow nerds, geeks, cosplayers and other pop culture fans at Emerald City Comicon 2009. It is the 7th year of this convention and I am proud to say I have been to every one so far.
So I got up at 5 am to catch a 6:20 ferry to Seattle. As we neared Seattle, I went out to get some pictures.
Hey Safeco Field, see you in a couple weeks.
Prerequisite Space Needle picture.
I got to the convention center and there was not much of a line at 7:30. The con opened at 10am.
Around 9am they let us into the outer hall and we got our badges and lanyards. The line in front of me.
The line behind me.
DEAR LORD! WHO IS MANNING THE INTERNET!?!
Anyway I headed straight off to get the exclusives (more on those later) and then off to shop. And that is basically what I did until lunch. I ate a lunch I brought with me to save money and ran into the Bacon Salt Bacon Man.
He was handing out free samples of Bacon Salt. Can't wait to try it.
Anyway the costume characters started to arrive. I got my picture with Marvel comic's Scarlett Witch and Black Widow.
Near the end of the day was the Costume contest. I know the guy who does the official photography, so I went to help out. We set up the backdrop and started to get people to come out so we could get their pictures before the contest. Since I helped with set up I got a front row spot to take pictures.
We started with the kids since they were there. i should note that these are not all the pictures, just some of my favorites.
Hellboy and Abe Sapien (they won the kids costume category).
Asaaj Ventress from Star Wars the Clone Wars. What I like best about this costume (besides it's accuracy) is how it was entirely handmade. No store bought lightsaber toys here.
(hmm, face is a little over exposed, oh well.)
This guy dresses as Akuma every year (he was not in the competition) and he knows how to pose for the camera.
A great Xena
Batgirl
Kitty Pryde. Notice we had her pose like she just came through the wall. Also she has a little purple on her shoulder.
A great Joker. There was also a really great one from the movie. He looked, sounded and had the mannerisms of Heath Ledger's version of the character. Unfortuntely, I did not get a good pic of him.
A Halo Recon armor Spartan. ( At least I think it is a Recon Armor)
Battle Beast from Invincible
Speaking of beast, Beast from the X-Men
Wonder Twin powers, ACTIVATE! These two won a prize as well.
hey its the Scarlett Witch and Black Widow again.
Velma Dinkley from Scooby Doo. Normally I hate Scooby Doo, but for her I will make an exception. LOL
Next up was Cthulu. We could not pass up on a chance to have these two interact.
Velma should have called the next group. They might have been able to help.
Ghostbuster backpack. They had tons of LEDS in them. Very realistic looking.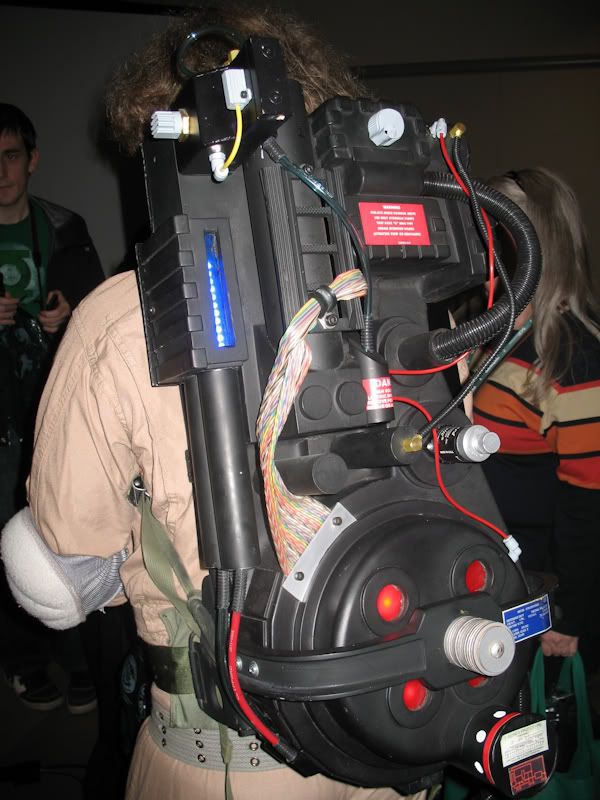 By the way, Ghostbuster won best in show.
Last group of costumes were this Watchmen Inspired group. They won in the movie category.
Silk Spectre I up close. She said she had to use a lot of gel to get her hair like that.
That is it for day one. I will post Day 2 momentarilly.