Last summer, after a lifetime of camping in drive-up sites with BBQs and tables, the boy and I made some brief forays into the world of backpacking (
http://micechat.com/forums/other-the...cho-photo.html
). This year, we expanded our horizons, and secured a wilderness permit for the weekend of the 4th of July in Yosemite. My neice was supposed to go, but (engage bragging uncle mode) she just graduated Phi Beta Cappa from Berkeley and has to get set up at NYU Law School for her first year on a full scholarship (disengage bragging uncle mode).
We had some traffic issues in Escaon and Oakdale on the third, but no expected wait at the entry to the park. Picking up our permit as entered, we drove to Porcupine Creek on the Tioga Road, away from the holiday mob in the valley.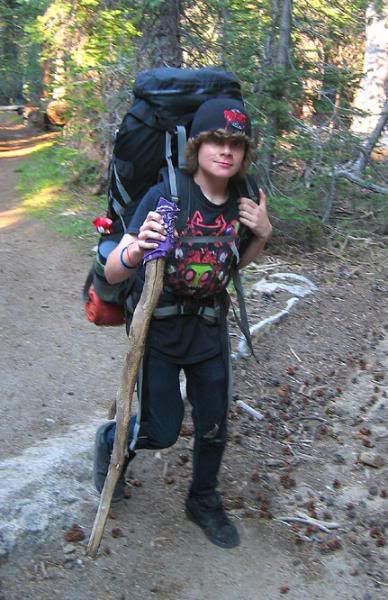 Hiked in about 2.5 miles or so, and found a campsite off the trail, with a nearby creek.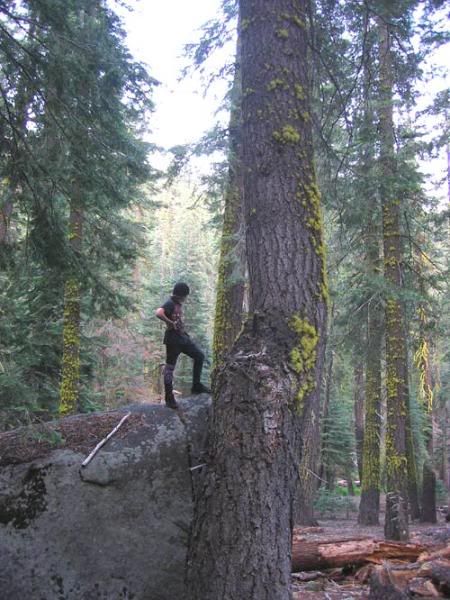 We had a bit of time to explore the immeditae area before hitting the bags after eating freeze-dried speghetti from a bag. Tip: pour in less water than they say unless you like speghetti soup!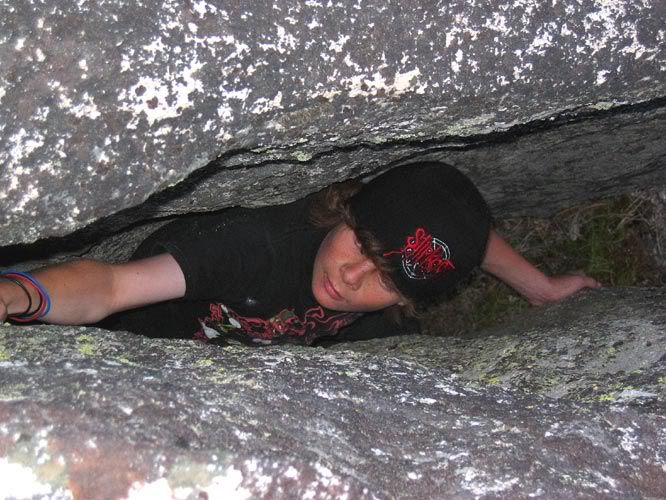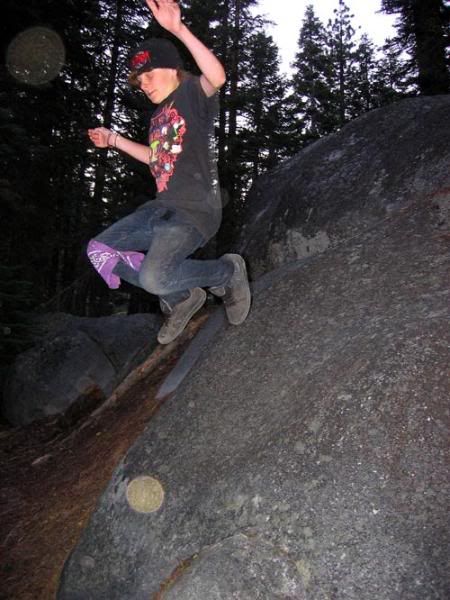 Out the next day, we got on the North Dome trail, and finally left the forest behind for some open views. We had no worries about the safety of our equipment, because we had left about 9,000,000 mosquitos on guard.
Did you know there are 2 natural arches in Yosemite? One is underwater, and I bet half the people that see the other weren't aware of it in advance. It's on a spur trail to Indian Rock, and well worth the 1/4 mile detour, especially if anyone like climbing rocks.
At least he's good at sizing it up before he attempts it.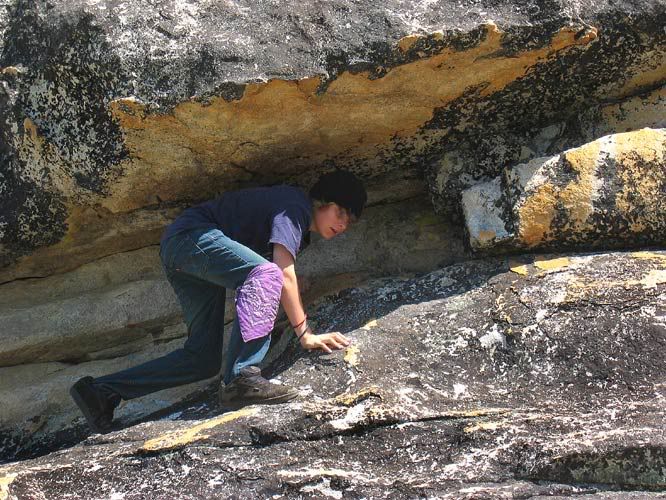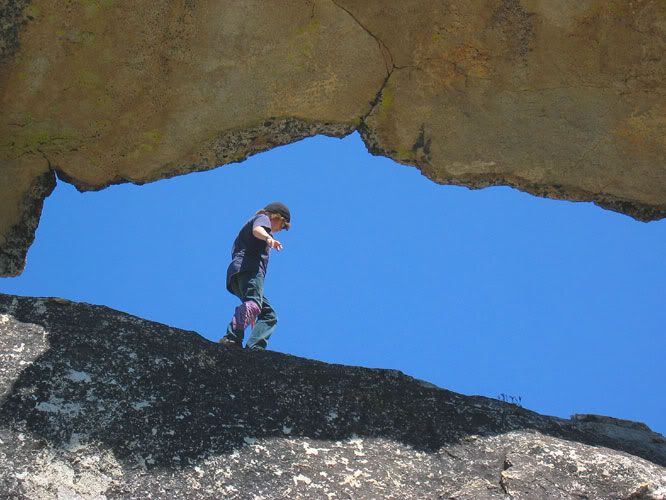 This is also where we got our first views across the Valley (for reference, our trailhead was about five miles north of the rim) to Half Dome.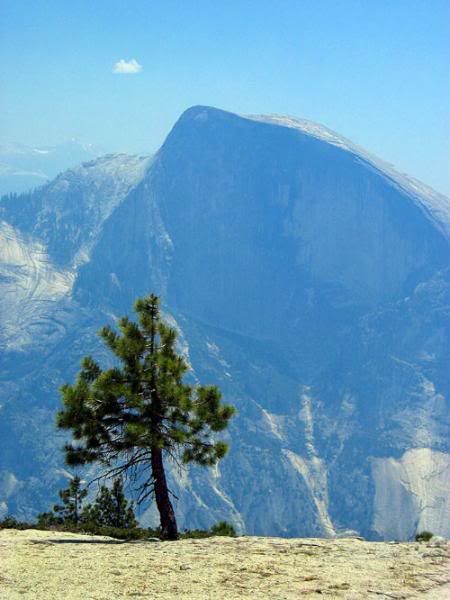 There were a couple of lightning fires and controlled burns, so there air was smoky, and visibility was noticeably impacted. We pressed on to North Dome. From the point where the following photo was taken, the trail descends to the trees, then goes up the dome. You do not want to slip on that descent, part of it was pretty sobering.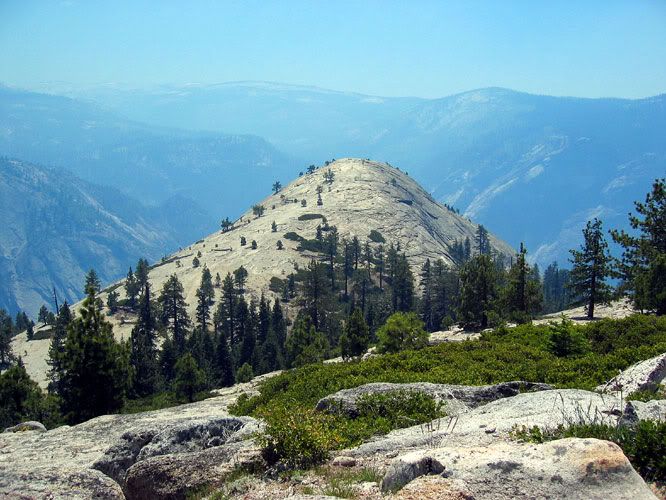 This dome is across from Half Dome (which used to be called South Dome), and it's a viewpoint not many experience.

The boy was exhausted when we returned to camp, and went for a lie down after beef strogonauf in a bag (He likes It! Hey, Mikey!). I decided to go up, and even got above the mosquito line.
The next morning we lugged our gear up to the car, after filling the water bottle, emptying out the little critter that was scooped up, then filling it again.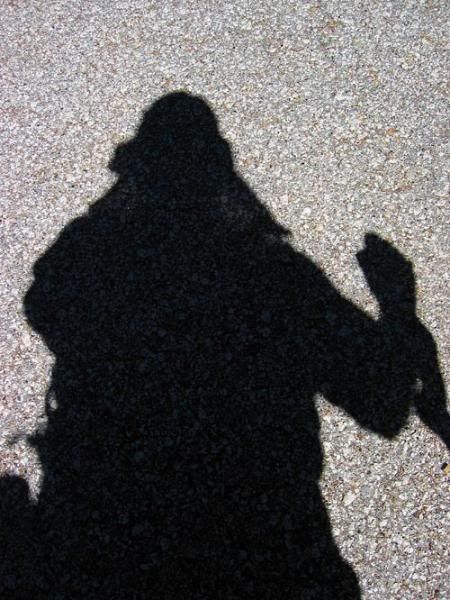 The ancient Romans used to begin their communal baths by being oiled and scraped, and after three days of accumulating layers of dirt, sweat, DEET, sunscreen and sanitizor, I felt due for a good scraping!
We knew we would want some proper food after nuts and dried fruits, and had scoped out our options on the way up. As we began our drive towards the Bay, we made a beeline for Stan's BBQ in Groveland.
Ribs weren't quite fall off of the bone, but they were moist and smoky; seems to be a couple doing everything, and they opened only recently.
Even though we're novices to the backpaker's world, we seem to do OK. Although there were things we may have wanted, there was never anything that we needed but didn't have. Well, a Sherpa, mule or llama to tote everything wouldn't come amiss. Thanks for taking the virtual journey.
A bientot.