Top Halloween Activities For Southern California - 2009

It's that wonderful time of year again, leaves are starting to turn colors, the dusk air is cool and crisp and screams can be heard drifting across the night sky. Its time for the yearly round up of haunted attractions that you might care to partake of. Let's see what's out there to scare the stuffing out of you:
Knott's Halloween Haunt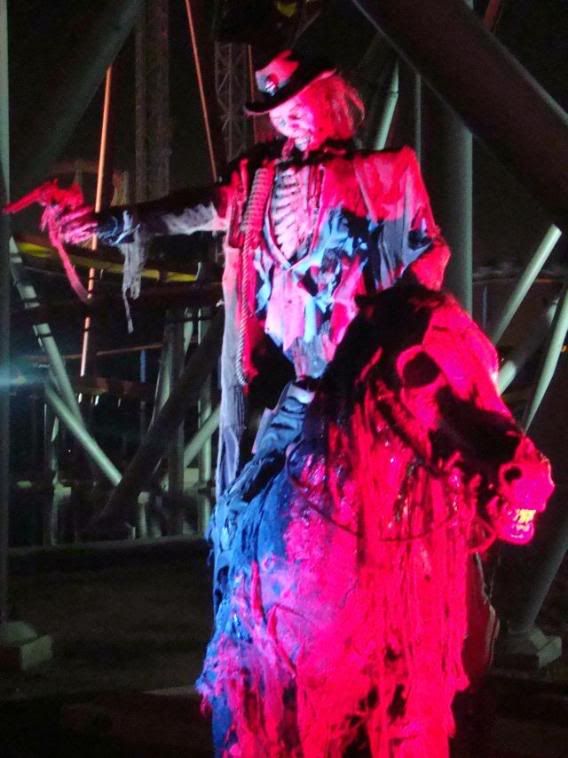 All you fear is here....the new logo for Haunt pretty much says it all, from a fear of clowns, creepy spiders, hungry vampires, and a full scale prison riot to sliders racing out of the fog at you, there is something for just about everyone at Haunt this year. Look for Haunt to be open every Wednesday through Sunday for the rest of October. All their info can be found at the Haunt
website
and a lot of behind the scenes photos can be found at the
Knott's Twitter site
as well.
MiceChat Video From Knotts Scary Farm (by Sir Clinksalot):
[ame="http://www.youtube.com/watch?v=k5z9JBJnYAY&feature=player_embedded"]YouTube - Knott's Berry Farm Halloween Haunt 2009[/ame]
Halloween Horror Nights-Universal Studios Hollywood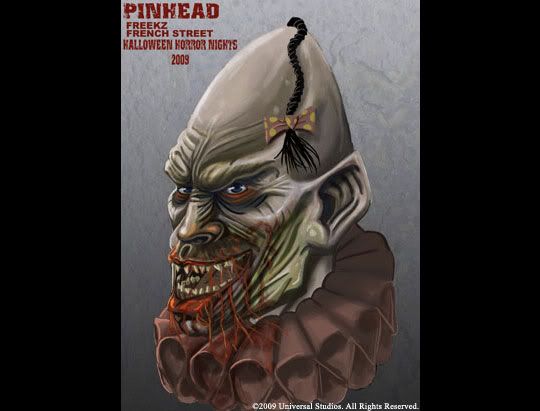 HHN returns for its third year with all new mazes based on some familiar horror movies, all new street zones and all new shows. They've got a lot on their plate, but if the last two years are any indication, they know how to present eyepopping sets in their mazes. HHN's Creative Director, John Murdy, has been very active on
HHN's twitter page
and has given a very interesting insight as to what goes in to making HHN such a great event. This year expect to cross paths with Billy from SAW, Michael Myers from Halloween and even walk the same streets as characters from Shaun of the Dead plus a whole lot more. Ticket info, dates and hours can be found at the official
HHN Hollywood website
.
Fright Fest at Six Flags Magic Mountain
Magic Moutain is once again offering Halloween creeps, roller coasters in the dark and even some activities for kids that might find haunted houses a bit too scary. According to their
website
:
Fright Fest offers 13 days of terrifying haunted mazes, roaming zombies, the scariest clowns on the planet and new shows ... leaving no tombstone unturned to bring the ultimate sensory overload for every range of fear. For the little monsters, a Trick or Treat Trail, Scaryoke and Costume Contest in Bugs Bunny World round out the activities.
October 3-4, 9-11, 16-18, 23-25 and 30-31.
While your admission to Magic Mountain for the day also includes nighttime admission, there is an upcharge to go through their various mazes. There is, however, no upcharge to ride Colossus backwards.
The Empty Grave
This year the Anaheim GardenWalk is home to The Empty Grave haunted attraction. Formerly known as The Haunted Cellar, this haunt house has spawned many Knott's Halloween Haunt monsters and puts on a great show every year. Their
website
even hosts a legend that their house is based on:
Late at night you can see him there, behind the rusty gates, the grounds keeper of the old cemetery . An eerie presence, like a ghost, amidst the graves in the darkened landscape.
Standing there for years, listening. Listening to the storiesof the dead. Stories of vengeance, and hate, filled with bitterness, anger, and unrest. The ground was full of fury.
A fury only he could understand...
Be sure to visit their website before you head over to the GardenWalk for a coupon to save on your admission to The Empty Grave.
Sinister Pointe
Home of the SAW Haunted Attraction in 2008, Sinister Pointe returns this year with two all new mazes Fear and the Konami sponsered maze Silent Hill based on the popular video game and movie of the same name. Located at the Brea Plaza Center in Brea, Sinister Pointe opens October 2nd and runs through October 31st. Ticket pricing and FAQ answers can be found on their
official website
. Be sure to listen for the music in both the Fear maze and their scare zone Slaughter Yard, it was composed by our fellow MiceChatter JonAutopsy!
Shipwreck
The Queen Mary in Long Beach is once again home to Shipwreck this Halloween season. Featuring five mazes and a 20,000 square foot dance party known as Club Dread, Shipwreck is hoping to be a force to reckon with in the Southern California area. Dates, hours and ticket prices, including month long passes, are available at their
website
.
Castle Dark

This October Castle Park in Riverside turns into Castle Dark after the sun sets. Not only are they featuring the return of the Chambers of the Mausoleum maze, but they are also an updated Terror on the Tracks attraction. As seen on their
website
:
Be one of the first to explore the crypts above, then ride the elevator down into the depths below and wind your way through the dark. Then hop aboard Terror on the Tracks for a thrilling spectacle of circus clowns gone awry.
Coffin Creek
Also out towards the Riverside area in Corona is the Coffin Creek haunted attraction. Heading into its second year of operation, Coffin Creek boasts a legend based on events back in Corona in 1938. Here's a taste of that legend from their
website
:
As the flood waters subside from 2 week of flooding, 13 coffins were discovered in the wooded area next to River Rd and Archibald Ave in the city of Corona. "The coffins are believed to from the abandoned Guasti Cemetery in the city Ontario" said Officer Willmans. Officer Willmans went on to say "The coffins were found by some locals floating
in a small creek that runs through the woods. The authority's and locals started referring to this area as Coffin Creek....
To read more be sure to visit their site.
The Haunted Hotel/Del Mar Scream Zone/Haunted Trail of Balboa Park
Those in the San Deigo area have a triple threat of Haunted Attractions to enjoy this year. The Haunted Hotel in the Gaslamp District, Scream Zone in Del Mar and The Haunted Trail in Balboa Park. All three attractions have unique mazes and you can even find a haunted hayride at Scream Zone. Information for all three events can be found at
one convenient website
.
The Legend of Boot Hill
Located in Irvine this home haunt is celebrating its 10th year of scares, known as its Decade of Decay, and will be open starting October 23rd. Admission to Boot Hill is free, but they do accept donations with a portion of the proceeds benefiting the Children's Hospital of Orange County (CHOC). Be sure to visit
their website
to read up on Boot Hill's legend and to find out how to visit them this October.
Pirates of Emerson
This one isn't in SoCal, like the rest, but it is a good one. One of the Bay Areas most well known haunts is Pirates of Emerson located in Fremont, California. This haunted attraction has been featured on the Discovery Channel's show America's Scariest Haunted Attractions and returns this year with an impressive six attractions in their compound. To find out more and to buy your tickets see
their website
for more information.
Old Town Haunt
Descend into the basement of the historical Union Savings Bank Building where mysterious occurrences have taken place in the buildings' deadly 107 year history. In fact, something lives down there in the dark....not some one, but some thing. The basement that was sealed shut for decades is being reopened for your investigation into the unknown, what will you do when the catacombs and darkness surround you!
Ticket information and dates of operation for Old Town Haunt in Pasadena can be found on
their official website.
As always this list could go on and on and on. And that's just what we here at MiceChat would like to see happen.
Do you have a favorite haunted house where you live? Feel free to link its information in this thread
so that others who might be in your area can have a chance to check out all the spooky fun this Halloween season. And if you can't make it out to any of these chilling locations, be sure to stay tuned to MiceChat for haunting trip reports and you can always follow
@IsItOctoberYet on Twitter
for real time reviews of some of the haunts listed above during October.
As the Mistress of the Dark herself, Elvira, would say
"Unpleasent Dreams...."