Our friend at the OC Register, Mark Eades, has shared the sad news that Bud Hurlbut passed away in his sleep last night at the age of 93. Bud is most fondly remembered for building Knott's Berry Farms Calico Mine Train and Timber Mountain Log Ride. He was an industry innovator. And though his name may not be as well known as those who built Disneyland his impact on theme parks was equally important.
Bud's Mine Train turned 50 years old last year. In commemoration, we ran the following photos in our In The Parks column. We hope this gives you an idea about the strength and determination of one man to accomplish so much with so little ...

CALICO MINE TRAIN TURNS 50 YEARS OLD NOV 22th:
On November 22nd, 1960, passengers first boarded the Calico Mine Train ride at Knott's Berry Farm. It was only months earlier, in May of the same year, that Disneyland had opened the Mine Train through Nature's Wonderland attraction at Disneyland. With very similar ride systems and theme, comparisons were inevitable. After 50 years, this brilliant family attraction continues to endure . . . and delight.
We spoke with Chris Merrit (co-author of Knott's Preserved
) and
Harry Suker (Bud's right hand man
) for this tribute, their help on today's article and love for this attraction are profound.
Bud Hurlbut was the man responsible for designing some of the most memorable Knott's attractions. In the early days, each attraction was independently owned and operated. Bud was the first person to be allowed to build multiple attractions in the family owned park due to his meticulous attention to detail and upkeep. When Walter Knott decided to demolish the
Mark Smith Horse Show
arena which once stood on the lot of land where the mine ride is today, he enlisted the help of Bud to build an attention grabing attraction. And that's exactly what they got.
Walter Knott worked closely with Bud over the years - particularly during the design of the Calico Mine Ride. Bud (now in his 90's) recalls, "So, I started drawing up a dark ride. One day I was looking at it and Mr. Knott said he'd like to bring to my attention that this area was pretty good land. He said, "That's the best there is in Knott's, right there in Calico Square. You better think about what you're doing, don't come in here with a Bewitched Village or some other thing!" Bud knew it had better be good.
The employee newsletter, 'The Knotty Post', reported that there was an overall joint investment of $750,000 between the Knott family and Hurlbut initially. The concept started out as a two-story dark ride, with little cars carrying two people at a time. Eventually, Bud's ideas turned that into a seven-story building with engines that carried upwards of 50 passengers at a time. The estimated final cost was close to $1,000,000 by the end. Just think about what a tremendous sum that must have been to come up with in those days.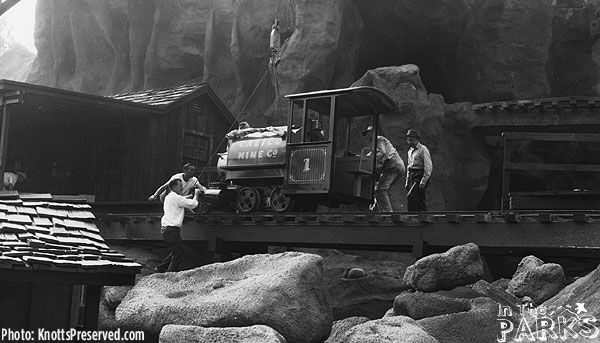 Bud began early concepts along with Dick Bagley and Harry Suker sometime in mid-1959. The Mark Smith Horse Show arena was cleared by Fall of 1959, and they started construction in earnest soon after. During the design and development stages, Walt Disney would often stop by and offer advice. He was a model train man and this was the ultimate train set.
The mine was a unique attraction. It would take passengers on a ride through the dark and sometimes scary caverns of a working Mine presenting many technical challenges. The passageways would be very tight and confined, and that led to but one of many challenges. Bud didn't want diesel or gasoline to be used on the engines, as the exhaust fumes within the narrow, low-roofed and claustrophobic tunnels inside the attraction would have been unpleasant to smell - and possibly even dangerous. He purchased modern battery powered mining locomotives, built by General Electric. The final theming to make them look like engines of the 1800s would be done by Hurlbut.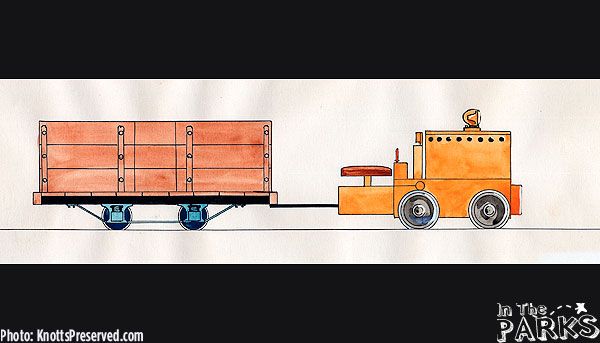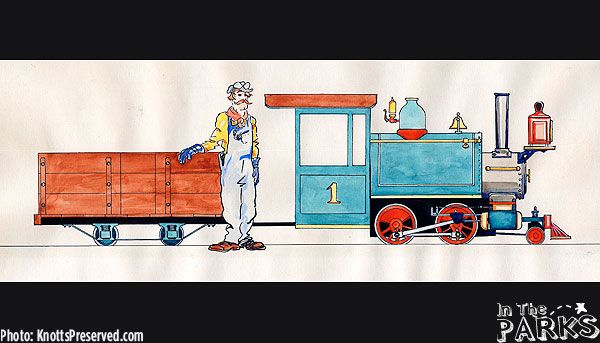 Another unique feature of the ride was its indoor lift hill, located mid way through the attraction, which pulled visitors up into the breathtaking glowing cavern scene. Bud himself developed the enforced chain drive that was specially engineered to pull the trains up a very steep grade. The lift hill also reversed engineering convention seen at every other theme park in those days by placing the motor for the chain lift at the top of the hill rather than at the bottom.
We spoke with Harry Suker about the construction of the ride and learned that the most challenging aspect of the construction had nothing to do with these new ideas, but rather with financing. Harry mentioned, "When you have a project like this, you are always running over cost, you cant foresee these things. We were building everything from the ground up." Bud initially paid for everything himself, including rent of the land (a standard agreement of concessionaires at Knott's in the earlier days) and all demolition of the mammoth concrete arena for the former horse show. Hurlbut had to sell almost all of his holdings to finance the attraction - including his ranch, his home in Whittier and his brand-new Cadillac. He says, "...I didn't have nothing else to sell... my wife and I drove around in a pickup!" He finally came to Walter Knott and told him he didn't have enough money to finish the construction. Bud recalled, "So, I had to go to Mr. Knott and tell him, 'Hey, I'm down to the bottom of the barrel.' And he says, 'Well, you know what you're doing, right?' And it was the only time I really didn't tell him the truth. I said yes!" Walter Knott told him that he didn't have to pay rent for a while, and that he would help by making a promotional film to advertise the attraction - 'A Family Builds A Mountain' - which was shown on television throughout early 1961.
The long awaited day finally came "We opened and the ride worked. Many were skeptical" said Suker. People came from far and wide to see this brand new family attraction and it turned out to be a smash success.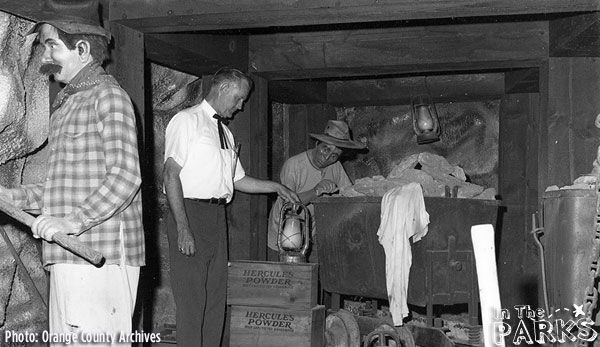 Hurlbut inspecting the scenery in the attraction.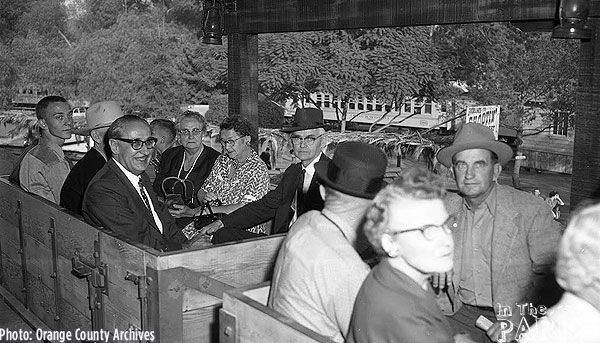 One of the only known photographs of Walter and Cordelia Knott aboard the Calico Mine Train
Even Bud's old friend Walt Disney returned to see how it all turned out. Bud recalls, "I remember one time, Walt Disney came over to ride it, and he had some friends with him. And he told me he was kind of in a hurry, and he wanted to ride. I said O.K. and at that time there was nobody out in front there… and we walked back to the trestle and the whole line was full of people! He said, 'My God, that's a sneaky thing! Here there's 200 people in line back here and I didn't know there was anybody!'" Bud had invented the very first hidden switchback queue - something used by theme parks all over the world to this day.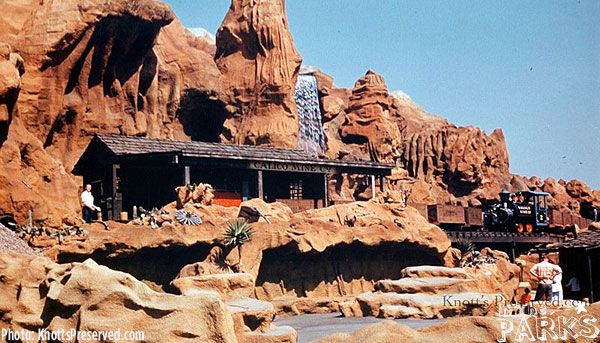 Walt and his team of Imagineers thought that it was an amazing family attraction. Later Walter Knott allowed Bud to invite them back later to take much longer looks at the ride after hours. They were particularly fascinated with the Cavern room at the top of the lift hill.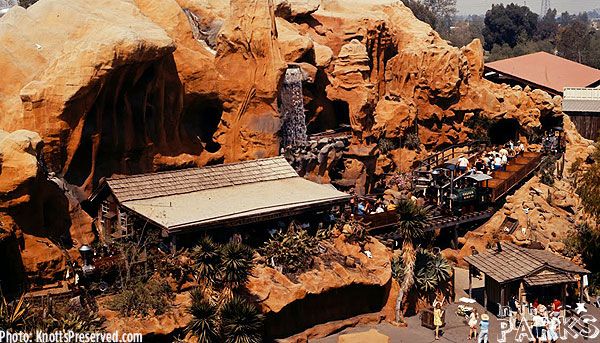 The Calico Mine Train ranks as a Knott's legend and certainly one of the best dark ride attractions of all time. The ride is a highly themed, richly detailed adventure that takes you to the 3,000-foot level of an 1880s mining operation - encountering underground waterfalls, mysterious caverns and dangerous cave-ins. It still has that 1950s/1960s design feel to it. It is very much an experience like it was upon opening 50 years ago. When asked why the ride has survived, Harry Suker mused, "It was an 8 minute family attraction that the whole family could enjoy together. It's an interesting ride. Nobody had done anything like it before"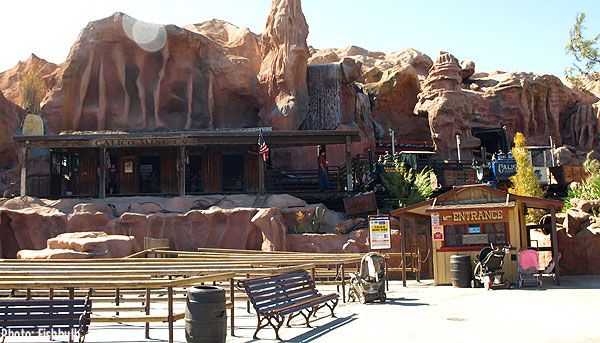 The Mine Train ride today
Disney's Mine Train through Nature's wonderland faded into Yesterland long ago, but the Calico Mine Train is now celebrating 50 years of taking families on an unforgettable adventure. It has survived the test of time because of the determination of its designers to create a one of a kind family experience that everyone could enjoy together. And with any luck, the ride will receive the loving care and refurbishments it needs to thrive for another 50 years.
Our warmest congratulations to Bud Hurlbut, Harry Suker, Knott's Berry Farm and an endless list of employees (past and present) who made this attraction their home over the last 50 amazing years in the Calico mines. Thanks for the memories!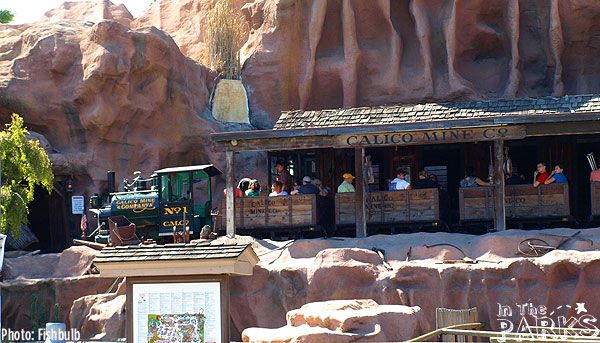 Happy 50th Birthday!!!
Special thanks to Chris Merritt of Knott's Preserved.com for his contributions to this article and interview with Bud Hurlbut. Also,
much thanks to Harry Suker for taking the time to speak with Fishbulb about the building of this classic attraction. We'd also like to extend our appreciation to Chris Jepsen of the Orange County Archives for the use of their images for this tribute. And finally, thanks to Knott's Berry Farm for access to the attraction and employees for information related to this article and for maintaining this attraction for 50 wonderful years!
We hope that all of our readers will make a special point of visiting Knott's and the historic Calico Mine Train. Bring the whole family, that's what this attraction was built for!
If you have thoughts, photos, or remembrances of Bud, we'd love to hear them.