Last Halloween, the famous Queen Mary ocean liner docked in Long Beach California was decked out in spectacular spooky style by one of Southern California's top design firms, Sinister Pointe. They assisted in production and design at last years "Dark Harbor" at the Queen Mary and it was the highlight of our Haunt season. Sinister Pointe specializes in very immersive, fully themed haunted walk-throughs and experiences. In year's past they have unleashed fiendishly scary haunted houses, mazes and settings around the Orange County and Los Angeles area, all designed to get your spine tingling. Their mazes often weave guests into the action as active participants in their surroundings, allowing them to take their time, rather than be rushed through in a single file herd.

Sinister Pointe's headquarters are in Brea California, in a run-of-the-mill business park. Aside from the black lettered moniker on the front of the building, nobody would guess that this is the epicenter of nightmares.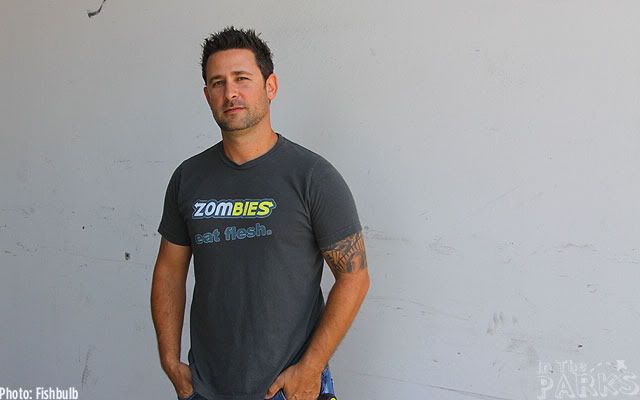 Sinister Pointe Creative Director, Jeff Schiefelbein

Creative Director, Jeff Schiefelbein, agreed to take a few minutes out of his crazy schedule to speak with MiceChat's Fishbulb about creations for this year's haunts and beyond. We held our conversation on a loading dock at Sinister Pointe: Brea where the latest creation is currently under construction, the sound of nail guns and shuffling lumber echoed in the warehouse as we began our interview.


The construction site.


Fishbulb: First, we'd really like to thank you for the amazing thrills and chills your mazes always induce. let's just get the important stuff out of the way . . . What have you got planned for this year?

Jeff: Well, this is our first year in this new building, so it's just going to be one maze this year.

Fishbulb: Just one?

Jeff: For here, in Brea, yeah just one. It's going to be a little larger in size. Next year we might trim a little bit of it off and try to make two mazes in this space. There are a lot of areas in the building that we still aren't using. We are hoping that by year two or year three we have a few mazes and we may even end up building out into the parking lot.

Fishbulb: Do you think you might eventually expand into any of the other buildings?

Jeff: Actually, we have spoken with a few of our neighbors who have their leases ending soon so, who knows. We might expand into their spots. This is a cul-de-sac. So, in five years, we may be able to have this whole end of the street.

Fishbulb: That would be great!

Jeff: Don't know how likely that is, but it would be cool.

Fishbulb: Tell me about the maze you are building here in front of us.

Jeff: Fishbulb: I think you should stick with SInister Pointe. Everybody knows that name.

Jeff: Yeah I agree. So this year we are going for an old house, in a HIlls have Eyes kind of style. A lot of deformed inbreds, mixed with chainsaw massacre stuff in a broken down house in the middle of nowhere and you have to make your way through it.


One of the inbred masks


Fishbulb: That's awesome stuff. So, you have this location in Brea, but what else are you doing?

Jeff: We are involved with a maze up at the Winchester Mystery House up in San Jose, and then we are doing one in Pennsylvania.

Fishbulb: Sounds like a lot of work. Are you involved with Queen Mary's Dark Harbor again this year? Or is that something you can talk about?

Jeff: I can talk about Queen Mary because there's really nothing to talk about. The thing is that most everybody involved with last year's Dark Harbor event are no longer involved.

Fishbulb: It kind of dissipated.

Jeff: Right, It kind of dissipated. Where it was left is that even some of the major players that physically worked for the Queen Mary are no longer working there. They have a new set of people there that work as event coordinators and stuff like that. The production company and myself, who were all involved last year, have moved on to different projects.

Fishbulb: Was it a difficult venue to work in?

Jeff: It was a VERY difficult venue to work in.

Fishbulb: Because what you pulled off last year was really something special.

Jeff: Oh thank you! You see, I was hired under the production company that was brought in and they did an amazing job and they just knew what they were doing. And I don't' think they had ever even done a haunt before. I think that was their first one.

Fishbulb: No way!

Jeff: It's true! But yeah, so last years production company has moved on. They did refer the Queen Mary to another production company. So from what I understand, they have a new production company putting it together. I actually reached out and have sent emails and phone calls their way but haven't gotten a response back just yet.

Fishbulb: Kind of unreal.

Jeff: It was pretty wild. Last year, we met with them in January. Production really didn't get rolling until late July or August. So we really had to scramble to put it together. That may be what's happening again this year. Who knows! But there were some elements, that me and my guys did, that were very difficult to install, which would be difficult to replicate. So, I don't know if they plan on reusing anything we created last year or if they are scrapping it all and starting over. I have this weird feeling that they may call me last minute, but I may be too busy to go help out again.

Fishbulb: Where do you pull your crazy ideas from.

Jeff: Nothing comes from one place. I go to the conventions, I watch hundreds of movies. I may see a huge prop that somebody makes and think, "Well I don't like what they did with that," and I will build on that idea and make it my own. I really just pull from a lot of different places.

Fishbulb: One maze that people are still talking about is the "Fear" maze that you did two years ago. Guests had to complete different tasks to proceed through the maze.

Jeff: We are going to be doing that type of thing again this year in this maze. There will be rooms where you physically have to go in and figure out what to do. At this point, the maze will have at least eight of those rooms.


The Door Gag as Jeff called it.


There's a double edged sword about being an independent haunt. We don't do the big big numbers, so people can take their time because it's not about churning out people. On the other hand, the wait times can get quite long. We are pushing our marketing to make it clear that this is an interactive maze, so if people can come on a Thursday or another night when it might not be so crowded they should. We need to space people out and that's what people have come to really love about Sinister Pointe.

Fishbulb: What is scary to you?

Jeff: Scary to me? The Exorcist. I get the cold sweats and everything. I think that was one of those movies that I was forced to watch as a kid, you know, with a bunch of my cousins and they made me watch it and it just freaked me out. Monsters, creatures, not so much. But it's very unsettling to me if it's anything to do with exorcisms and possessions and stuff. Even Emily Rose, when she started talking in Latin and, man, it just gets me. Those things creep me out. Things that make you question, "is that real, or can that happen?"

It also creeps me out being here at the construction site for this maze alone by myself at 2am at night. That's just creepy. I mean, you're here alone and you hear a noise because the building is settling, or you hear a hammer fall at the other end of the building. And then the more you start thinking about it the more you get yourself worked up and, yeah. Being alone here is very spooky.


Alone at the construction site.

Fishbulb: What haunts did you go to last year?

Jeff: I went to Knott's, I went to The Darkness in St. Louis, but other than that not much. I plan to see more this year for sure.

I've actually been going to Knott's for years and have caught myself complaining that it's getting worse and worse; but at the same time, I've noticed the past couple of years that the detail in their mazes, they're really doing some quality stuff.

Fishbulb: Yeah, I was just talking to them about their new maze, Endgames. It's going to be pretty amazing.

Jeff: I'm really excited to see it. I also want to make it to my buddy Mike's haunt, The Empty Grave.

Fishbulb: We are big fans of the Empty Grave too! Can you tell me about the maze you are working on at the Winchester Mystery house?

Jeff: Yeah, it's going to be big. At least a 15-20 minute walkthrough but I can't tell you too much because we are tying to keep that one under wraps. We are also working with a haunt called "Horror Hall" in Pennsylvania. As well as a couple more prospective sites. So we are pretty busy.

Fishbulb: How long will this one in Brea be?

Jeff: I'm guessing, with all the interactive stuff, and all the stopping, it will run around 15-20 mins.

Fishbulb: Are there any tricks that you are really excited about for this year that you are hoping to pull off in the maze?

Jeff: There are a bunch of things that we are doing this year, a lot of things, that we have never done before. One set piece in particular I am really excited about, if we can get it to work the way we think it will, it will be bad ***.

This year, there will be a lot of things, lots of cool stuff with interaction and testing your fear. There will be things with electricity and things with blenders. We also are working on a few rooms with an illusionist to create a particular set piece that will be a real mind bender. Lots of mirrors involved and we are hoping that we are going to be able to pull it off.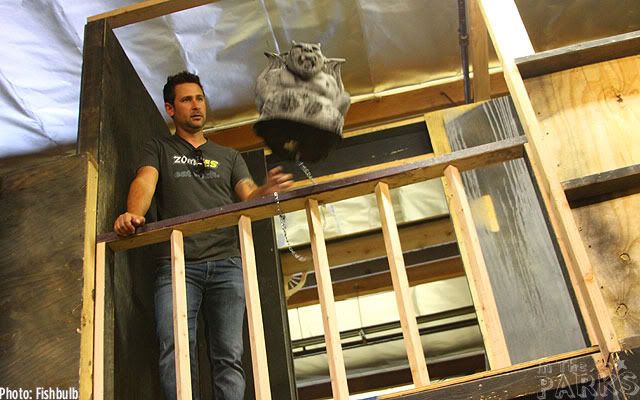 Jeff demonstrates a scare.


I want the set to come to life. I want people to feel as if they are somewhere else for a little while. Along the path people will be able to choose which path they take. At certain points, they will have to choose to go left or right. Oh, and that's another thing that we will probably offer, an all-night pass for people that want to go though the maze several times and try all the different variations.

Fishbulb: Have you set the dates yet?

Jeff: No not yet, we are looking at the last weekend of September. I know we will be opening prior to October.

Im so excited. I mean, It's so great that we now have a permanent spot. There are details that I want to add to this that I know I will never get to. But, since it's going to be permanent, I'll be in here two weeks after Halloween is over working on the things for next year. This is going to be a great maze.

Fishbulb: Well, thanks for taking the time to talk with me Jeff. We really look forward to experiencing the maze when it opens later this year.

Jeff: Thanks for stopping by. Come back again.


So, if that didn't get you totally psyched for Halloween, then check your pulse. The Sinister Pointe Maze in Brea will be featuring immersive sets, interactive scenes and multiple paths. A roughly 15 minute walk-through attraction that will have a variety of story lines and possibilities. MiceChat will be making a special event trip to SInister Pointe this fall as part of the MiceChat Nights of Horror. Look for more information soon.