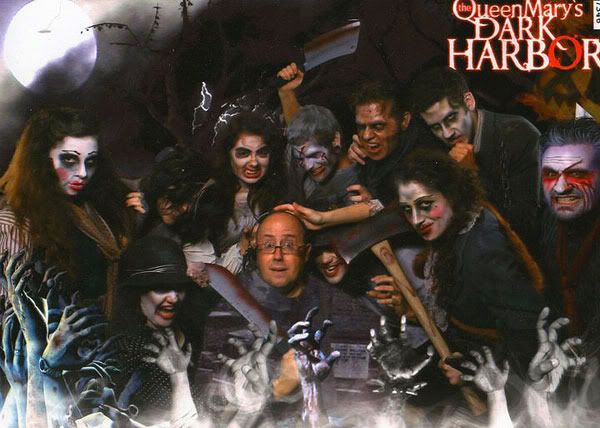 David Wally with his monsters

The biggest surprise of last year's haunt season was the Queen Mary's Dark Harbor. Dark Harbor was a fiendishly inventive multiple haunted attraction venue that took advantage of the Queen Mary's maritime setting and expansive history to create a creepy atmosphere just perfect for a haunt destination. One of the creative forces involved with last year's event was Talent Director David Wally, who returns to direct again this year. MiceChat recently sat down with David to talk about what made Dark Harbor such a success and what we can expect to see this year.
MC: Prior to Dark Harbor what had you been involved with?
David: I have done TV, Film, Stage, themed entertainment. I went to Long Beach State as an actor and realized what I really wanted to do was direct. Then I went to Purdue University and got my MFA in Directing. After starting my career in Chicago, I ended up moving back to L.A. I landed a job as a production assistant with Martin Brest and I ended up working with him for ten years and became a producer. While I was with Marty, we made "Scent of a Woman" and "Meet Joe Black". Then I worked for four years with Bruce Willis' production company, where I was a producer on "Hostage". Fun stuff.
I had been writing and directing my own short films and plays and then a friend of mine invited me to come and work at Thinkwell, a terrific concept and themed entertainment company. That was about 2006/2007. I was working on the Warner Brothers, Abu Dhabi project and then the economy tanked in '08 and my work on that project ended.
So, last year around June/July, I was in the middle of directing a play I also wrote and produced up in Hollywood when Sam Russo contacted me about Dark Harbor. I came to the Queen Mary project with this wide range of disparate experience in all these entertainment fields and I tried to bring it all with me to this entirely new challenge; theme park, film, stage, it's all in there.
MC: It is hard to believe that you had never directed a haunt event before. The actors were great.
David: Thank you, I tried. I hit the ground running because I came in and I started to wrap my head around this event, but Tom Cluff was already deep into the job. He was the Creative Director and developed the whole concept for Dark Harbor.
MC: Explain the concept of Dark Harbor. What was the initial storyline?
David: Dark Harbor is the haunted community populated by the souls ripped from the earth by Bundara – the all-powerful sadistic She-demon who controls the sea and the land as well as her sisters (Searer and Mattenoot) and hatchet men, the Barkers. ALL of Dark Harbor's monsters take great joy in taunting and tormenting the mere mortals – the guests – who dare to wander into their dominion. And all of the guests' souls are up for grabs!!
MC: Are there any changes to the storyline this year?
David: Yes. Last year, Bundara's sisters were in exile. Bundara selfishly chose not to include them in her bacchanal. But this year, Searer and Mattenoot return and they are NOT happy at missing out on last year's feast!!! There will be great interplay between the three sisters throughout each evening.
MC: So Tom Cluff came up with that concept and you were asked to direct. Who else was involved in bringing Tom's idea to life last year?
David: Jeff Schiefelbein, of Sinister Pointe, was already on board designing and crafting the interiors of the other mazes. He did Village of the Damned and all three of the mazes on the ship (Submerged, Hellfire and Containment). We had Katy Brisbois as our costume designer, Christina Rodriguez as our make-up designer and then we had Cindy Caviedes as a production coordinator and Edward Hodge as our tech director and Jay Bolton as our lighting director, and George Walker as an art director and Bonnie Hallman and Marissa Parr were our Stage Managers and that was the core team. We were this lean, mean unit all on the same page. And we were all tasked with creating an entirely new Halloween Haunt experience for the Queen Mary.
MC: And your job was to train and guide the actors who would interact with the guests in mazes and out in the open. Was that a difficult task?
David: Getting started, the team kept telling me, "Look David, this isn't like a play or a film shoot. Half of your cast is going to quit on the first weekend and you will lose another 60 percent of your cast by the end of the run." I told them, "Okay... That's not going to happen." They didn't believe me, but I knew we could do it. The time for auditions came and they also told me, based on previous years, to expect about 800 people to show up at the audition. Well, we only had about 300 people actually show up. So I realized that we had to expand the auditions and reach out to places like Hollywood and surrounding areas. We also had a deal in place with Long Beach State University, my alma mater, to provide performers who would work for school credit. But, while the University guaranteed us 50 kids a night, they told us that it would not always be the same ones every night. So that made it hard. I mean, how do you work and train a cast that is always brand new?
MC: So you went from an expected pool of 800 people down to only 300 people showing up to audition and then an additional revolving group of 50 actors who were only here for school credit. How many did you end up hiring?
David: Just a little over 250. Additionally, in preparing for our orientations and rehearsals, I realized that one big obstacle we were going to have to overcome was addressing how these performers had been treated in the past and convincing them that things were going to be different in 2010. So I took the time to memorize all of the performers' names before the first rehearsal. Over 250 performers. And when they all came in for orientation - after having met me once at auditions a month previously - here I was walking past all of them, "Hey Susie how are you doing? Hey Bob, great to have you with us." And I think this accomplished two very important things. First, it made them feel involved and important, and, secondly, it also gave them the impression that I knew what the hell I was doing. And once I had their trust I knew we could build on that.
When I looked at the scope of the project I had to remind myself that this was not like shooting a film where you could do a bunch of takes and pick the one you wanted, or a play where you could rehearse and refine to get a certain moment. There were so many active, moving parts to it all and it would be physically impossible to be at every spot of every maze, for every scare, every time. So, it was crucial that I instill in the actors that they really needed to trust their instincts and own what they were doing.
While all the other popular haunts are terrific, I come to this world from a different field and I just wanted to create a huge sense of atmosphere and space that the audience could buy into also. I looked at the whole event as one big story. I directed it so that everyone knew they were part of one big show.
MC: Like a big piece of interactive theatre.
David: Exactly. You could jump in and follow whatever path to the story that you wanted. What we created last year was special.
MC: The work seemed to pay off. People liked it. It seemed like every day last year there was another review popping up talking about how amazing Dark Harbor was.
David: It was very, very validating for everybody on the whole project. Certainly for the actors. And, by the time we were done on Halloween night, we had only lost 5 people along the way.
MC: But now you have to worry about this year. When did you start planning for 2011?
David: On closing night of last year. We gathered everybody in the Dome and handed out awards for Monster of the Year for each maze and we let everyone know we planned on returning to do it again the next year if we were invited back. And if we were coming back, we wanted them - the performers - to come back, too.
The next step for me after the event ended was to keep in touch with as many of the people from last year as possible. I friended as many as I could on Facebook and over the past year we all became this huge, wonderful, dysfunctional family, you know? A wide range of people from all walks of life, all there to have fun at Halloween and who love to do what they do. I have grown enormously fond of my Monsters!
MC: Let's talk about the mazes. What do you have in store for this year? Are there any new mazes?
David: None of the mazes will be completely new but our art directors and tech team are going through every maze and coming up with a whole bunch of changes and improvements in theming. Last year we were tasked with completely rebooting the Queen Mary Haunt with an entirely new concept and we delivered very well on that mandate. This year, we want to pick up right where we left off last year and punch it up. Yes, there will be some new surprises all over. And we have increased the number of performers by 20 percent, which will have a HUGE effect on the guest experience. There will definitely be more bang for your buck. We want the fans who are returning this year to at least have as good an experience as they did last year, and hopefully have a great time with all the enhancements. And I think the addition of Bundara's sisters and the expansion of that storyline is going to pay huge dividends throughout the event. But we also want the new fans, the ones who read all the great reviews but didn't get the chance to come out last year, to see what they may have missed.
MC: One of our favorite mazes of the entire haunt season last year was The Cage that was housed in the Spruce Goose Dome. Our favorite room in The Cage was the first room. It felt like all bets were off.
David: The fabric room, yeah that was great. Very disorienting. It was a real assault on the senses. That was Tom Cluff's maze. The other four mazes, Village of the Damned, Hellfire, Containment and Submerged, they were all designed by Jeff Schiefelbein. And, one of the first challenges that I had to overcome was that I didn't come onto the project until after the mazes were already fully developed by Tom and Jeff. I was not part of that creative process so I had to get underneath their concepts to figure out the logic of each maze and both Tom and Jeff were enormously helpful. Still, figuring out how best to give the performers their unique personas and motivations was a bit of a task. And I do feel all of the mazes turned out great last year. But, this year I feel I can improve on my work with Submerged (a water themed maze) and Hellfire (the fire maze) because they were really quite similar in tone last year.
MC: They were polar opposites though.
David: Yes, but similar in that they were both elemental and took place in the ship and - from a performance perspective - I felt we were kind of telling too similar a story or, at least, providing the audience too similar a guest experience. Containment was the asylum filled with sick people, so that was unique in its theme. What I'm getting at is, this year I am trying to articulate two uniquely different performances between the two mazes. I want Submerged to feel murky and ethereal. Whereas, I want Hellfire to be very aggressive and in your face. And, again, the art directors and tech team are collaborating with me to enhance and differentiate these two great mazes.
MC: Is everybody coming back from last year?
David: Most of the original creative team is back for more this year. A few people who were instrumental in creating the new concept are not back because, for the most part, they accomplished their job last year. Our task this year is to recreate and remount that brilliant work. As far as my job is concerned, directing the talent, most of the original performers have already let me know they are returning. But we are still looking for more. In fact, our auditions are coming up on August 19th and 20th.
MC: So, this year is as much about maintaining buzz as it is winning over new haunt goers.
David: Right. I mean, last year we started from scratch. This year we have all of this shared, collective experience under our belts and are in a great place creatively. And I would say that 90 percent of the people involved with last year's event are here for this year. So, actually, I think we are in excellent shape to win over people who did not come to Dark Harbor last year and I think we will also deliver another great event for those who came last year, too.
MC: What Haunts have you been to in the past?
David: Oh, I've been to Halloween Horror Nights at Universal, I've gone to Knott's, but the one I really want to hit is Sinister Pointe. I'd love to see what Jeff is doing down there. But, of course, most of my nights in October will be spent right here at Dark Harbor.
MC: What frightens you?
David: Mostly my wife. But only on Thursdays! Seriously, I am probably most frightened by the anticipation of the unseen and unknown. Both in everyday life and in entertainment as well. I pride myself, as a director and producer and man, for my ability to "see around corners" - which is one of my favorite compliments anybody ever paid me - because I think I have the ability to think and plan ahead. But I'm always a little bit nervous of that danger I never anticipated. My strength comes from the self-confidence I have that I can face those unexpected crises.
MC: Thank you, David, for taking the time to talk to us about the Queen Mary's Dark Harbor. There are theme park events and independent haunts across the country, but what you've got here at the Queen Mary is a real live reportedly haunted ship 365 days a year. Using this iconic landmark as the canvas for a Halloween Haunt is a real advantage. As we stated at the outset, Dark Harbor was a nearly perfect event last year and we just can't wait to come and visit again this year. In fact, we'll be announcing a big MiceChat event at Dark Harbor as part of our Nights of Horror series. We hope to introduce lots of new folks to the Queen Mary this year for Halloween.