A weekend in New York City PART 1


Greetings Micechatters

Crazy Larry here, with a delayed trip report.

With the tenth anniversary of 9/11 this Sunday I thought posting a trip report of my first visit to New York City would help celebrate the beauty and energy of this great city.

This trip took place over a weekend at the very end of April but, I never got around to posting it here on Micechat.

My husband and I decided to visit the Big Apple for the weekend and just see what kind of trouble we could get into. No plans. Just go.
This was a walking tour of New York and covered some unique neighborhoods and also ended with a rather unexpected and unique event that no one could have planned.

So, without further writer's embellishment, here we go.

We took off on Friday at the crack of dawn on Virgin America. (the only way to fly)
Of course we brought the Sneetches. (Just two this time.)

Here's Kountry Sneetch waiting for his morning coffee.
After his first cup he was alert and monitoring our flight path.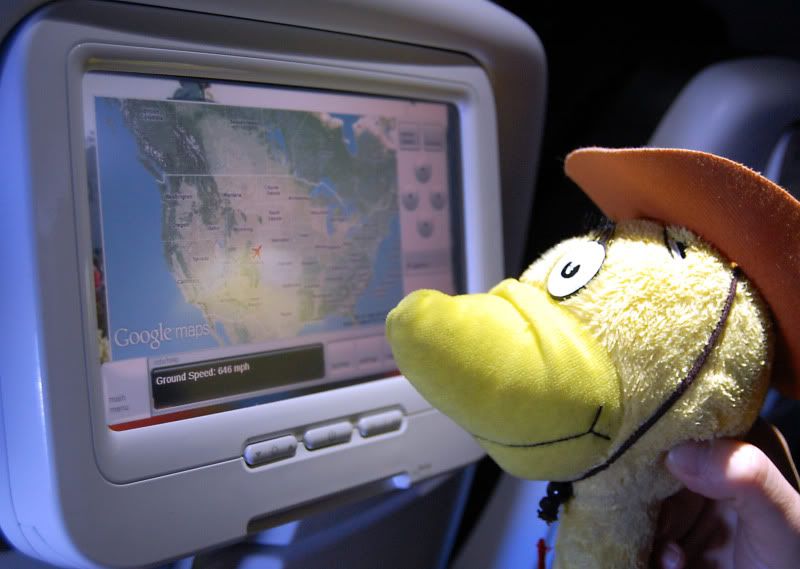 After landing at JFK we took the A train into Manhattan to drop our bags off at our friend's, Eric and Angel, who were more than gracious enough to host us at their home in Washington Heights.
Our first stop was visiting a cousin of my Husband's who we had never met before.
He owns an art gallery in the Chelsea area of the city. (Sorry, no photos of this.)
After having dinner with my Husband's cousin we met up with our host, Eric who was performing "Carmina Burana" at Lincoln Center.
Here's my Husband Brett, and our host Eric looking for him in one of the posters out front.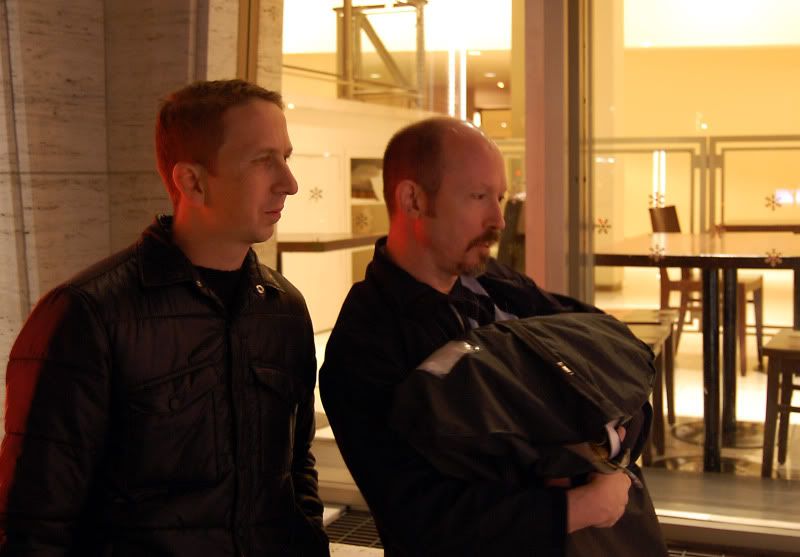 Can you spot Eric?
We headed to a local wine bar and stayed out til the wee hours of the night.
Funny how you can be in Manhattan and completely lose track of time.
Especially since I'm not a night person.
We finally made it home and crashed after a long flight, an art gallery opening, the Met, then a wine bar.
Not bad for the first day.


After a good nights sleep we were up and ready the next morning.
Or at least the Sneetches were ready. Edna already sporting his N.Y. bling.
After a quick cup of coffee we were out the door and heading to the A train to take us downtown.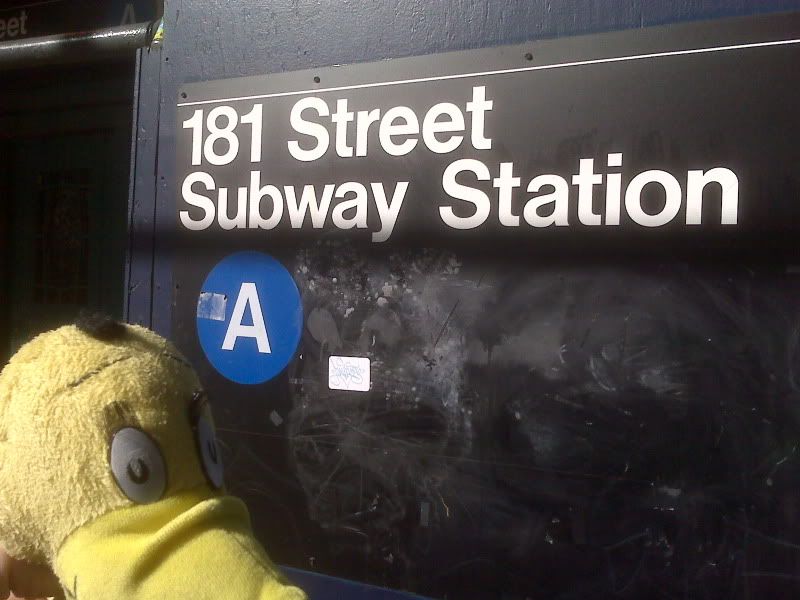 We were to meet up with another good friend of ours for brunch on the upper west side.
On the way I was distracted by the classic brownstones of New York.
Brett giving me the "Your such a tourist" look.
After finally reaching the restaurant, we found our friend Che.
Che grew up in Manhattan and was to be our guide for the day.
Here he is hamming it up for the camera with the Sneetches.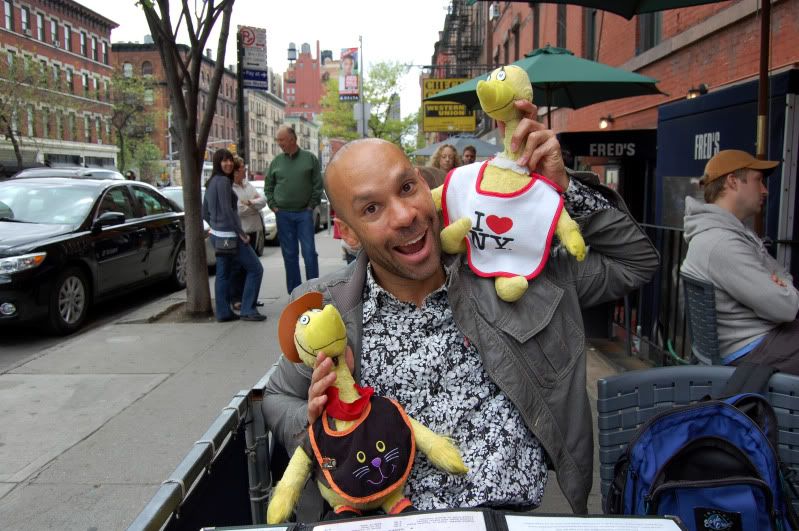 After brunch we headed east over to Central Park.
This is looking down Central Park West as we head to the entrance of Central Park.
After entering the park we stopped for a photo in front of one of the many trees that were blossoming.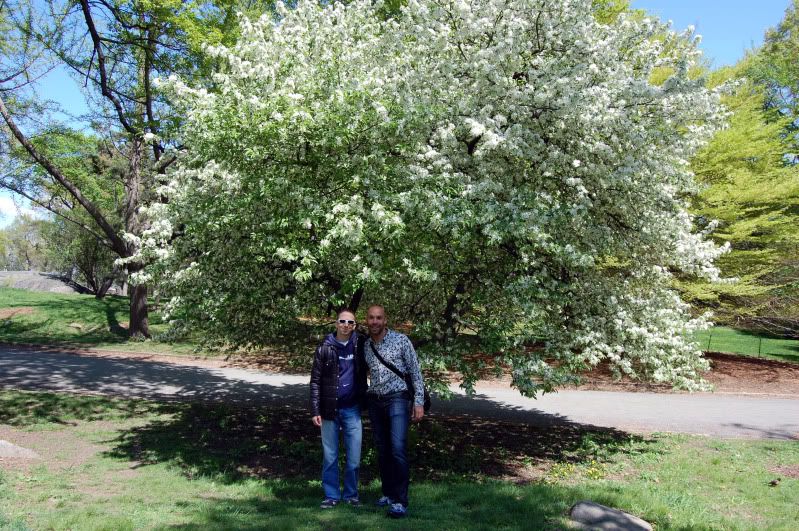 It was the perfect time to see the Cherry Blossoms.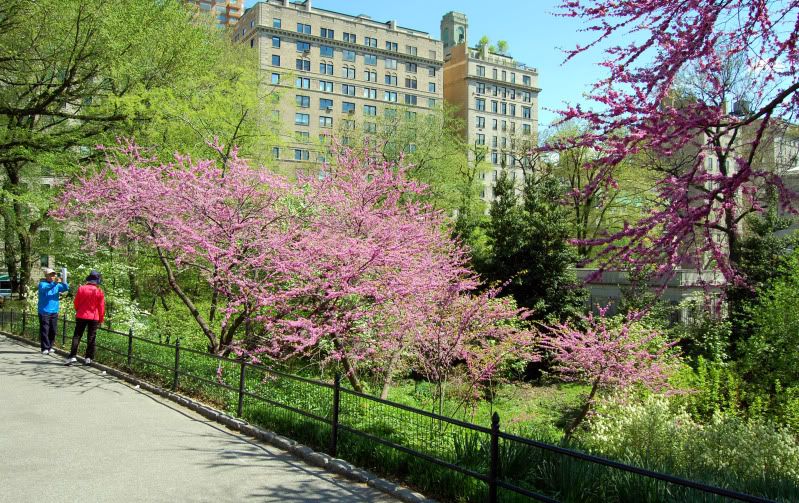 We stopped and enjoyed the view from the edge of the great lawn.

Of course the Sneetches wanted a picture of themselves on the great lawn.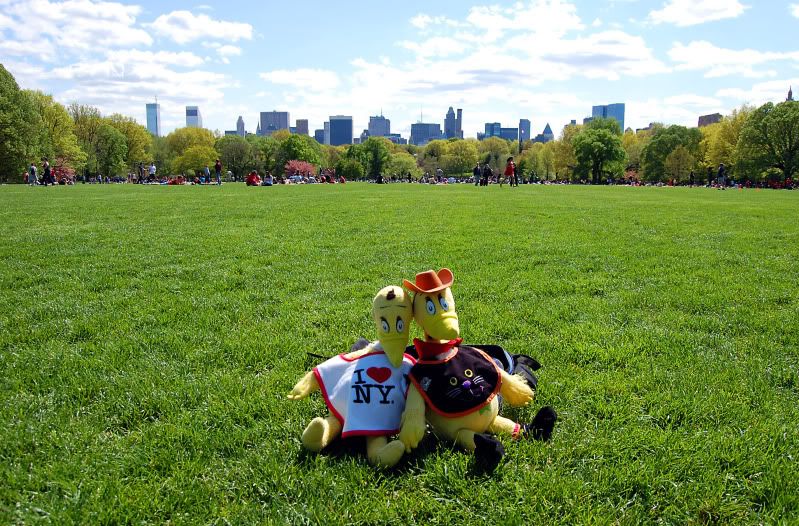 The gang is all here.




We continued on heading north and strolled along the Jacqueline Kennedy Onassis Reservoir.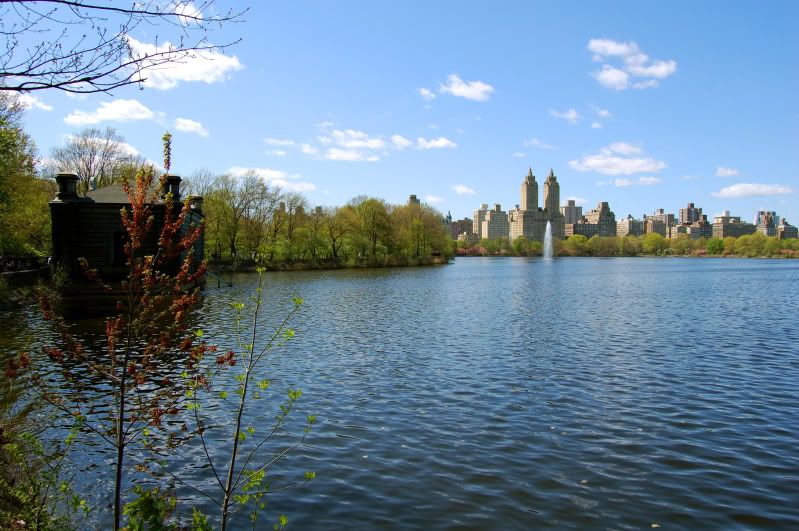 Next, we headed across 5th Avenue to the Solomon R. Guggenheim museum.
Me being an artist and an architecture nerd I couldn't pass up a visit to this iconic place.
I'm a huge Frank Lloyd Wright fan, so this was a big must see for me.

And the inside didn't disappoint.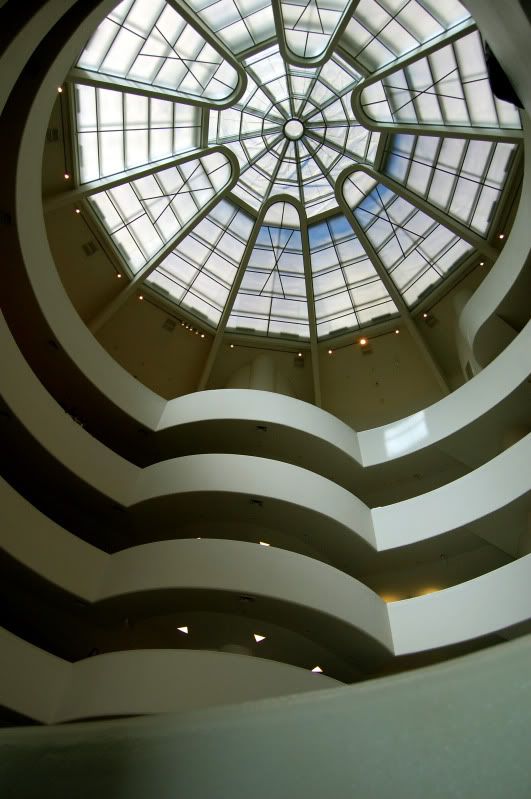 We toured the exhibit, which was titled The Great Upheaval: Modern Art from the Guggenheim collection, 1910-1918.
The exhibit included works by Vasily Kandinsky, Franz Marc, Georges Braques, and Pablo Picasso just to name a few.
Very well put together presentation of modern art from that period.
After all that artsy fartsy stuff we were hungry. I chowed down on a famous New York hot dog and Brett and Che fought over a warm pretzel.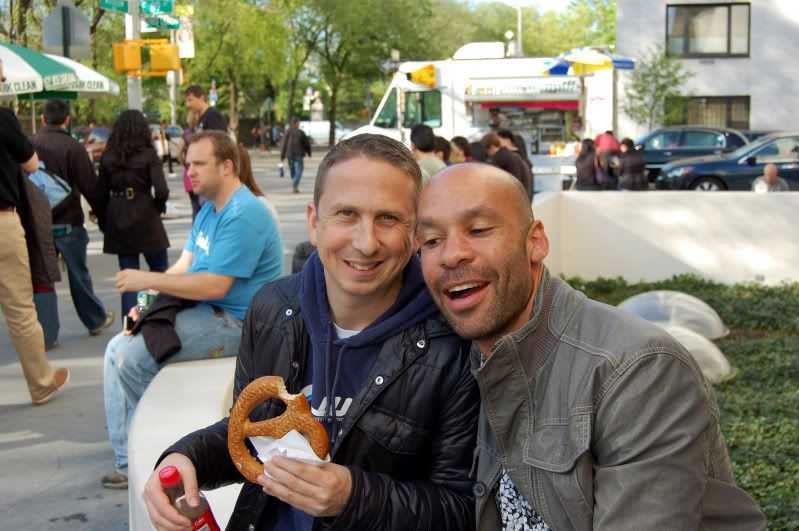 After refueling we continued down Fifth Avenue along the east side of Central Park.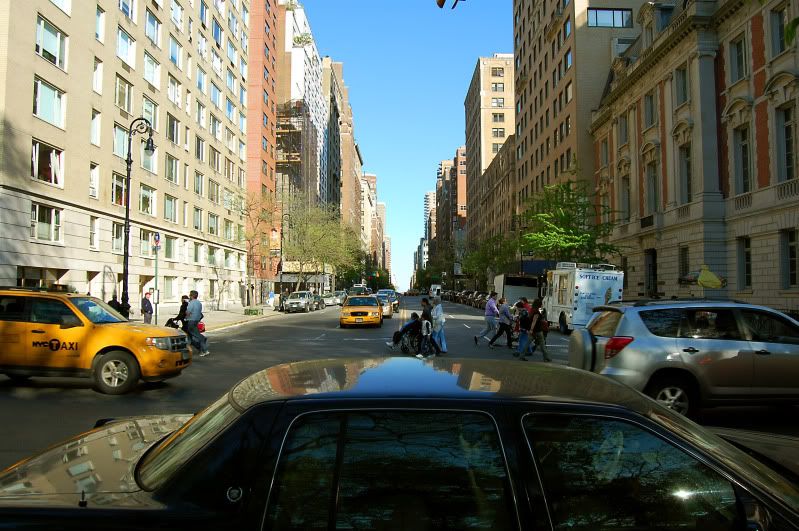 The outside of the Metropolitan Museum of Art.
Didn't go in, but plan on hitting it next time we are in Manhattan.
After passing by the Metropolitan we decided to head back into Central Park.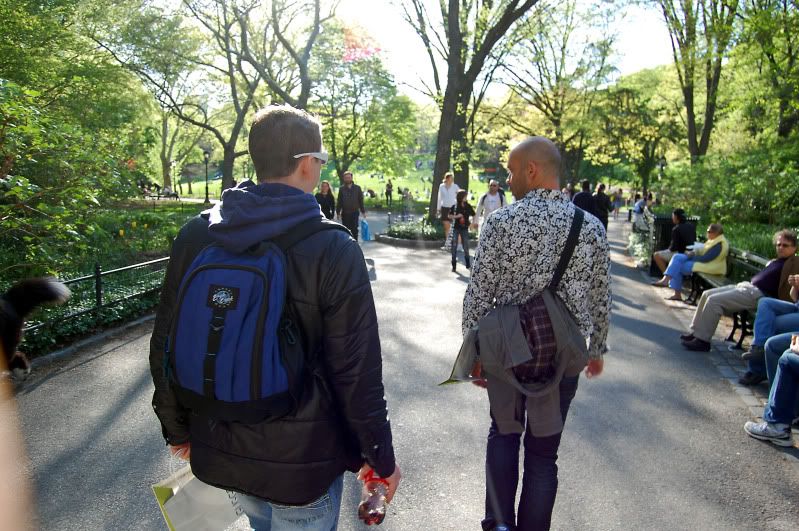 Here's my first "only in New York" story.
Shortly after taking the above photo we were approached by a group of college kids.
They asked us if anyone in our group were tourist from out of town and was visiting New York City for the first time.
I said this is my first time visiting and they asked if they could borrow me so they could win a scavenger hunt.
They did bribe me with a cookie. ;0)
Thanks to me our team finished first! Yay for our team!
After that little New York moment we continued strolling through the park.
Here we came upon a reflecting pool called the Conservatory Water.
Children and boat enthusiasts come to navigate radio and wind-powered vessels across the shimmering waters.
It's such a popular destination that writer E.B. White set the whimsical boat scene in his children's classic, Stuart Little, here.
Here's a pretty shot taken neat the Loeb Boathouse.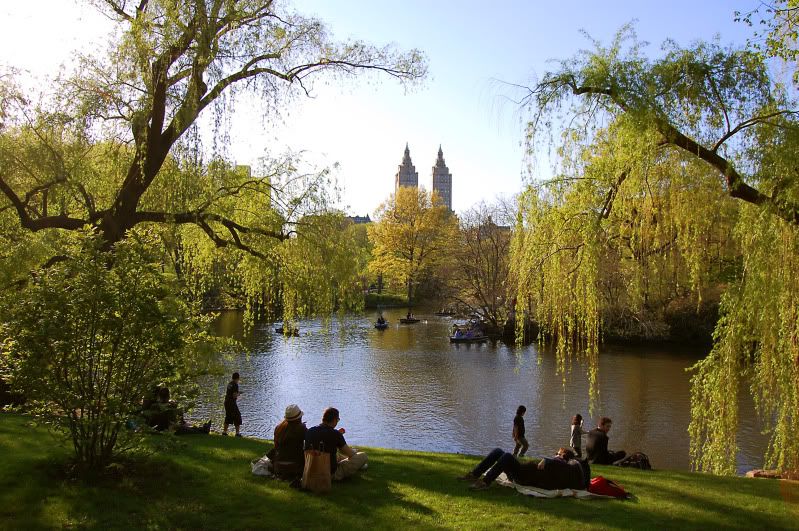 The beautiful Bethesda Fountain.

Passed this content doggie with his balloons enjoying the afternoon in Central Park.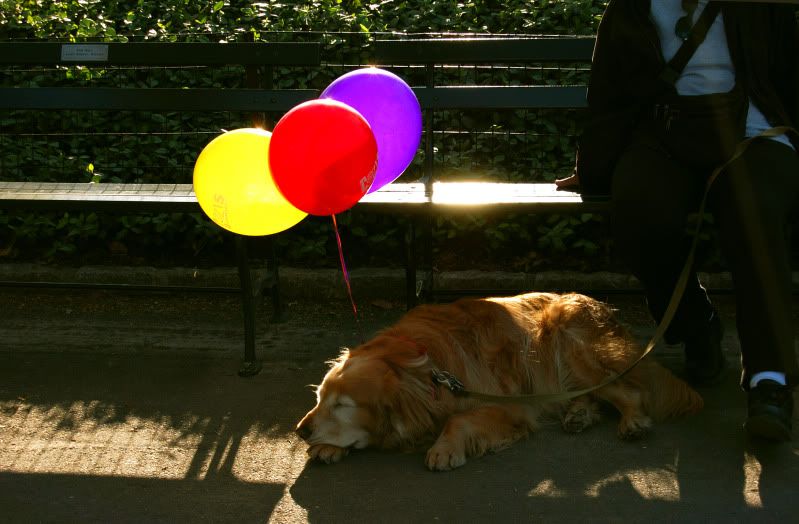 Here are a few pictures of the area known as "The Lake".

The Bow Bridge is quite possibly New York's most romantic setting for lovers — and certainly a muse for photographers. You might recognize it from its starring role in many movies, television shows, and commercials.
Looking west down Terrace Drive.
And what trip through Central Park wouldn't be complete without a visit to Strawberry Fields.
Strawberry Fields is a living memorial to the world-famous singer, songwriter and peace activist – John Lennon.
The area is suppose to be an area of peace but when we were there the two guys on left were arguing about something stupid, everyone else thought they were idiots.
The two eventually settled their differences and went and smoked something funny over on the grass.

The Sneetches take a break and rest their little feet.
Here we came upon the Sheep Meadow.
Although these days you'll mostly find sunbathers lounging on the lawn, the meadow was actually home to a flock of sheep from 1864 until 1934. The sheep and shepherd were housed in a fanciful Victorian building nearby – what became the famous Tavern on the Green restaurant.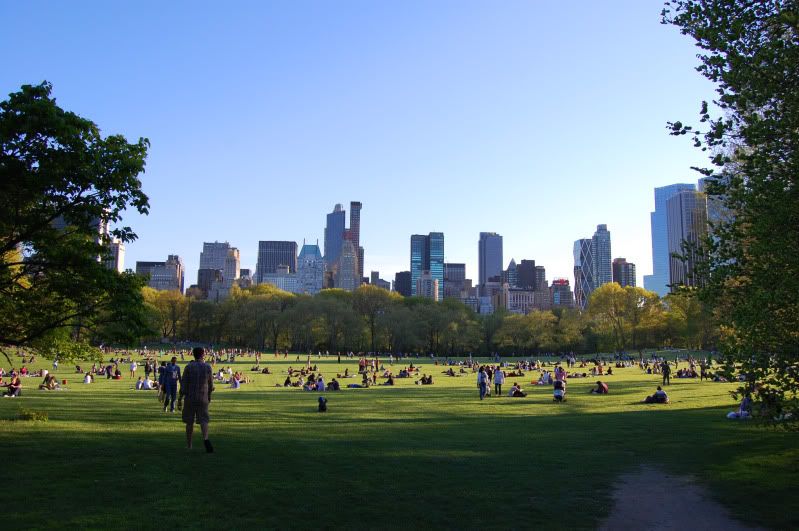 This is the area known as The Walk.
The main attractions are the American elm trees.
This is the southern end of The Walk also known as Literary Walk.
We also enjoyed the Olmsted Flower Bed.
Pretty!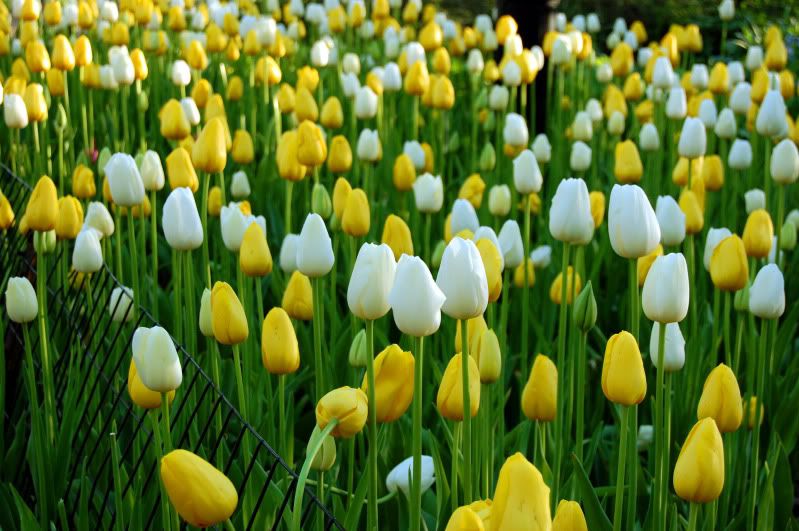 We take a break on top of a bluff with a great view of the Manhattan skyline.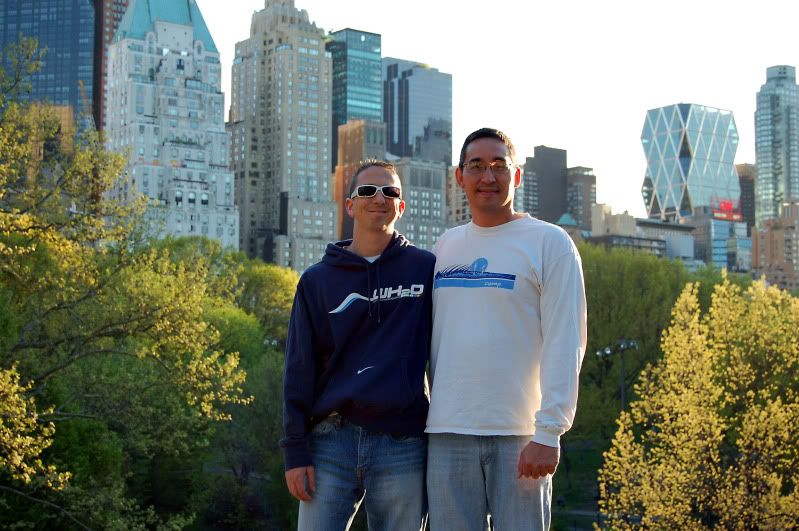 Also a great place to watch the sunset.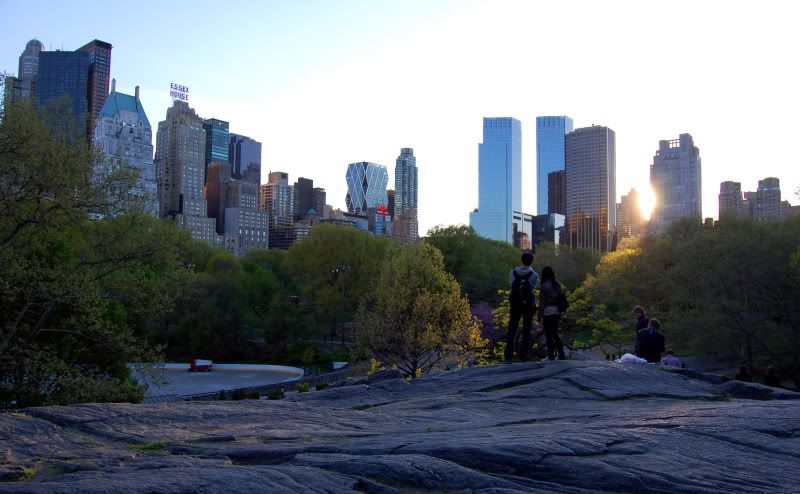 And one final beauty shot of the Plaza Hotel overlooking the Pond.
It was getting late and we decided to meet up with our host Eric at Times Square as we transition from the green surrounding of Central Park to the more familiar tall buildings of the Manhattan skyline.
This is the view looking down Broadway towards Times Square.

We took a pit stop and I had my first DUANEreade experience.
While we were fumbling with the backpack I took this shot of more buildings lining Broadway.
Then we hit Times Square. The neon lights ARE bright on Broadway!
Or should I say Jumbotrons.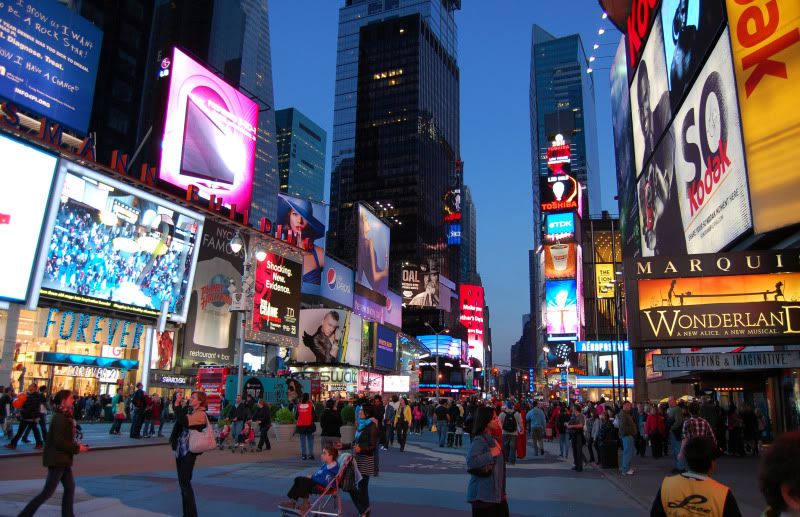 We met up with our host's Eric and Angel and said goodbye to Che for the evening. We then headed to a local restaurant to have some good food and a few libations. The Sneetches look all tuckered out as they wait for their Lime Rickies.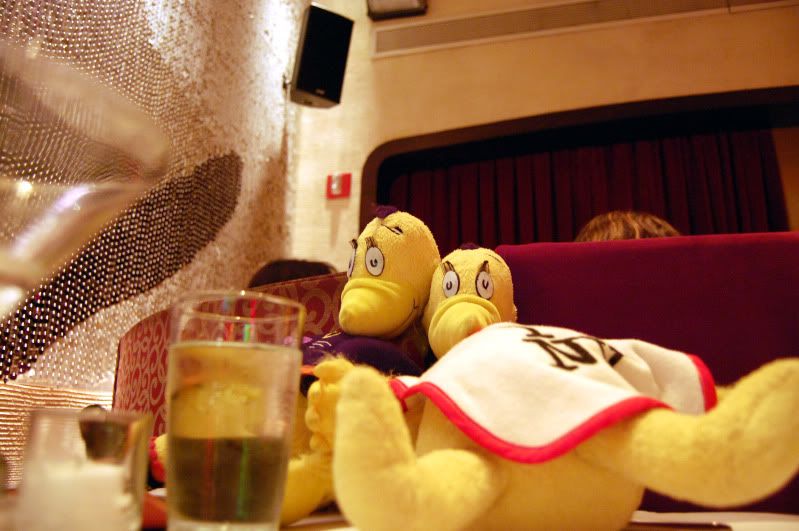 After we had dinner and a drink or two we felt rested and continued our trek. The Sneetches headed back with Angel and we continued on with our host Eric.
On the way to the subway station I had to take a picture of this place.
Getting some distance from Times Square.

Heading down to catch the train to Greenwich Village.
After reaching Greenwich Village we headed over to the Stonewall Inn.
Which was the site of the Stonewall riots of 1969, which are widely considered to be the single most important event leading to the Gay Liberation movement. Yay for equal rights!


We continued walking down Christopher St until finally reaching the Hudson River Greenway which gives a beautiful view of the Manhattan skyline.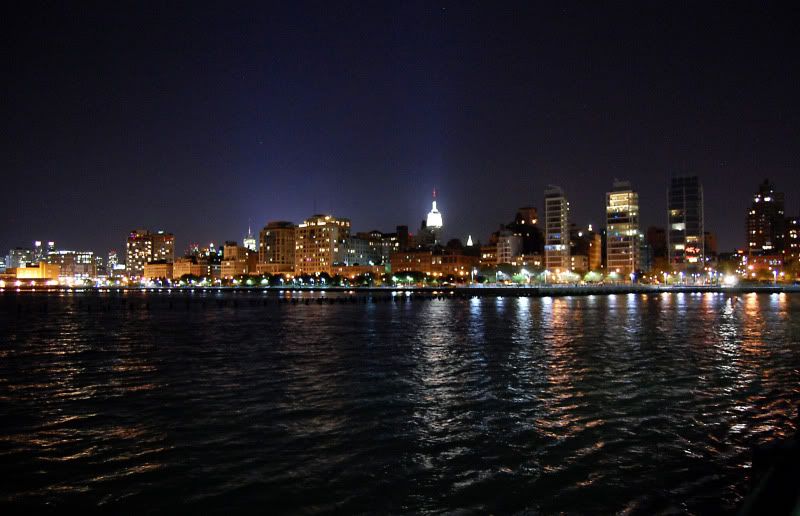 After a long day of walking around Manhattan we decided to call it a day.
Here we are waiting for the A train to show up.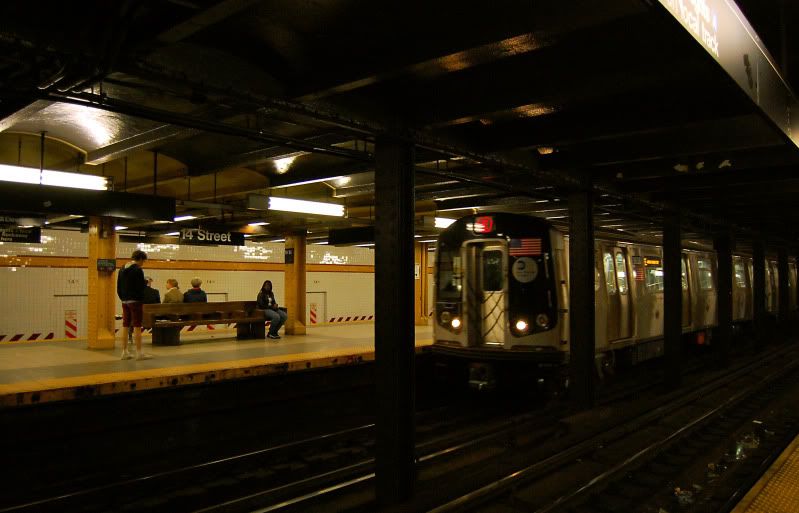 Eric plugging his ears as the E Train brakes coming into the station.
It was quite loud.

While we were waiting for the A train we noticed these bronze sculptures located through out the station.
Well, our train is getting closet to the station. And this concludes part 1 of our weekend trip to New York City.
Part 2 will cover day two of our trip that had more surprises in store for us.
Including a world changing event.
Until then ....