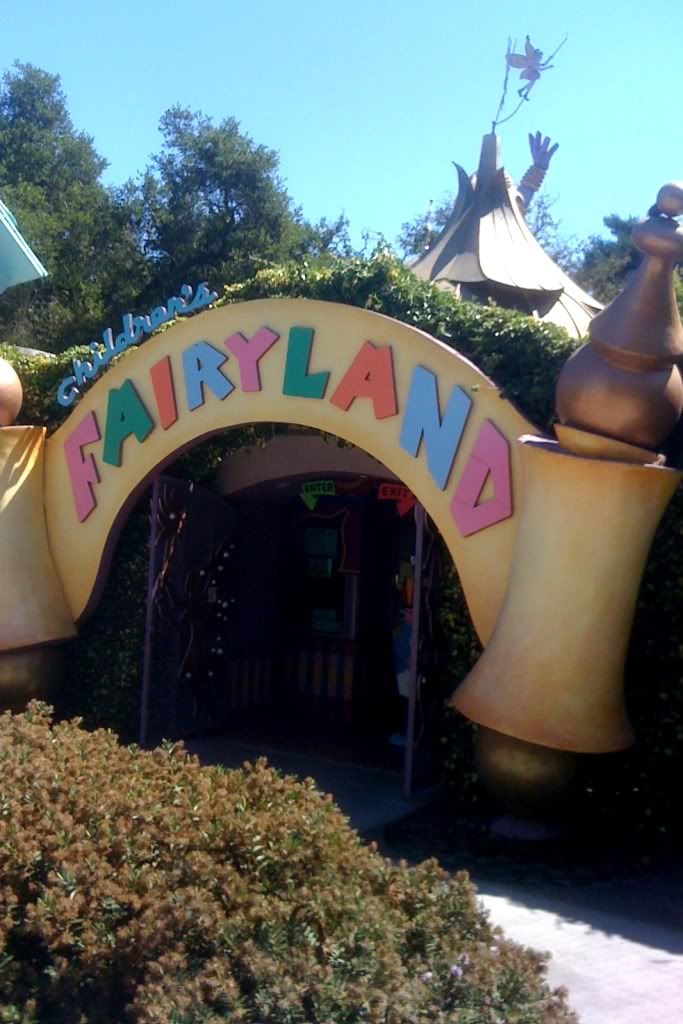 Growing up in Oakland, California, I often played at
Children's Fairyland
, a modest theme park at Lake Merritt in the center of the city. I have fond memories of this place and recently my wife and I had the opportunity to return for a visit with my granddaughter (along with my daughter and her husband).
Children's Fairyland opened in 1950 and, according to the park's website, was one of the inspirations for Disneyland:
"Walt Disney visited and incorporated ideas from Fairyland in his "magic kingdom," which opened in Anaheim in 1955. Walt Disney also hired Fairyland's first executive director, Dorothy Manes, and one of our puppeteers, Bob Mills."
Unlike most other amusement parks (Disneyland, of course, being the major exception), Children's Fairyland is really a themed park. The setting and attractions all relate back to childhood stories and characters. For example, immediately upon arrival you walk through the Shoe which served the house for the Old Woman and all her children. As you can see it remains basically the same as it appeared in this 1955 photo although its function is now set dressing and no longer an actual ticket booth.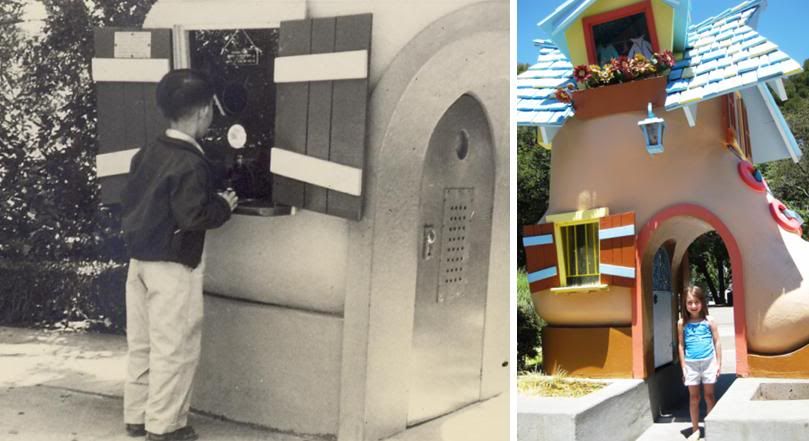 Me, buying a ticket in 1955 .................................................. ..What the Shoe looks like today
Many of the buildings in Children's Fairyland are of a whimsical design and painted with bright pastel colors, adding to the thematic feeling and making kids feel right at home. In this photo, although hard to see, Aladdin is flying his carpet above the blue awning in the background.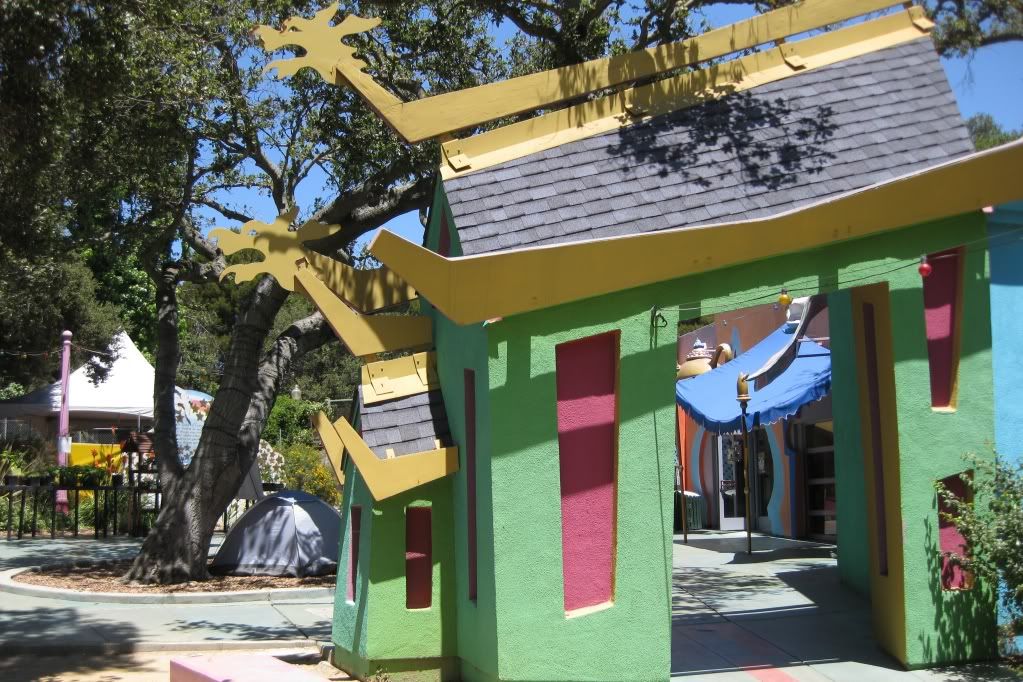 There are many characters spread throughout the park. These two were a couple of my favorites as a youngster. They have changed slightly … Happy Dragon used to be green instead of yellow, and Willie the Whale used to have live fish instead of mechanical ones inside his belly.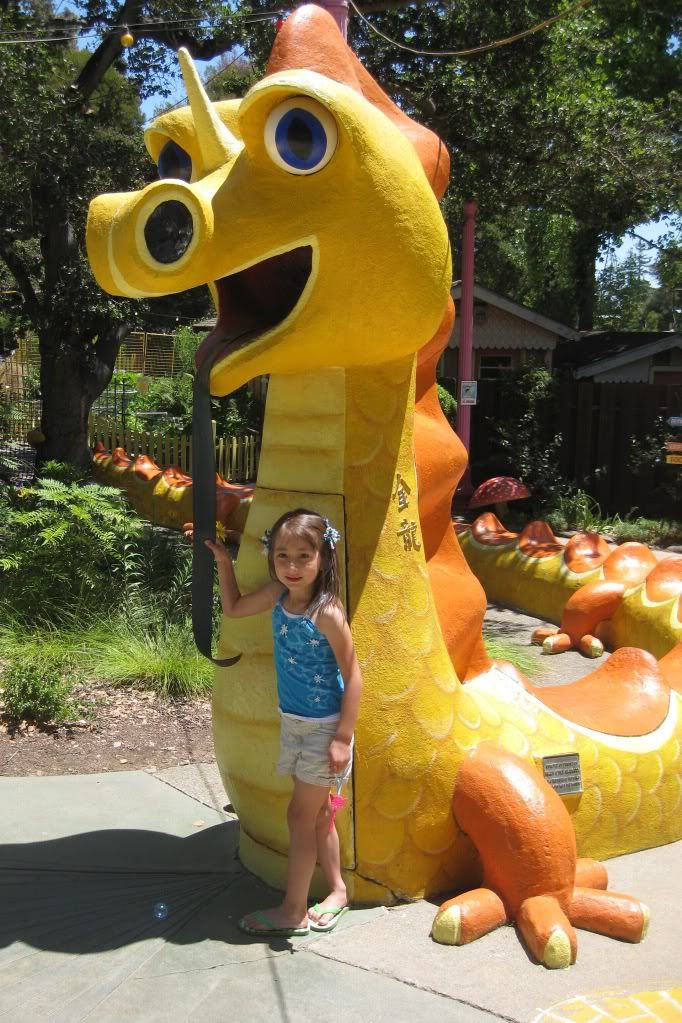 I used to pull on the dragon's tongue as well. Try it and see what happens!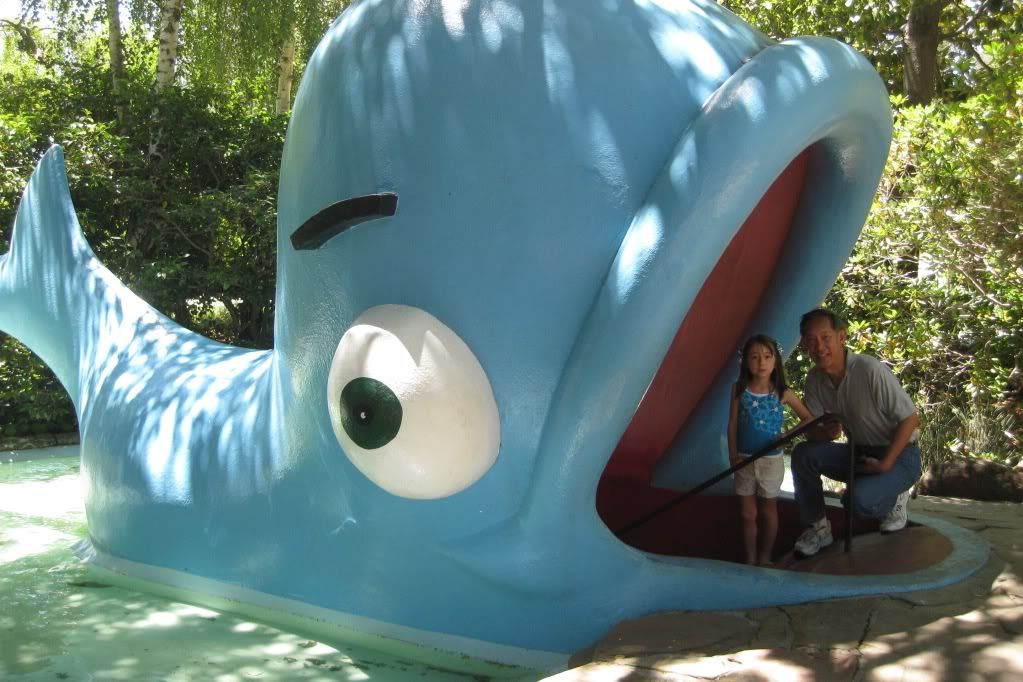 "Hickory, dickory, dock, the mouse ran up the clock." And children have been sliding down that clock tower for 62 years. I used to go down this slide several times in a row … and my granddaughter wanted to do just the same thing!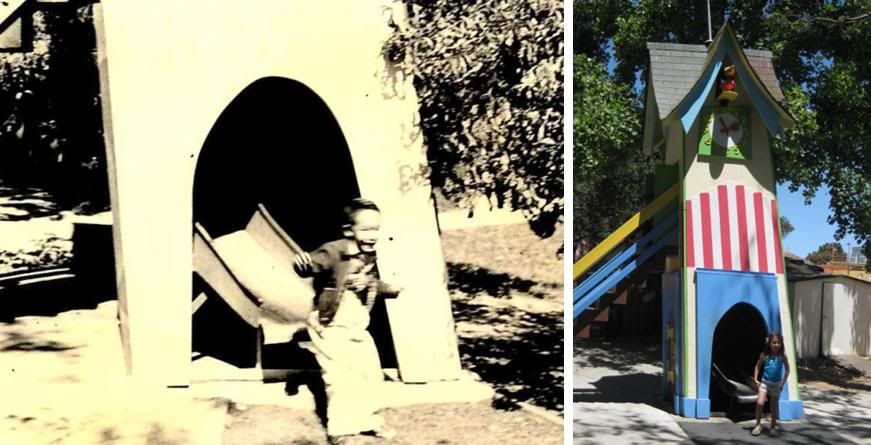 There are many small details which make Children's Fairyland magical. For example, the lampposts are giraffes (see foreground). Kids can also get a drink by sticking their heads into the mouth of a lion.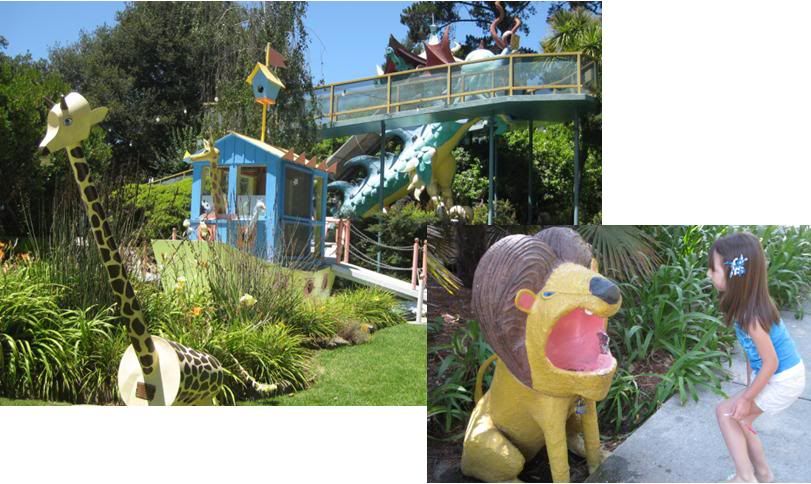 One disappointment was that a trip on the Jolly Trolly is much shorter than it used to be, although I completely understand the need for the change. Back in the 50s the Trolly track actually left the park and traveled around the shores of Lake Merritt. For safety and security reasons I see the need to curtail that longer excursion, although I do miss it.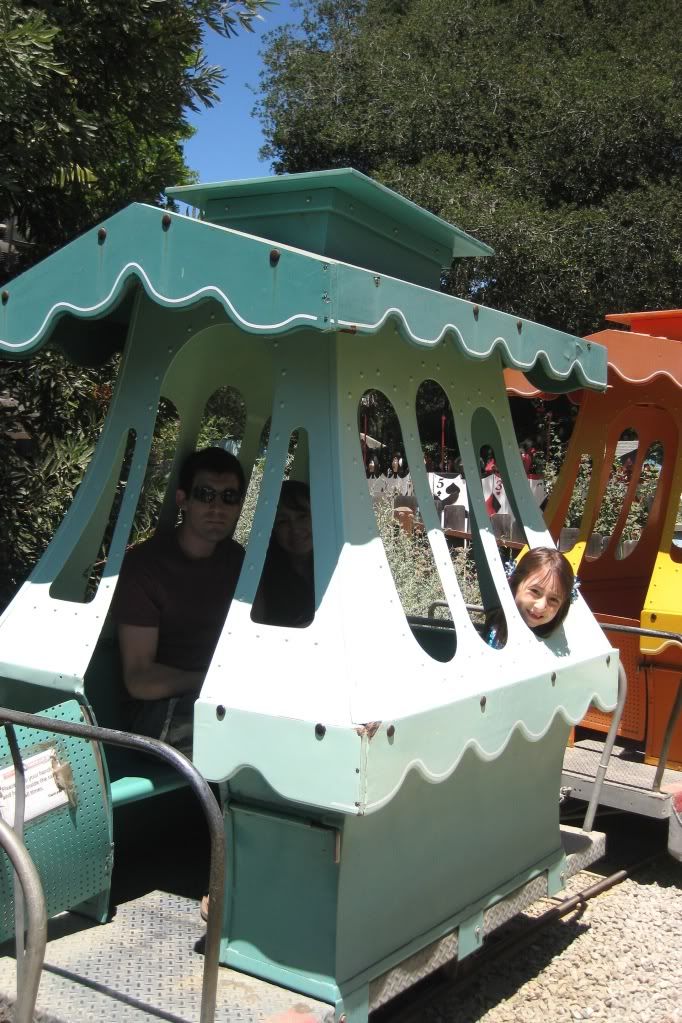 I also think that this ark used to have birds inside … or some animals, anyway. On the day that we visited, it was empty.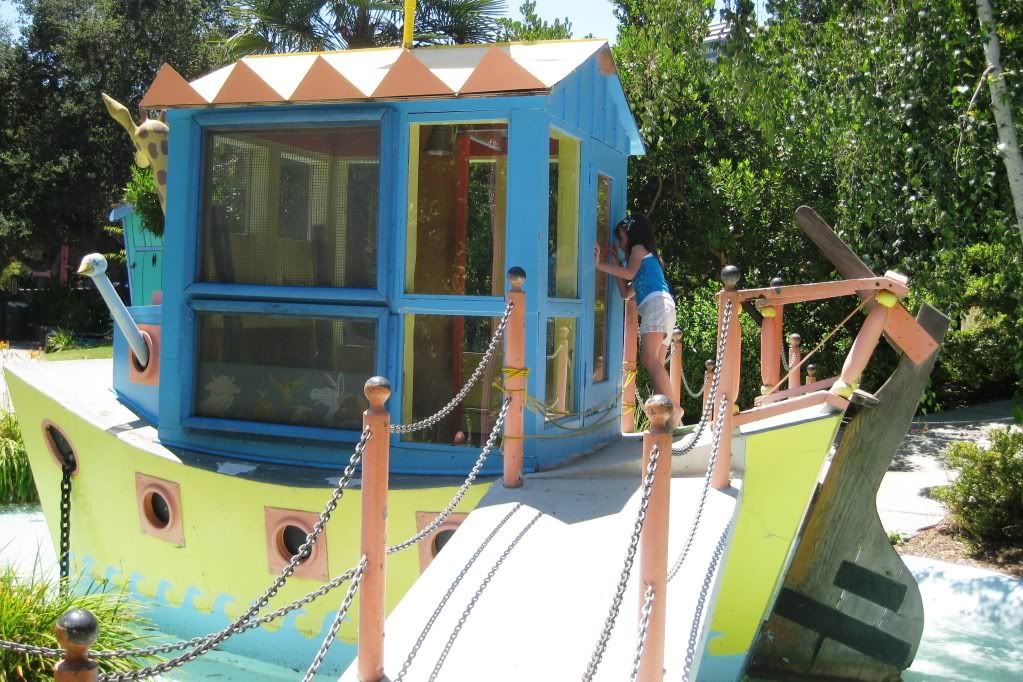 "Grandpa, there's no one in here!"
A major attraction for the kids (am I still included in that category???) is Alice in Wonderland. It looks innocent enough at the entrance, but once inside there are two ways down the rabbit hole. Adults will probably take the ramp, but children can get there faster going down the slide.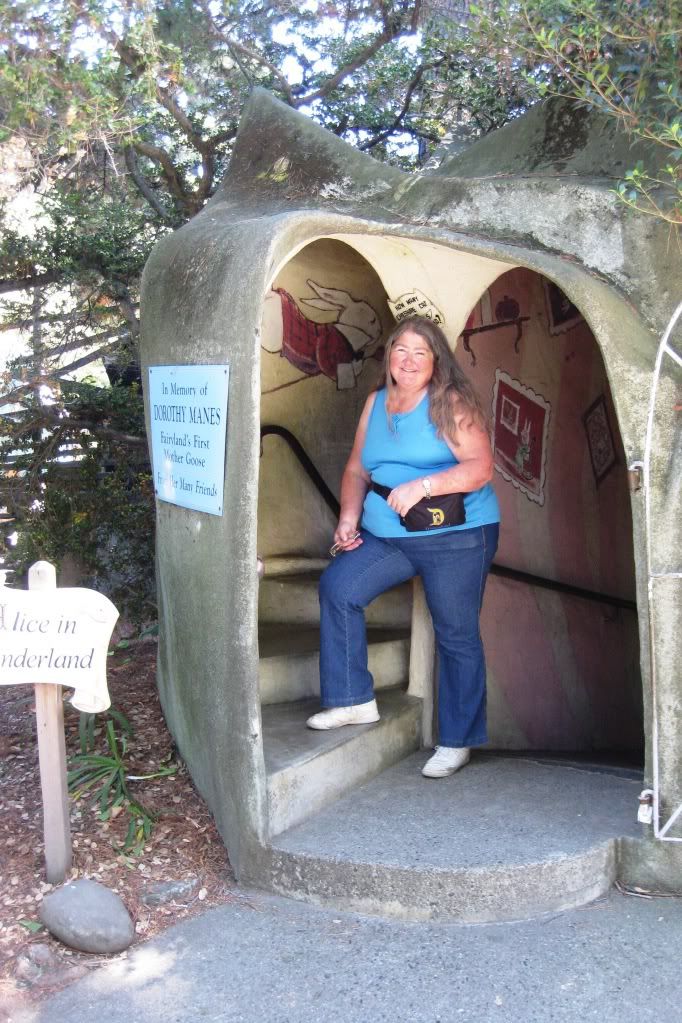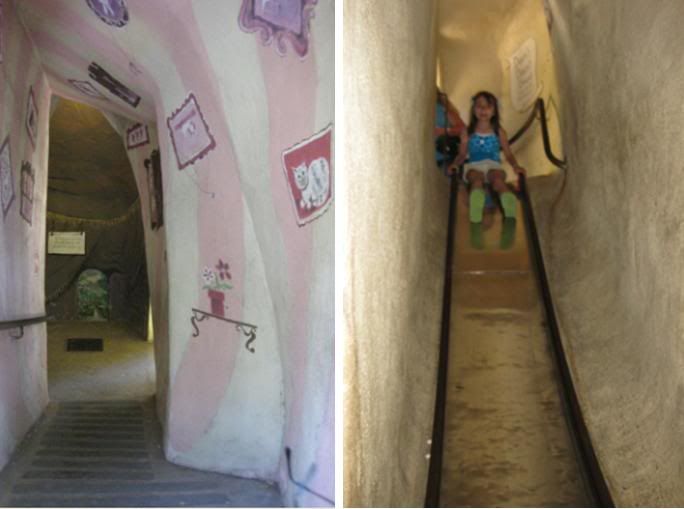 Once inside you can follow along Alice's adventures through Wonderland ...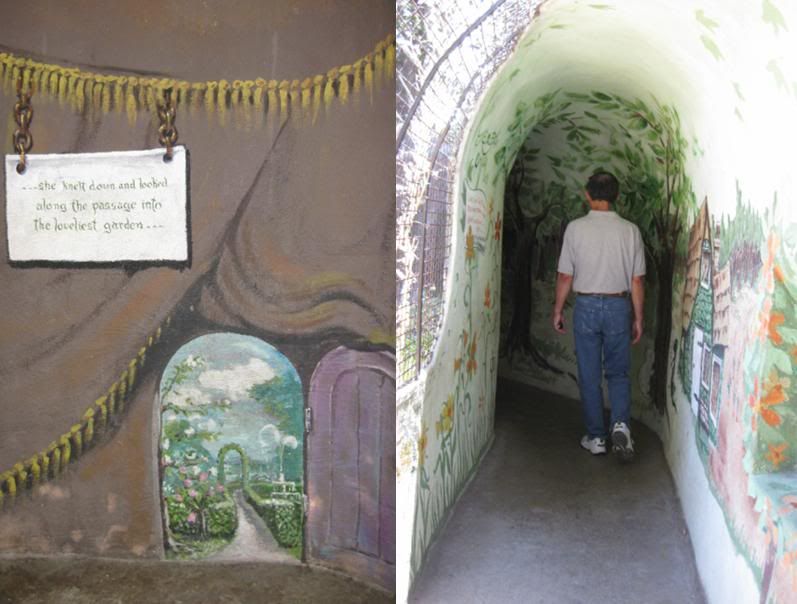 ... until you reach the end. And when you leave the tunnel at the end of the journey, you find yourself in a maze of cards!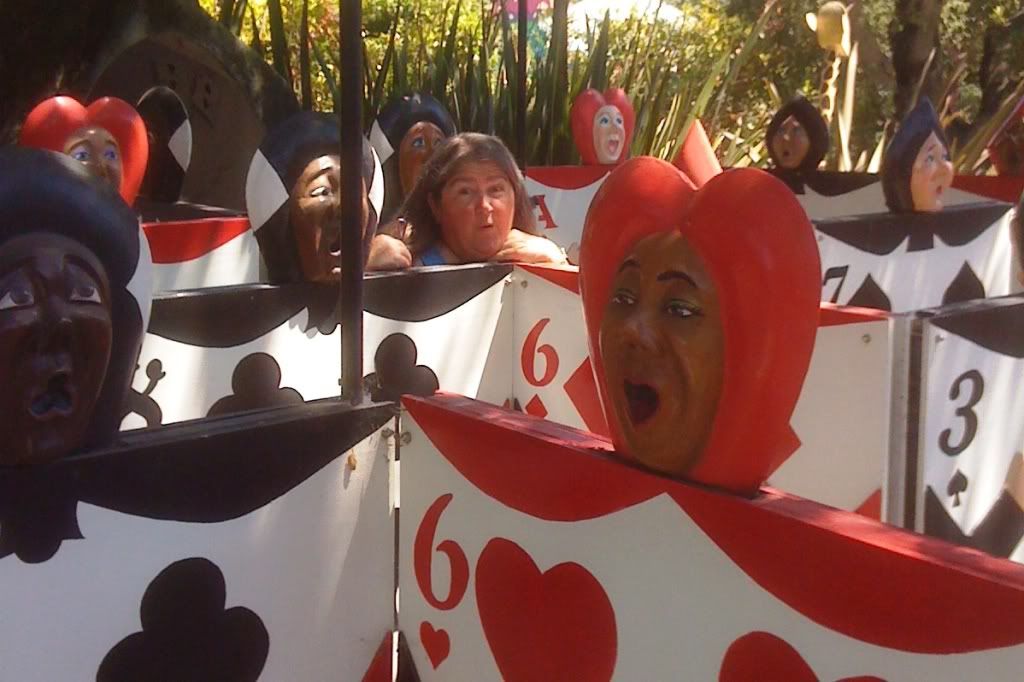 My granddaughter enjoyed the Talking Storybook Boxes where you can insert your magic key ($2 extra at the entrance gate) and listen to a story or song relating to that attraction.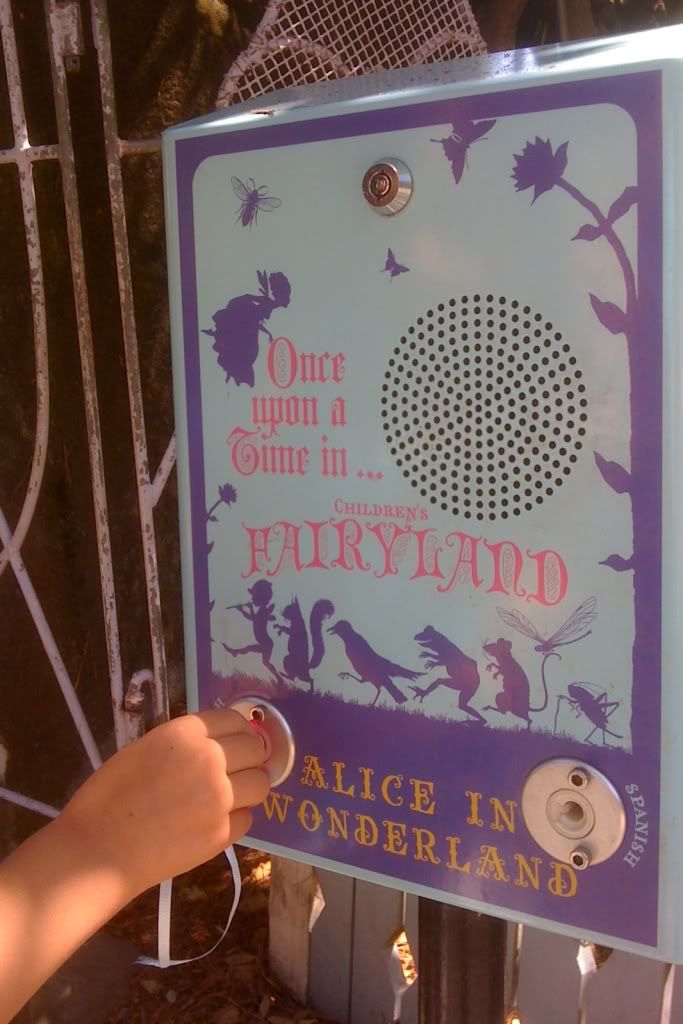 We did find some interesting artwork in the park: an unnamed flying elephant, and a familiar-looking mouse?
From the Dragon you can follow the Yellow Brick Road to the Emerald City and once there, become your favorite character from that wonderful story.
Note: This part of Fairyland was particularly significant to us because our family had just completed a four-week run of "The Wizard of Oz" with our local community theater. But that's another story …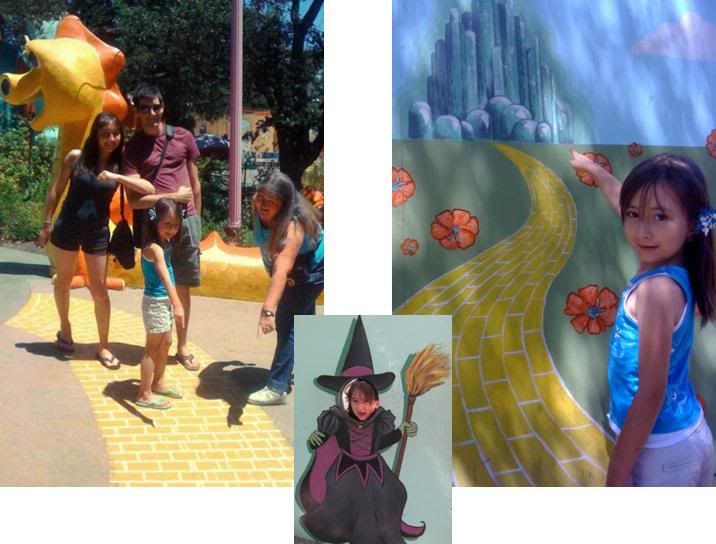 There are many other things to do and see at Children's Fairyland that I have not gone into here. There are several children's stories that I have not mentioned, such as scenes from Beatrix Potter's books (there … I have now mentioned it). There are regularly scheduled puppet shows and a children's theater.
All-in-all, it is a delightful way to spend a few hours, and for an admission price of $8 it is well worth the money!
Here is the link to Children's Fairyland's website: