Here you will notice one damn fine hole:
Every now and then one's dream does come true, and that happened to me with a decades old dream to raft the Grand Canyon. On the 1
st
Sunday of August, the boy and I hiked to the river from the south rim, and by the time a helicopter plucked us out the following Saturday morning, we were 100 miles downstream. This trip didn't just meet or exceed my expectations, it obliterated them. So here are some recollections and photos of one of the most remarkable trips of my life. Names have been changed to protect the innocent, or to at least protect me from the guilty. I've also avoided specific mentions of the outfitter we chose as I don't want this to come off like a commercial, but will happily answer any questions via PM.
Day 1: Cloudtastic
The sky was just lightening as our group of strangers gathered in the Bright Angel Lodge. A Cute Young Thing was waiting to check us in and lead us on the first half of our 9 mile, 5000 vertical foot trek. At least she was properly geared for what every guidebook, sign and pamphlet proclaim as one of the hardest hikes in this section of the galaxy.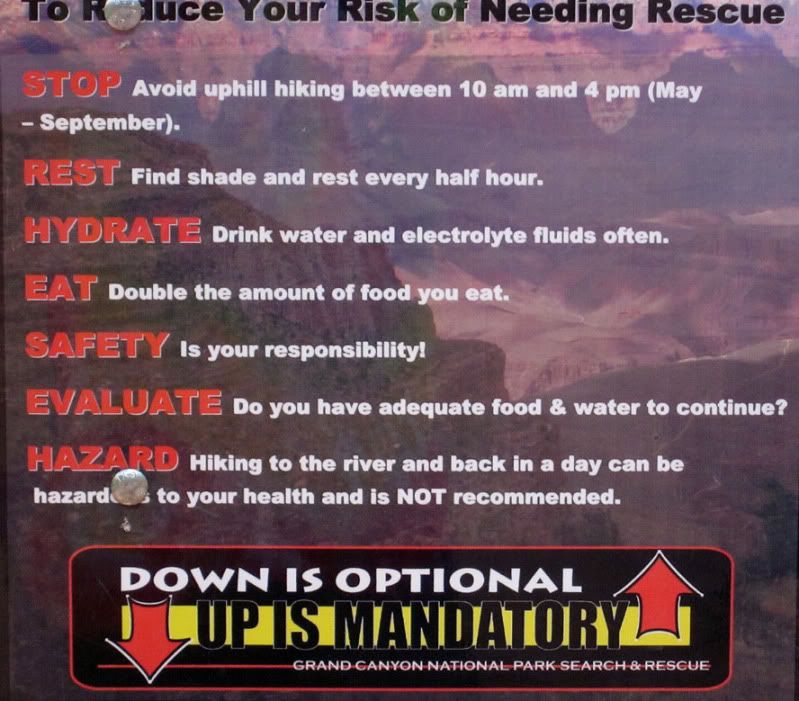 Setting off at a leisurely pace, we began our descent as the sun started kissing the tops of the cliffs around us. I had been hiking up & down a 2000 foot peak near home at a fierce pace to prepare, but now just took it steady, pulling out the camera regularly.
We decided to talk to others in the group. One man turned out to be scared of heights and falling rocks, plus he claimed to have the improbable name of Johnny Mathis or some such thing. We decided to stop talking with others in the group.
The first 4.5 miles had a rest house with water and toilets every 1.5miles, so it was a good reminder to replenish food and water; I made a point of having a quart in me every morning before the day's activities began. At Indian Gardens, the halfway point, the CYT left us to lead rafters that did the upper half of the Canyon on their slog up to the rim. From here, we would be accompanied by a bearded, talking mountain sporting the same sinister footwear as the CYT. These folks are either as one with the environment, or certifiably nuts.
What should've been the point where it started really getting hot and we would be in full sun was actually the start of a day that would remain mostly, blessedly overcast.
There really weren't the terrifying drop-offs I expected along the trail. Some of the steepest were actually near the river. We crossed the "Silver Gate Bridge" nervously eyeing the brown water churning below, still mostly a mystery. In the days that followed, it would be our companion, comfort, highway, drink's fridge, bathtub and toilet. We arrived at the rafts, no one sure how this group would mesh, and met the crew, received our life vests and dry bags, each of us internally noting who will be the first to die and be eaten should things go horribly wrong.
The upper trip had some thunderstorm activity, so our time on the river was brief and almost chilly at times that first day. Securing our campsite, there was a bit of a drizzle, just enough to set up tents that mostly went unused. I sleep poorly at the best of times, and even when we camp I have a cot or air mattress. The pads on the ground weren't ideal, but watching all the stars that go unseen at home made the wait to drift off bearable. It was a diverse group. Myself, a Bay Area Deadhead with his punk rock boy, A group of Texans, medical and educational professionals, parents and kids (some grown up). Some were returning, most were on their maiden voyage. This was it, though. We were all in it together now.
Day 2: Glorious
Most of the rafts were powered by an oar wielding boatman. One smaller craft was available for 6 that wanted to paddle themselves, and a gigantic, motorized Winneboato carried much of the gear.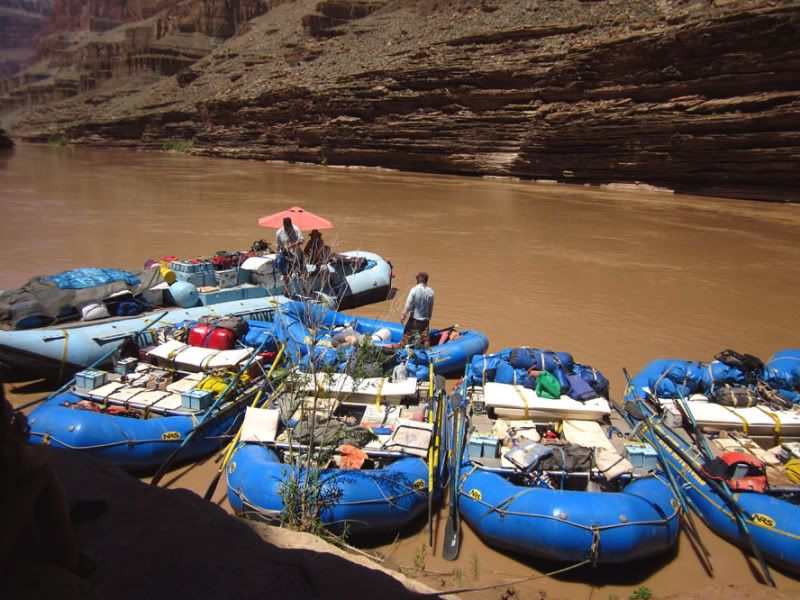 We rode with all the guys by week's end, but after such a short start, day 2 found us once again in a raft being rowed by a big grin with a Nurse and her Dad as our fellow passengers. Being in the front meant getting the wettest of course, while being in the back was mostly standing in rapids; besides, we could back into whitewater if it was getting too hot in the rear. It seemed that every time we'd start getting dry and hot, the next rapid would appear to cool us off. Either looking up at the various bands of rock in the cliffs, or looking up or downstream at the walls unfolding beyond, the whole thing is arranged in layers. And it never ended. You can go from one end of Yosemite Valley to the other in a day on foot, couple of hours on a bike. But mile after mile on the river, and we were constantly in a whole new world (OK, fine. Go ahead and sing the song. We'll wait……….).
As we pulled into a beach for lunch, it was announced that this would be the night's camp. I, and others I later found, questioned this decision to ourselves. We were wrong, the first of many times in my case. A while after lunch I headed into the hills around us, and soon the boy and then others joined us and we trekked to the remains of an old cable car that went across the river. There were few remains, but the view was nice.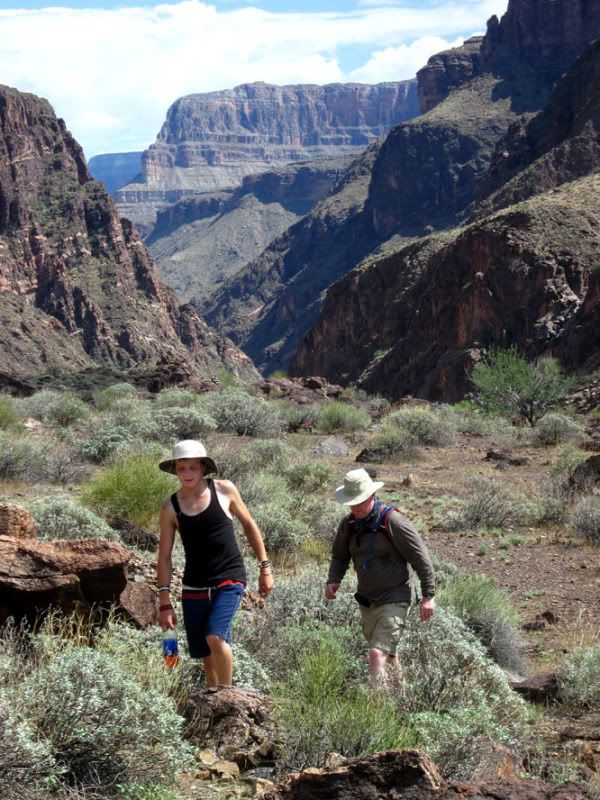 After "adding to the river" if you get my drift, I was enjoying the cool water in a secluded spot when many of the females of the group arrived with soaps and shampoos and…..well, I figured this would be either too enjoyable, or not enjoyable enough, but either way I was sure no good could come from it. So I strolled into the "kitchen" to find that it was time for our first fieldtrip to a waterfall.
We could only use soaps in the main river, but the side creeks were much warmer and clearer. So much, in fact, that I, who can usually not exist with myself after 2 nights camping, could keep clean enough with some head under the waterfall action and strategic scrubbing in deeper water, though by the week's end I couldn't have gone 1 more night without some commercial products. But the afternoon off the water turned out to be just fine; we even had a ringtail cat wander through the camp as the sun set.
Day 3: Inspiring
Two fellow travelers that were doing the full canyon trip were Mohawk and Pops. It only took 2 days on the river for the haircut to manifest, and by the time we came along, she was ready for some more head art, which the boy happily provided.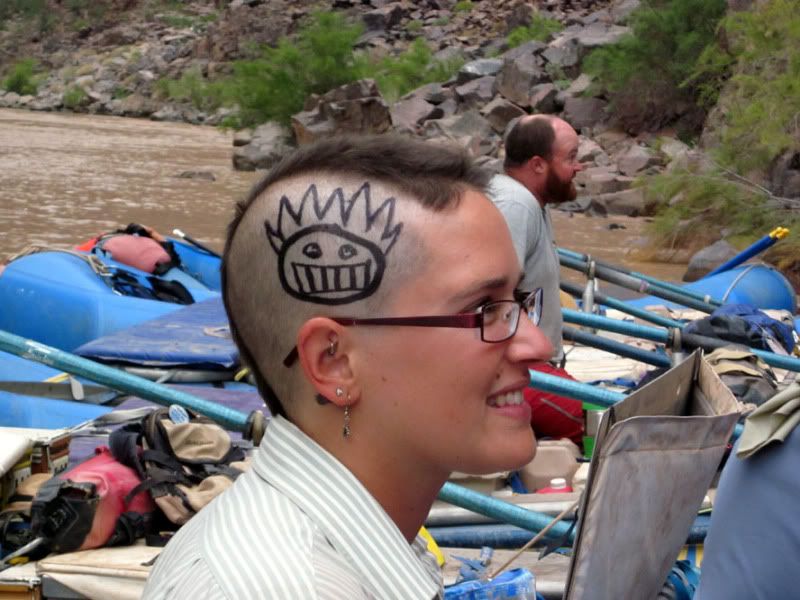 They had borrowed some helmet cams, and I asked to use one to shoot from the back of an oar boat; they had mostly been shooting in the paddle boat. If it worked out, it's a video showing the people in front of the raft and what they see beyond. I had this idea from behind the big grin, so I rode with him one more time, joined this day by the budding actor, her principal sis and their Mom. The boy was on the paddle boat, but I still wasn't sure if I wanted to work this vacation.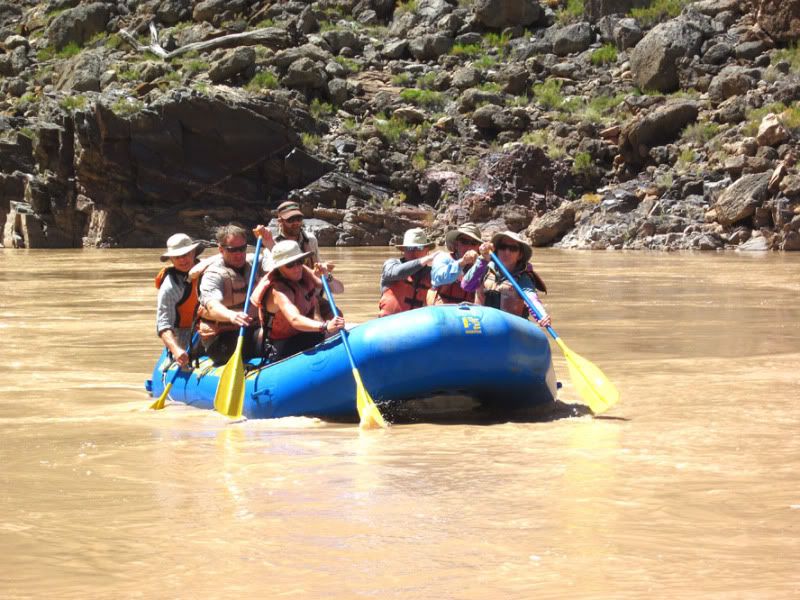 We had our first of many big horn sheep sightings that day. Later in the week we would pass a pair of them; one of whom stomped the ground repeatedly while the other squatted and let flow. I'm pretty sure we were being insulted there. The biggest lizard I spotted that week scampered out of sight as we pulled into our camp for the night.
One of the crew, Straw Hat was having a birthday, and he wanted the meal schedule changed so he could celebrate on Mexican night. Actually, this was the 3
rd
birthday in a row. Cakes were baked, yes I said BAKED, for the budding actor on night one as she joined the ranks of teenagers, followed the next day by our Nurse.
Straw Hat was easy, but the boatmen all wore sarongs for the occasion, and I'm sure he was dying to break out that pink, leopard skin mini skirt. Even the boy was inspired to borrow a skirt from Mohawk.
As it got dark, I found that I was inspired to join, and even lead, some of the circle of singing. And I was working with the distinct disadvantage of not scooping cupfuls out of the bucket o margaritas.
Day 4:Perspective
Straw Hat looked like Country Joe McDonald and after a birthday he looked old enough to trust, so we figured we may as well ride on his boat next, joined this day by the Quiet Doc and his 2 smiling daughters that appeared to have just stepped out of a Pepsodent ad.
Deer Creek was by far the best waterfall we encountered, 120 feet straight down.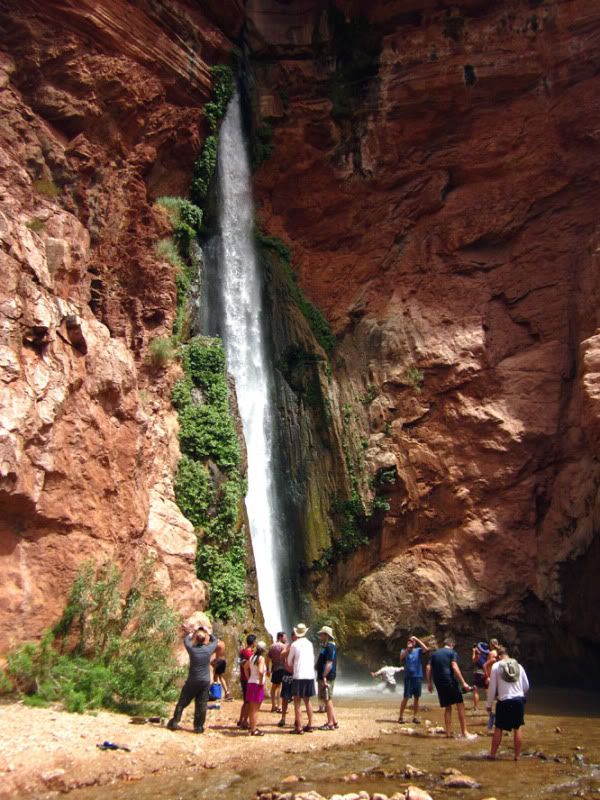 Above it is a small slot canyon, and after a scrambling hike up, with only one narrow ledge where one mis-step is a death plunge, a small swimming hole.
As I returned to the base, I pulled my camera out of the 2 ziplocks for a photo. And, of course I knew I could easily make that 2 foot hop across the creek, no reason to reseal the camera. It was almost slow motion as I lost my balance and sat in the water. The card was saved, but the camera was drowned, and you know what? It was really great fun.
Had I reacted differently, any anger would've been short lived. Less than an hour later we all watched a helicopter lift off with a boatman needing medical care (he's expected to recover and be fine). That certainly puts the loss of a $200 camera into perspective.
The afternoon was scorching, by far the heaviest heat. Timing is everything. Having a water battle prior to this would've been forced. And Country Joe had the 2 baddest super soakers of them all. When I had them, 1 out of 5 blasts went straight up to rain back down upon us. Friendly Fire indeed! I would've sworn I did NOT want to go off a raft into the river. But the moment hit, I called out "this is intentional", and went into the water. The paddle boat skipper didn't really plan to go in, but he suffered a sneak attack (remember dude it's all in fun and we're all friends and love each other) from the boy leaping across the void between our rafts and showing that a hockey player can tackle, too. When we hit camp for the evening, all were upbeat and energetic when we could have so easily been burnt out with burnt skin.
At this point there will be an attempt to describe the strange ritual that took place every night prior to any food preparation. All of the boatman carry pliers on their belt. Clearly over the years it has been determined that this is a useful tool in a variety of situations. They are also thrown over a great distance towards a bucket of water so beat up and damaged that by now it is probably more duct tape than metal. Bottom line, putting your pliers in the bucket can get a boatman out of kitchen duty. We saw the rim hit; we saw in and outs, we saw pliers' handles penetrate the sides of the bucket, and we sometimes waited so long we wondered if we were going to be seeing a midnight buffet by the time any food would be on the table.
This night's dinner was lasagna. It was the only time I got seconds; thought I got too much, and I was happily wrong yet again. But let me tell you, in a place where we should be struggling to survive, and by all rights dead in less than two days, we not only had lasagna and cake. We had smoked salmon and shrimp, stew and quesadillas, blueberry pancakes and French toast. We had Prime Rib!
Not only were we surviving, we didn't have to worry about our basic needs, like, I mean, like, the food comes out eventually you know, and these incredible guys are hauling cans of our………hey, whatever percentage they got of the vast amount of money we paid for this trip, it's not enough. But, I also tell you this, as toilets go, you can't beat some of the views.
Day 5: Transcendent
The budding actor was going to go for the paddle boat today, but only for the afternoon, so I decided to fill the slot for the AM shift, which started with an immediate rapid named Upset. I did go on the floor but not out the door. There were TWO wristwatches on that raft, and I couldn't help from seeing them. I was so close to going 3 straight days with no idea what time it was; it greatly displeased me.
That afternoon we floated with the Mountain, who likes to read stories and sing between rapids. And there were few rapids this afternoon, another day that appeared like it would be extremely sun-tensive. Then the sky darkened. At the same time, the canyon walls drew close on either side of the water, rising straight up above us. Ominous. Foreboding. Low rumbles in the distance.
The first winds were from the rear. The storm appeared to be ahead of us, its low pressure sucking in the surrounding air. Sand and dust filled the air, hands shielded eyes. Then the wind in our face. Uncertainty. Fatigue. Apprehension. It's quiet except for the rhythm of the oars, the boatmen straining against the headwind. We are no longer strangers, and are comfortable in silence now. All the "what do you do?" questions have been asked by now. If not, who cares? It doesn't really seem to matter at this moment. The Mountain began to sing.
Johnny Cash, Folsom Prison. Still don't know how killing someone in Nevada gets a man into a California prison. Remarks made about the Cash tunes that had been played in the previous night's camp. Songs that were beyond the obvious like "Ring of Fire". What a great song I think "Don't bring your guns to town" is I remark. The Mountain began to sing again. I wish everyone could've heard it. His voice echoing off of the rocks seemed like it would fill every ear. In the quiet, under the threatening sky, with no sound but the oars and a mournful tale of inevitable tragedy filling my head, tears threatened to fill my eyes. There are moments in life that come to you on rare occasions. They cannot be pursued. You cannot seek them. You can only arrive. And we were there.
Day 6: Anticipation
Lava
The rains never came. There was just enough of a sprinkle to get the tents up, but again they went unused. It had been the only night without bats swooping all around, and it had been the night with the most cool breezes. There were actually times this week when a single gust of wind would start at about 60 degrees, but by the time it petered out 15-20 seconds later, it was at least 90 and feeling like a blast furnace. Needing more than a sheet on me to sleep was a refreshing change.
Lava
It was our last day, one of anticipation and mixed feelings. Thoughts of a hot shower and soft bed were starting to enter our thoughts. So too was the realization that we would soon go our separate ways and return to views of traffic and buildings. We would leave the river. Today the FEO (future executive officer) was manning the oars. A Lone Star and Lone Badger were riding in the stern. It was bow all the way for the boy and me. Bring it on!
Lava
Rapids in the Grand Canyon are rated on a 1-10 scale; three qualify as 10s. One is on the upper half of the trip, before we joined the group. Crystal we had run. The waves aren't unbelievably big there, though. The rating is based on its navigational difficulty as much as anything. Still, it was one of the rapids I'd heard about prior to the trip.
Lava
The other was Lava Falls, the fastest navigable rapid in the western hemisphere. Lava was scouted before being run. Lava was discussed in hushed tones for days before we reached it. Lava brought out pirate caps and boots among the crew, not to mention more leopard print, purple hair, and *****cat ears. The plans were made, the boats were boarded, straps were double checked. And we discovered how quickly humans can become completely, thoroughly soaking wet.
We stopped downstream at Tequila Beach. An appropriate bottle appeared and went from hand to mouth to hand. A small voice asked if children had to drink some? No sweetie, of course not. But it wasn't about alcohol, it was about a shared experience, it was about us all coming through that rapid upright (most youtube vids of Lava Falls have a word like "Flip", "Wipeout" or "Carnage" in the title). Shoot, I don't even like tequila, but I happily took my turn. Even allowed the boy his. All the small groups of "we" had become one great big beautiful "us". And it was all about to end.
Spaghetti in camp, with a choice of alfredo sauce or mariana with meatballs. Why make a decision? Get both; that's my motto. It can't get any bett.……shoot me in the head! Is that peach cobbler? You say it's too warm to have on paper towels so we have to use plates? We'll cope.
We were all River Rats, now, and the crew presented us with our Rat pins. No expense was spared; these babies are genuine metal.
There were speeches, testimonials and thank yous. Tears were as plentiful as hugs. There was none of this Red/Blue state rubbish that is slowly turning us into the Divided States of America. Everyone present had probably had a moment when they realized they were talking to "one of them". But, as it turns out, "them" is actually OK, too. Some of us were quiet, some loud. Some followers, some leaders. Some arrived apprehensive, others confident. We had used more toilet paper than any other trip in company history, and would've run out if not for an ice for TP trade with another outfitter. We were also said to have drunk more water than any group, and there were rumors that this trip had more alcohol than any other prior. We were strangers thrust together, and we'd all gotten each other through one of the greatest weeks of our lives!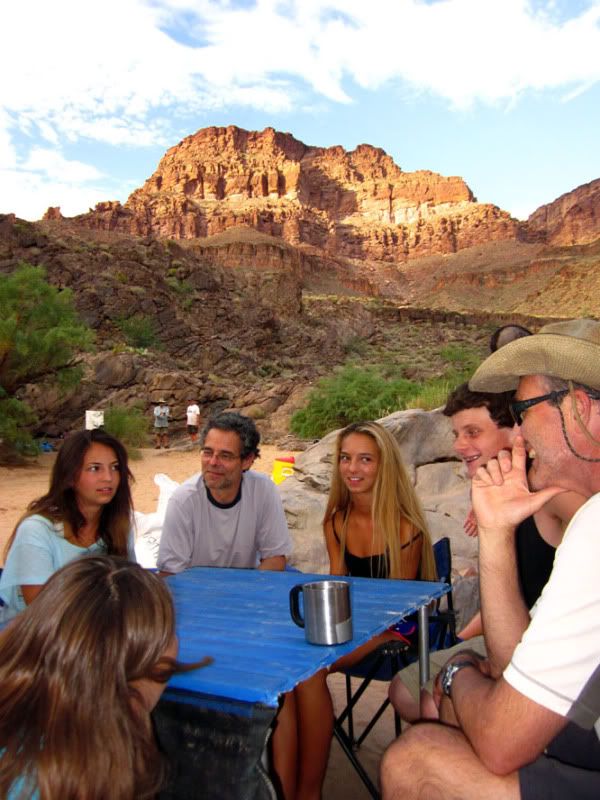 Day 7: Dissolution
A short stretch of calm water this final morning would take us to the place where helicopters would lift us out of the great hole. The boy and I would finally get some river time with the Trip's Commander, but it wouldn't be for very long. The last group photos were taken, and we bade farewell to our wonderful crew. Emotions welled up again; the Mountain had already hit the river because things were getting so heavy; the crew had more water to cover before pulling out the boats. A geezer straight from central casting assigned our seats to us, and 6 at a time we flew off to a ranch near the rim. We would reconnect there, but the thread holding us together was starting to stretch.
SHOWERS! My tiny hotel bottle of shampoo said "lather, rinse, repeat", but nothing about "stop". I kept going until it was empty. I was happy the T-Shirt we were given was received at the end of the trip, and I was sure my fellow passengers on Southwest Flight 11 would be ecstatic. But first, we had sandwiches without bread that turned into toast by the last bite. Small planes would take us to the south rim, Page, AZ or Las Vegas, depending upon where one had started or where one was ultimately going. The goodbyes were still heartfelt, but as we went on different trips to the airstrip, the thread stretched more.
The only pavement in the vicinity was that little sidewalk our airplane [sic] would use to take off. One has the feeling the ol ranch doesn't get much drive up business. If a Captain flies a 747, this thing was being piloted by a 2
nd
Lt, tops. Landing in the small executive airport in Las Vegas, the thread was nearly at its limit. Cell phone signals now reached us. Connections beyond the canyon walls were reestablished. After the bus dropped us off at McCarran Intl Airport, goodbyes were perfunctory, if at all. The terminal quickly absorbed us into its midst. The thread snapped. The spell was broken.
Could anything be more different from our river life than an airport? Only one that is filled with slot machines, their electronic beeps and boops making it feel like we were inside a Donkey Kong game. The boy said the River taught him patience; that was in short supply here. For a week, if we did see another face, it was very likely someone we knew. Now, there were faces everywhere. Strangers. We didn't know any of these people. But a small voice was there, struggling to be heard amid the announcements, slot winners, footsteps and spinning luggage wheels. It's far away, but listen hard enough and it's heard.
Lava
I have uploaded many more photos to my photobucket album here:
http://s100.photobucket.com/albums/m16/ralfrick/
Most pics here came from the Grand Canyon People sub-album:
http://s100.photobucket.com/albums/m...People%202012/
I also have a number of landscape pics in the Grand Canyon Places sub album:
http://s100.photobucket.com/albums/m...Places%202012/
Thanks for floating along. If you've ever wondered if you should do a trip like this; Do It!