On Monday I visited the finest theme park in the United Kingdom,
Alton Towers
, which I had never visited before in face of the fact that it is only an hour down the road. My opinion of it when I left the park was that it is just as good as Busch Gardens in Florida or even better.
The park is well themed thanks to the financial and creative support it gets from it's parent company The Tussaud Group (they also own the Madame Tussaud wax works all over the world) and its parent's parent company Dubai something or other. That company is amazingly rich, thats all I know.
The park also has some of the finest coasters in Europe, even the world.
Air
, is a coaster where you lie horizontally in a Superman-position, and fly around - the feeling is extraordinary.
Oblivion
is a dive machine similar to
SheiKra
at Busch, and my favourite,
Nemesis
is one of the best coasters I have ever ridden. Most recently opened was
Rita
, a launch coaster which sends you to 100 mph in about two seconds? Something like that.
I always imagined it would be cool if Disney bought the park, because all they would have to do is spruce up some of the building facades and add a few characters walking around - the park is kept immaculately clean and I didn't spot one off-the-shelf ride. Okay, there was a Tea Cups rip off, but what foreign park hasn't ripped off the Tea Cups? Also, Alton Towers has a
real
castle at the center of the park - the castle has been around for centuries, and a theme park was built around it in the 1980s. In fact, Disney's FastPass system actually originated here -
officials from the Disneyland Resort visited Alton Towers in 1998 for a visit
, and the park was more than happy to swap ideas. So all you FastPass haters can blame us Brits.
My one complaint? The park is humongous - far bigger than Epcot, which up until Monday was the largest park I've been to. Maybe it's because it is set in the country and it has many hills, or maybe it's because all the rides are spread out so far apart that I needed a good foot soak when I got home. Here's a few pictures.
Me and my we-love-to-pose friends in front of a passing coaster on
Air
.
Us Brits love our log flumes...
...I think I'm the exception.
This has got to be one of the most beautiful parks I've visited. The castle in the hills:
Alton Towers' tribute to Disneyland
The 'tributes' just keep coming in their interpretation of Main Street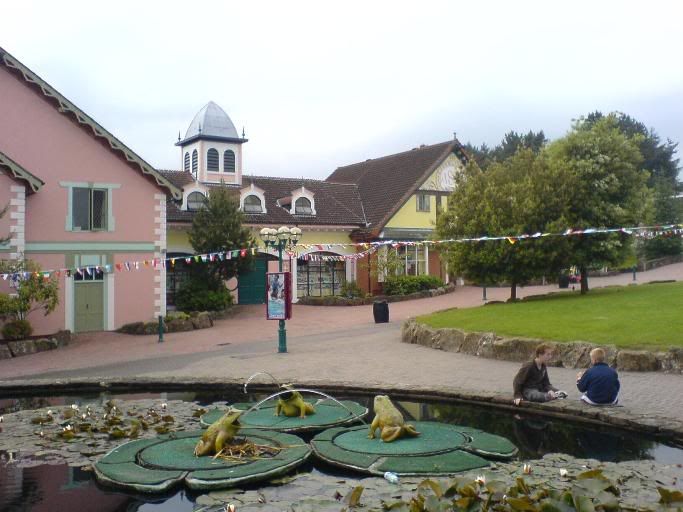 Walking through the castle
Another shot of the castle