Day Four of my trip brought me to Knotts Berry Farm for the first time in over 10 yrs. I was pleased to be joined by Judimouse on her first trip in 15 yrs and Disneyfnatc for his first time ever.
We got there around 10am and used the Burger King $ 25 pass coupon.
Our first ride was on Bigfoot Rapids. I would point out first that I was the only one to get really wet on our ride. It was fun enough but was seriously lacking in theming.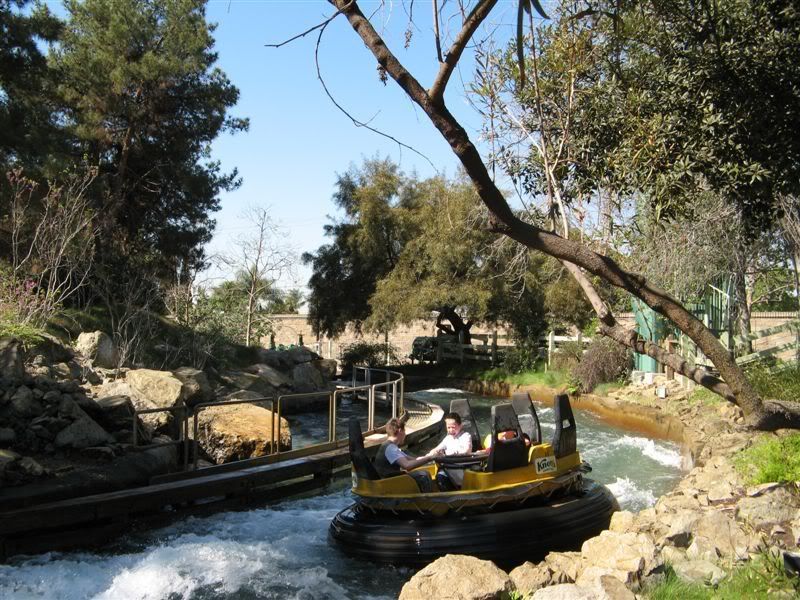 After Bigfoot we moved over to the Wheeler Bumper Cars ride. I hadn't been on bumper cars in years but I have to say we all had a great time. We may have acted like 4 year olds but it was a great time
After the Bumper Cars it was close to 11 so we went to see Mystery Lodge, which is a really good show with some neat effects. It was probably worth going to Knotts to be able to see the show, especially if the rumors of its possible demise are true.
On that note we did talk to an oldtimer employee who told us that the schoolhouse, located near Mystery Lodge and Ghost Town is on the National Register so it cannot be destroyed. This might help save the area from coasterdom.
While in ML, I played with the photo stitch feature of my camera to get a wide shot of the doors.
This is more than I can say for our next ride, Ghostrider.
We had all decided to do Ghostrider because while we are not huge coaster people, it is a classic wooden coaster and an impressive sight to see.
The ride however was not enjoyable in the least. I know that wooden coasters are not going to be as smooth as metal ones, but this was unreal.
I have never been shaken and tossed worse in my life, I couldn't even see straight at points. Both JM and DF agreed that this was a terrible ride, not even close to other wooden coasters.
I don't know if Knotts has cut back on upkeep but this ride was very jarring and rough.
Needing a break we decided to head over to the Calico Mine Train where we ran into another bit of a hassle.
Judimouse is, for all who know her, one of the dearest and sweetest people on Earth. She is kind and has the heart of a child.
However she has the knees and ankles of an older person and so she does not do stairs. We asked if there was a handicapped access and were pointed to an entryway which was marked for wheelchairs.
This is what they called wheelchair access.
After Calico Mine Train we went ahead and did the regular train ride on Calico Railroad. Both rides were relaxing but they lacked much in terms of theme and the employees/ride attendants lacked any real spirit of the ride.
Since we were there we also did the Stagecoach ride and walked around Ghost Town, one of the few areas with a decent theme. JM told us some of the stories of the old days of Knotts.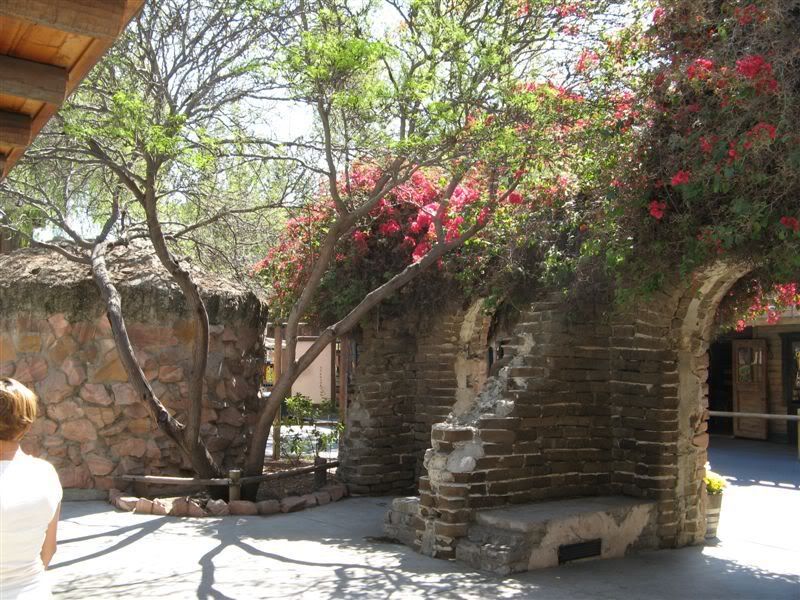 We were now thinking about lunch but figured if we were gonna do any more coasters we should do them before we ate.
JM is not big on the super thrill rides, so it was gonna be just DF and I if we did one of the biggies. We pondered Silver Bullet but after our adventure on Ghostrider we were not sure. Plus DF and I can be a bit wimpy on thrill rides too (well at least I can, I won't speak for DF).
However we decided Montezumas Revenge was short enough that we should at least try one biggie ride.
For those who don't know this ride, you launch fast like on Screaming. Then you go through a loop and up a ramp to almost vertical. You next go backwards through the loop, past the loading area to almost vertical the other way (pointed down instead of up) and head back to the end of the ride.
It's actually only 30 seconds long and if you want to try one of the biggies, its probably the best bet.
JM was willing to do Jaguar so we all rode on it next.
Again while I enjoyed both coasters, the general lack of theming and the morose attitude of the employees detract from the feel, as does the crammed in feeling of all the coasters looped inside each other.
We were hungry so we had a relaxing lunch at Johnny Rockets. Our server here was friendly and efficient, the best one we'd seen so far.
Since Sky Cabin was nearby we moved over there and had an experience that seemed to sum up the day.
As I've said JM doesn't do stairs, so we went to the handicapped/special assist door. We could see it was hard for the ride operator to see us so we walked around and let them know we were there. We were assured someone would be down.
But the ride launched without us. For this time we gave them a break figuring maybe the ride was full or they needed to go grab the keys for the back door or something.
But what happened next was jaw dropping.
As the cabin came down we were apporached by a employee and we said to him we were waiting. His response was to tell us we needed to go up to the top, up the stairs.
We reminded him JM does not do stairs. His reply was that 'well one of them (refering to DF and I) needs to walk up there and work it out'.
Needless to say we were floored, his attitude was surly and as if dealing with us was a hassle.
However our rather terse response to his statement persuaded him to do his job and finally someone came down to let us in.
The funny thing was as we rode up in Sky Cabin our response was to see if we could see Disneyland, and we did grab some shots.
We now moved to the front of the park to check out Camp Snoopy. It was now that we realized something else that was missing. No characters were out and about.
Back in Camp Snoopy we finally found the dog, and got a shot of him with our second favorite mouse. But this was about it in terms of character interaction.
By now we'd done all the rides we really cared about so we did a couple of shows. First we watched the Calico Saloon show and then the Wild West Stunt show.
Calico Show was clever and the performers did a good job, but give me Billy Hill any day. JM commented that the show used to be longer and with more performers, including Can Can dancers, but such is life under Cedar Point.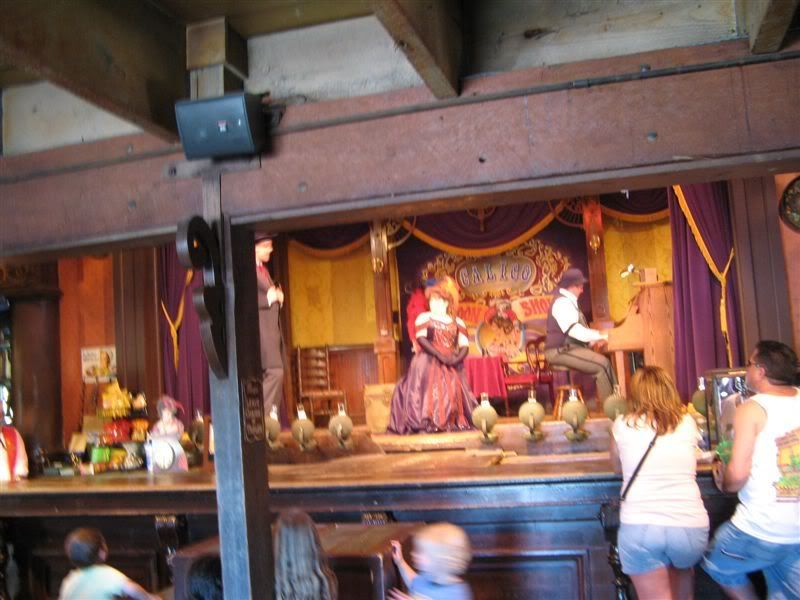 The Stunt show was well done and the performers skilled, but it was less than 15 minutes long.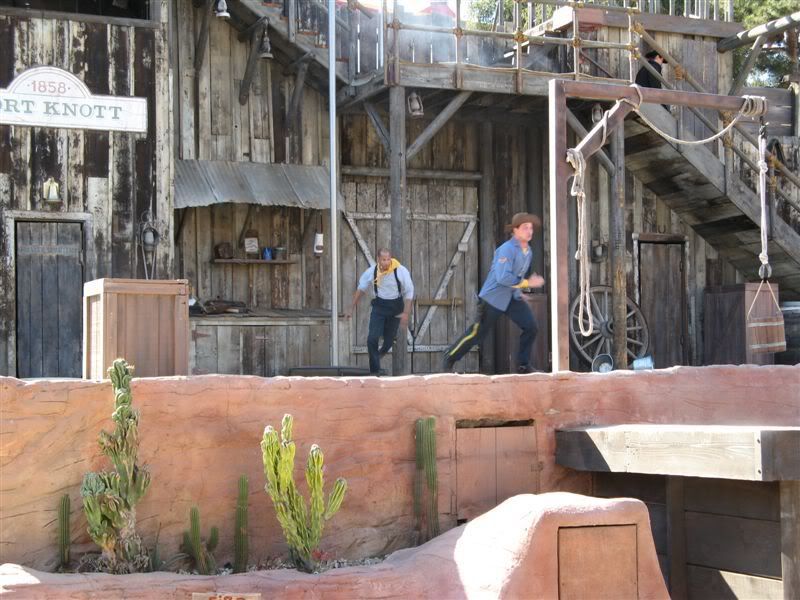 However, there was one moment in the show well worth repeating. When the good guys caught the head bad guy they told him
"We are going to send you to the place that all hardened criminals go"
His response.
"You mean I'm going to Six Flags ???"
JM, DF and I almost fell to the floor we were laughing so hard.
Having finished up stuff in Knotts park we walked across the street to Independence hall to take in the show there.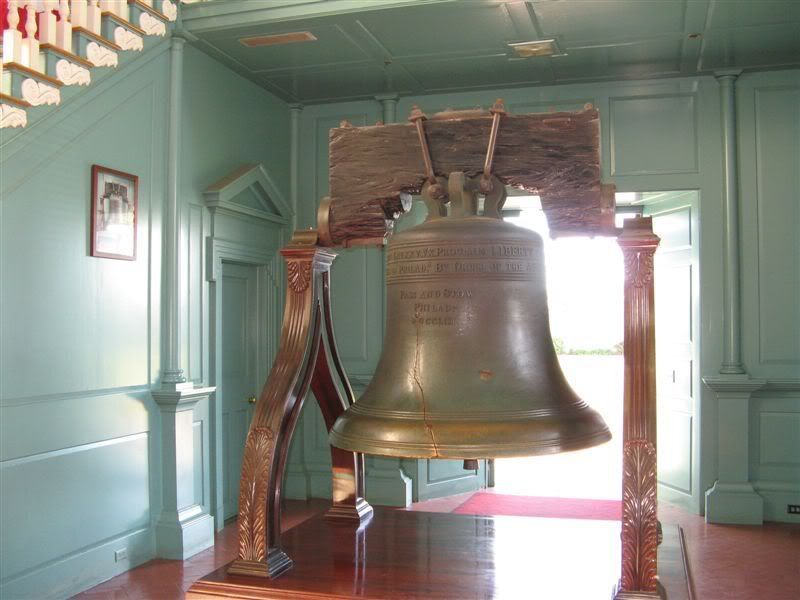 As JM said, every American should be required to watch a show like this to remind them how lucky we are.
At this point we felt we'd done the day and around 5:30 or so we headed out.
I know its not entirely fair to compare Knotts to Disney, but as JM pointed out at one time the two were very close. Today they are not even in the same league.
DF put it best when he said this is not a theme park, merely an amusement park.
I hope I am not being too rough on Knotts but I did not find the day especially fun. I enjoyed the company of course and parts of the park were enjoyable. But the lack of theming, the complete indifference of the employees and the general mood was just not up to snuff
In face DF and I stopped at Downtown Disney for dinner and felt more magic and spirit in the hotels and DD than we did at Knotts.