Yes thats right I did....
Earlier this year in march I went to Texas and I went to Sea World and the Six flags Fiesta Texas. This was my first trip to Texas so it was fun.... I also did sight seeing so I will post about that as well. This may take awhile so just give me time. I also made the pictures smaller then some because I know a few people have slower computers so this way it will load fast for everyone!
So we begin.
The whole trip there what can I say? It was cloudy and hot and humid the whole time. That was the weather. For me being born and raised in California it was a big change for me. So the first park we went to on the 5 day trip was Sea World.
The think I found funny was it was no where near the sea. Strange yes but the park was big.
I really liked the entrance. It was a nice view.
Now on to Believe.
I will give you might thoughts on the show. This is the Shamu show and I thought it was good but when I watched it I started having flash backs.... no not flashback but flash backs to the disneyland firework show Believe. All through out this show there was a ladies voice that would randomly say Believe! Over all it was a great show I like seeing big whales. I am easy to amuse.
Jump Jump!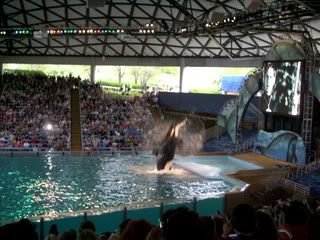 Something is in the water!
More Whales
OMG is it dead?
Of course not!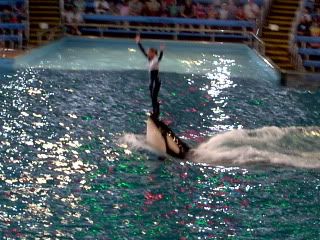 well more pics of the show will be coming up plus a lot more! Stay Tuned....