http://www.aquaticabyseaworld.com/
An intriguing new Aquatica site (see above link) is now up that highlights the many rides and features that range from the "serene to the extreme" at SeaWorld Orlando's coming waterpark. Dustysage expressed his excitement over the park earlier this year. I must say, my enthusiasm is building with every new factoid of information that is released.
The new sight includes a fun, colorful video, concept art and models. There's even vibrant wallpaper that you can download for your screen.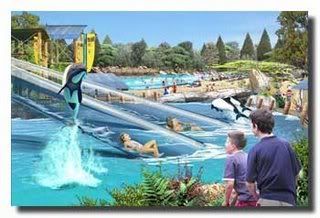 The most unique signature attraction features two 2,300 ft. tube slides that plunge guests in inflatables down a 42 ft. drop beneath a crystal blue lagoon filled with playful Commerson's dolphins. The resemblance of the dolphins to our favorite Orca, Shamu, is no accident. Rather, it is a salute as you zoom past them - and feel as though you are flying both above and underwater!
Another signature attraction includes two giganormous parallel wave pools that can be controled independently or simulteniously. They are capable of nine different wave patterns. I can't wait to experience the dueling wave effect! The wave pools are definitely one of a kind, and a cut above the rest.
Aquatica will boast other thrill rides as well, such as slick side by side racing slides. Guests will also careen thru tubes into these two whimsical cone slides for riders to enjoy spiraling around in before dropping thru a hole in the bottom of each, and dropping into the river below -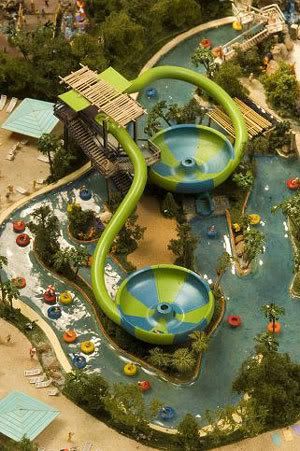 If all this wasn't enough, how about being pampered with conveyer belts that carry your raft up to the top of the slides for you?!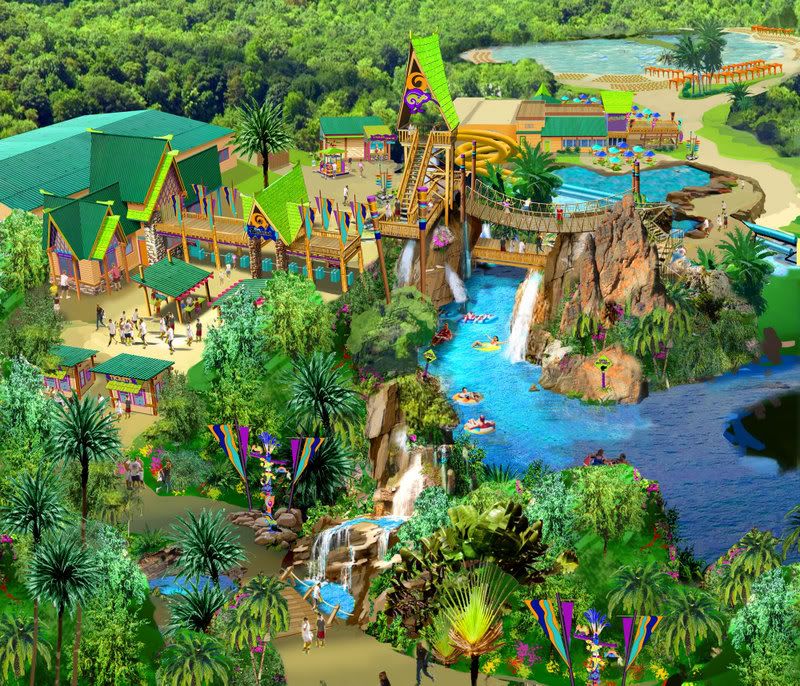 Not one, but two rivers will wind you thru gorgeous animal habitats, lush flora and exciting landscapes.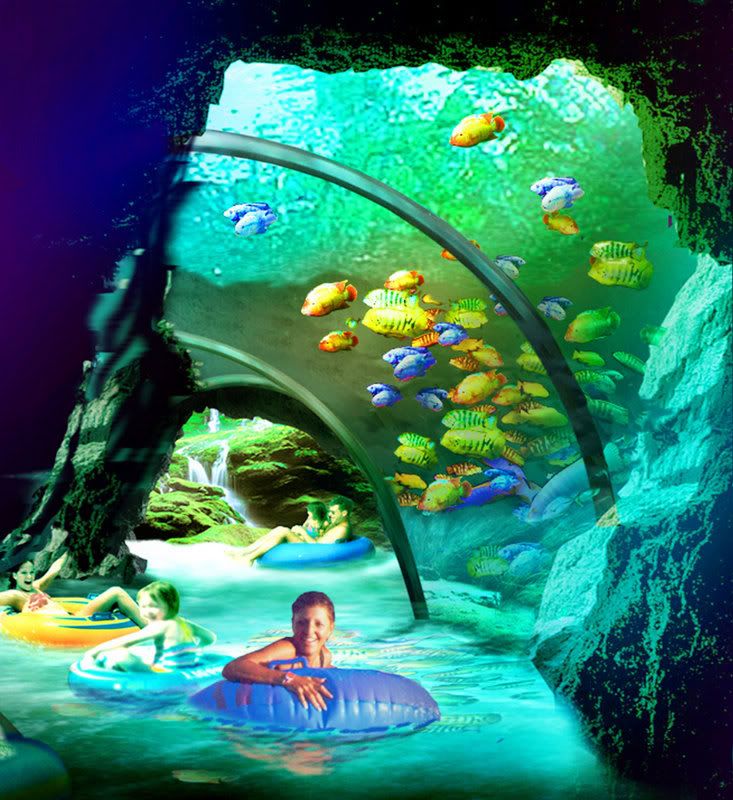 A serene scenic river will send you floating thru refreshing waterfalls, thru fascinating caves, gently cruising alongside and among exotic birds, traveling beneath the previously mentioned Commersone dolphin lagoon habbitat, and ultimately into a 10,000 gallon grotto that is bursting with thousands of brilliantly colored tropical fish. You will see land mammals along your journey as well. Though, I'm not sure which ones at this point.
The second river is a bit more extreme in nature. Riders will jet along four times faster than the meandering river thru rolling rapids, racing and blasting thru the wildest of waters.
The overall park will be engineered to take on the vivid and whimsical motif of the South Sea islands. The pristine sand beaches will include cabanas and a variety of shade trees. Even toddlers will have a play area of their own. It will include waterslides that have specially designed rafts in order to make it easy for parents to carry their kids along with them.
SeaWorld has gone all out here to make your "island" vacation at Aquatica comfortable, exciting and memorable. As for me, I can't wait until Spring of 2008 when this amazing park opens it's rivers for unparalleled adventure! :thumbup:
Here is a construction photo from YouTube that is titled, SeaWorld ORlando's aquatica begins to rise. The main video is on the site for which I have included at the top of this thread. This construction video should serve to whet your appetite, though -
http://www.youtube.com/watch?v=http:...?v=8lN5vkOph1A