Hello all. My wife and I spent a week in sunny Orlando in mid-October and decided to spend two days at Universal Studios. It was our first time there and we were both very excited for Islands of Adventure, so naturally we went to that park first.
First Island...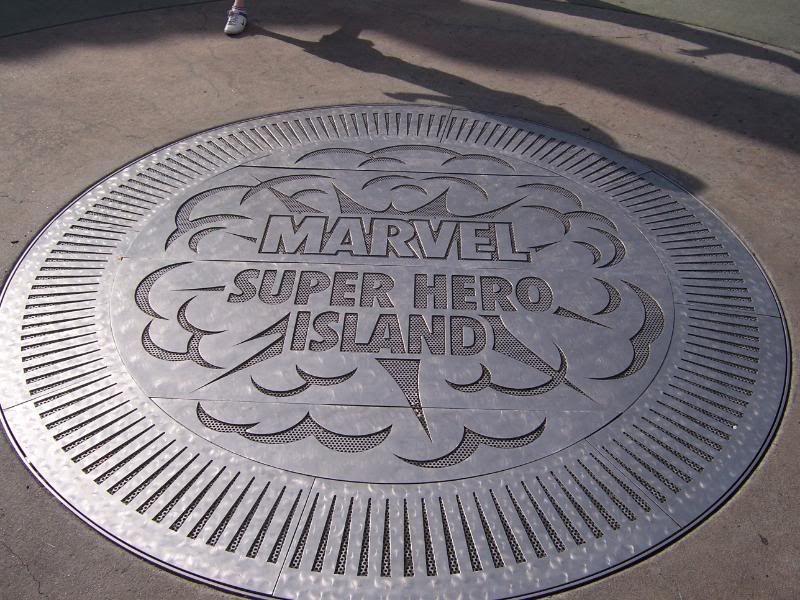 Being a huge Marvel fan I was in heaven and snapped all kinds of pictures. The have huge mural like things of all the different heroes, here are just a few of them.
Marvel Island is home to the Spiderman 3-D ride. Everything I've read about this ride is great, and it is. I was very impressed with every aspect of this ride and went on it many many times during our two days.
We skipped the Storm spinny ride because, well spinning rides are bad news. But the giant roller coaster is hard to ignore. The Hulk coaster has little theming, but really shakes you up. It is a very intense roller coaster and a must see for thrill ride seekers.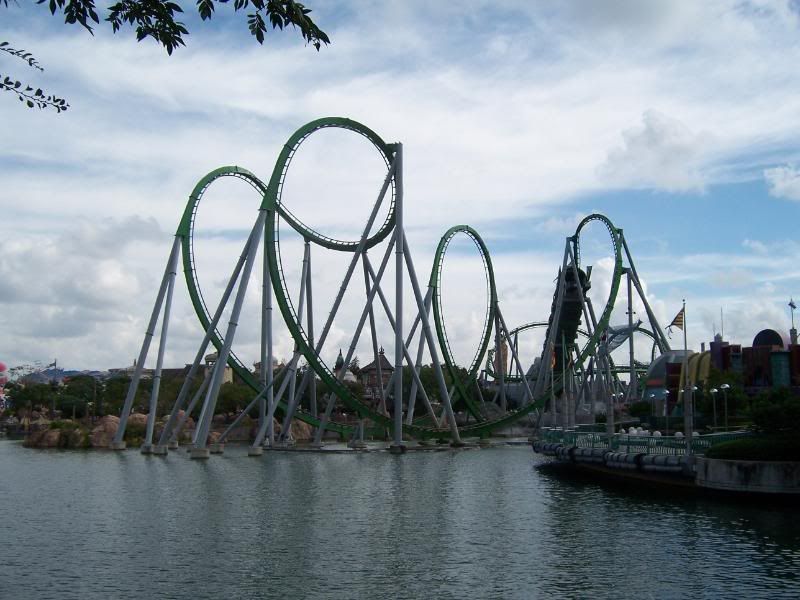 The other ride we visited was Dr. Doom's Fearfall. This was nothing special, a short launcher ride.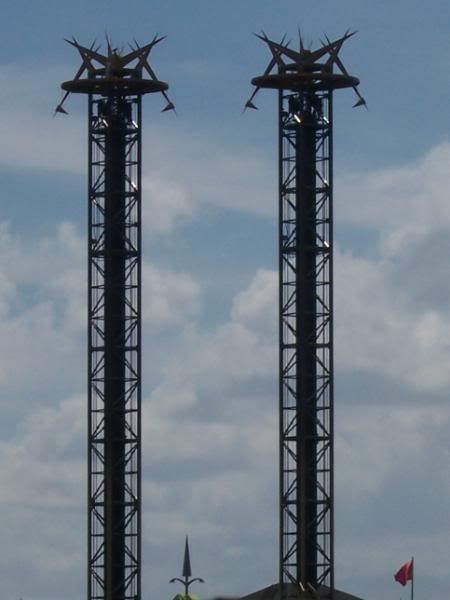 The other cool thing about this land is every so often Cpt America, and the X-men come riding in on ATV's and hang out for a while for pictures.
Despite my age, I was really excited to meet Wolverine. He was a bit shorter than I imagined.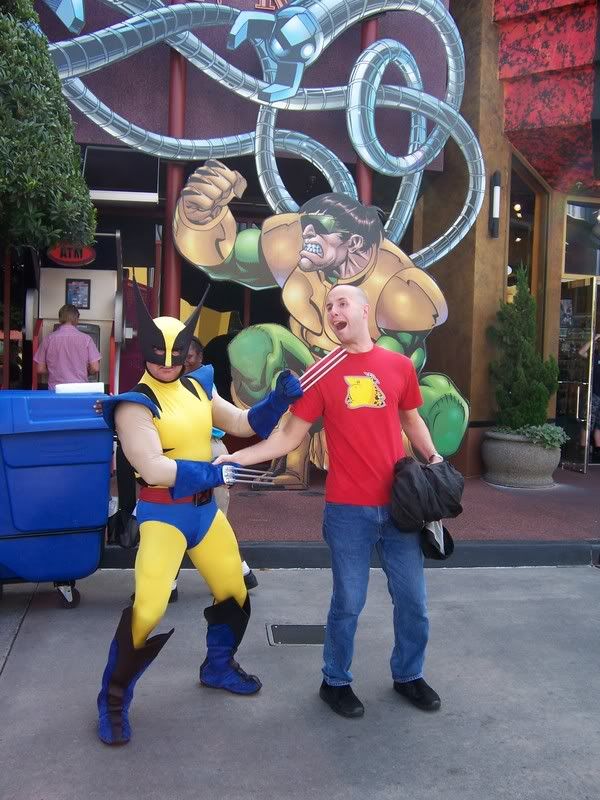 Next Island...
This place had crazy cartoon stuff everywhere. We took a few pictures, but it would take a while to try to get everything.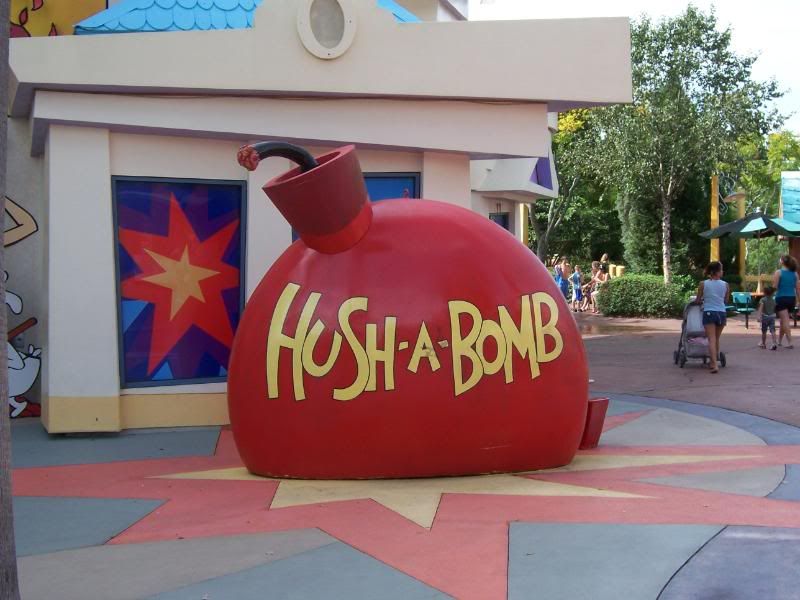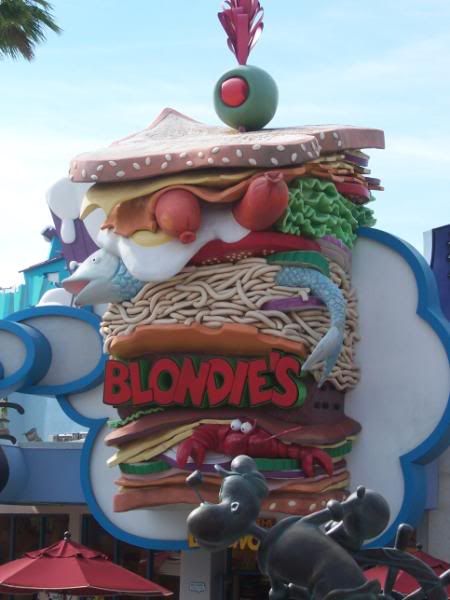 Dudly Do-Rights Ricksaw Falls was a great log flume ride, but you will get very wet. The drop at the end was great and every time it was faster than I expected. Very fun.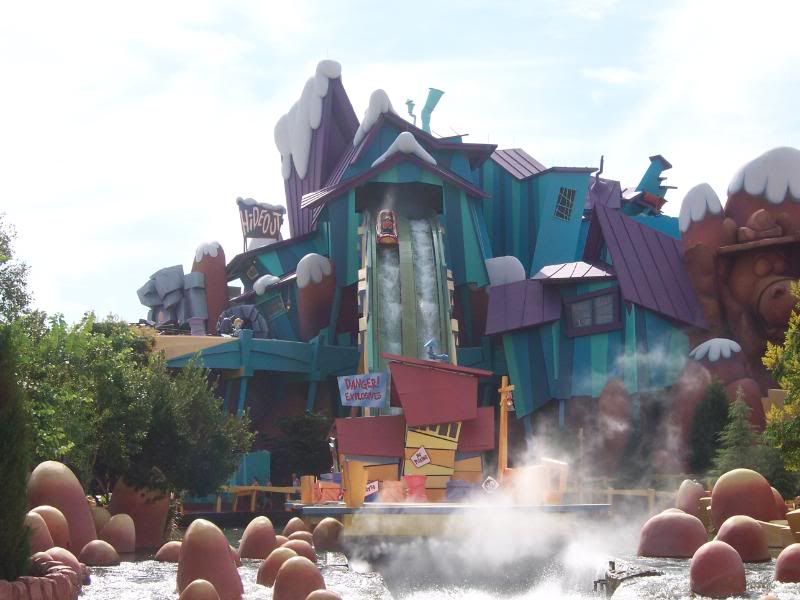 The other water ride in Toon Lagoon was closed, probably for the best. Sometimes you can be too wet.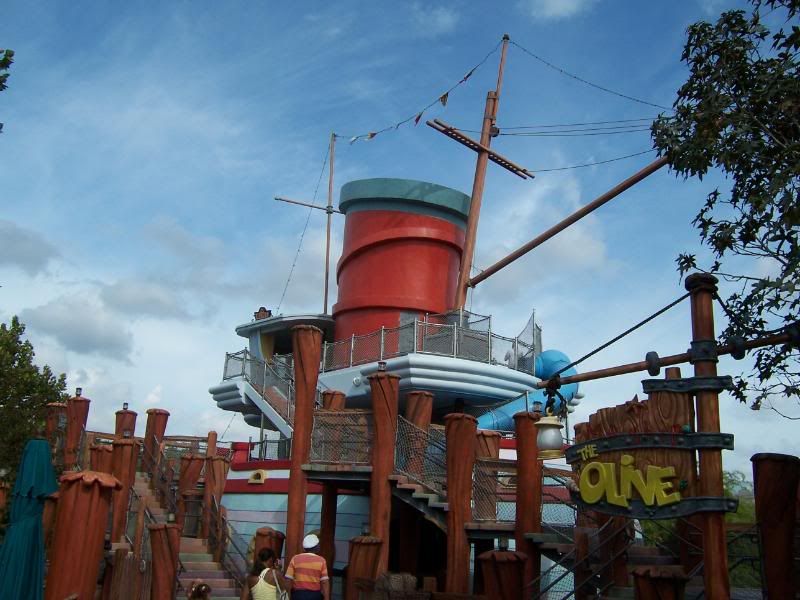 Next up...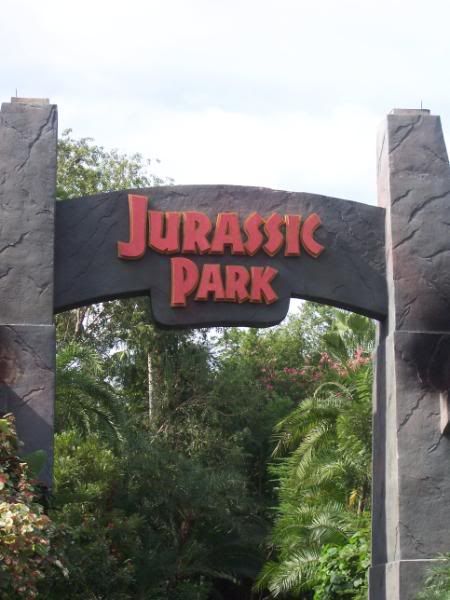 Surprise! T-Rex!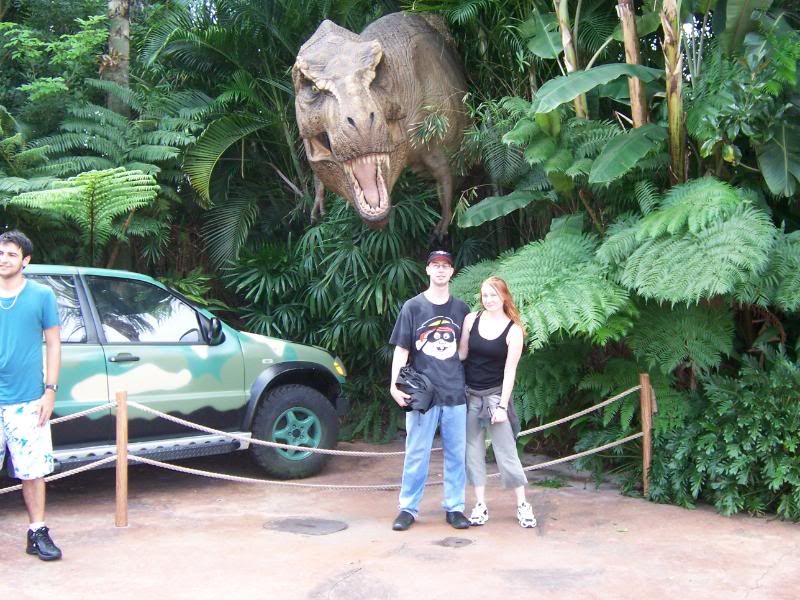 The River Adventure Ride was very amusing, and really doesn't get you that wet despite it's appearance. The drop at the end is a blast.
I liked the idea of the Discovery Center. I don't remember the movie all that well, but from what I recall it was very similiar. Cool educational stuff to do inside, probably funner for kids vs. adults.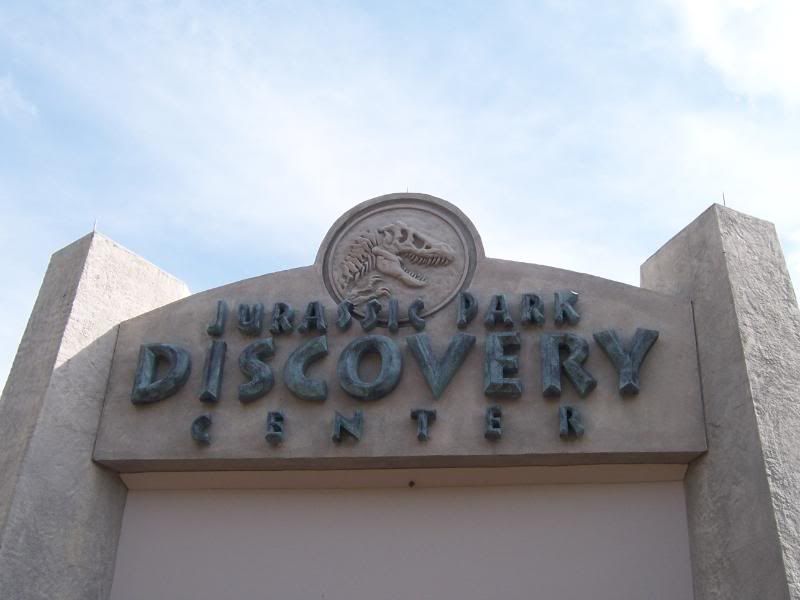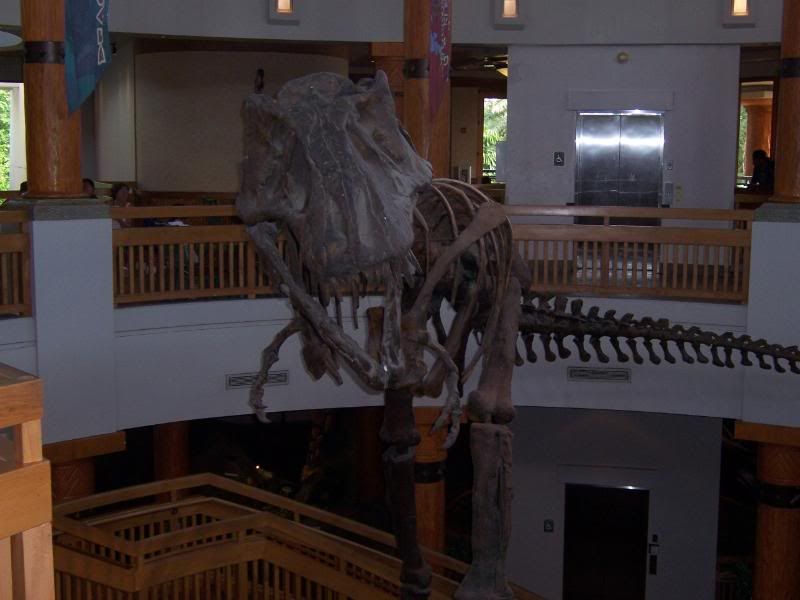 The Lost Continent was kind of boring. I can see why this was the obvious choice for Harry Potter.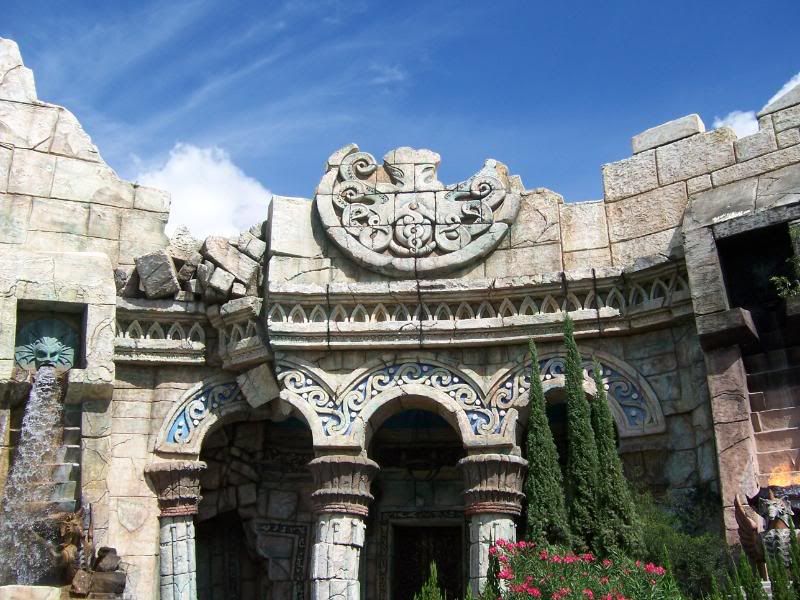 We did some show/attraction. I don't remember what it was called. The coolest thing about this was this water tunnel. The rest was very blah.
The roller coaster Dueling Dragons was fun, but really messed me up. My wife braved it without me a few more times. If I would have eaten before the ride, it would have been ugly.
Final Land...
Dr Seuss!
This would have been cool if we had kids, but since we don't, we just kept on walking.
Food - There are lots of places to eat here, but we didn't find anything that stood out. It all tasted pretty much like theme park food, greasy and filling.
IOA Summary - Really fun park. Because it was the slow time of the year we were able to do every ride in about half a day. 20 minutes was the longest wait. I can see this place being pretty packed during the peak season. Spiderman is great, the theming around most of the park is great. I don't see myself returning every year, but I will definitly be coming back after Harry Potter is finished.
Coming up later...Part 2 - Universal Studios