overview of Hard Rock Park - concept art
Hard Rock Park Entry Plaza - concept art
http://www.ocregister.com/news/park-...98-golf-course
The park is scheduled to open in Myrtle beach, South Carolina this coming Spring, 2008. According to the OC Register, (see above link) a second park is being considered for California by Hard Rock International. Currently, the area that it most likely may be placed is at an old golf course located in Santa Ana and owned by Garden Grove. Willowwik Golf Course is the prime site that we are talking about. It's not that far from Disneyland. City officials from Garde Grove toured the grounds of Hard Rock Park, SC last month.
The question is, would you like to see a Hard Rock Park come to the Golden State?
Here is an update on the attractions that will be placed in each of the park's environs (lands) -
As many of you already know, the new theme park will boast five lands, i.e. rock environs:
1)
All Access Entry Plaza
(
can be likened to Main Street, USA),
2)
Rock & Roll Heaven
-
Led Zeppelin, The Ride
(coaster w/ "Whole Lotta Lovin" sundtrack),
Reggae River Falls
(kids play area featuring jammin' sounds),
Malibu Beach Party
show (on a lake), and special rock events)
3)
British Invasion -
Moody Blues: Nights In White Satin
(dark ride that incorporate sight, sound and tacktile techniqs).
Maximum RPM Roadster
Coaster
(inludes unique ferris wheel design lift susem).
Roadies Stunt Show
,
Magic Mushroom Garden
(spinning ride), and Punk Pit (slammin' interactive aerobic attraction for entire family)
4)
Lost in the 70's - Bump 'n' Slam
(rock vs. punk bumper cars), and
Punk It!
(bouncehouse)
5)
Born in the USA
-
Slippery When Wet
(cross between bucket ride and coaster),
Shake,
Rattle and Roller Coaster
,
Garage Jam Ballplay
(foamball play area),
Funky Town Midway
6)
Cool Country - Midnight Rider
(ghost train thru abandoned sawmill),
Muddin' Monster Race
(spinning, swinging, splashy ride thru bayou in monster trucks),
Just A Swingin'
(spinning swing),
Heavy metal Graveyard
(skulpture garden)
So far, three coasters have been announced - Maximum RPM!
- trains will resmble convertables),
Midnight Rider
- of the mine coaster genra - it will travel thru a lumber mill, and
Led Zeppelin: The Ride
- (recently reported on by ALIASd) - a 150' high flying B&M coaster.
There will be heavily themed restaurants and shops throughout the park as well.
Enjoy this footage of the actual first roll of the led Zeppelin coaster -
http://www.youtube.com/watch?v=http:...?v=jxVRHlPJKH4
A simulated Led Zellelin ride -
http://www.youtube.com/watch?v=http:...?v=BPnJFAIWIHg
Hard Rock Park- Backstage Tour -
http://www.youtube.com/watch?v=http:...?v=mkCGRCSPHfA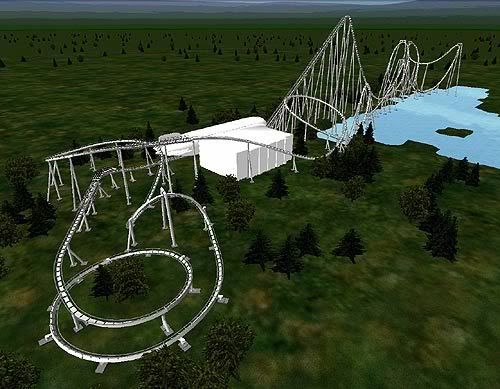 Led Zeppelin model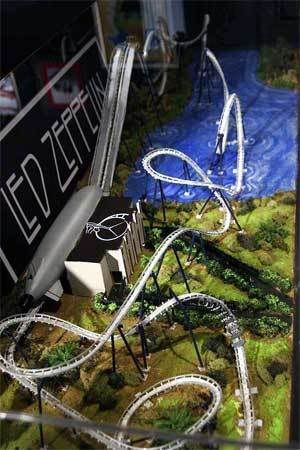 Led Zeppelin mdel
Again, would you like to see a second Hard Rock Park come to California?