When the
Mall of America
(located at old Metropolitan Stadium)
opened in August of 1992 just outside Minneapolis, Minnesota one of main attractions was the amusement park located in the center of the mall,
Knott's Camp Snoopy
. Snoopy and friends continued to attract visitors worldwide for years, even after Cedar Point purchased the park, dropping the "Knott's" and keeping it as
Camp Snoopy
. In early 2006 it was announced that the rights to the Peanuts characters had not been renewed, and Camp Snoopy (which had been run by the Mall since 2005) was to continue operation without the lovable Beagle mascot. Snoopy said goodbye to the Mall of America and it turned into
The Park at MOA
. With some minor changes and modifications of theming and elimination of "Camp Snoopy" merchandise operations practically continued as normal. The Mall worked hard to continue to attract visitors with unique seasonal attractions such as a Gingerbread House, Flower gardens, and others. Meanwhile the Mall was looking for contractors to bid for the next phase of the theme park. It was eventually announced that Nickelodeon would build its first-ever theme park in the Mall of America! Most of that meant re-theming of the existing rides and major re-theming of the area to change it from a "Camp" to the bright and colorful "Nick" images. Although Nickelodeon is already involved in other theme parks, this is this first-ever individual Nick theme park. (Lego also started in the Mall of America with a small "Lego Land" area which has since expanded into theme parks of their own.) Eventually the "kids" decided to name this new place, "
Nick Universe
" and it officially opens March 15, 2008. (That's just one week from today!)
As a native Minnesotan and frequent visitor to the Mall of America I invite you to take a look into what it looks like now and what it will be. Just walking through the Mall yesterday and last weekend (no camera then, sorry) it was difficult to see this all and realize it's going to open so soon. When we compare things to Disney and how they are ready so early compared to the dates the marketing teams release you would think they still have a lot of work ahead of them. That may be true since some rides won't be re-themed or open until later this year.
April 2004

Camp Snoopy, right after the Timerland Twister opened.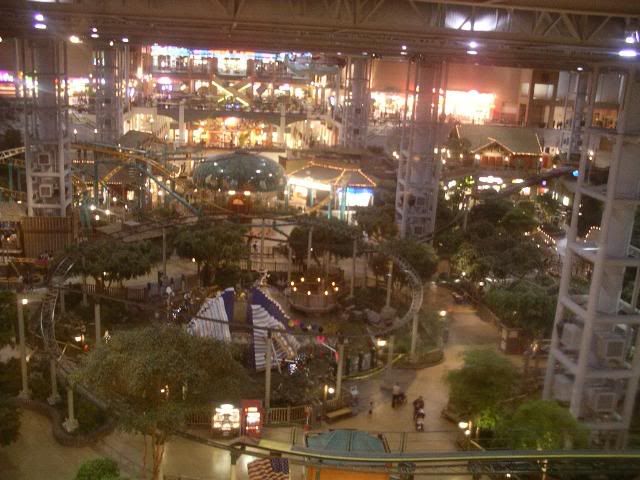 From the Ferris Wheel.
If you look closely you can see Snoopy and Woodstock on the "Water Game" area in the middle.


February 2006

These photos were taken from the South Food Court area on the 3rd Floor.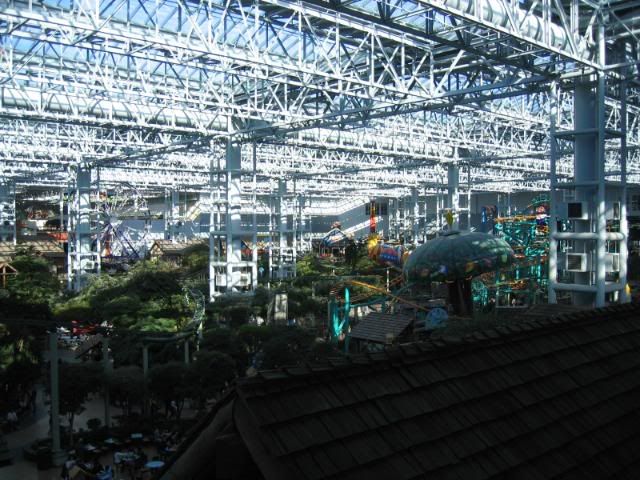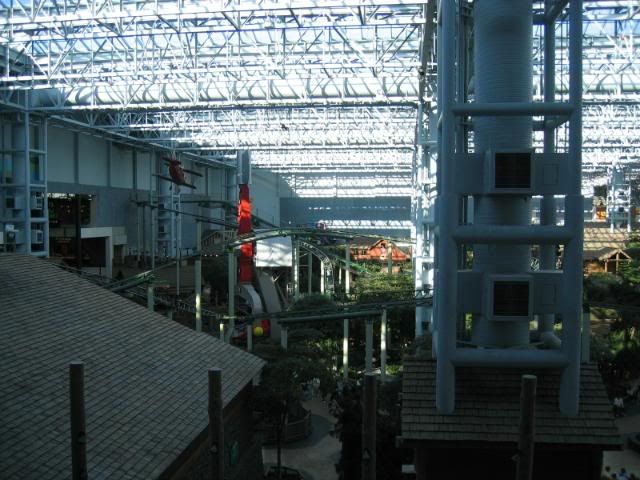 May 2006
Here are a few aerial photos taken from the Ferris Wheel and North side, 3rd Level. Snoopy is long gone, but you can still see how this is a "Camp" as it has transitioned into the "Park."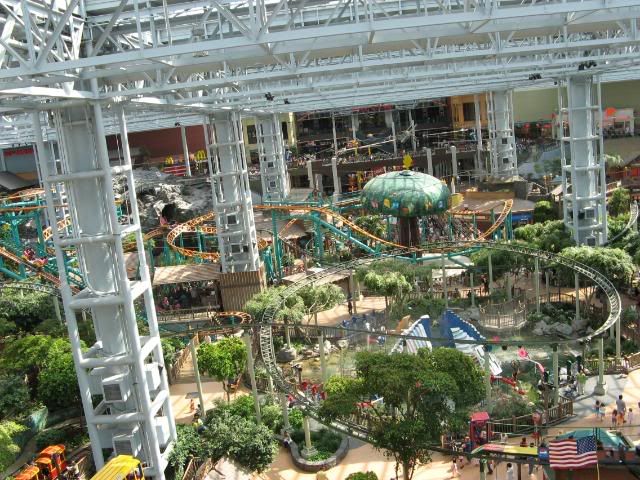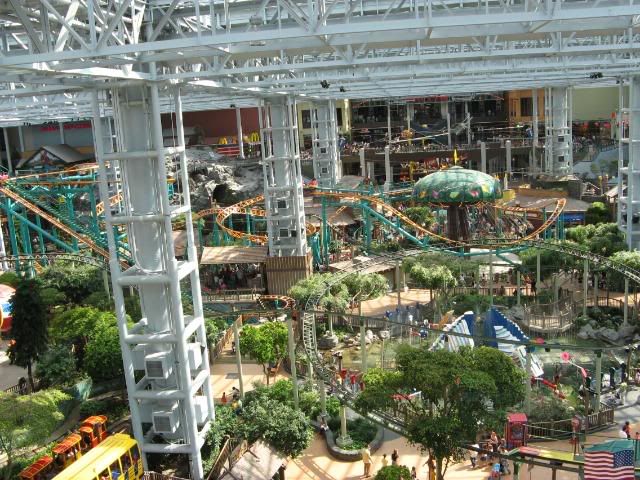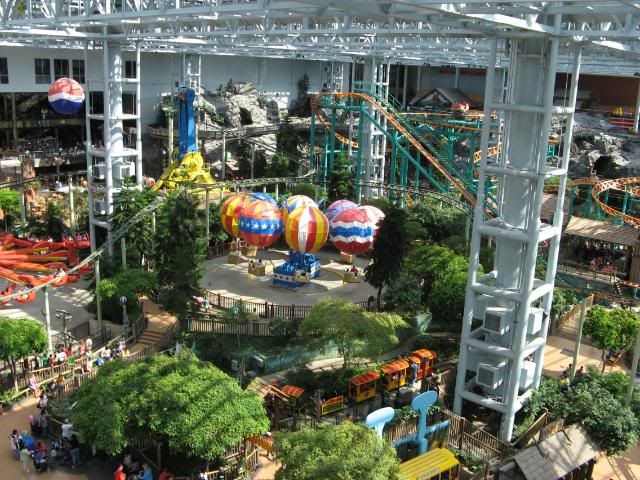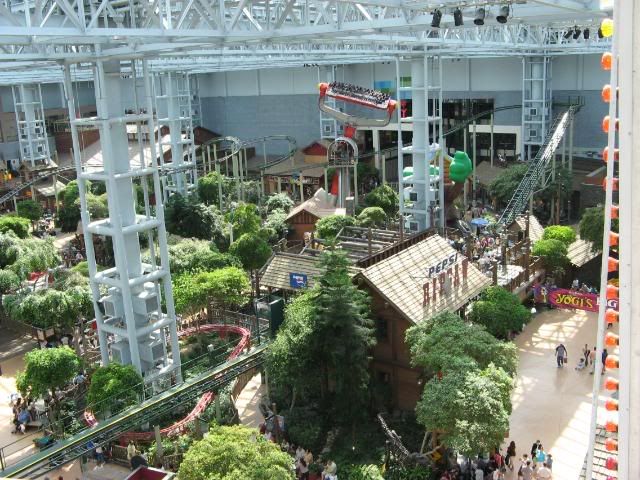 As you enter from the rotunda you saw this:
Since Cereal Land hand closed for some time now at this point, Dinosaur Walk was finally stepping in and opening up in that area on the 3rd Floor North across from the North Food Court.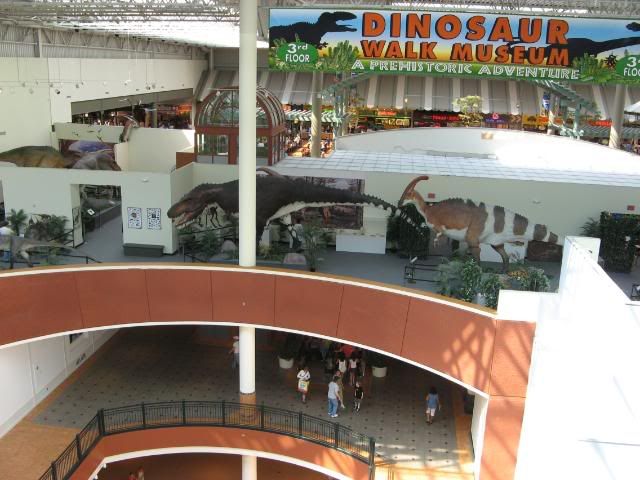 April 2, 2007

Last year around Easter I took a long walk through the Park at MOA to capture what it was from a thematic side since it was only a matter of time before it all changed.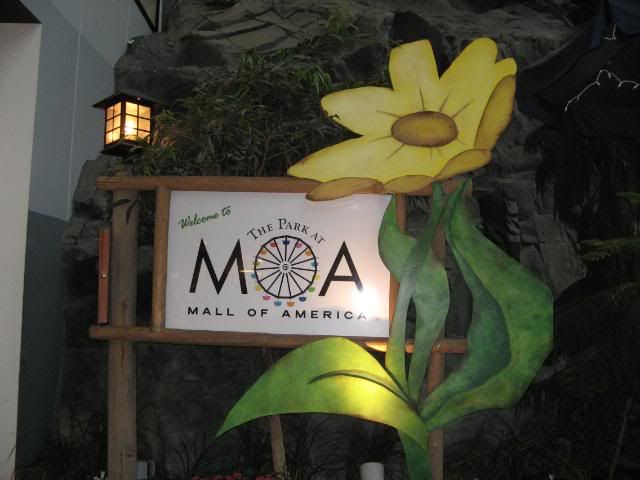 As you enter from the Rotunda to your left.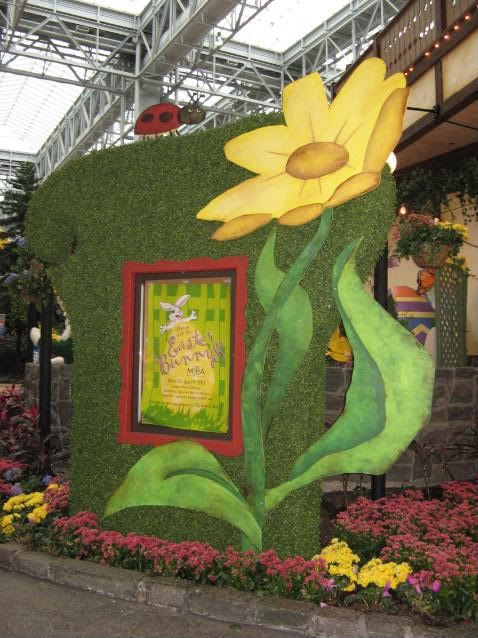 Spring is in full swing! (This matches the rotunda one from May 2006.)
It's the Easter
Beagle
Bunny!
Since Nick was already introduced, the merchandise had already hit shelves and carts all over!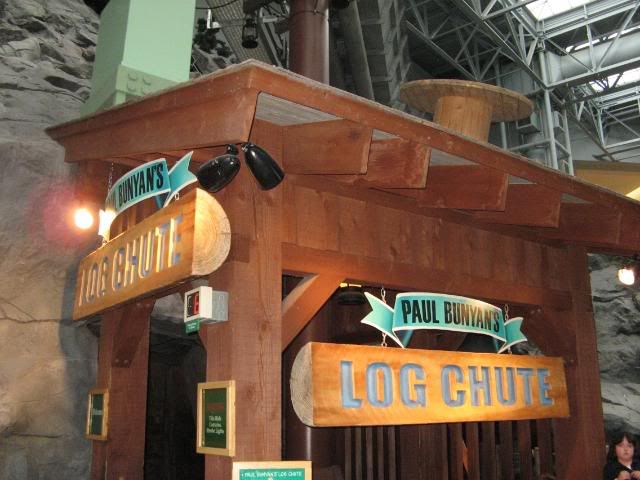 Once sponsored by Xcel Energy (pre-Xcel Energy Center days, I believe) - this is a real Minnesota ride complete with the creator of our 10,000+ lakes, Paul! Inside there was great theming to Knott's which remained after the name was dropped. The giant pancakes were being made and topped with Knott's Berry Jam.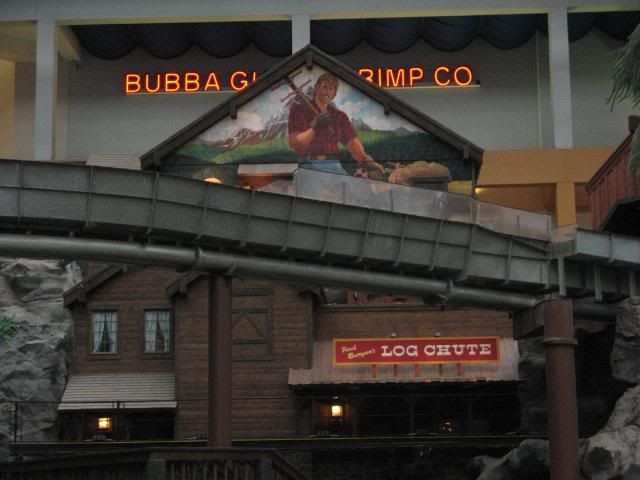 The ride not only brings you through a series of drops, it also takes you by the Hooters on the 4th Floor.
This is also the location of the first major accident of the park, which happened in 1998.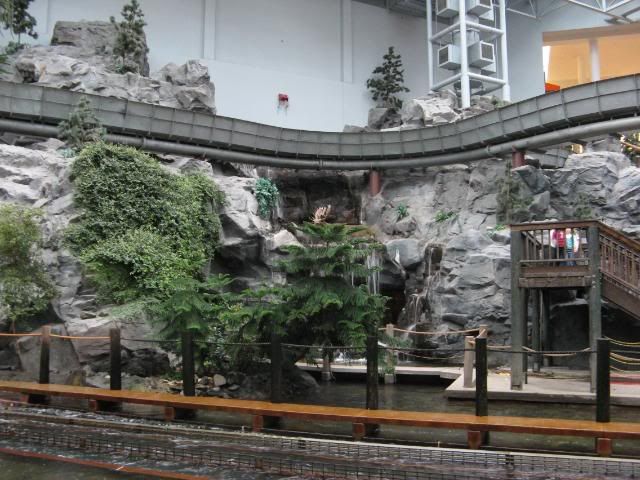 While zooming by in your log, or walking by you may notice a red chair attached to the wall.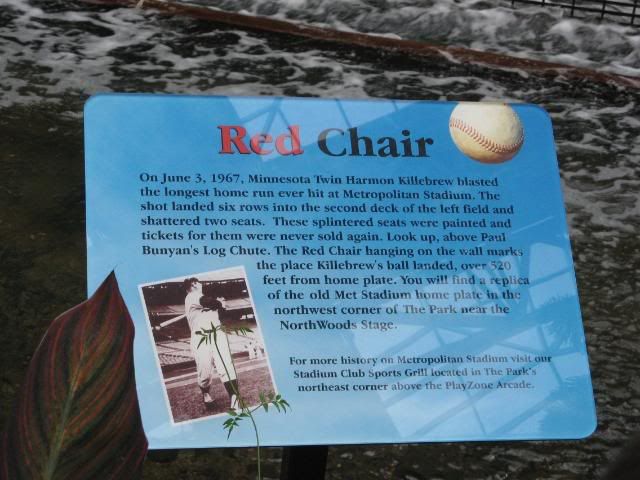 In true theme park fashion, as they replaced something historical they were sure to make something to mark what used to be. Here you'll find the sign that describes the longest home run ever hit in Mets Stadium. It was hit by Twins player, Harmon Killebrew (and you take Killebrew Lane on your way to the Mall.)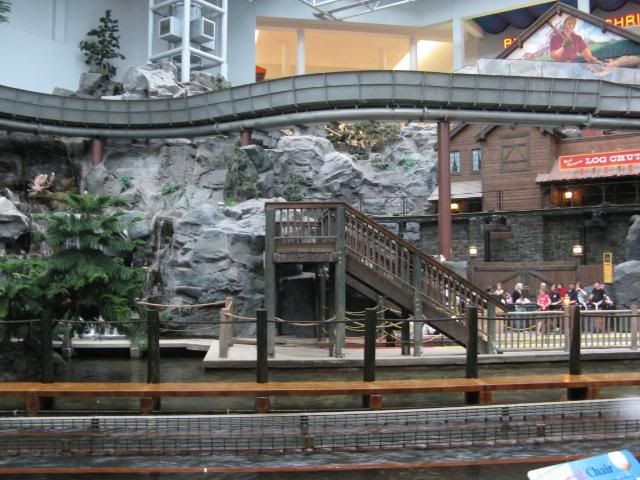 More Paul Bunyan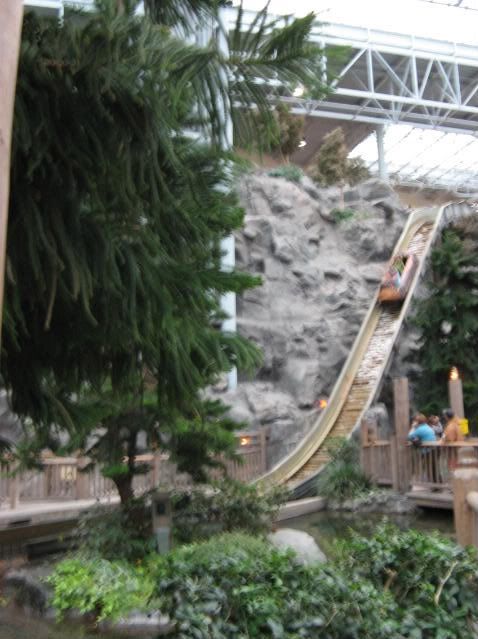 The DROP!
Exit for the Log Chute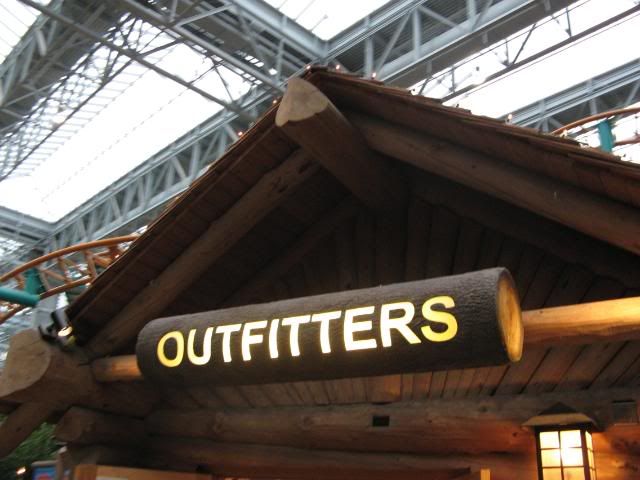 Shop located across from Paul Bunyan's Log Chute. This had been an existing building for some time, but after the Timerland Twister was built it became a gift shop that you HAD to walk trough to exit. It wasn't set up that way when it first opened, but it was quickly modified so that guest would have the luxury.
You may seem like something is missing from this sign. That is because Snoopy was right above it. The name now slips my mind, but since they quickly removed all Peanuts theming this is a typical example of the small modifications done all throughout the park.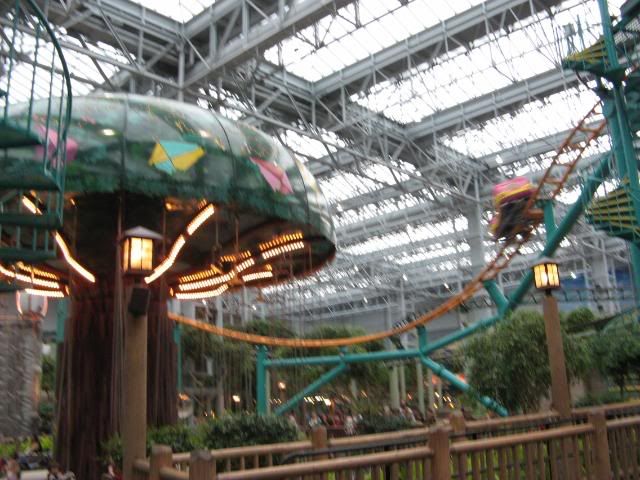 The Kite Eating Tree, which became simply the Tree Swing after Snoopy left.
yoyoflamingo in front of my FAVORITE fudge place and fun shop in the Mall and Park.
When I walked past it the other weekend I noticed a line to enter it. I wasn't quite sure what was going on, but it reminded me of the line to enter the nearby Build-A-Bear Workshop.
Mrs. Field's Bakery is amazing! And Caribou had just recently taken over this location.
In between the General Store and Mrs. Field's is where the Lego Land area is.
Funnel cakes! (And Dippin' Dots)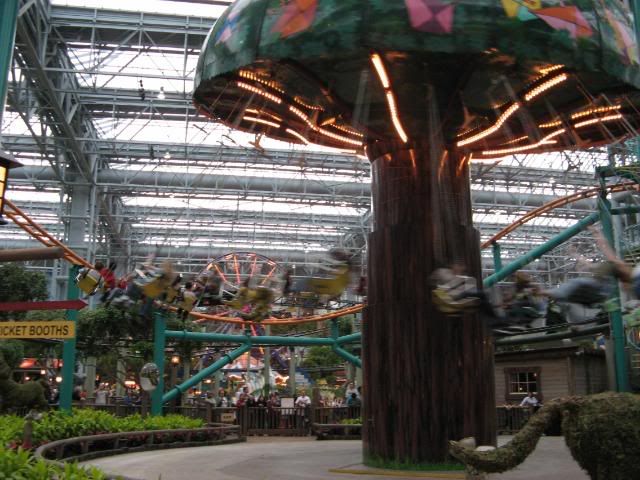 When they changed it to "The Park at MOA" they also changed the Kite Eating Tree to the Tree Swing. In doing this they modified the direction that some of the swings were facing. Although they had to eliminate some of the swings, this meant you could ride it facing forward or backwards.
They added in some topiaries...
Basic directional signs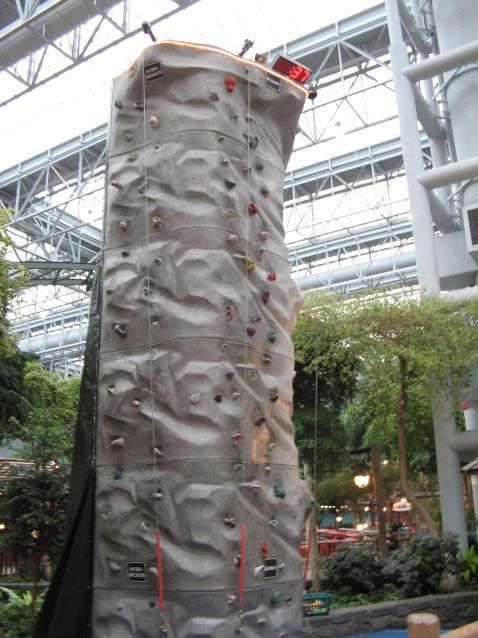 Pay (not included with your points/wrist band purchase) Rock Climb wall.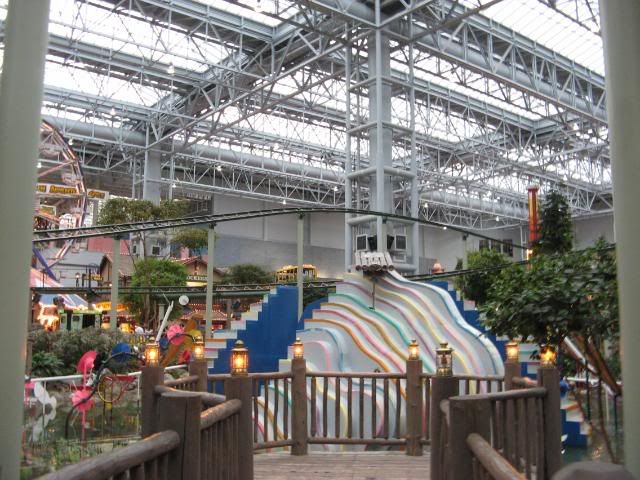 Can you tell where Snoopy used to sit?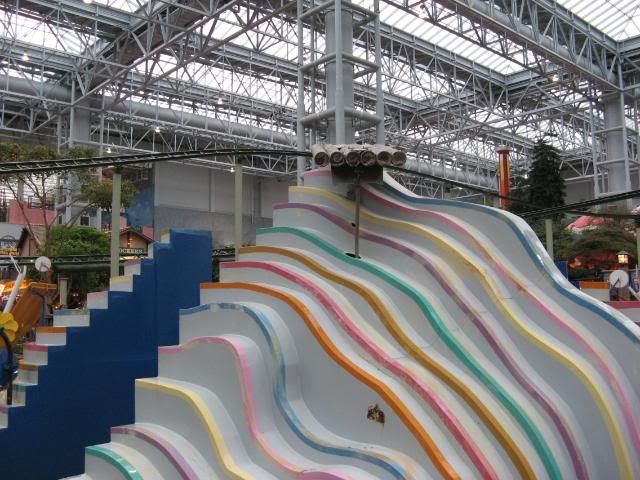 Yes, right on that little raft with Woodstock.
And that isn't a large brown mark because it needs paint, (even though it did,) but that's where the small canoe for Woodstock was.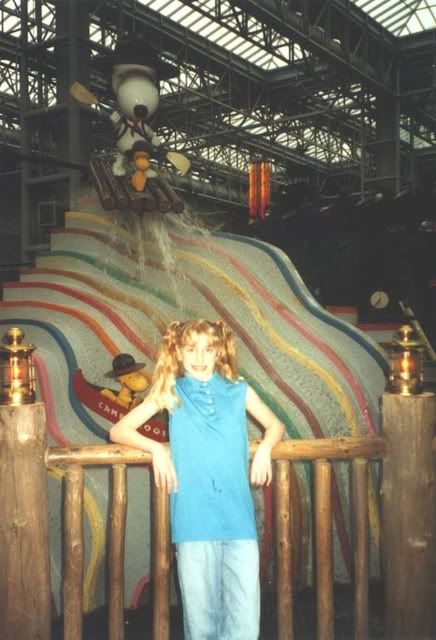 Please excuse the geeky middle schooler... but there you have it in all of its Camp Snoopy glory in 1997, 10 years prior.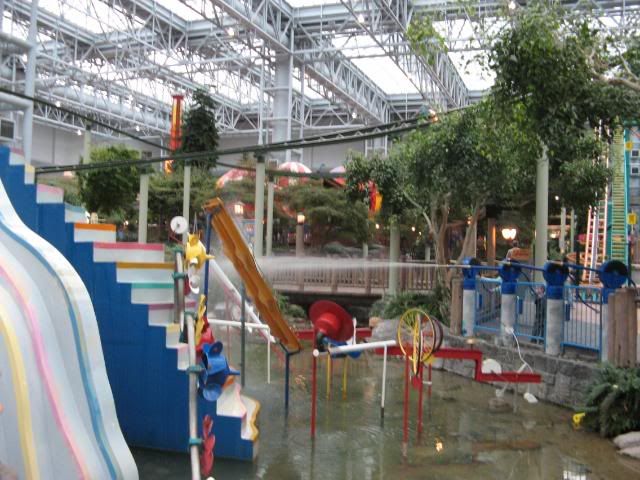 It's so empty without the Peanuts characters in there.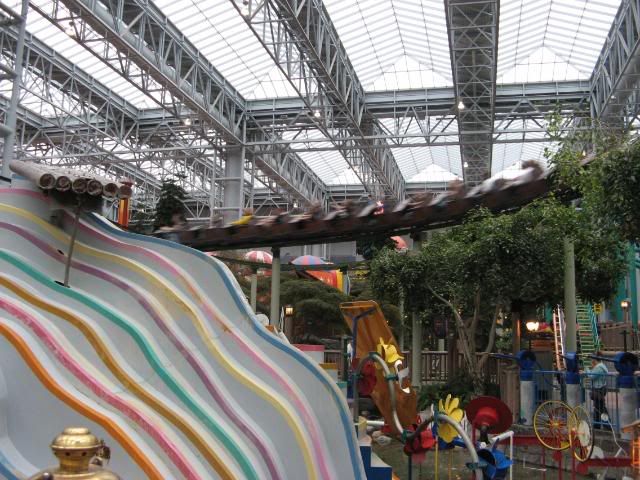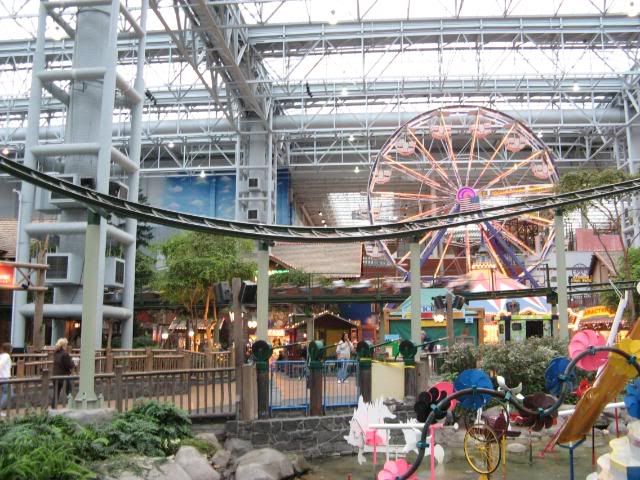 From another angle.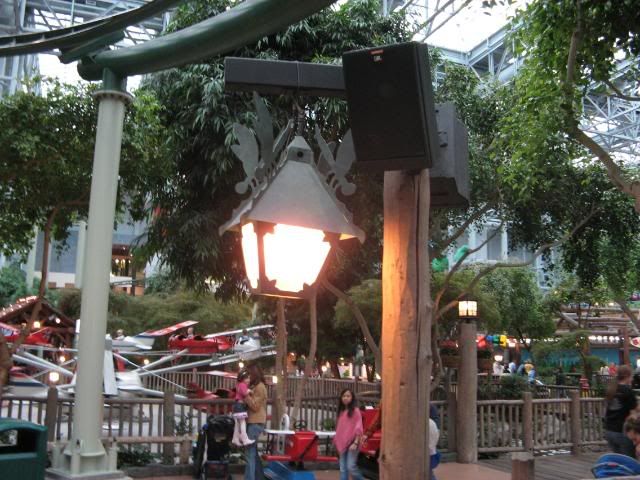 Camp lighting with the traditional Red Barron behind it.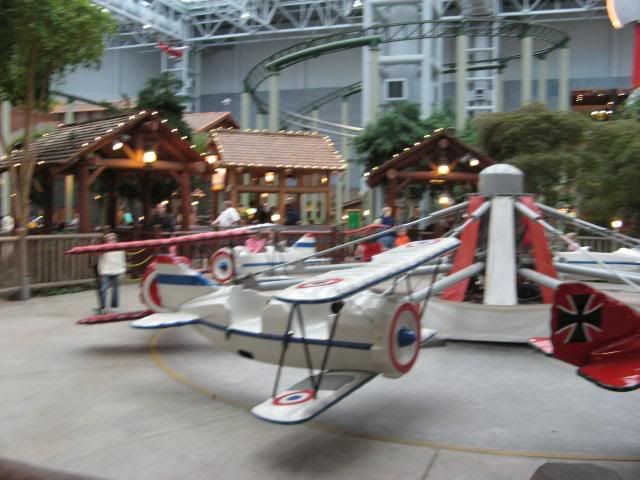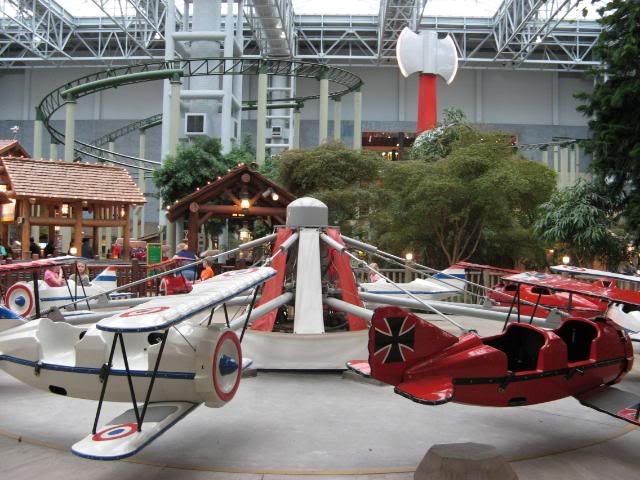 The 'Lil Shaver - kid friendly coaster.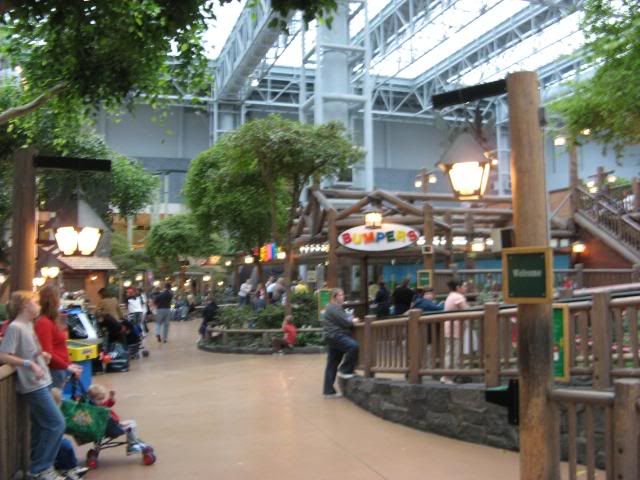 Or head down this way toward the Frog Hopper, Bumper Cars, Bounce House and Mighty Axe.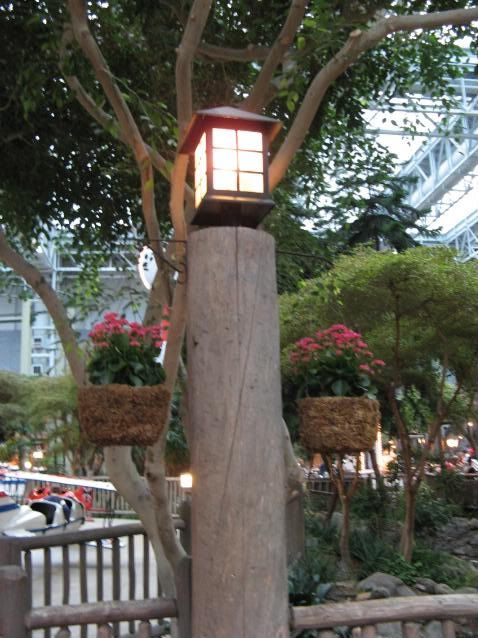 More lighting.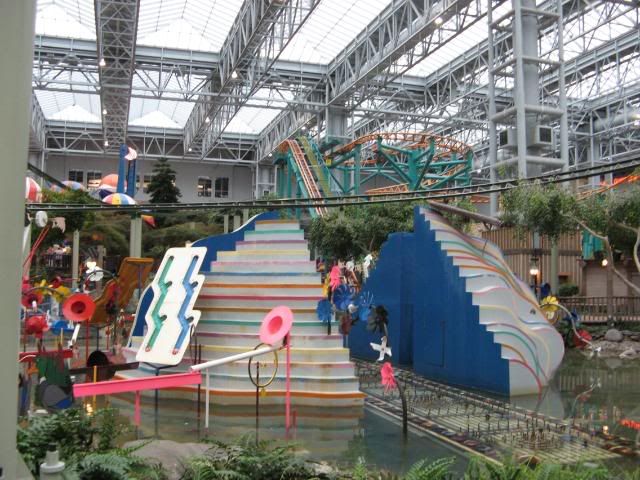 This is just sad!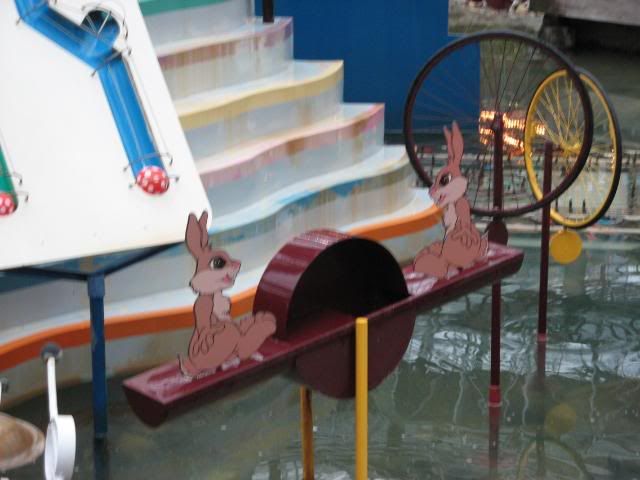 I guess they did take the time to add some creatures in the places of the Peanuts characters.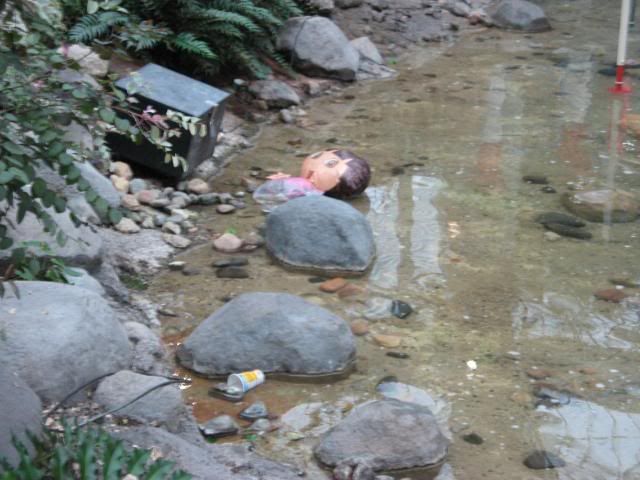 But the ghost of Dora was NOT happy. She wants to take over, now!
Merry-Go-Round.
Don't ever think of video taping or taking pictures if you're on it - you WILL get yelled at. (I think that's my only memory of this.)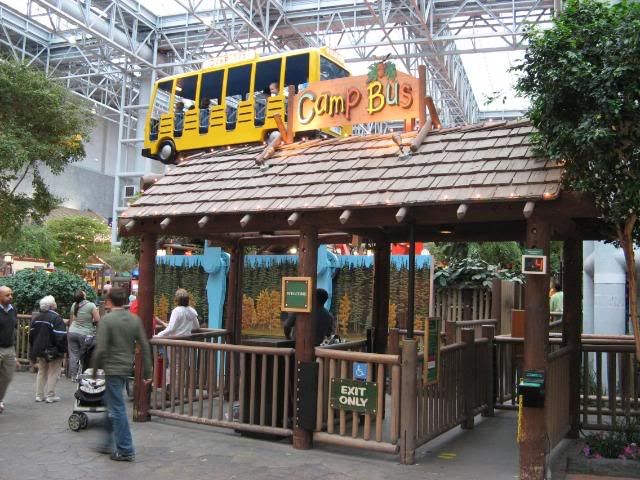 It's the Camp Bus, but it always seemed like it could be linked to the Magic School Bus.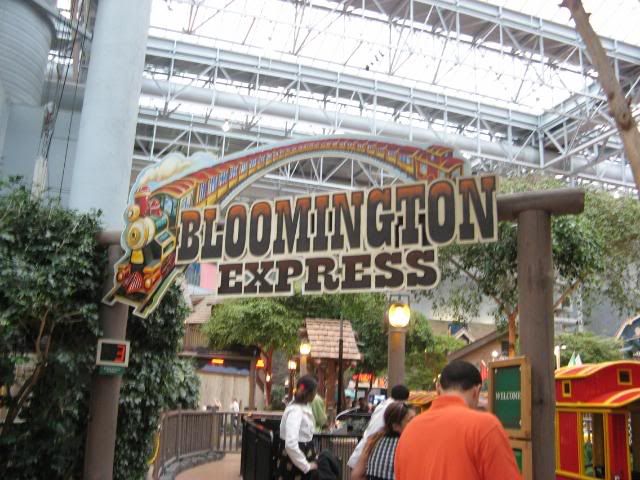 Kiddie Train! (The Mall is located in Bloomington, Minnesota.)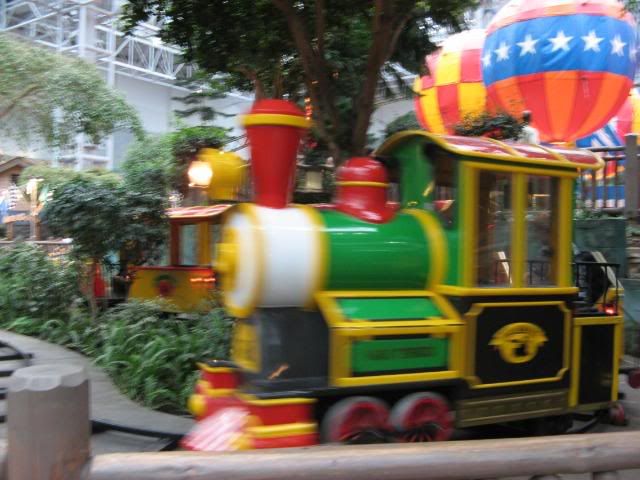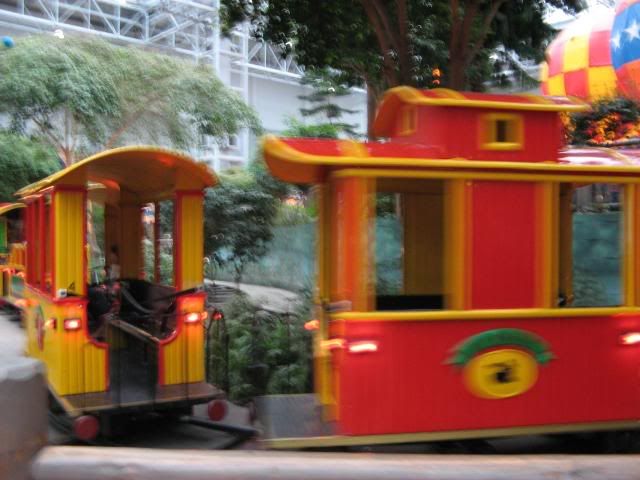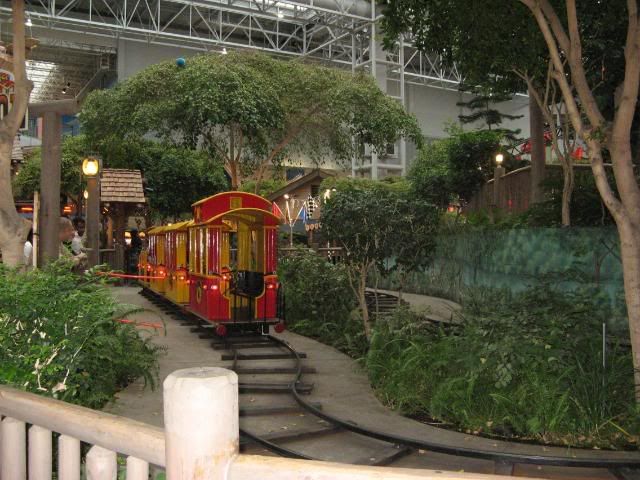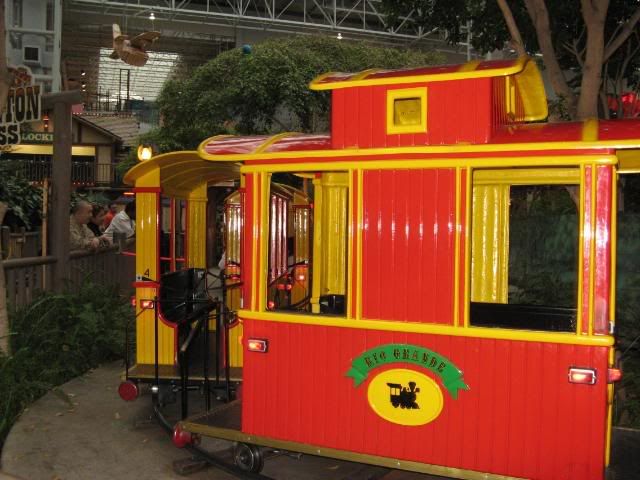 The Balloon Race - A favorite of mine since I was young. (I have no idea why!)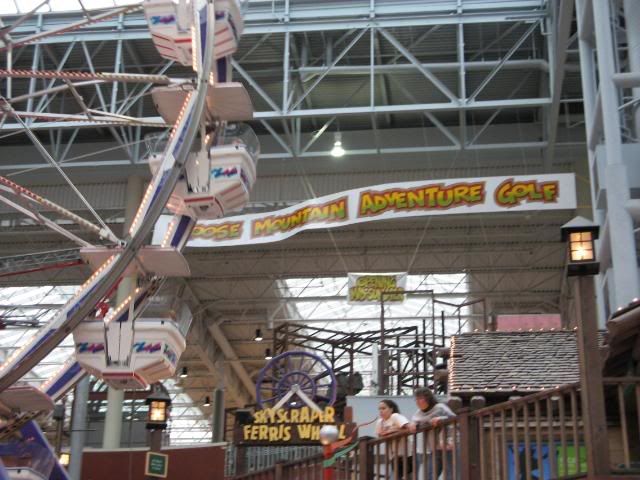 Miniature Golf was on it's way back to the MOA, finally!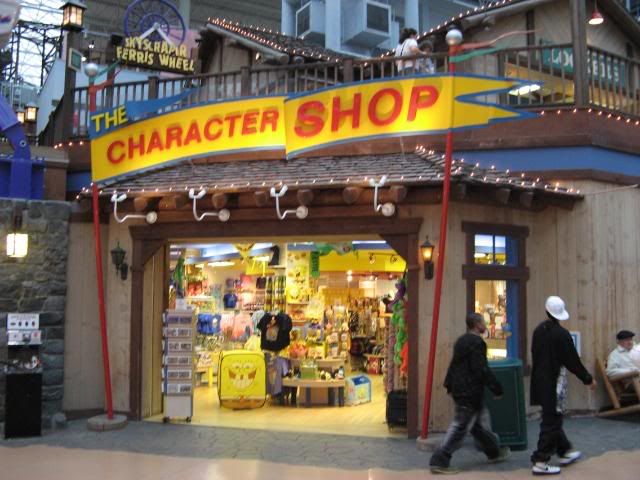 This was one of the main toy and merchandise shops for Peanuts items. Although they lost the rights to have them in the park, they were still allowed to have Snoopy merchandise for sale. The only limitations were on items which said "Camp Snoopy" and those were allowed to be sold up until a certain date. The following is a selection of what you could find in this store, specifically Peanuts related at this time.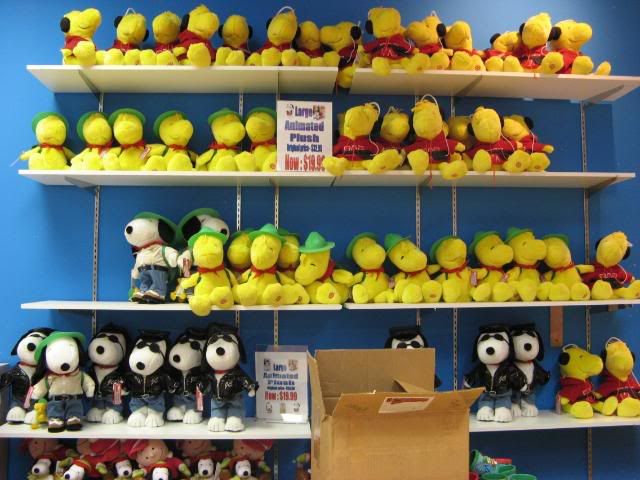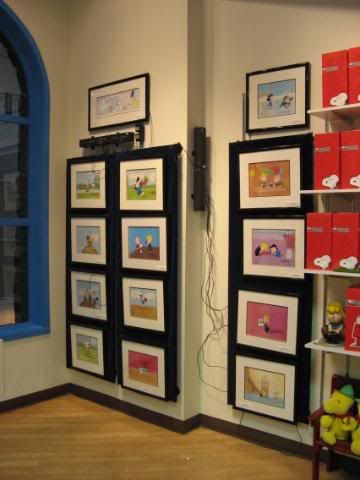 Collectible cells
More collectibles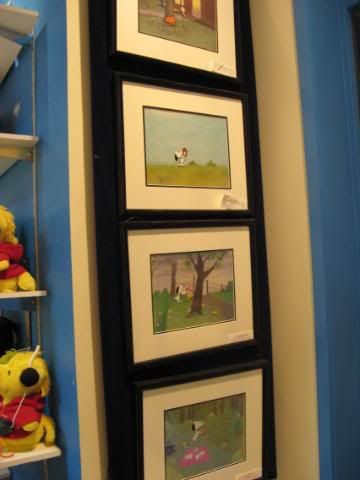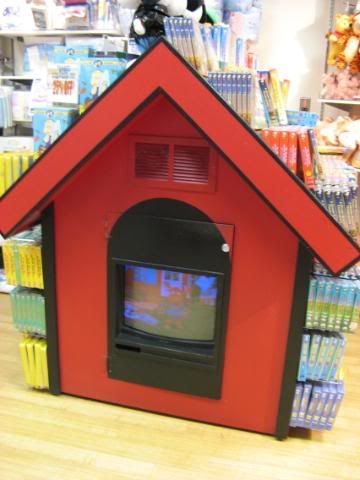 What's on TV? I think it was Sponge Bob or Dora if I remember correctly.
For years visitors from all over the world would come to St. Paul to go on Charles Shultz tours. He's from Minnesota so they would tour his home, various sites where his character statues now are, and of course top it off with visiting Camp Snoopy! Sadly, that era of tours has dwindled a bit.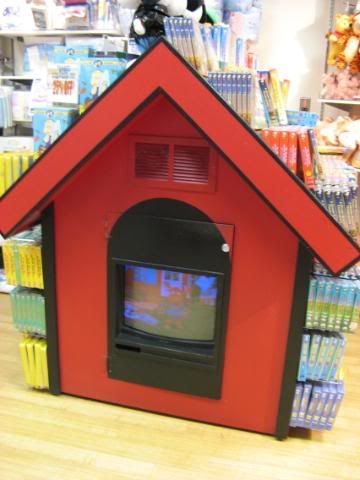 Kiddie Ride - Speedway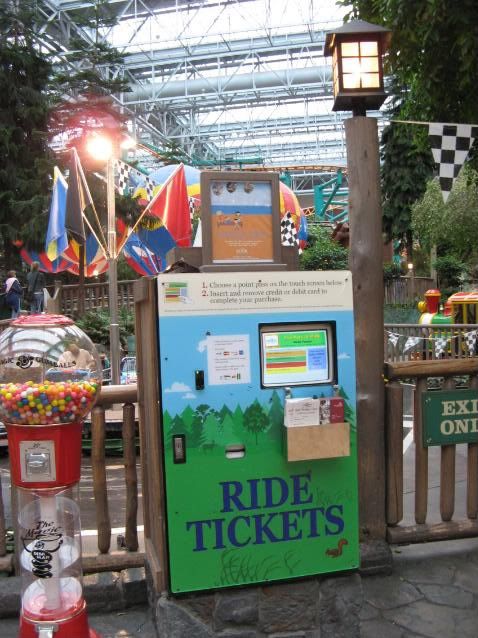 Would you care to buy some tickets?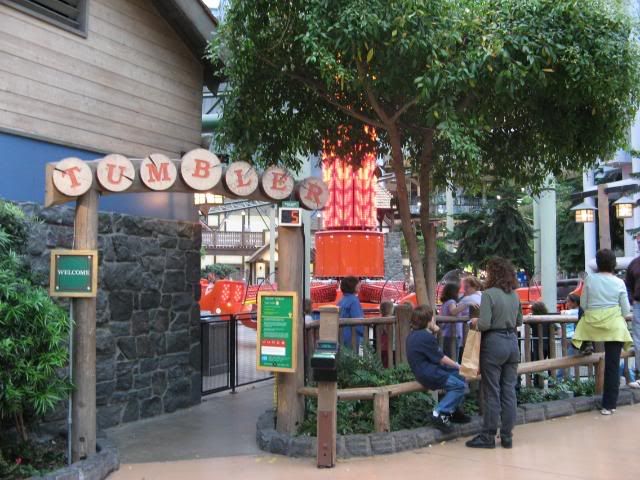 Treetop Tumbler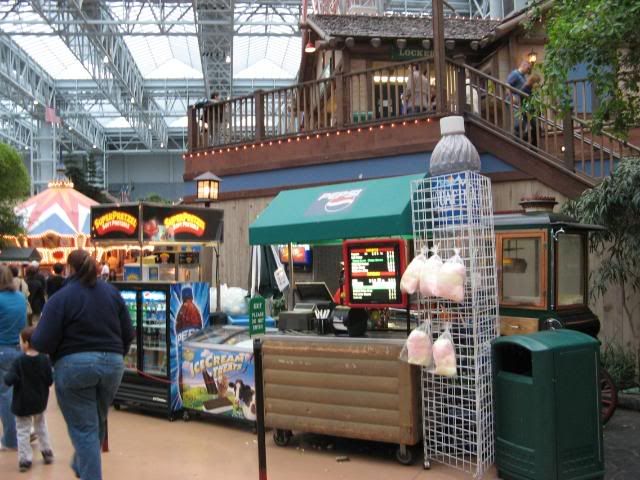 You average foot vendor cart.
The "Camp" theming isn't aged that much on purpose.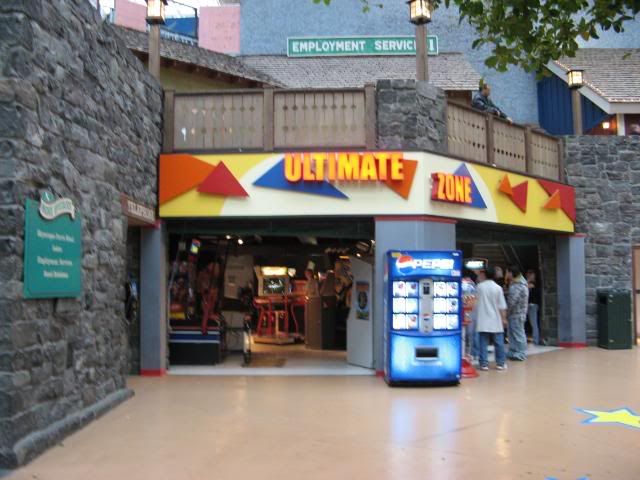 Arcade, area one (expansion)
Win a Prize?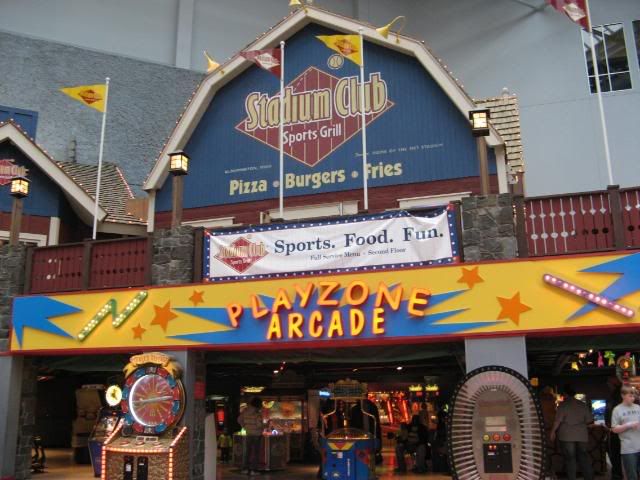 Traditional Arcade with the Stadium Club above it. (This pays tribute to both Charlie Brown's lovely baseball team and the old Met being in this location.)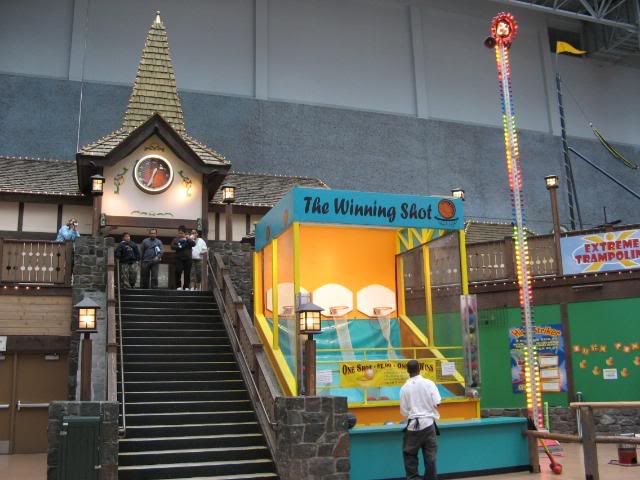 Recent - Pay to play/experience additions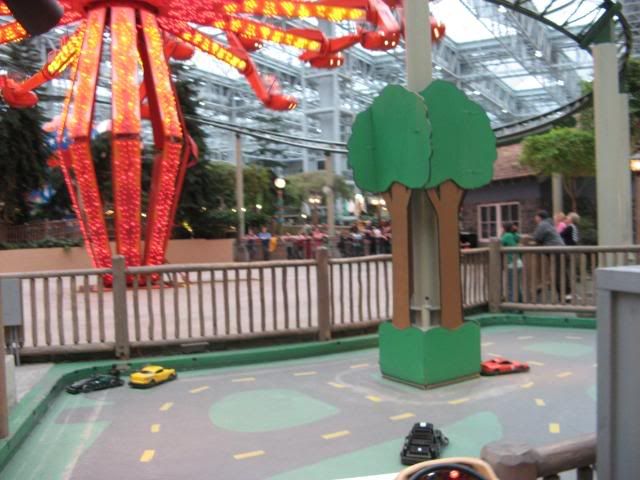 Drive a miniature car? (They also had boats over by the Log Flume.)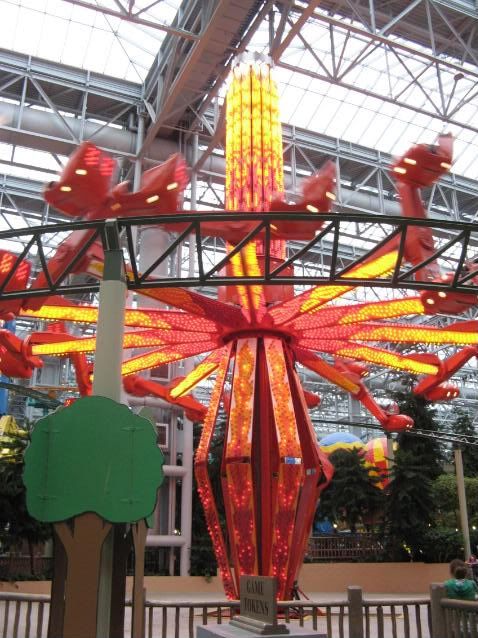 Tumbler again, but I'm not quite sure of this tree for theming.
The Steakhouse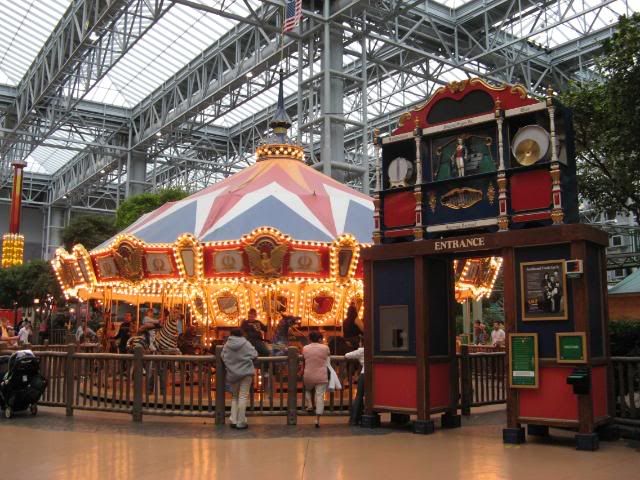 Back over to the Merry-Go-Ground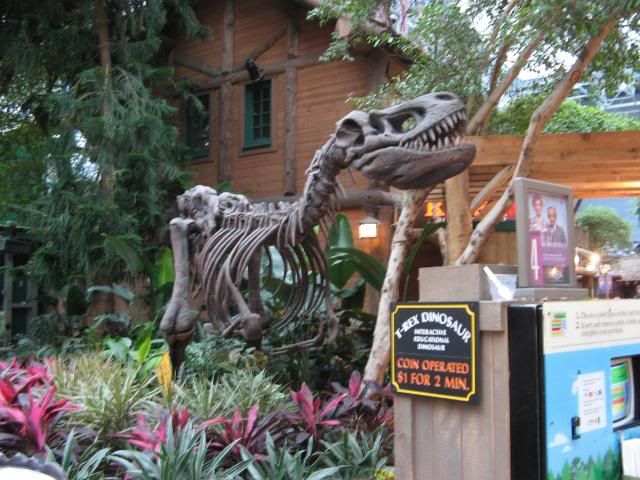 Pay to learn about Dinosaurs. (This was added before the Dinosaur Walk even started to build.) But you would pay and anyone could listen and learn as it talked and moved. It was very difficult to hear when it was loud.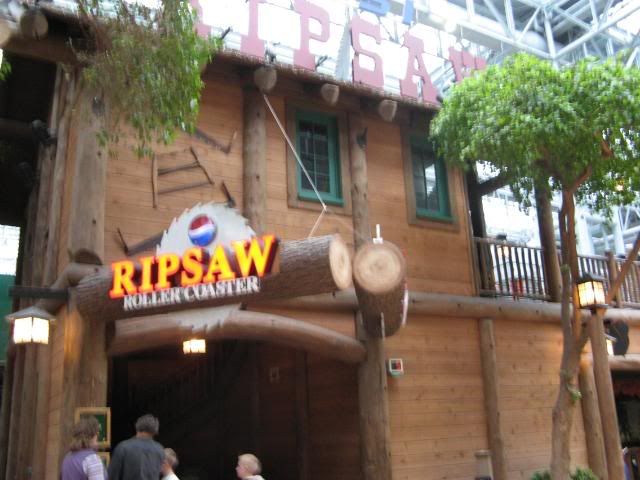 The Pepsi Ripsaw!
One of the original main rides that people waited HOURS for.
It doesn't go upside down or even very fast. You do get a nice tour of the entire park to take a small journey through the Log Flume though.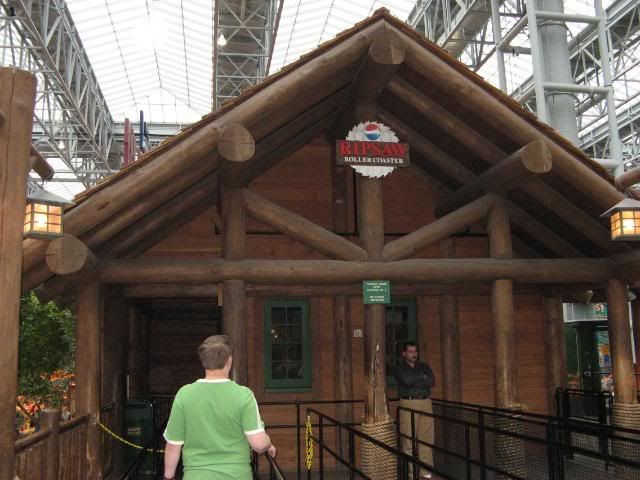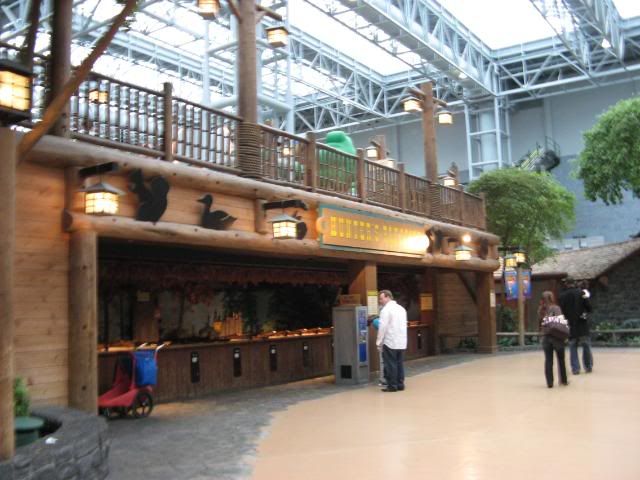 Shooting Gallery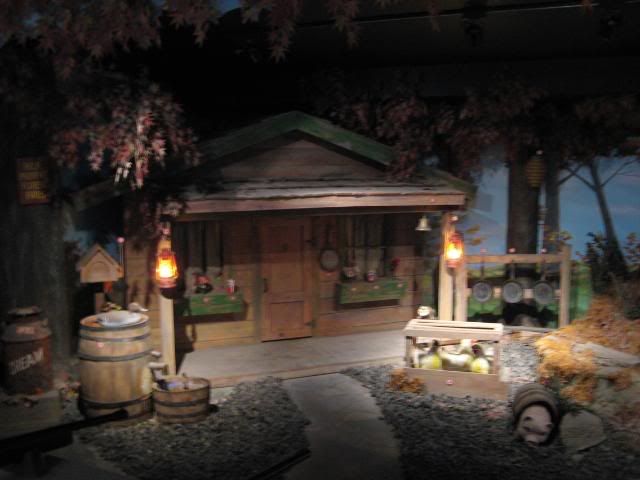 The Mystery Mine Ride.
Another that drew in large crowds when it opened, especially when the videos kept updating.
"Sponge Bob The Ride" took over for some time. (Foreshadowing, anyone? Especially since this is now the site of the new Spongebob Coaster.) If you look carefully you can see that's the Sponge Bob sign with the Jetsons over it.
The last video to show as a part of the Mystery Mine Ride was Yogi's Big Rescue. (Maybe you saw it yourself at Universal Studios Orlando?)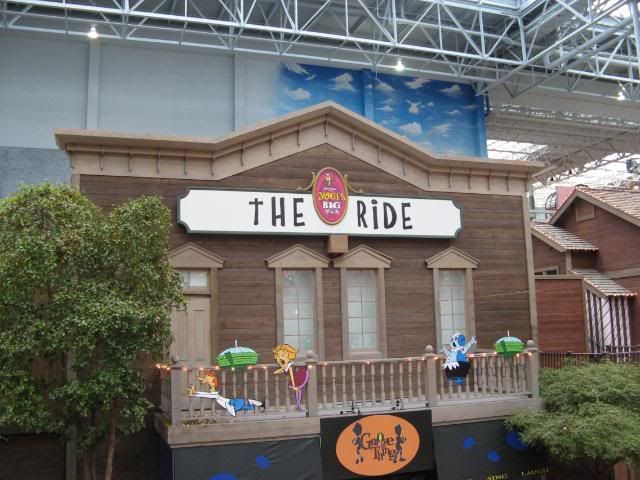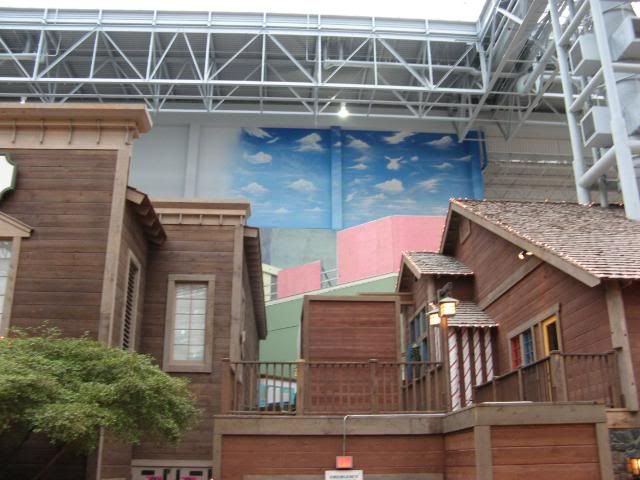 These clouds sat there for some time. It was almost as if they were going to do more theming and then decided not to.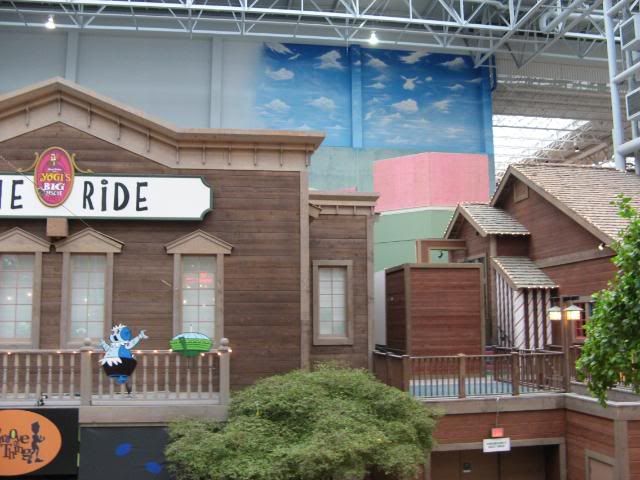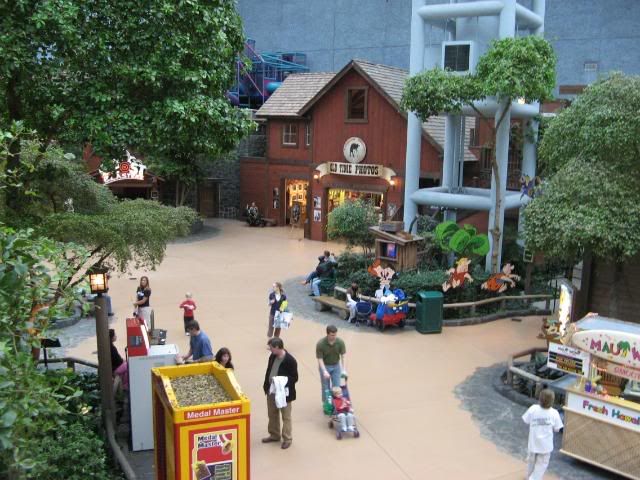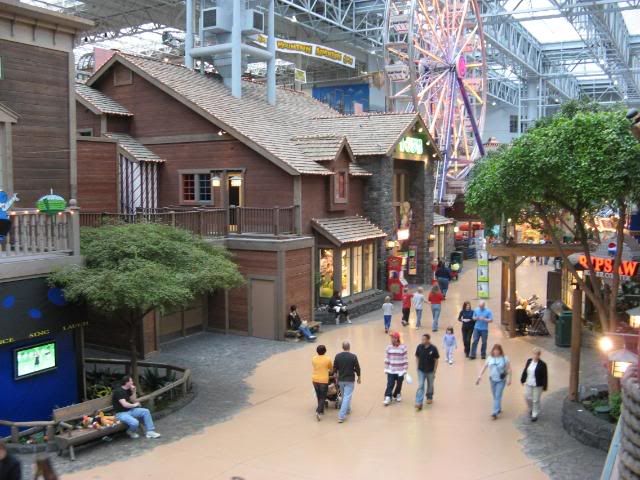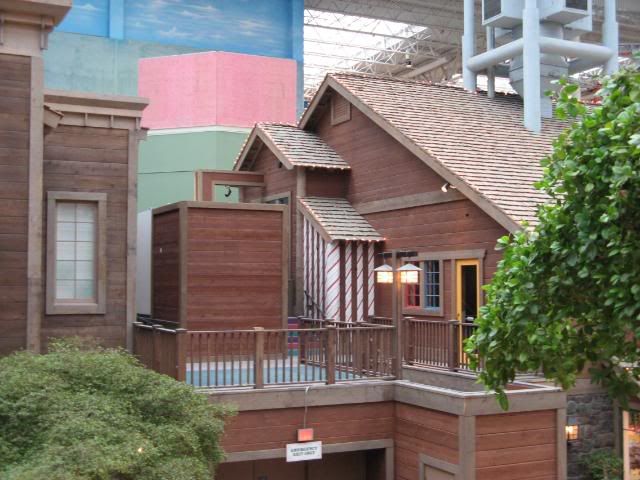 When the Skyscraper Ferris Wheel first came to the Mall it was the highest indoor Ferris Wheel. I'm not sure if it still holds that title, but it also did something else. It was the first and only ride (at the time until Timberland Twister) in Camp Snoopy that required you exit through a gift shop. But you didn't go through any gift shop, you went through Peppermint Patty's Candy Shop. Do you see anything that was left from that?
The changed the exit when they decided to put a KidsQuest Hourly Daycare location up there instead. I want to say that was covered by something by Cereal Land though?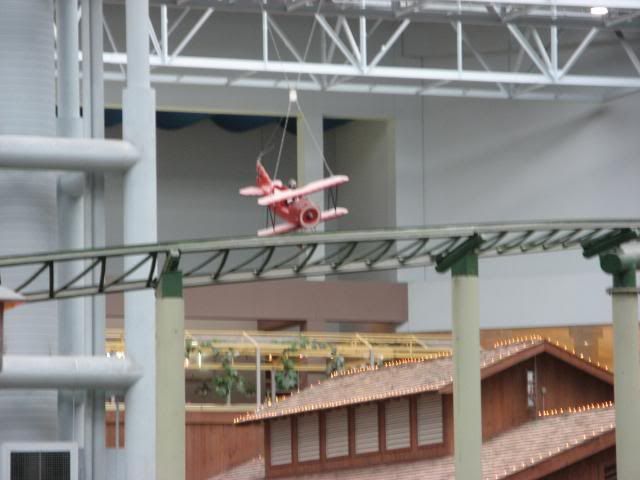 The Red Barron, minus Snoopy.
Why they kept things like this up was just odd. It was as if they wanted to remind you that Snoopy was once here, but now he ran away. It isn't exactly the type of small gesture to remember changes one would hope for. (I think they got the hint since they moved Snoopy's giant water bowl fountain out, even after they tried to make it into a planter.)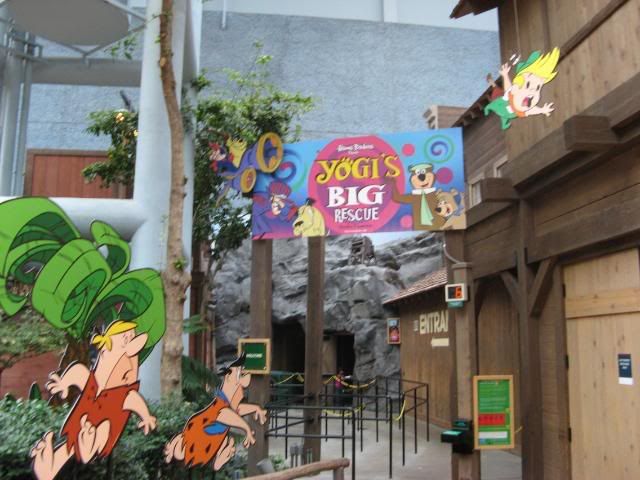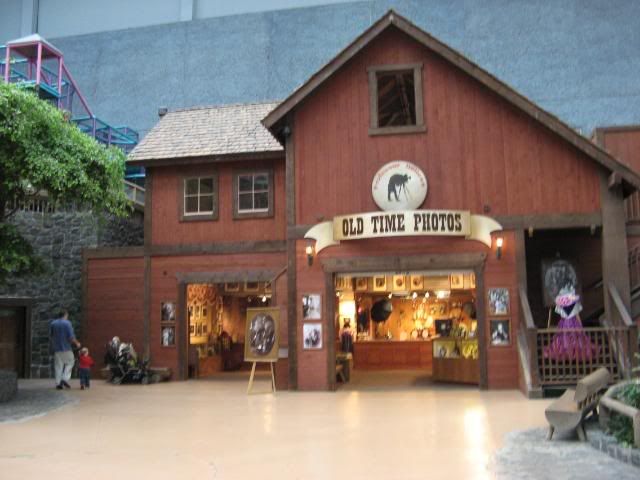 Old Time Photos, which used to be a restaurant
somewhat
like the traditional one at Knott's Berry Farm. But no, it was no where close. But that was the original idea I believe.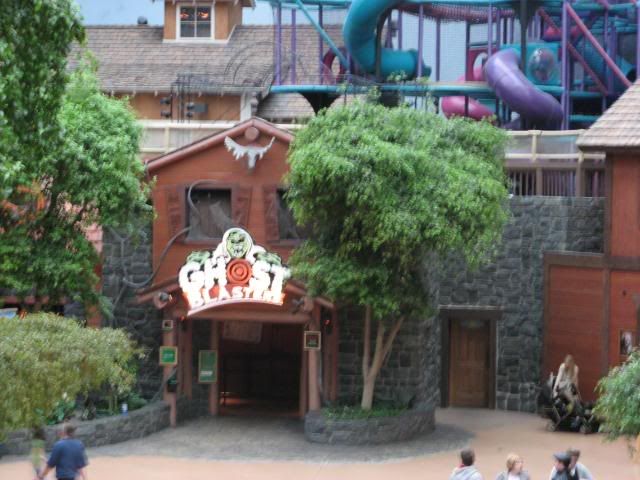 Ghost Blasters.
Think of Buzz Lightyear's Astro Blasters, only with much older technology.
Here's where the plate is.
(The chair and Log Flume are on the opposite end.)
The Northwood's Stage where the Peanuts characters would do little shows and come out by for meet and greets during the weekends and summer.
The Season Pass started within the last five-seven years. I am forgetting now. But with the advent of it came more kiddie rides (to help attract more guests after the popular Toddler Tuesdays,) more pay for extra things, more arcade games, etc.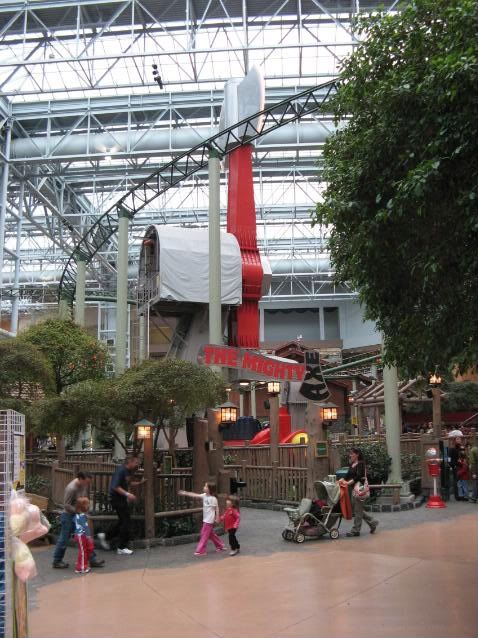 The Mighty Axe.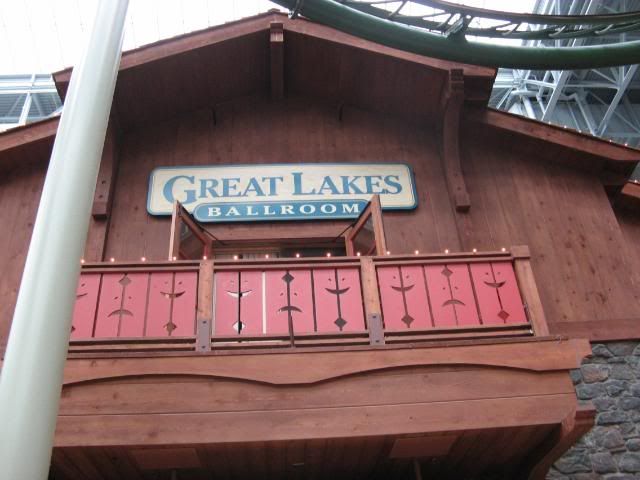 Theming over by the Ballroom used to have a man who would sit there fishing over a stream. It reminded me of the beginning of Pirates at Disneyland.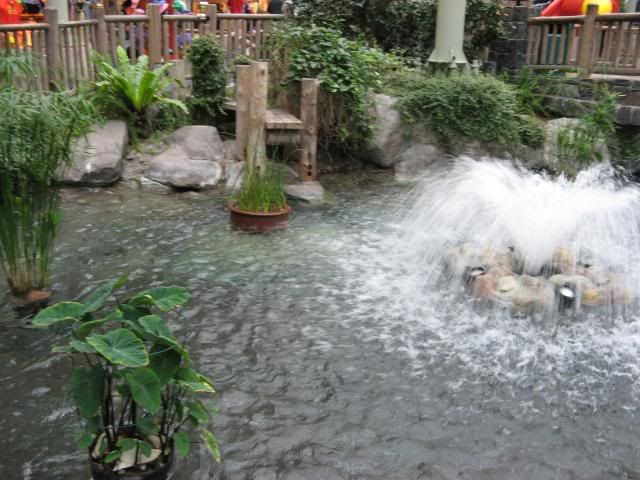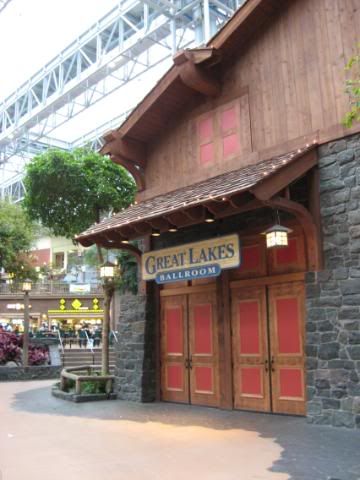 The Joe Cool Shop, which became the Cool Shop.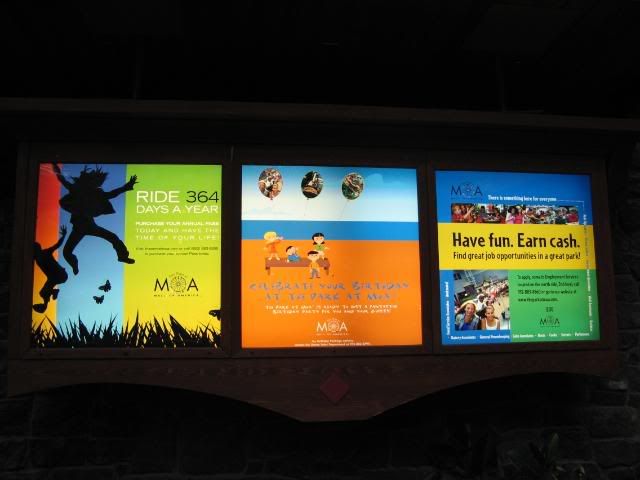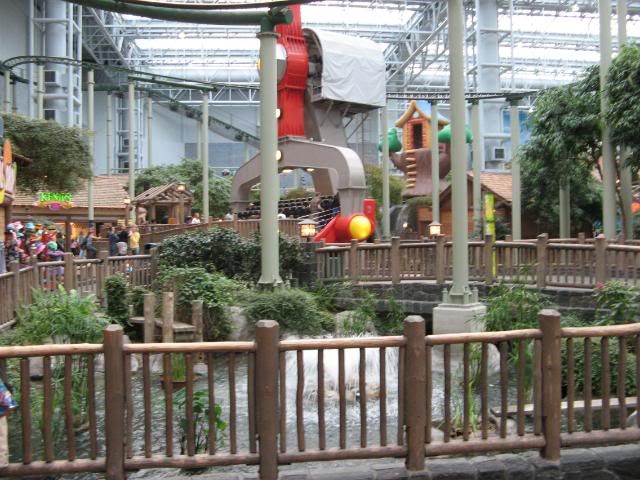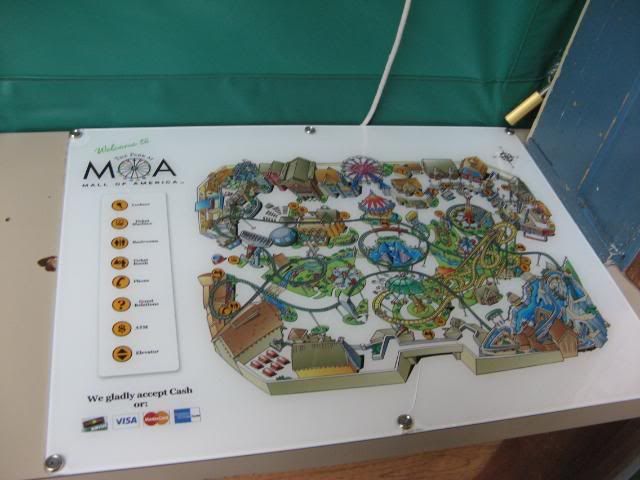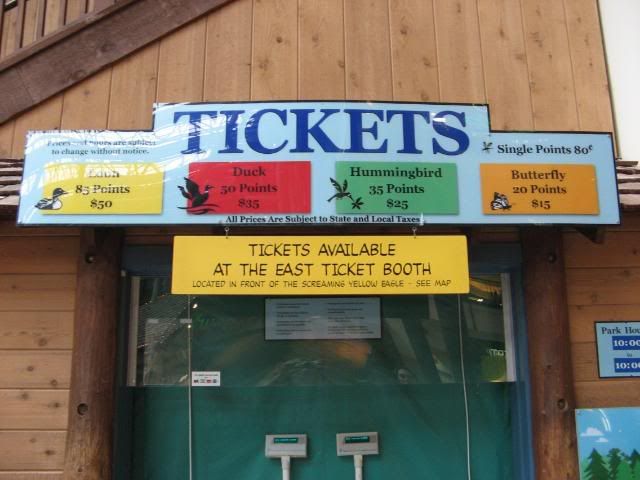 These used to be named after Peanuts like Lucy, Linus, and Woodstock.
Where those benches are is where Snoopy's Dog Bowl fountain used to be.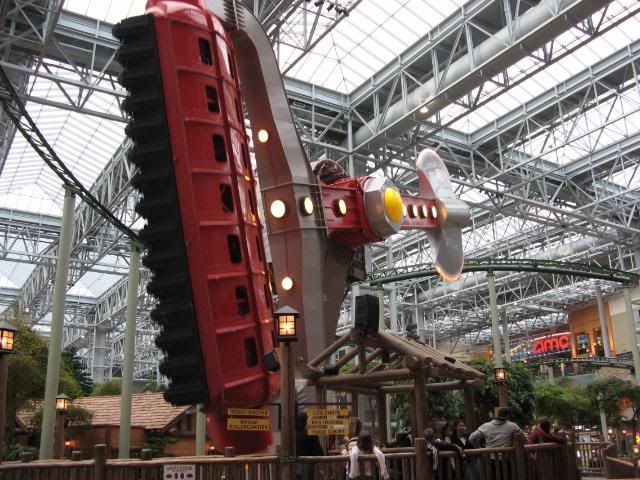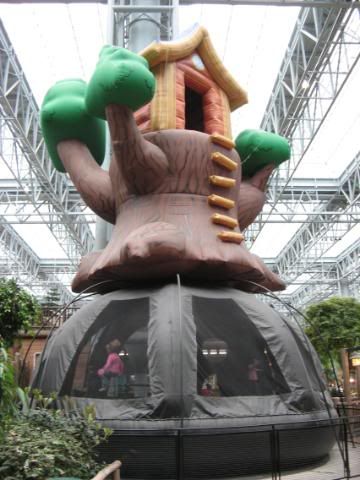 This bounce area used to be a giant Snoopy and helped to serve as an icon to show guests where they were. It turned into just the black base until it became a tree house.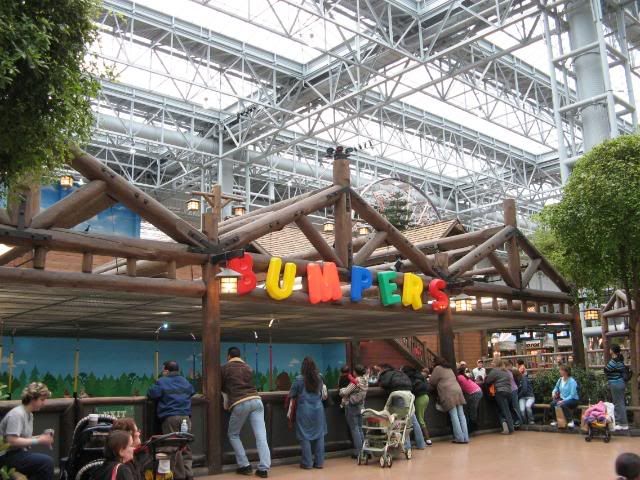 Another look over at the Bumper Cars.
Frog Hopper