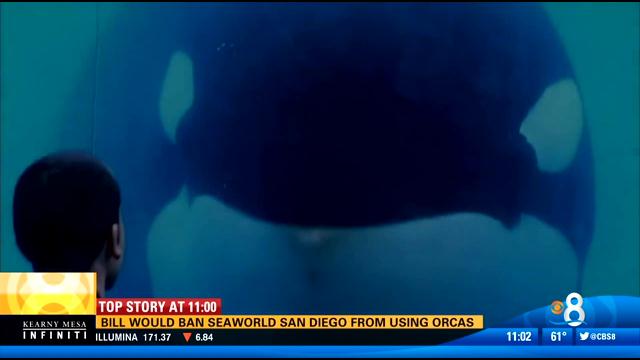 SAN DIEGO (CBS 8) - A California lawmaker is proposing a bill that would mean the end of the road for SeaWorld San Diego's famed Shamu show.
Democratic state assembly member Richard Bloom of Santa Monica says he felt compelled to draft this legislation after seeing the controversial documentary "Blackfish," which calls into question the safety of SeaWorld's trainers and its treatment of its killer whales.
This bill would effectively end all performances by killer whales at California entertainment parks, which of course applies only to SeaWorld in San Diego.
It would also ban captive breeding programs involving orcas and also prohibit importing and exporting orcas.
As for those orcas which are already kept at SeaWorld, the legislation would require the park to essentially "retire" those killer whales, which would then be put on display for the public to view. However, they would not be allowed to perform.
As for SeaWorld, which has repeatedly blasted the documentary "Blackfish" as propaganda, they have made no public comment on this proposed legislation.
Democratic assembly member Lorena Gonzales of San Diego has already gone on the record, via social media, that she will most likely vote 'yes' on this bill.
Gonzalez has posted on Facebook, "SeaWorld's reputation of treating its workers poorly dates back to its opening 50 years ago. It's about time we continue this conversation about job quality and workplace safety at Sea World whether it involves groundskeepers, concessions workers or killer whale trainers. Recent evidence suggests its record with orcas isn't much better. I'm looking forward to having an honest conversation about Sea World's business practices and how they can really be an icon that makes San Diego proud."
While this bill needs only a simple majority to pass, realistically it could face an uphill battle in gaining passage. No hearing date for this legislation has been scheduled yet.
Source:
Bill may ban SeaWorld San Diego from using orcas - San Diego, California News Station - KFMB Channel 8 - cbs8.com

There is a video at the source site.
In short Sea World would not be able to use Orcas for shows nor could they import or export them from Ca.