The History of Sea World is a vast sea of information. As the park has evolved there has been a growing desire by the Sea World Fan community to make a greater connection with the watery magic. With the birth of the internet fans have begun to sink their teeth ever further into the water world but still something was lacking.

It is with great pride that the Sea World parks, in conjunction with the new ShamuChat.com, announce the new SEA23 fan community.

Salty Sea Captain, S. Whim Fast, acts as Archivist here at the Sea World Archives. We were offered the rare opportunity to scour the well know, and not so well known, Sea World memorabilia along with Captain Fast.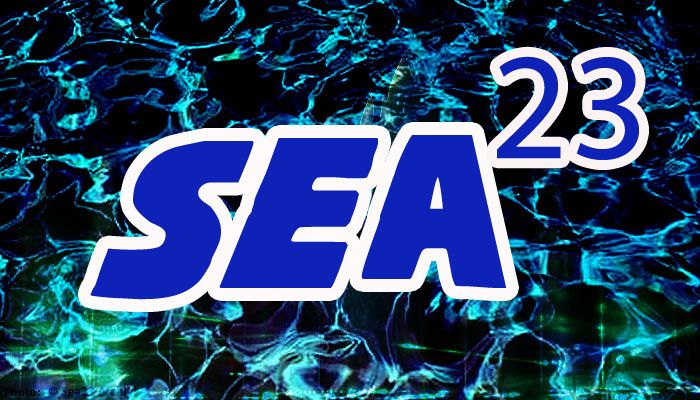 ShamuChat:
Tell us how you came to be the Archivist at Sea World?
Captain Fast:
It was the eve of the parks opening. March 20th 1964. The seas were stormy as I was returning from a long weekend in Catalina. I was knocked off course by powerful winds and lost my navigational tools when a big wave hit the starboard.
The next morn I awoke on the shores of Mission bay and wandered into see what was happening. Three weeks after the park was operating it was discovered that I wasn't part of the scenery and I was offered a job as a janitor. Now I run the Sea World Archives.
ShamuChat:
Why the name SEA23?
Captain Fast:
Interesting question. You see, when Seaworld opened we didn't have much. We were just starting. In fact the first tank was only a 23 gallon tank. Hence the name SEA23 as it refers to when we first got into the Fish viewing business.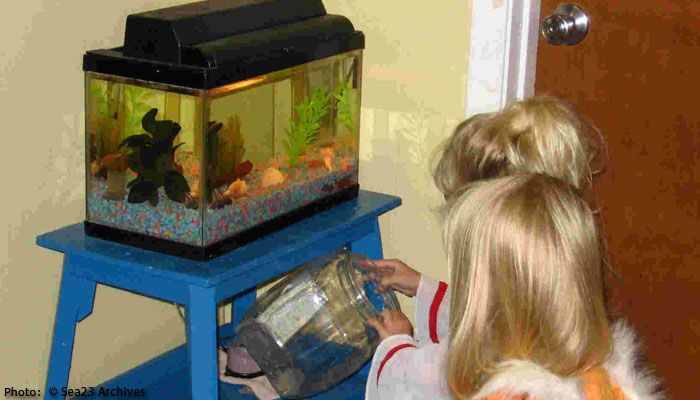 The original viewing tank that opened with Sea World
ShamuChat:
What were some facts about the park that many may not know about?
Captain Fast:
Many think that the park's first and only icon was Shamu. Not so.
Originally, we also featured a sea captain by the name of C. Shanty. He was a rascal. A real character. Almost a little too mischievous for guests at that time.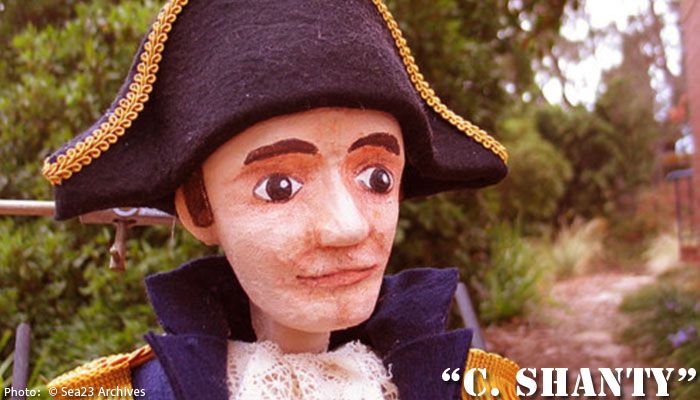 Captain Shanty at the front gates on opening day
There was a routine that he would do during the first half of the operating day when guests were eager to get a picture with him. Children and the elderly would approach him and, after getting their picture with him he would trip them and laugh at their lack of sea legs. A few guests complained but we all knew it was in good fun. It wasn't until he started handing out used fishing hooks that we had to reconsider things.
ShamuChat:
What came next?
Captain Fast:
Well we went a while without using an icon. But people started actually enjoying the animals. And really, what were they coming for anyway? A good time right? It was about the mid 70's that we noticed one of our dolphins was particularly talented.
Late one night one of our trainers over heard music coming from one of the tanks. It was some big band stuff I think. The trainer discovered Harold the porpoise in his holding tank crooning away to Benny Goodman and we knew we had something.
We quickly taught Harold the latest Disco hits like Disco Inferno and Y.M.C.A and fitted him with a hilarious rainbow wig. He was the Big hit of the 1976 summer season for us.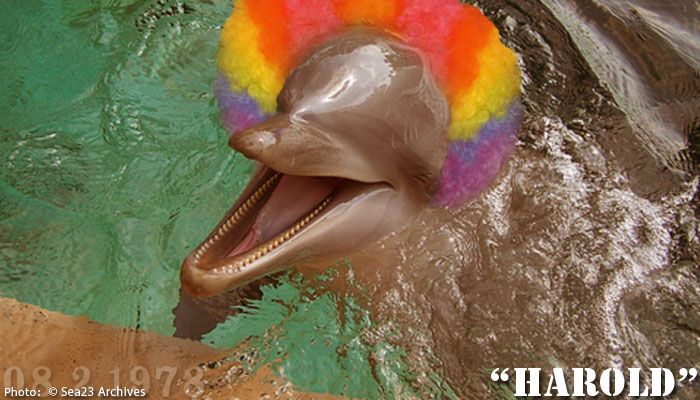 Harold the Porpoise, Publicity still
ShamuChat:
How long did that last?
Captain Fast:
Not long, sorry to say. By the middle of the following year he had grown an ego. We wanted to give him a better name as Harold the Porpoise didn't exactly roll off the tongue. He outright refused and began to become demanding. He would often lock himself in his tank and refuse to perform.
It all came to a head when we began to use ski boats and penguins to stand in for Harold when he wouldn't make a performance. In a fit of rage Harold disrupted a performance with a quadruple somersault over the arena into a burst of fireworks that shot directly into a flock of seagulls which then showered the unsuspecting audience in charred bird. We fired Harold after that.
ShamuChat:
That had to have been awful.
Captain Fast:
Yes but the trainers were thankful it wasn't a Polar Bear and Panda show that Harold decided to go off during.
ShamuChat:
What other lesser known shows were there?
Captain Fast:
Many may know of the Dancing Water show that we had here that was sponsored by Sparklett's. But not many remember that we actually DID a version of the show that featured Shamu.
ShamuChat:
You mean Shamu themed music?
Captain Fast:
No! We actually housed Shamu inside the small Dancing waters dome. We had lasers and smoke and it was just beautiful.
ShamuChat:
How many performances of Dancing Waters starring Shamu were there?

Shamu Dancing waters show
Captain Fast:
About one and a half. During the second performance Shamu misjudged the width o the small tank he was in and landed on a group of investors who were reviewing the show.
ShamuChat:
That didn't go well.
Captain Fast:
It could have been much worse. Thankfully they decided to simply shut the show down and not file any lawsuits as long as Shamu was only kept in the larger tanks from then on.
ShamuChat:
Well we thank you for this trip down Sea World's memory lane. And thank you for the work you are doing here at the SEA23 Archives.
Captain Fast:
Thar be no problem. Come back to visit anytime.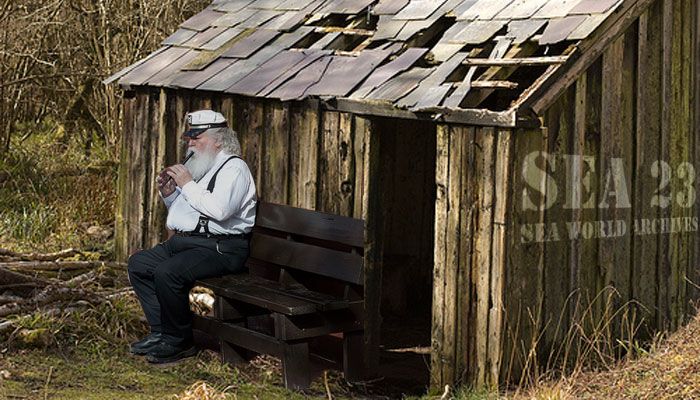 Captain Fast tends to the Sea World SEA23 Archives day in and Day our and does NOT welcome visitors. We returned to our car where out tires had the air let out of them with a note that read, "Don't be retarnin'
Interview by Fishbulb for ShamuChat