Water Rides - Omaka Rocka | Aquatica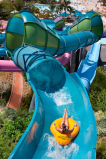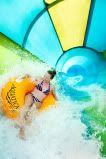 Come get some fun in the florida sun! Omaka Rocka looks like all kinds of wet that you won't soon forget. It is Aquatica's first new ride since the waterpark opened in 2008. described on the Aquatica site as "an all-new water thrill ride featuring high-speed tubes and half pipe funnels that'll have riders splashing and sliding frontward and backward and climbing the walls." The Orlando Sentinel wrote that riders will experience half-pipe maneuvers through three funnels (think extreme sports/skateboarding).
Let's take a look-see at a couple of videos...
[ame="http://www.youtube.com/watch?v=-MwSKInaXQI"]YouTube - ‪Omaka Rocka is now open at SeaWorld Orlando's Aquatica‬‎[/ame]
Features include...
Platform shared with Whanau Way, located on the wave pool side of the park
Two slides with three funnels each
South Seas name that means rocking river
Near weightlessness provided by half-pipe element
Two-seater tubes
No height restriction
Simi-transparent walls during sections of ride that are in fully enclosed tubes...allowing light in...and a view from the outside of you sliding and screaming
[ame="http://www.youtube.com/watch?v=yG86wf4lS-Q"]YouTube - ‪Omaka Rocka‬‎[/ame]