Despite the wind advisories, I made my way out to Six Flags Magic Mountain yesterday, looking to make use of my new AP and to ride X2 for the first time.
Traffic wasn't bad at around 10:10 am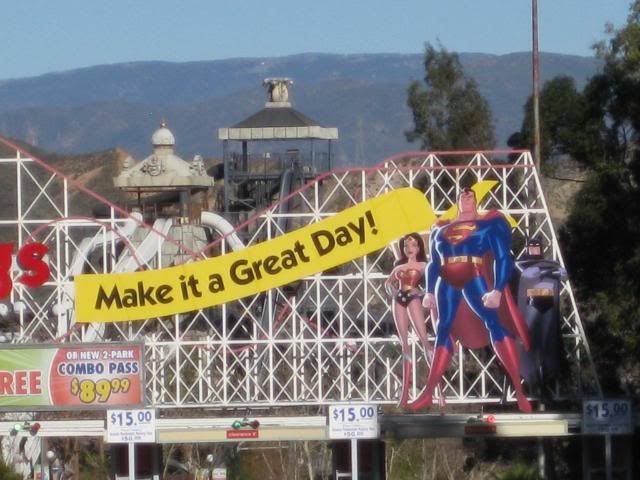 As a huge fan of the Justice League/Justice League Unlimited series, I always enjoy seeing the Superman/Wonder Woman/Batman sign.
After the gates opened at 10:30, I power walked my way over to X2 only to find that it wasn't opened yet. Oh well, onto plan B which happened to be Tatsu.
The first time I ever rode Tatsu, I had a really strong "what did I just get myself into" feeling throughout, especially during the "pretzel loop". However, I've come to really love it, especially the stretches of the track where you roll a bit to the left and then to the right...it actually feels as serene and tranquil as Soarin' over California, only you literally are soarin' over california!
I backtracked to X2 only to find that it was still closed so I walked onto Revolution.
It's still a fun ride but you really do bang your head on the shoulder restraints as you move from side to side (as has been discussed here on MiceChat). I could've gone on it many, many more times but for the headbanging.
X2 was still closed so it was off to Ninja and Gold Rusher.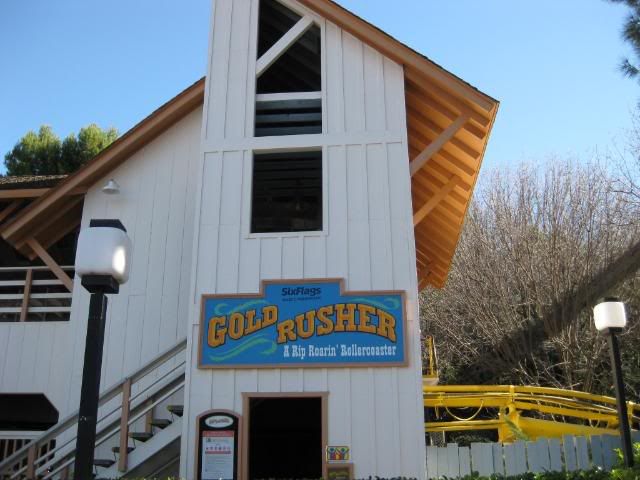 Those Gold Rusher trains look to be in pretty bad condition. You think you've seen wear and tear at DLR or WDW? Feast your eyes on this beauty!
On previous trips, I've noticed similar conditions in the Jet Stream and Log Jammer boats. Which is sad when you consider how many millions are put into the coasters and yet these aging attractions can't even garner a refurb or two?
I know how much we love arcades on this site
I checked back on X2...would I finally be able to experience it????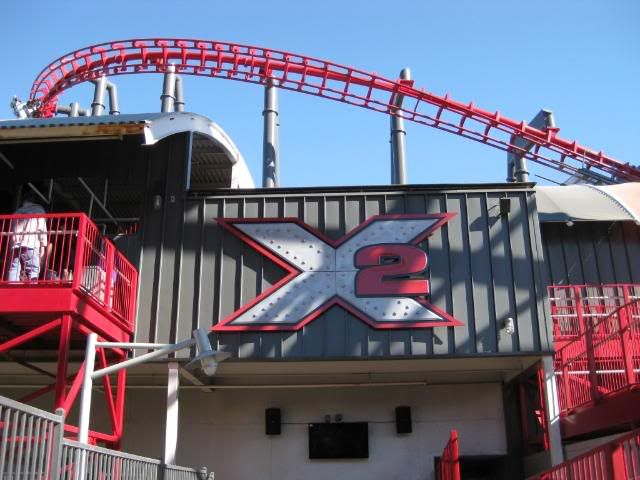 Yes!!! at last!! It must've just opened because I was able to walk right up to the loading areas.
The fire effects were not operating, mostly likely due to the winds. Still a great, if disorienting, ride nonetheless. As one of the MiceChatters who enjoys listening to
Knights of Cydonia
on an ipod while riding Space Mountain, I think it would be perfect for X2! Then again, there's no way I'm bringing the ipod with me on the ride, nor would the ride operators permit it (I would hope!)
After that, I decided to call it a day as I was tired already. At DLR, I can go the entire day easily so maybe it was the elevation?
As I've been on Goliath and Riddler's and Batman before, I didn't really feel like venturing to that side of the park. I did want to go up in the Sky Tower but it was closed due to the winds.
Here are some random shots I took: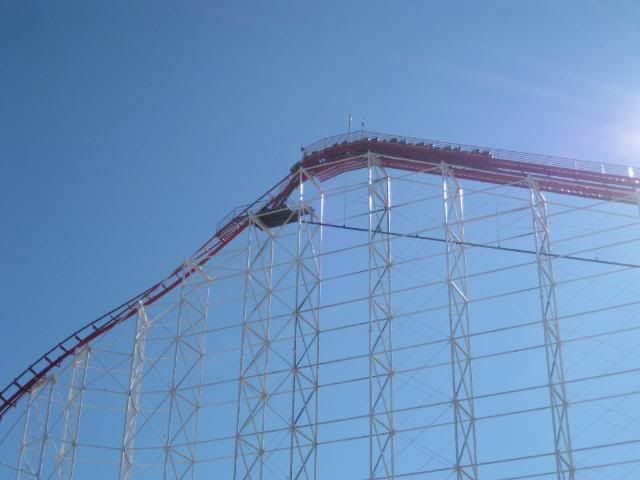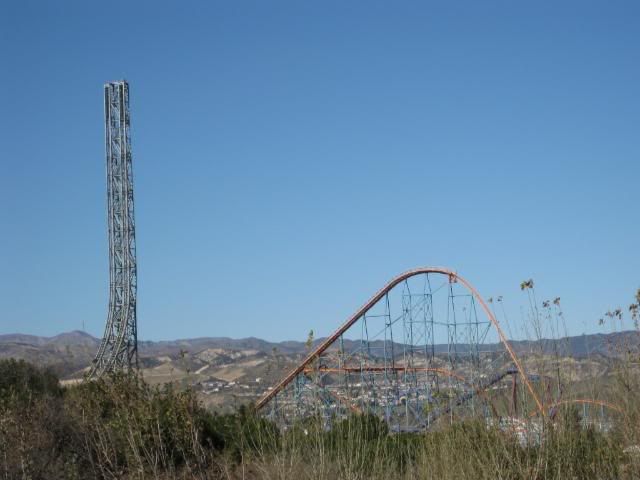 A common critique of SFMM is that it's not that family friendly (Bugs Bunny World and Thomas Land notwithstanding). Not only that but there isn't much in the way of fun and/or relaxing non roller coaster rides for adults, which we have plenty of in the Disney parks.
As such, I thought about how great it would be if they built a Looney Tunes themed version of TSMM. Perhaps a Marvin the Martian blaster stage, a Wile E. Coyote setting traps for Road Runner stage, a "shoot portable holes at the screen to help Bugs Bunny escape from Elmer Fudd and Yosemite Sam" stage and so forth. Tell me you wouldn't want to ride on that!
Thanks for reading!