I hadn't been to SFMM for a couple weeks and was surprised to see that old Thomas Town area was finally back open today re-themed as Whistlestop Park. The area has been closed since late 2010 when SFMM did not renew the license for The Thomas the Tank Engine name. They do still sell Thomas merchandise in the souvenir shop.
I am not sure I get the colors of the new signage but I assume they will tie in with the Roadrunner Express coaster once its built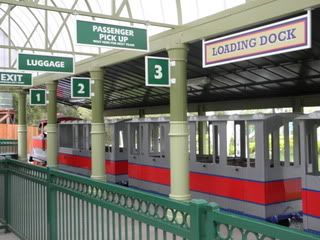 The station looks about the same, however THomas, Annie and Carabel all have new paint jobs
Thomas is now just a plain old engine :-(
Tidmouth Shed is well....now just an empty shed. There is no sign of Gordon, Henry or James anywhere
The Percy Train ride has been renamed "Magic Flyer" but it was not open today (this has a 54inch hight max).
The freight depot sign is one of the only remaining original signs from Thomas Town. And they kep the small water area which is great in the hot summer months.
As far as construction on the Roadrunner Express, its still about the same, not much going on at the site yet, but since the coaster is already there just waiting for installation it should go in fairly quickly once the site is ready..
The park was empty today and Superman was only running one train.