Six Flags held a Press Conference this morning announcing their new attractions for 2013. This includes new coasters, shows, water slides and nighttime spectaculars.
You can find all of the news for the parks here:
http://content.sixflags.com/newfor2013
Let's take a look at what's in store at your local Six Flags park next year. Let's start in the West Coast.
Six Flags Magic Mountain

VALENCIA, Calif. — August 30, 2012— Six Flags Magic Mountain today announced another world-record addition to their coaster dynasty with FULL THROTTLE, the world's tallest and fastest looping coaster slated for the Valencia theme park in 2013. Unlike traditional coasters, this unique, one-of-a-kind triple launch coaster will take the coaster experience to the next generation as riders face a never-been-done-before launch up and over a "Top Hat" that traces the outside of a world-record loop, towering 160 feet — plus a zero to 70 miles-per-hour acceleration on two forward launches and one backward launch into and out of a special effects tunnel. FULL THROTTLE will be located near the front of the park in a newly themed five-acre section where guests will experience high-energy thrills through fast-paced imagery, sound and lights. With this addition, Six Flags Magic Mountain, the Thrill Capital of the World, firmly holds the coveted "Coaster Capital of the World" crown — with a total of 18 roller coasters — more than any other theme park on the planet.
"Six Flags is known world-wide as the industry leader in next generation thrills. And, bar none, Six Flags Magic Mountain leads the pack, offering the biggest and the best … always," said Bonnie Rabjohn, Six Flags Magic Mountain park president. "As we mark our 42nd anniversary of operation, we're ready to take Southern California by storm, yet again, with the most comprehensive collection of thrilling roller coasters anywhere in the world."
To begin their journey through the park's distinct mountainous terrain, riders are loaded onto sleek black and silver trains, sitting two abreast, and are suddenly accelerated from zero to 70 miles-per-hour in the first of three launches, experiencing their first inversion and thrill of navigating a world-record 160-foot tall loop. Riders then enter into a high-banked curve to the right and then to the left as they approach the second inversion — a Dive Loop that drops them rapidly into a special-effects tunnel. While in the tunnel, the train is dramatically decelerated and stopped, only to be suddenly launchedbackward up to the high point of the Dive Loop. After a momentary pause, the train drops and is magnetically launched a third time, racing out of the tunnel and through a high G-turn to the left. Riders then race up and over a "Top Hat" that traces the outside of the World Record loop, where riders will experience significant air time and a breath-taking view of the park before dropping back down, rapidly decelerating and taking the final 180-degree turn to the left and returning to the station where riders can catch their breath.
FULL THROTTLE is the perfect addition to the park's coaster collection, joining other adrenaline-pumping coasters, including Tatsu — the tallest, fastest and longest flying coaster in the world, X2 — the world's first and only 5th dimensional coaster, Apocalypse — the next generation of wooden coasters and Goliath — the "giant among giants" mega coaster.
For more information on FULL THROTTLE, including a video, visit www.sixflags.com/magicmountain.
Location of new ride
Tunnel with the proposed show elements and backwards launch

Virtual On-Ride of Full Throttle:




Six Flags Discovery Kingdom

A new show, Cirque Dreams Splashtastic will be coming to the park next year.
Cirque Dreams SPLASHTASTIC | New for 2013
Six Flags Discovery Kingdom today announced its partnership with theatrical visionary Neil Goldberg and his acclaimed Cirque Dreams entertainment brand to present an extraordinary, new cutting edge dolphin show featuring Cirque Dreams in spring 2013 — Cirque Dreams
Splashtastic
— the Most Amazing Show Above H
2
0.
This new aquatic production features the park's popular marine mammals along with the internationally renowned company of acrobats, aerialists and astounding Cirque Dreams acts that will amaze in the air, over water and throughout the Dolphin Harbor Theater.
"We are excited to bring the unique magic of Cirque Dreams to our guests," said Dale Kaetzel, park president. "This mesmerizing new water spectacle is a great complement to our existing line-up of rides, shows and animal attractions making us Northern California's best entertainment destination."
"It is our goal to create a visually exciting experience of unparalleled Cirque Dreams showmanship," said Cirque Dreams founder and Broadway Director Neil Goldberg. "Cirque Dreams
Splashtastic
will be one of those unique and memorable entertainment attractions that will captivate audiences of all ages."
Six Flags Discovery Kingdom is home to seven thrilling roller coasters, three children's themed areas along with a host of spinning, flying and family favorite rides and attractions. Cirque Dreams
Splashtastic
joins a lineup of wildlife shows and animal attractions that include the raucous Pinnipeds of the Caribbean sea lion show, Odin's Temple of the Tiger, Birds of the World, Elephant Encounter, and Walrus Experience educational demonstration shows.
In addition, the park offers unique animal interaction programs designed to educate, captivate and thrill. The park's popular Dolphin Discovery is the only program in Northern California that offers guests the experience of swimming with a dolphin; guests can also sign up to participate in the Trainer for a Day series, where they can actually shadow marine mammal trainers in this day-long program.
No announcement has been announced for the Shouka stadium. With the new show going into the existing Dolphin theater maybe the Dolphins will come here.
Six Flags Fiesta Texas
Six Flags Fiesta Texas has announced the upgrade to Rattler named Iron Rattler.
Iron Rattler | New for 2013
Six Flags Fiesta Texas announces plans to unveil its newest addition and structural landmark as the highly anticipated hybrid coaster Iron Rattler will make its' dashing debut next spring at Six Flags Fiesta Texas.
With its unique construction, the Iron Rattler will have:
A staggering drop of 171 feet with an amazing drop angle of 81 degrees.
A blazing top speed of 70 mph.
Four over-banked turns—more than any other hybrid coaster, and the first of its kind to feature a completely inverted barrel roll.
"Six Flags has innovation as part of our DNA and the Iron Rattler will take extreme innovation to a new level with a taller drop, faster speed and steeper banks. This cutting-edge coaster truly marries the best of both classic and modern coaster designs to deliver heart-pounding thrills," said park president Martin Bozer.

The track will be constructed by Rocky Mountain Construction Group, who helped design the New Texas Giant at Six Flags Over Texas. Tim Baldwin, Editor, Rollercoaster! Magazine stated, "The Rattler's transformation is expected to be nothing short of spectacular. This innovation is so new in the amusement industry; it has only been done once before. The results were tremendous, and Fiesta Texas' project should be equally amazing."
Virtual Ride of Iron Rattler: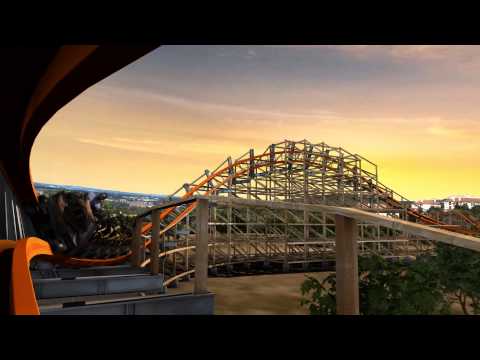 Six Flags Great America

Six Flags Great America is adding igNIGHT a nighttime spectacular for 2013.
igNIGHT – Grand Finale | New for 2013
Get ready to igNIGHT the evenings in 2013! Six Flags Great America today announced plans to add the most technologically advanced show in the park's 37-year history. This nighttime production features singing, dancing, pyrotechnics, video and laser elements that burst with energy, imagery and imagination.
igNIGHT, will serve as a finale to a thrill-filled day at Six Flags Great America by taking Guests on a journey to a never-before-seen world with vibrant, state-of-the-art lighting and sound. By utilizing pyrotechnics, video technology, laser lighting, immersive sensory effects and guest interaction, spectators will feel as if they have stepped into a multimedia universe with a spectacular finish that reaches new heights.
"Our guests have been enjoying immersive nighttime experiences for years. igNIGHT — Grand Finale is going to blow away their expectations," said park president Hank Salemi.
igNIGHT — Grand Finale will take place in Hometown Square, which will be renovated to enhance the Guest experience and is planned to open summer 2013.
Six Flags Great Adventure

The major addition for this year is a makeover of Wild Safari which will now be included with admission to Great Adventure.
Safari Off Road Adventure | New for 2013
In 2013, New Jersey's Six Flags Great Adventure entertainment complex will undergo its most dramatic transformation in 13 years as the 160-acre theme park and 350-acre Wild Safari animal park unite as one property to become the world's largest theme park. The mega-park, featuring 13 roller coasters including three of the world's top rated, three children's areas, a wide array of family rides, games, shopping and entertainment, will introduce the new, one-of-a-kind, themed attraction —Safari Off Road Adventure. At Six Flags Hurricane Harbor, water-thrill seekers will challenge a massive, new slide complex —Big Wave Racer.
Boasting 1,200 animals from six continents, Safari Off Road Adventure will take explorers on the most intense, up-close animal experience of their lives. Guests will enter the amazing, fictional world of the Wilds Family, who have traveled the globe to bring the most interesting and exotic creatures to their home in Jackson, New Jersey. Once through the rustic loading station filled with artifacts from the Wilds' global journeys, guests will load a rugged, open-air, Safari vehicle to begin their unique adventure.
Skilled, informed drivers will drive guests off-road and up close to the animals as they splash through ponds, climb hills, cross bridges and venture over rugged terrain.
"Never before have guests been able to experience a journey so close to that of a true African safari here in the U.S., said John Fitzgerald, park president. "By combining the world's most exotic animals with Six Flags' signature entertainment, the Safari Off Road Adventure will be the most incredible animal adventure anywhere. Where else can you ride a wave, go on safari, and soar on world-record breaking coasters?"
A map of the existing Wildlife park

Six Flags Over Georgia

Six Flags Over Georgia is adding SkyScreamer for 2013.
SkyScreamer | New for 2013
Six Flags Atlanta Properties today announced two ground-breaking thrill rides will debut at Six Flags Over Georgia and Six Flags White Water in 2013.
SkyScreamer, an extreme swing ride, will spin guests in a 98-foot circle at speeds of 40 miles per hour atop a 24-story tower. Thirty-two guests board the ride and sit two across in open-air swings as they climb to the top of the tower while spinning round and round, high above the ground below. SkyScreamer will be the tallest attraction in the park's 45-year history, 4-stories taller than the park's mega coaster, Goliath.
Other attractions announced include:

Six Flags St Louis - Boomerang:
Boomerang | New for 2013
Six Flags America - Bonzai Pipelines:
Bonzai Pipelines | New for 2013
Six Flags New England - Bonzai Pipelines:
Bonzai Pipelines | New for 2013
The Great Escape - Screamin Eagles:
Screamin Eagles | New for 2013
Six Flags Mexico - Fright Fest:
... Six Flags Mxico ...