Wow, first I must say that this visit was infinitely better than my last. Even though it was five times more crowded that day. Things were really humming. But we, my friends and I, expected it to be busy, and we didn't care.
Of course the first and foremost reason for our visit was Tatsu! As expected, the crowd at the main gate were like-minded. The announcer dude was William this time - he was pretty cool, he asked the crowd trivia questions about Six Flags roller coasters and the park itself. Praise to him for not going on about the park's eateries and not faking an Austrian accent. He reminded guests more than once that Tatsu would be open for their enjoyment all day long and encouraged us to pick a different first destination.
But did we listen?
No!!!
Incidentally, we ran into him again while we were in line for Tatsu, and he asked us more trivia and handed out tattoos and SFMM wristbands. I bet if he knew I called his job lousy three weeks ago, he'd have socked me one in the face. Heh heh.
Anyway, we bolted across the park like everyone else to the entrance to Tatsu. Almost immediately the line extended out the door and wrapped down the path underneath the Arrowhead Splashdown boats. We could watch the flying coaster trains overhead - man, those trains look cool.
I wish I could say the same about the ground cover. Ok, you know that synthetic fluffy-ish insulation padding that goes inbetween walls? Or the lint that comes out of driers? Now imagine that stuff a sick turquoise color, and spread it over a dirt hill. Basically that's what was done with the land surrounding Tatsu, over tree trunk stubs, roots and all. At places you could see this thick, rope-ish mesh. It looked...very unnatural. I almost like dirt better. At least it looks real.
Ok, there
are
plants and trees as you approach the ride itself. I'll give them credit for that.
The line needs trash cans in the line. Six Flags is just asking for trash to be lined up on walls and thrown every which place because they put (freakin') food stands at the beginning of the queue! Tatsu is already getting trashed. I held onto a handrail and touched gum, and I got so mad I pulled a piece of paper out of my wallet and scraped it off. Can we at least keep it looking nice
for one day??
The ride itself was incredibly unique, smooth, and just plain fantastic. When the trains folded up into flight position, everybody started screaming right from the station! Flying rollercoasters are still a novelty, and this part of America had not seen a flying machine like this until Tatsu.
Now. Remember when I complained in my last trip report about hindered ride capacity? Let's just say Tatsu made me very, very happy. Three trains running! Two branch-off loading spots in the station! Behold, efficiency!
Let's do the math, shall we?
3 trains X 8 rows per train X 4 seats per row = 96 riders at any given time, max.
Ride time is about 3 minutes. The fact that there is two trains loading and unloading in the station at the same time means trains are dispatched so there is always one train on the tracks. I estimate the full cycle time to be between 5-6 minutes. That means every train makes 10-12 cycles in an hour. Or,
96 X 10 (or 12) = between 960 to 1152 riders per hour.
Not bad for Six Flags! Throughout the day Tatsu was handling a
massive
crowd, and yet the wait time was not much longer than an hour.
Compare that to the Revolution down below Tatsu, which has reopened again, yet curiously it is only halfway through its paint job. It was operating with just
one
train. Let's do the math again, no?
1 train X 10 rows per train X 2 seats per row = 20 riders at any given time, max.
Ride time is about 2 minutes, plus, oh, I'd say, another 2 for unload/load, so that's 4 minutes total cycle time or 15 cycles in an hour.
20 X 15 = 300 riders per hour.
And that's assuming every seat is filled, which is almost never the case. The Revolution had a completely unnecessarily long line, all because, again, only one train was in operation, on a very busy Saturday, and more than 20 people in a 4-minute period came to ride it. If just one more train was on the line, it would bring it up to 600. Oh well I guess. Other rides that visit were as follows:
X: 2 trains thank God, but still not fast enough
Viper: 2 trains, good
Ninja: 2 tains, good
Gold Rusher: 2 trains, and it actually needed it too
Psyclone: 1 train far as I could tell, but everyone hates the ride including me, and anyways we saw a train didn't make it up a hill and rocked back and forth for five minutes and the ride closed for half the day, haha
Riddler: 2 trains
Batman: 1 train, horrendous line
Scream: 1 train I think, line extended out
Colossus: at least 2 trains, both sides running!
Goliath: 2 trains, still overflowing past the giant letters
Superman: 1 train, one track. Yeah.
Deja Vu was
finally
open (my ongoing joke is that every time I go to Six Flags, it feels like I've never ridden it before), so we finally got to ride it. Best part is the vertical towers.
I was surprised and pleased to see elevators going up the Sky Tower, so we went up to the top and.. wow, what a view! We stayed up there for a long time on two occasions when we had nothing better to do, just looking at all the peeps. It's about time Six Flags opened up its Sky Tower! There were very few people inside it; maybe no one expected it to be open either. It's not like you can miss a 400-foot red-orange tower.
The elevator operator told me about Flashback reopening in a month's time, but like it's been said in a different thread, the coaster does not operate when SFHH is open because FB makes too much (freakin') noise. You know that they probably don't know anything more than you do, but one can only hope...
Oh, and I bought a Tatsu shirt for 10 bucks (not bad!) and, well...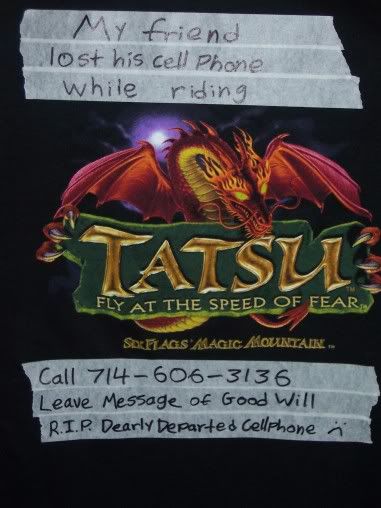 The T-shirt speaks for itself.