YOU'LL WISH IT WAS JUST A MOVIE,
Want to play a game? At Universal's Halloween Horror Nights, Saw is waiting. Step into Jigsaw's demented world.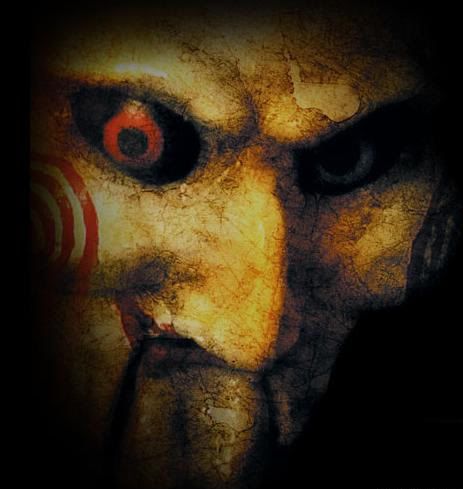 ALL NEW


Horrifying Mazes

SAW: Game Over

Want to play a game? You don't have a choice. Enter the twisted world of Jigsaw, the demented serial killer from the "Saw" horror films.
From the minute you set foot in Jigsaw's secret lair, you know you're being watched. As you navigate your way through the most twisted and infamous traps from your favorite "Saw" films, you realize you've become a pawn in Jigsaw's demented game. Someone in your group will not survive. Will it be you?

HALLOWEEN: The Life and Crimes of Michael Myers
Michael Myers, the infamous masked killer, has returned to the town of Haddonfield on Halloween night! Prepare for a terrifying journey through the life and crimes of Michael Myers, from the original murder in the Myers House in 1963, to his troubled time in the Smith's Grove Sanitarium and then his fateful and bloody return to Haddonfield.
Start by entering the home where it all began. But watch your back, Michael could be waiting around any turn. This is one open house you'll never forget.

MY BLOODY VALENTINE: Be Mine 4 Ever
Ten years ago, a tragedy changed the town of Harmony forever. Tom Hanniger, an inexperienced coal miner, caused an accident in the tunnels that trapped and killed five men and sent the only survivor, Harry Warden, into a permanent coma.
But Harry Warden wanted revenge. Exactly one year later, on Valentine's Day, he woke up...and brutally murdered twenty-two people with a pickaxe.
It's now the 10-year anniversary of the tragedy and Harry has returned to find that local teenagers use the abandoned mine as a party site…it's gonna be a bloody Valentine's Day!
Chucky's Funhouse
The tortured soul of serial killer Charles Lee Ray is trapped inside the body of a doll named Chucky.
Chucky has continued Ray's murderous rampage, racking up an impressive body count. But something is missing.
Despite all the murder and mayhem, Chucky was never really taken seriously. After all, it's hard to compete with the big boys of horror when you're pint-sized. But all of that is about to change.
Chucky has taken over an old, carnival funhouse and is raising an army of Killer Dolls to take his ultimate revenge on humanity! Welcome to Chucky's Funhouse…you'll laugh yourself to death.
Terror Tram on the Backlot

TERROR TRAM: LIVE OR DIE
Billy, Jigsaw's messenger of doom from the "Saw" horror film franchise, invites you to play a game on the famous Universal backlot. To win this game, you'll have to survive Billy's test as a group…if even one member of the party doesn't make it through to the other side, everyone will pay the ultimate price.
Will you make it to the end? Let the games begin!
Twisted Shows

Bill and Ted Party On!!!!

The Wyld Stallyns of time travel – Bill S. Preston, Esq. and Ted Theodore Logan – return in an all-new parody show ripped from today's headlines. Join Bill and Ted as they skewer a who's who of infamous guest stars in this most excellent musical comedy you'll want to see time and time…and time again!

The Rocky Horror Picture Show - A Tribute

There's a light over at Frankenstein place. Join the wildest group this side of Transylvania as they present a live tribute to the cult classic film.
Costumes, masks, make-up and props are not permitted at the event.
Rides

Favorite attractions, such as The Simpsons Ride, Jurassic Park - The Ride, and Revenge of The Mummy - The Ride will be open during Halloween Horror Nights.
Bone Chilling Scare Zones

Let the Games Begin!

From the moment you enter the main gate of Halloween Horror Nights the game is on! Your first challenge is to make it past Jigsaw's army of pig-faced, chainsaw-wielding minions. Better be quick on your feet or your night might end early.
Welcome to Hell
Brave the flames of hell. Beware of demons, the seven deadly sins and a demonic street preacher standing atop a mound of human remains… or you may never leave.
Freak

Hard times have fallen on the old carnival Freak Show. Out of work and starving, one renegade band of Freakz has developed a taste for human flesh. Watch your back on French Street or you may end up as dinner.
The Meat Market

Welcome to the Meat Market, where a bloodthirsty family of butchers is on the loose! As you make your way past rotting, maggot-infested animal carcasses and buzzing flies, watch your step or you just might get caught in the butchers' whirling blades. In other words…you'll be their next meal.
Shaun of the Dead

Zombies from Universal's cult classic "Shaun of the Dead" have invaded Baker Street! Now it's up to Shaun and his slacker friend Ed to save themselves (and their beloved Winchester Tavern) from the hordes of vile, flesh-eaters that have overrun the streets of London.
Stay out of the zombies' grasp or you'll end up one of the walking dead.
There will be Blood

Jigsaw's diabolical game continues. Billy, Jigsaw's messenger of doom, broadcasts warnings on a giant video screen. At the end of the street is the entrance to Jigsaw's lair. To get there, you have to survive a gauntlet of Jigsaw's pig-faced minions. Watch out or it'll be game over.
DATES:

Friday, Oct 2: 7:00pm - 1:00am
Saturday, Oct 3: 7:00pm - 2:00am
Friday, Oct 9: 7:00pm - 2:00am
Saturday, Oct 10: 7:00pm - 2:00am
Sunday, Oct 11: 7:00pm - 1:00am
Thursday, Oct 15: 7:00pm - 12:00am
Friday, Oct 16: 7:00pm - 2:00am
Saturday, Oct 17: 7:00pm - 2:00am
Sunday, Oct 18: 7:00pm - 1:00am
Friday, Oct 23: 7:00pm - 2:00am
Saturday, Oct 24: 7:00pm - 2:00am
Sunday, Oct 25: 7:00pm - 1:00am
Wednesday, Oct 28: 7:00pm - 12:00am
Thursday, Oct 29: 7:00pm - 1:00am
Friday, Oct 30: 7:00pm - 2:00am
Saturday, Oct 31: 7:00pm - 1:00am
Hours are subject to change


Universal Studios transforms into the premier Halloween event in Southern California. But enter at your own risk.