So yesterday, Wonderpup, the BF & myself headed to Universal Studios for the day for my birthday (even though it was the day before). I hadn't been there since 2003 or 2004 and the BF had never been there. Neither had Wonderpup.
Entrance to CityWalk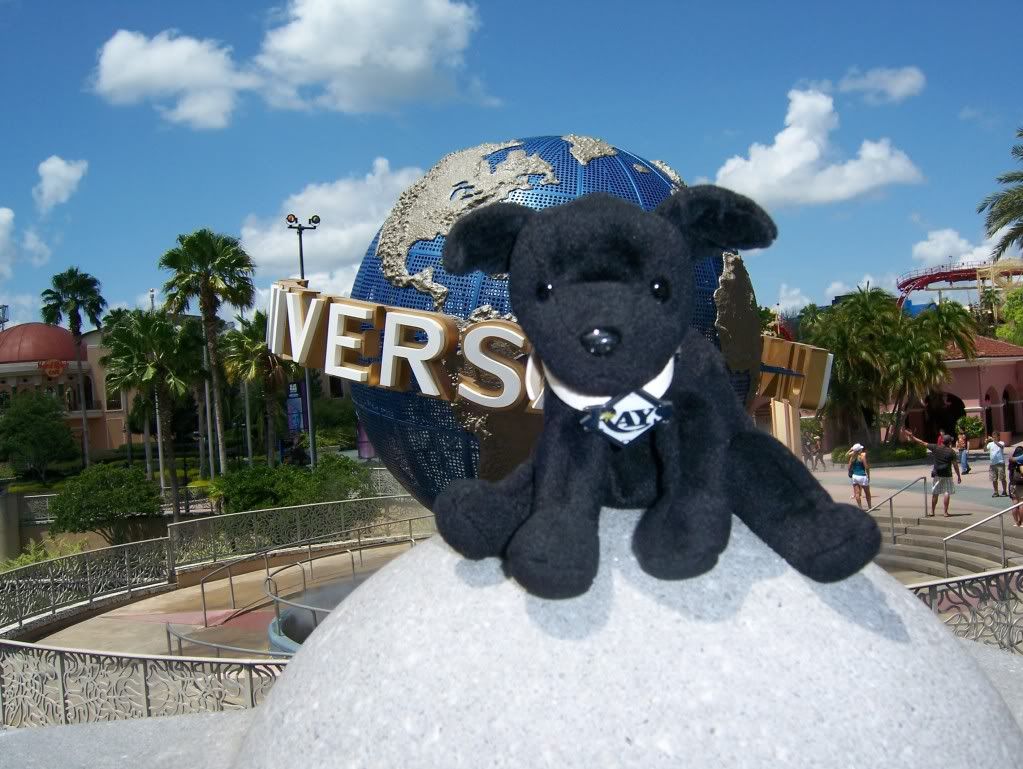 We originally had lunch reservations at Emeril's, but ended up canceling them a few days prior as I found out they had a dress code - business casual, but they say "smart casual" is perfectly acceptable. Well, that meant no shorts and whatnot, so we passed. So instead, we had lunch at Mel's Drive-In.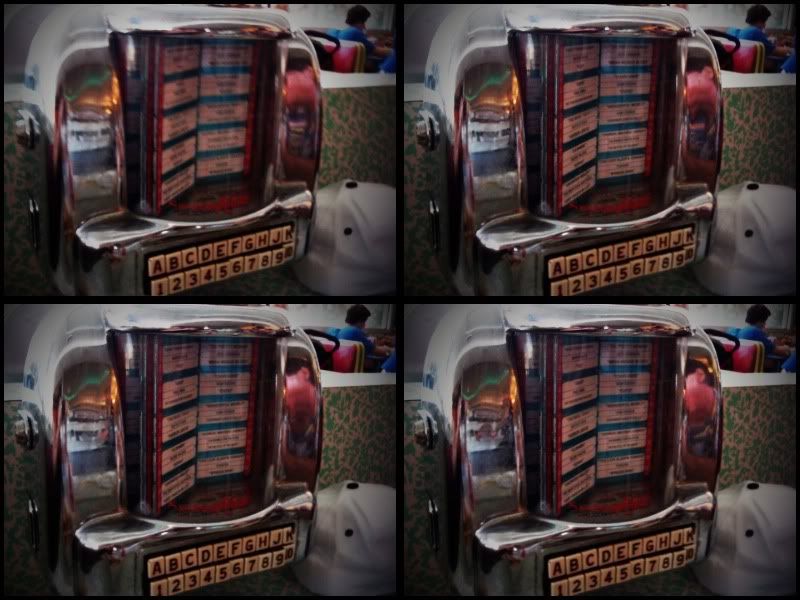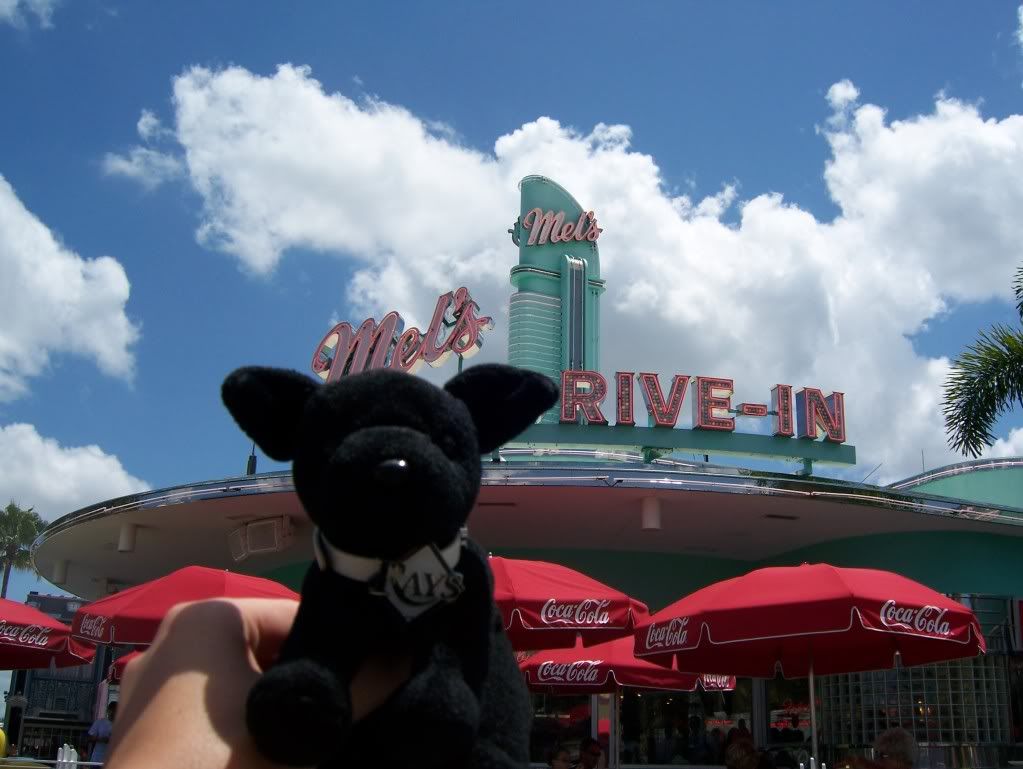 Neat little thing where you put your camera on this pedestal and it creates an optical illusion that the Hollywood Hills are behind the Monster Makeup Show facade.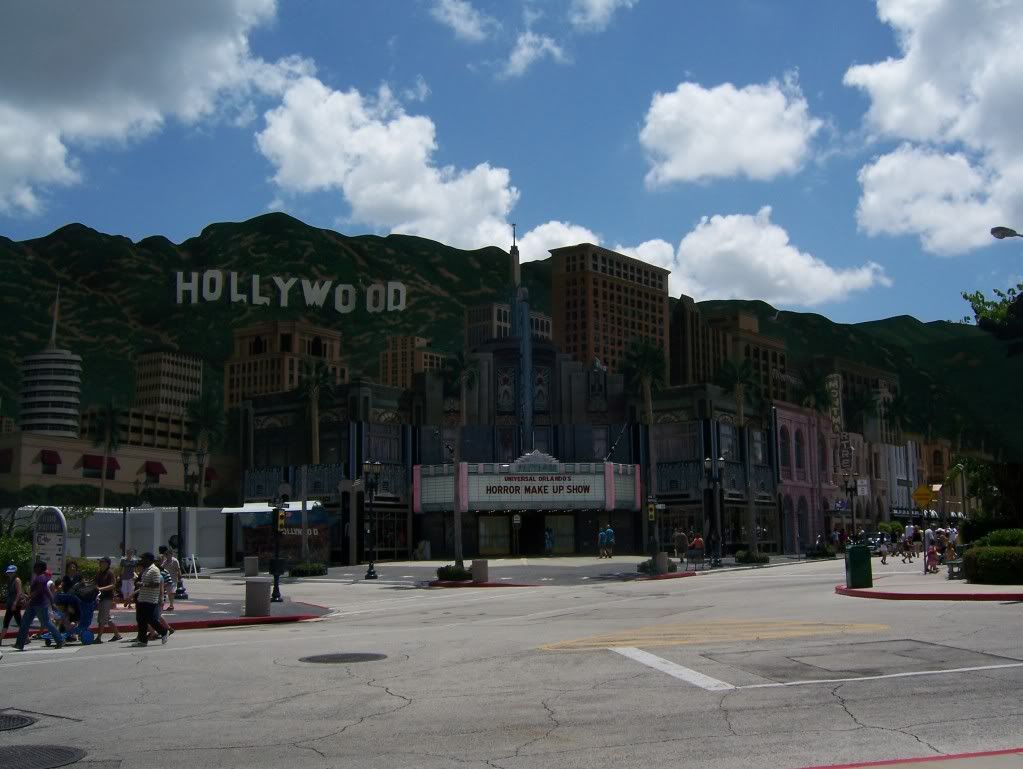 First ride of the day was ET. It was hokey but fun. I was laughing at how the BF kept doing an exaggerated "AWWW!" at everything. :lol:
After ET, we caught the tail end of some show featuring Curious George & the Man in the Yellow Hat, Scooby & Shaggy, Woody Woodpecker & his girlfriend and a couple dancers... dancing to 80's music. They had a meet & greet after and Wonderpup wanted to meet Scooby, so we got in line. He and Shaggy were fascinated with him. LOL!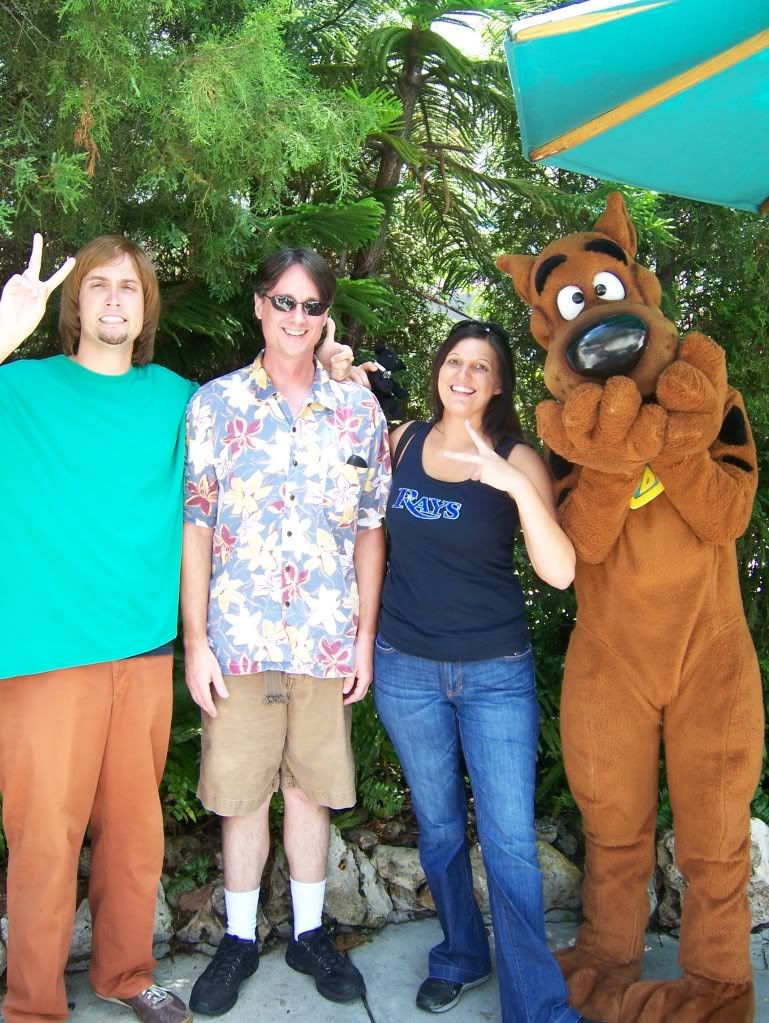 From there we went into the kiddie area and rode the Woody Woodpecker coaster (because I'm a credit [edited]). That coaster is actually on par with Goofy's Barnstormer over at MK. It was short but quite fun.
Behind the coaster is this building. It was the original Hard Rock Cafe from when Universal Studios opened until they built CityWalk and Islands of Adventure. I ate there once in 1993. Cool but kind of creepy to see it's still there.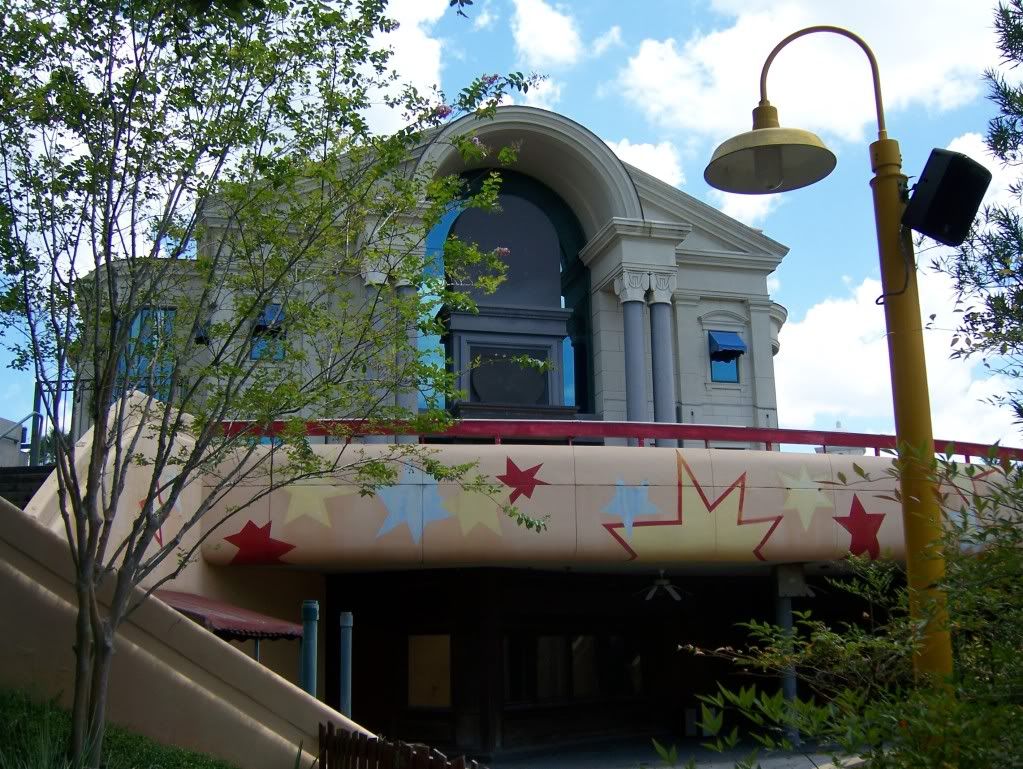 From there, it was time for a trip to Krustyland!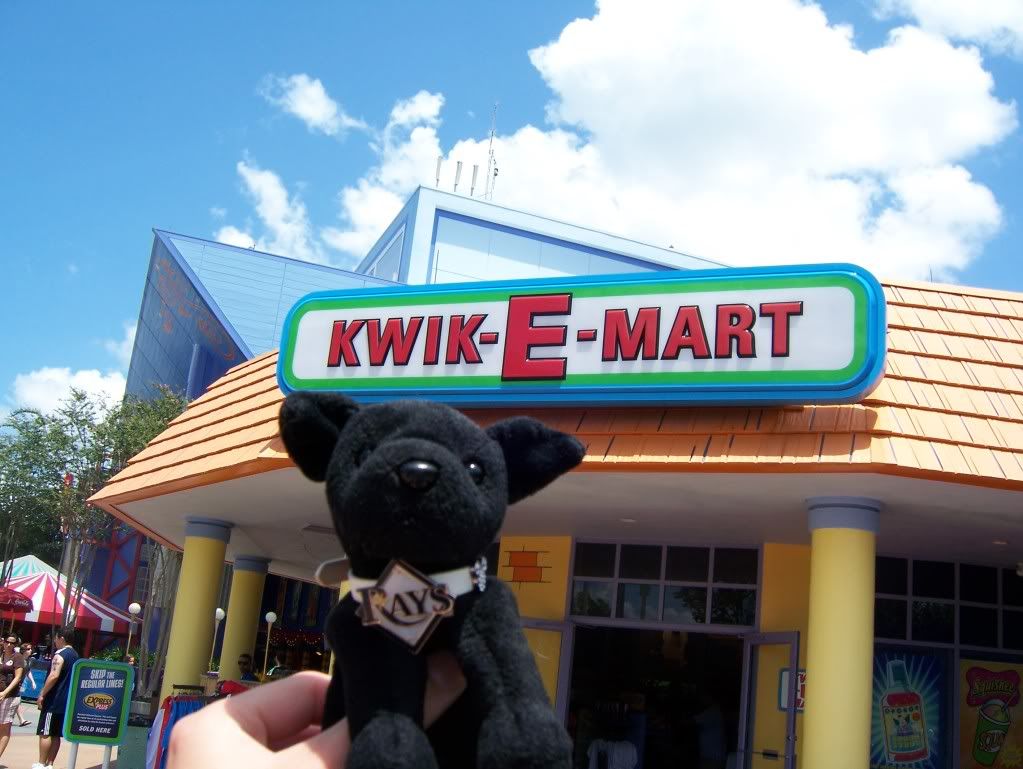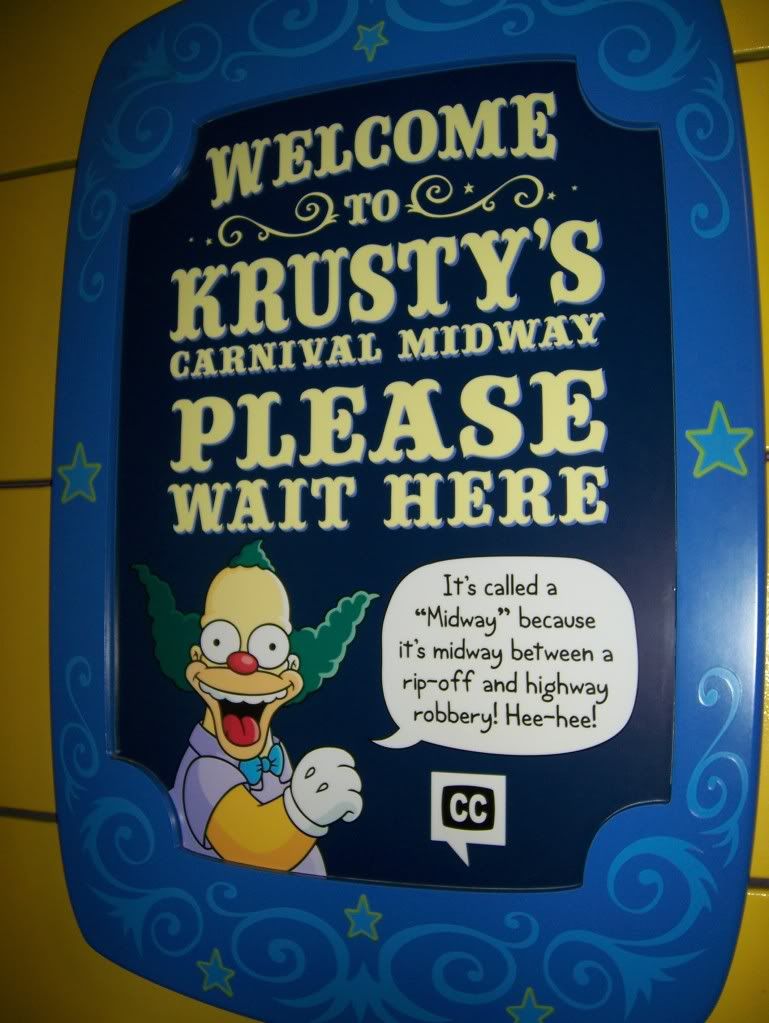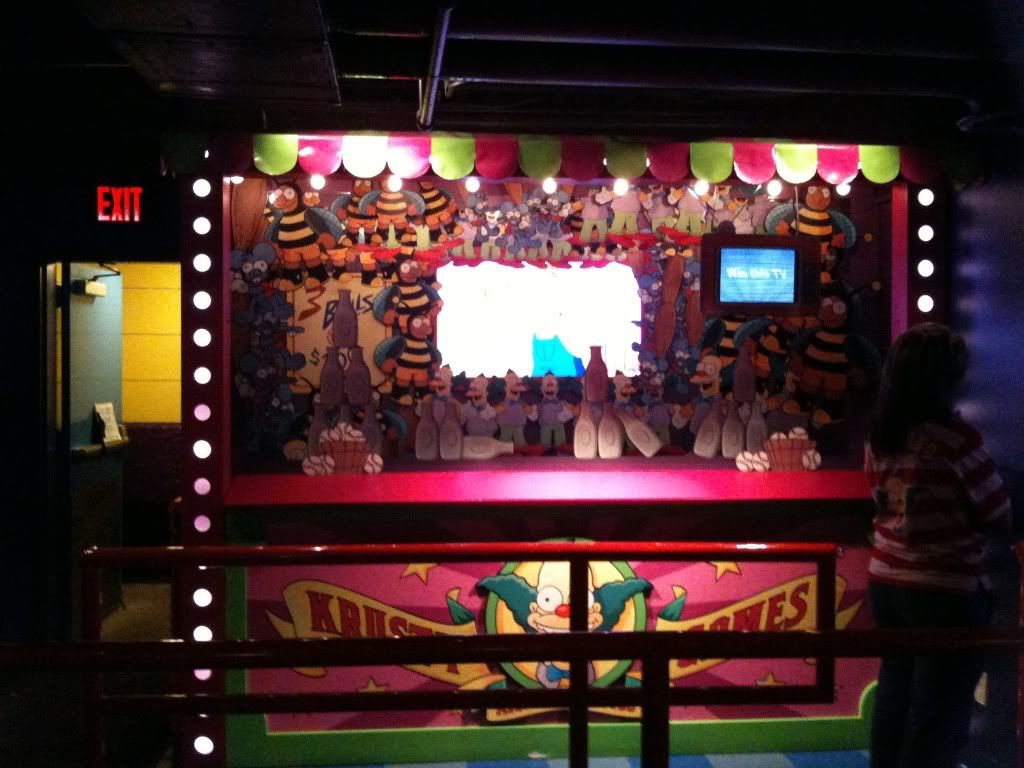 I laughed so hard I was nearly in tears. I especially loved Captain Dinosaur's Pirate Rip-Off. I wish they sold shirts that had that on it. That's one intense motion simulator though. So much that it made the BF queasy. Turns out he really can't do any real intense rides because 20 years ago, her went to a fair with a friend and went on some ride that messed him up bad and he hasn't been the same since. Poor guy! I wish he had told me that sooner though... not after he got sick.
I ended up doing Men in Black by myself.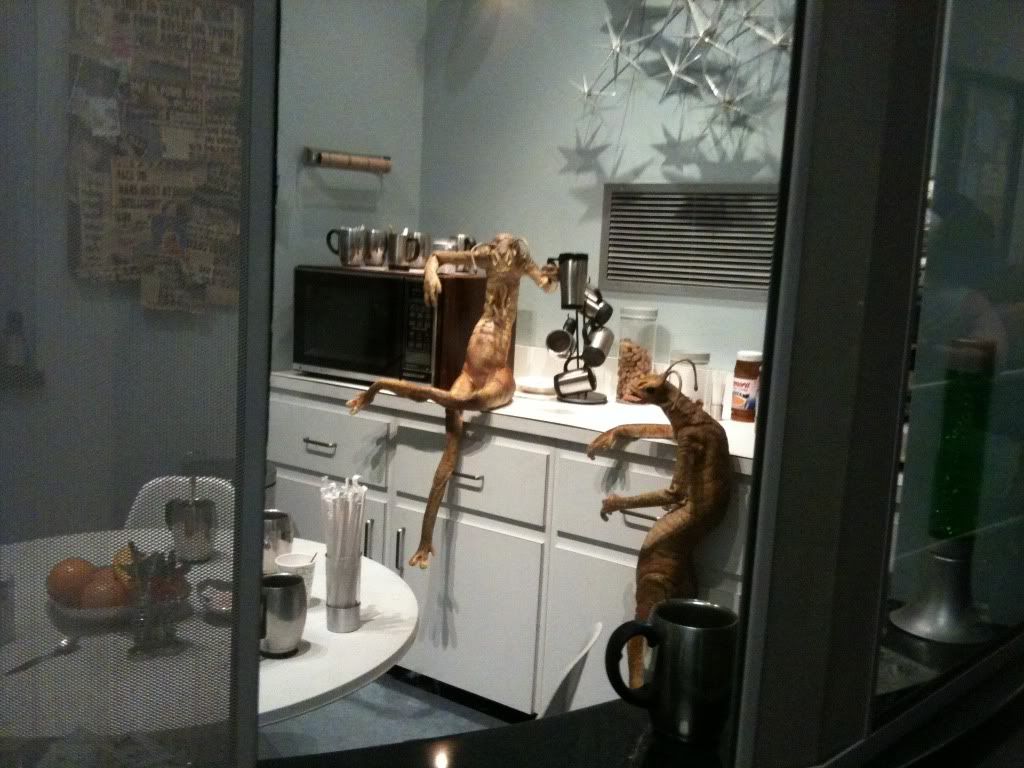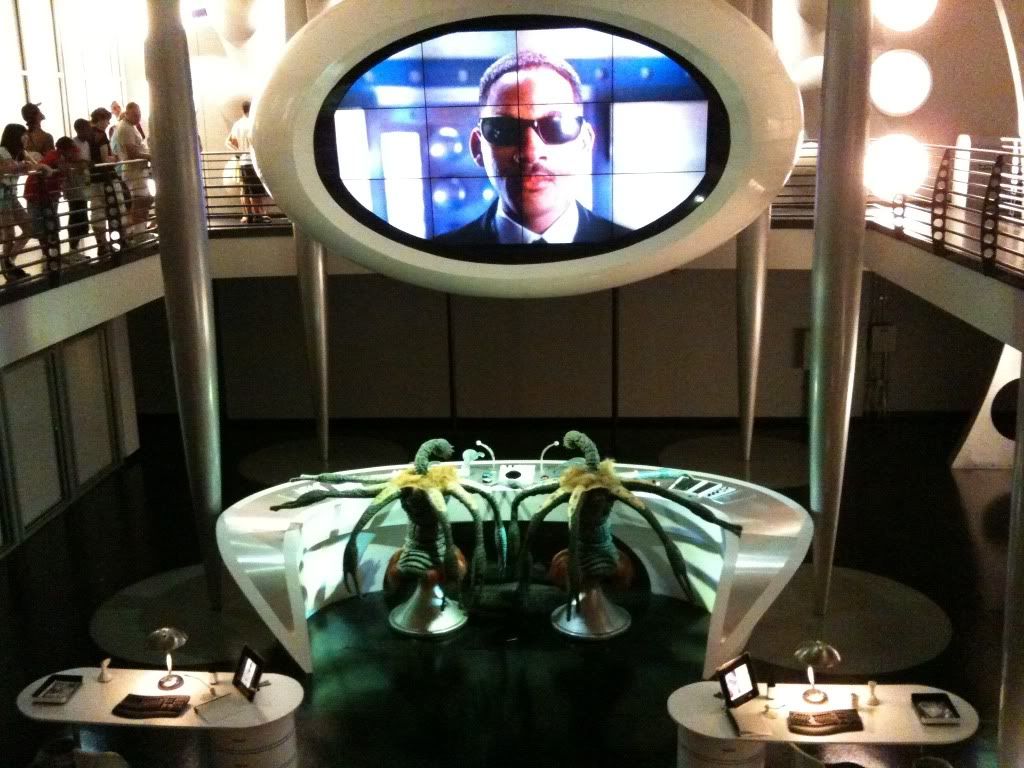 Then we wandered around and I was going to go on Mummy, but it had broken down, so we did some more wandering.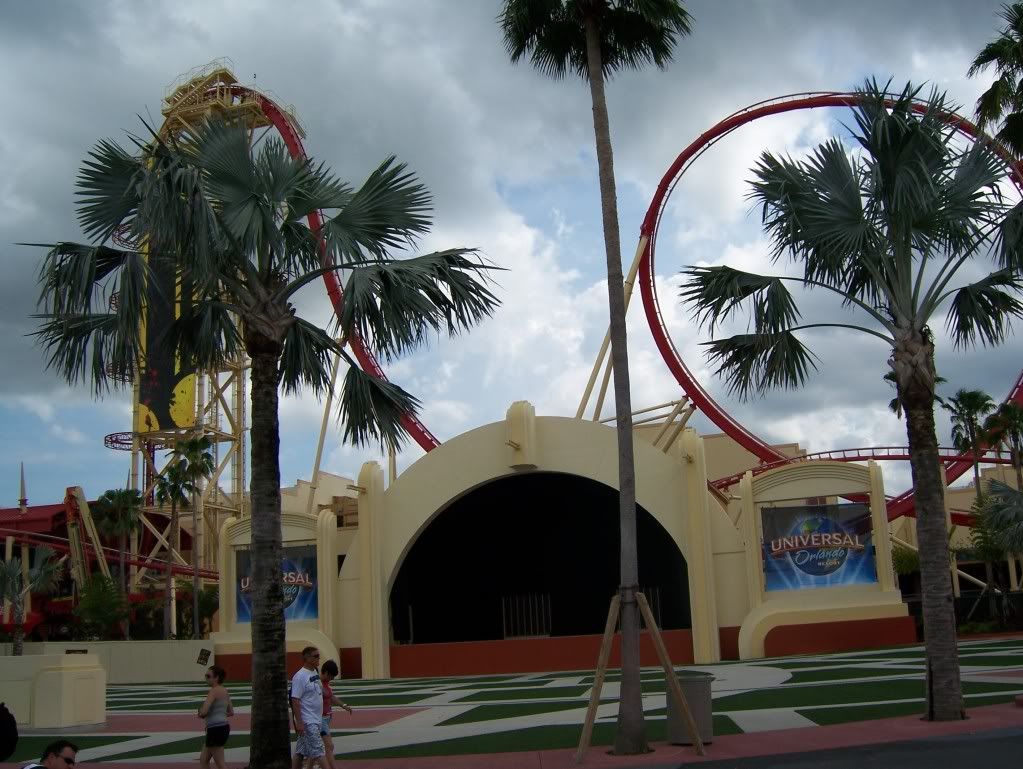 Hollywood Rip, Ride, Rockit wasn't testing that day, but I saw some people doing some work on it. I saw some guys on the track and some others doing sme work on a boom crane thing.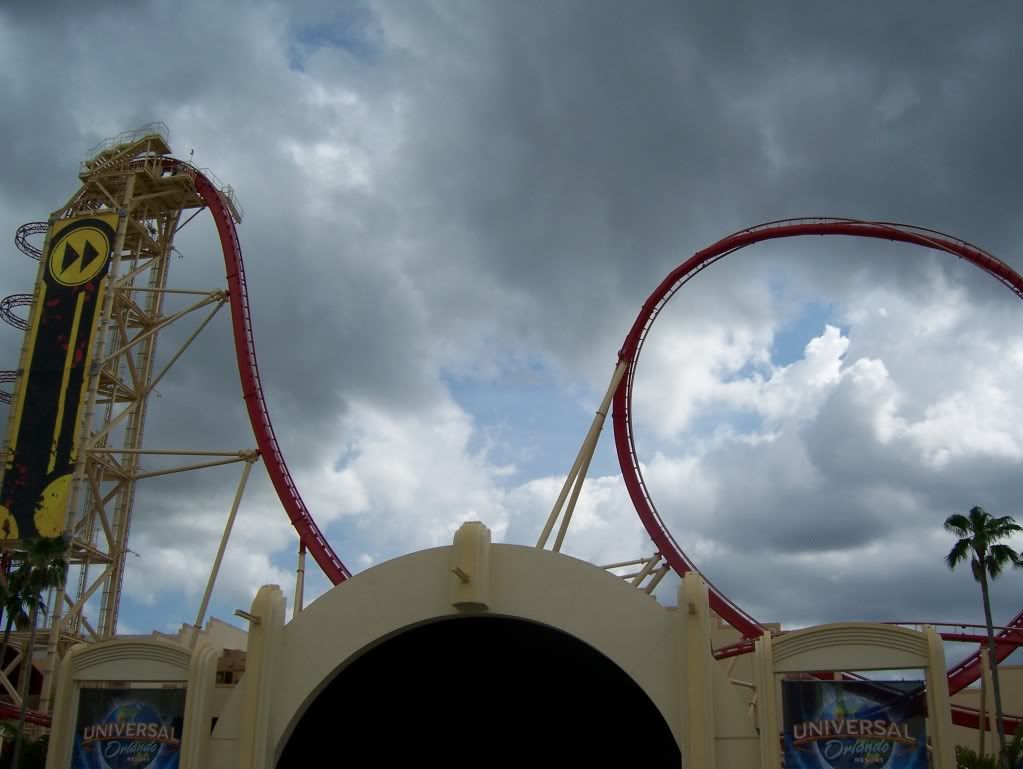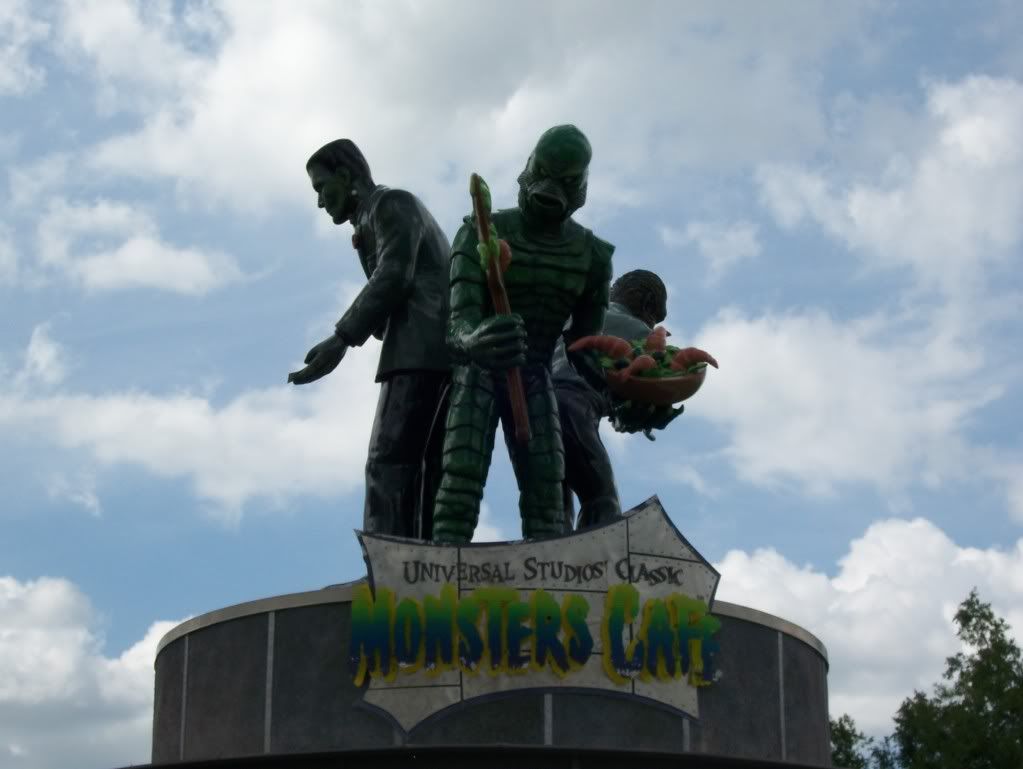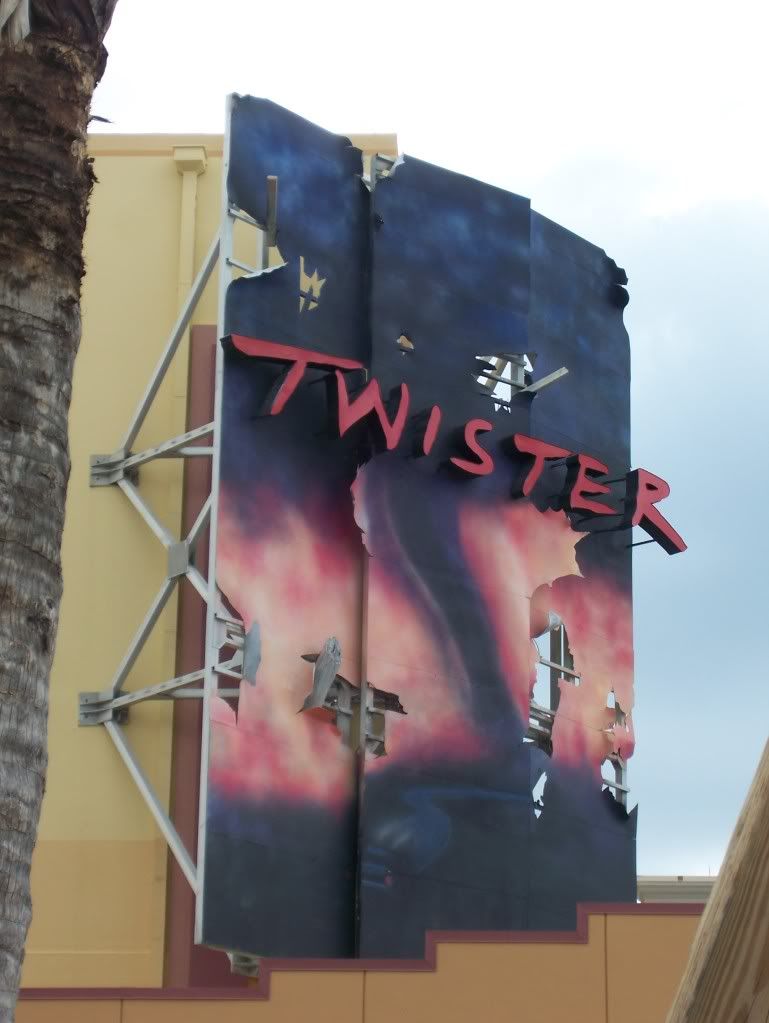 The BF stopped at the gift shop next to Twister and got some Motrin for his head. We sat in the "grass" (it's the same stuff they use in the field at Tropicana Field.... I thought that was neat) and people watched for a bit, then went back over to Mummy to see if it was up... it was! So I did it twice through the single rider line while the BF held my backpack.
OMG... that was an awesome coaster! It hadn't opened yet last time I was at Universal (they were still putting it in and it had "Coming Soon!" signs up.
After my 2nd ride on Mummy, the rain came, so we hung out in the Mummy gift shop for a bit, then cut through the arcade and went to the Italian restaurant next door as the BF wanted to get some soup to see if it would help with his queasiness. We did a little more wandering around and tried to find something we could do, but he couldn't even do the Shrek 3D movie or the Terminator 3D movie because the seats in the theatre move a bit and the slightest sudden movement would have spelled disaster. So we ended up leaving the park. We wandered around CityWalk a little bit, then decided to head to Downtown Disney.
Wonderpup made a new friend from the Endangered Species Store at CityWalk. He's a Greater Bush Baby. He needs a name... any suggestions?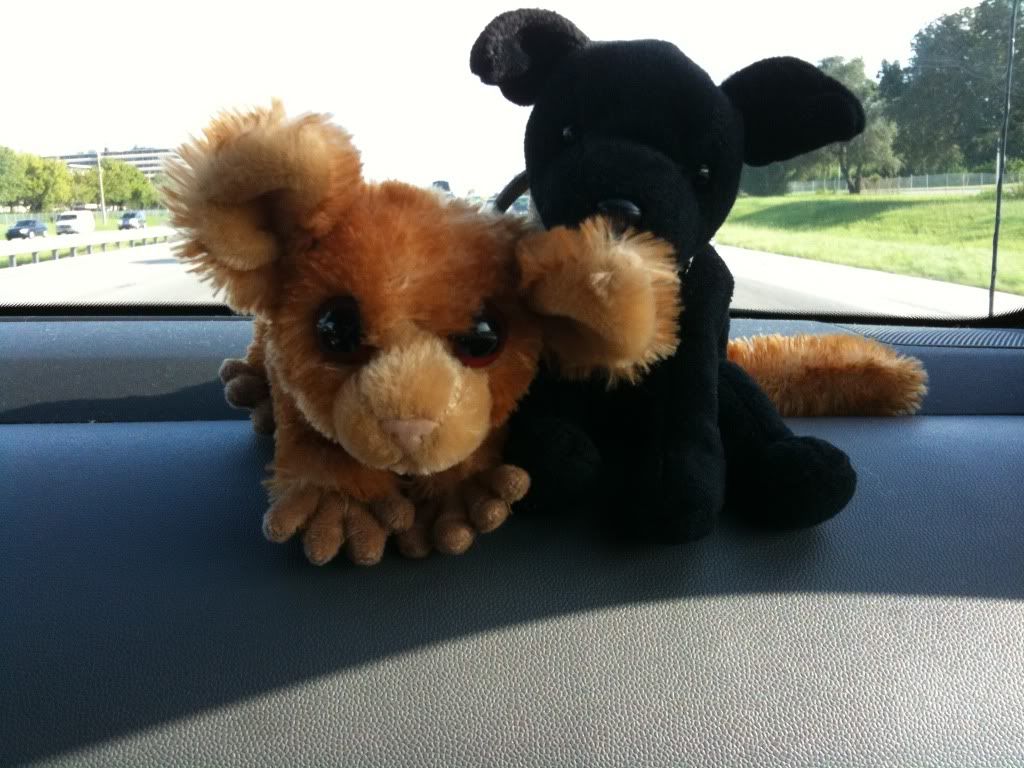 Over at Downtown Disney, we had dinner at Earl of Sandwich, then visited some of the shops. Spent a lot of time in Art of Disney. Love looking around in there. Shared a banana split over at Ghirardelli. YUM! Hadn't had one of those in almost a year.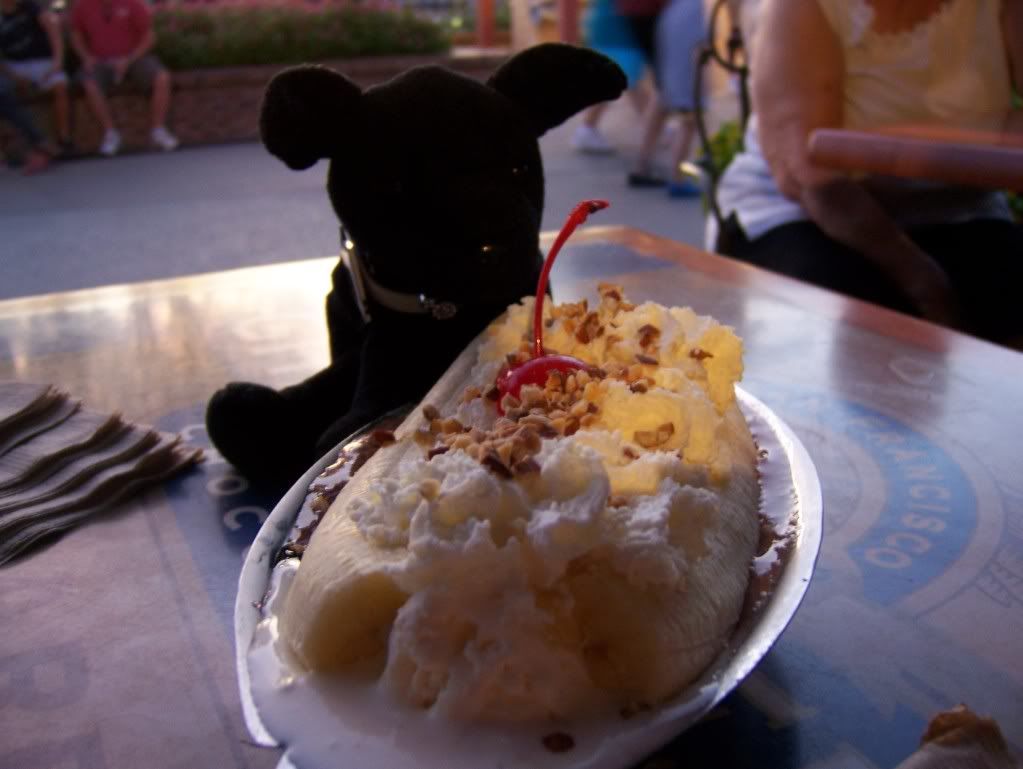 Went over to World of Disney and I found the coolest Star Wars toy ever... Stitch as Yoda! I laughed so hard I had to get it. Was the only one they had too. They also had Donald as Darth Maul, Mickey as Anakin, Minnie as Amidala and Goofy as Jar Jar Binks. Over in the jewelry/watch department, I found this Swarovski Crystal Minnie silouette pin I'd been looking for for nearly 2 years! My mom had a bigger version, but she lost it. This one is smaller, but I like it better. So we got that for her. After that, we headed for home.
So the day had a sucky interlude, but we managed to salvage what was left and it ended up being a not bad day in the end.