**This is from our weeklong WDW Trip Report (Found
here
). We figured we would put a copy of this post in here for obvious reasons.
Thursday - Universal Studios and IOA.
Note: All
purple
text is NNL's opinion.
This was a big day for us. During the Super Bowl, they had a promotion in which the first 100,000 people to log onto the Universal website received a free 7 day ticket to Universal Orlando. NNL won, so we chose to take a day on this trip to see what Uni and IOA were all about. Since neither one of us had been there before, we both were curious as to what it might bring.
We arrived before rope drop with Clinks's fantastic itinerary in hand at the gates of IOA. I bought my ticket, and we proceeded to start at Spiderman. As soon as the rope dropped, we followed everyone else, and hit a snag....there was a crane blocking the path to Spiderman! Apparently Hulk was down and they were trying to repair it with this crane, which was still blocking the way to our first attraction.
This image has been resized. Click to view the full image. The original image is sized 800x600.
Crane blocking the path.
We waited as it slowly backed up, the path was cleared, and we watched as people literally RAN for both the Hulk and Spiderman, with the rest of the crowd turning for Spiderman as soon as they realized the Hulk was closed. This shocked both NNL and I. Sure, we've seen people running at WDW and DL before, but never this many, and the suits who were watching, just laughed at it. Not one person we saw who worked there tried to stop it in any way! It was disheartening and didn't start our day off with a good start.
So, hearing all the great things about Spiderman, we were both really looking forward to it. We donned our 3D glasses, and were impressed by what we saw. I honestly admit I think it is overrated by people, the cartoon isn't as effective as live action would be, and I found the image to be blurry (plus someone was sitting in front of me, blocking my view) but it still was a great ride, and the effects are impressive. We were going to try to ride again, but the wait was already 30 minutes and we wanted to make sure we saw everything we wanted to, so we opted to skip and and check back later. Hulk was still down, and since neither one of us really cared too much about it, we didn't mind too much, so we moved on.
Our next stop, according to Clinks, was Seuss Landing and the 2 attractions here: Cat in the Hat and the Trolly. We rode both, loving the Cat in the Hat especially. It's a new version of a dark ride, and we wound up riding it twice we liked it so much. However, on the second ride, I noticed something about the ride: the spinning is a great diversion, but that is exactly what it is. The spinning takes your view away from the fact there really isn't much to look at. I guess the ride is supposed to mimic the sparseness of the book, but in an attraction it's just boring to have no set pieces at all. It's still fun, but not as immersive as it could be, which was slightly disappointing. The trolly was short, but nothing really to write home about. Just a quick diversion.
I really liked Thing 1 and Thing 2 as well as the Jewish goldfish LOL The trolly ride was cute - I loved going through the cafe, but the ride def. was way too short! The line when we got off was about 10 or 15 mins, but it wasn't even worth the wait.
Seuss land
was my favorite land.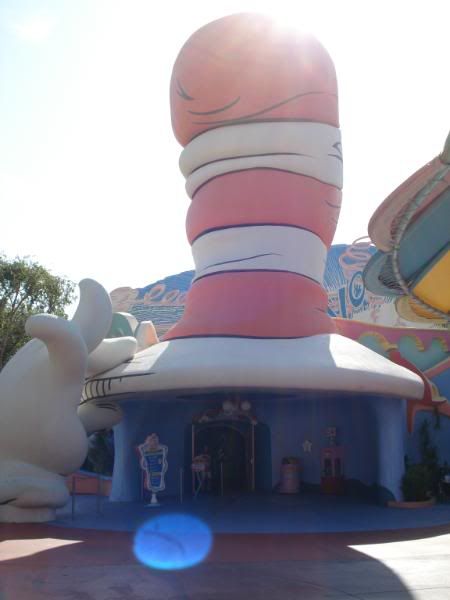 Cat in the Hat.
Cute little details.
NNL and the Lorax
(The Lorax book has special memories to me, so I was so excited to see this staue and walk through the little exhibit they had)
One problem we both noticed with Seuss Landing almost immediately was how faded and dull it looked. The paint was all faded, and there were chunks of pieces missing from benches, etc, that needed to be replaced.
(For instance, there is an arch the divides Suess land with whatever unthemed land is next to it. Up toward the top of the arch, where no person could reach, the apint was peeling off. They had a lot more than the normal wear and tear gonig on)
We all know WDW has its maintanence issues, but we've never seen it so completely forlorn as this place. I would almost compare it to the Disneyland of the Pressler Years, with so much faded paint. Hopefully, with the revival of Potterland, IOA will be given a facelift soon too.
It was too early to go to Mythos to make reservations, so we continued around to Jurassic Park. NNL and I were a little hesitant after watching the drop, because despite it being brutally hot, neither of us had any desire to get soaking wet and slosh around in wet clothes the rest of the day. In the end, I wound up riding alone, since it was only a short wait. Not much really exciting about it. It was cute, but nothing overly spectacular. And FTR, I didn't get wet at all, so it was all good.
While he was riding that, i stood in a mister getting my hair soaked LOL That is one good thing about IOA, a lot of misters. I was over by a timeshare table and those guys were working HARD... but it did make me appreciate how at DL/WDW they don't jump out into the crowd trying to sell to you. It just seemed a bit tacky and took you out of the fantasy world... just like seeing Cinnabon carts and beer carts! At least in DL, they are themed and not just a cart that says BEER vor Cinnabon. So very tacky. It was hard to escape fully into another world.
Despite our opinions of IOA, we will be back to see this.
Hogsmeade construction
We strolled through Toon Lagoon for a bit, and again, avoided Popeye and Dudley Do Right since everything I have read about them promised we would get soaked. Neither one of us wanted to be uncomfortable in soaking clothes or shoes, especially in the heat. (Chafing is not fun)
This image has been resized. Click to view the full image. The original image is sized 800x600.
Cardboard cutouts on buildings? This and Marvel Island are sorely lacking in theming. Sticking a picture of a big character on a building does NOT equal theming, no matter how good the attraction is. (Or bad...I'm looking at you Stitch and Monsters Inc.)
It was by now time for Mythos to open, so we headed back there and waited to be seated. We were the second group let in, and were impressed by the setting. It really is a beautiful place with the fountains, streams, etc. We were seated by a window to watch across the Lagoon, and quickly decided on our order for lunch.
This image has been resized. Click to view the full image. The original image is sized 800x600.
Inside the restaurant
Best theme park restaurant in the world? I honestly find that hard to believe. The food was good, but I wouldn't say spectacular, and the service was sorely lacking. After ordering and finishing our meal, we finally received refills on our drinks. And the restaurant had just opened. And every time the waitress came by, she would turn around before we had a chance to catch her to ask for refills. We did try the dessert, and it did make up for it a little; NNL said it was the best chocolate cake she's ever had. Wonderful news, but overall we weren't impressed with it enough to rate it as the best theme park restaurant.
I did really like the mashed potaoes too, but the chicken sandwhich at Le Cellier is lightyears better, and I bet you the burger is too.
We didn't really see much else for us to do here, so we checked Spiderman's line one more time, which was up to 45 minutes and was outside, so we decided to say goodbye to IOA and head over to the Studios. Universal that is.
This image has been resized. Click to view the full image. The original image is sized 800x600.
Some parts are really well themed, but others sorely lacking.
This image has been resized. Click to view the full image. The original image is sized 800x600.
Bye IOA, until Potterland comes!
This image has been resized. Click to view the full image. The original image is sized 800x600.
Here we are!
So, our plan of attack was the hit Men In Black and the Simpsons first, so we headed over there almost immediately. Simpsons was only a 15 minute wait, which seemed like 45 due to the heat and the tour groups clapping, chanting, and singing in the queue. Awful.
The wait was posted 15 mins but the tour groups added a bit to that wait time. Headache inducing all their yelling was, echoy inside that queue... we encountered tour groups everywhere but they were the msot unbehaved at US
The ride itself was spectacular. NNL and I both thought it was great; the humor, the realism, the effects. A lot of fun! Kudos to the designers!
Our next stop was Men In Black. We found it interesting that we were required to use the free lockers for our bags, but we did as we were told. (Hint: no one was using the lockers in the rear of the area, so move past the people on the first line. We saw at least 2 empty locker rental units no one was using.)
Back at home.
This image has been resized. Click to view the full image. The original image is sized 800x600.
The queue. They did a nice job with this, and thankfully, this was an INDOOR queue! Why doesn't Universal do this more often?
Again, another great ride! A lot of fun, if a bit frenetic, and the spinning is a fun element. The preshow is odd and makes no sense, but no matter. It's a fantastic ride!
This was my fave ride at US, and i really wish the line wasn't so long or I would have ridden it again. This was also what we called the neverending queue.
We weren't sure what to do next, so we rounded our way through the park. The heat really started getting to us, and it was so unbearable we could wait on any outdoor rides because it was so hot. Why are all of Universal's queues outside? It seems that for every attraction that we waited on, the fans would be missing us and blowing over our heads. We skipped Jaws because we couldn't wait in the heat for 30 minutes, and the same with Disaster.
I like the theming of this area. This is for all you Murder, She Wrote fans out there.
From what we heard we weren't missing too much, and neither one of a us had a huge need to see either, so we didn't feel too bad about it. Also, we kept discussing the Mummy back and forth all day whether or not to ride it. NNL wasn't sure if it was like the CA one, which she found too scary, and I didn't care one way or another. It really didn't matter much, since both times we passed it, it was down. Our next attraction was Twister, which was ok, but nothing spectacular. It was pretty interesting how they played up the fake cow flying through though, then sell cow merch in the gift shop. We both thought that was pretty funny. And again, we got caught in the queue away from where all the fans were blowing. It really made us frustrated after a while.
Again, a huge wait outside, a huge wait inside, and we were at the edge of the mass of people inside so I missed most of the effects.
From here we decided to start heading out, as there wasn't much more we wanted to do, and not much more to experience anyway. Plus, with the heat and crowds, we both seemed to have had enough. So, on our way out we stopped at Shrek 4D and Jimmy Neutron. Shrek was ok, but I didn't care for the effects. The puff of air in your face freaks me out, it's my least favorite part of It's Tough to Be a Bug, and they seem to use it too often in this attraction for my tastes. Oh well...
I really liked Shrek - I had seen it at Universal Hollywood, and was excited to see it again. It was probably my second favorite ride.
Jimmy Neutron was interesting. It's loud, it's cute, but it's so bizarre how they set it up. Unlike the Simpsons which has separate rooms for each car then raise them, you can see everyone's vehicle, which totally takes away from the theming and the fun IMO. It was less theme park attraction and more mall ride to me because of it, but it was fun for what it was.
As we were leaving the park, NNL and I almost forgot to ride the one attraction she was looking forward to more than any: ET! I heard the theme playing in the entryway, so we quickly turned around and headed back to its hidden corner of the park. NNL got into an argument with the CM over her name, and in the end it wasn't worth it because we couldn't understand what he was saying anyway! At least it was only 15 minutes!
Never again will I do that name thing. Lame. This lady as rude as all the CMS we encountered - very few were into the show. One CM, when I was buying a pin, didn't say a WORD to me until after I had paid and said thank you. :blink: A few were great but most just made me miss Disney CMs.
Back on topic.. the ET ride was cute, and the queue inside was really neat.
YAY!
This image has been resized. Click to view the full image. The original image is sized 800x600.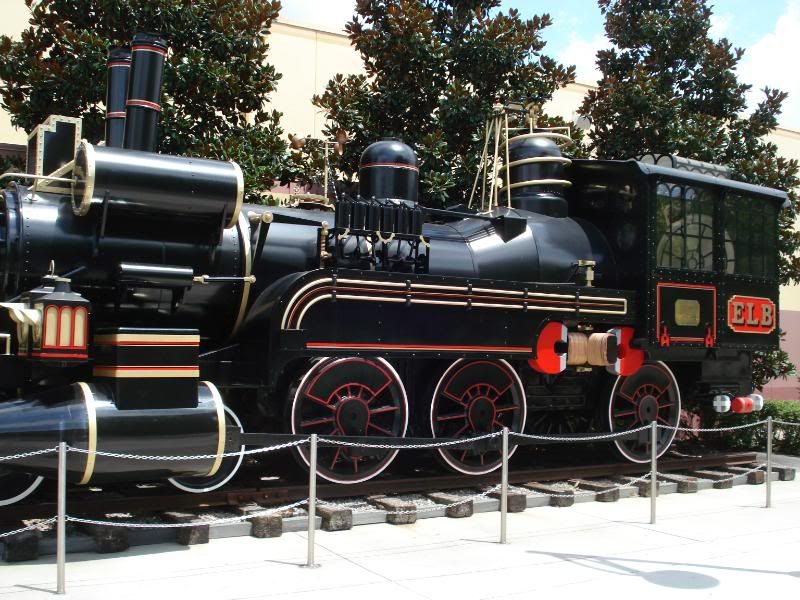 Overall, we liked it, but didn't love it. We will be back for Harry Potter, and we did enjoy most of the attractions we experienced, but it just fell short of the Disney magic in so many places: the attitude of the CMs and guests, the subtle transitioning from one land to another, the details, even the upkeep in places. It really made us upset because we wanted to love IOA as much as everyone else does, but in the end we just didn't see it. We went with an open mind, tried our best, but either the heat got to us, or it was overhyped and didn't meet the expectations we had. However, like I said we will return, and we can see some good in it, so please don't flame!
I agree... there was just no relief from the heat. IOA was a mish mosh of stuff with very few rides. US was all right, I do like the Hollywood one. I'm glad we'll get back there eventually but I am in no hurry to do so. By the end of the day, I thought that all I had done all day we ride simulators. I felt like I had hardly ridden any RIDES just vehicles that were pretending to be rides.

Also it didn't help that was had parked waaaaaaay in the back of the parking lot - we had to take every moving sidewalk and go down stairs and walk down and to the ned of the row. I'm not sure why they didn't start parking more towards the front of the park.
We got back to our resort right when the rain started pouring down. We rested and cooled off a little, then decided we needed a way to get some magic back, so we wound up here:
It's good to be home.
:love: It was exactly what i needed to wash the US/IOA off of me.