Universal Studios Singapore map and details revealed !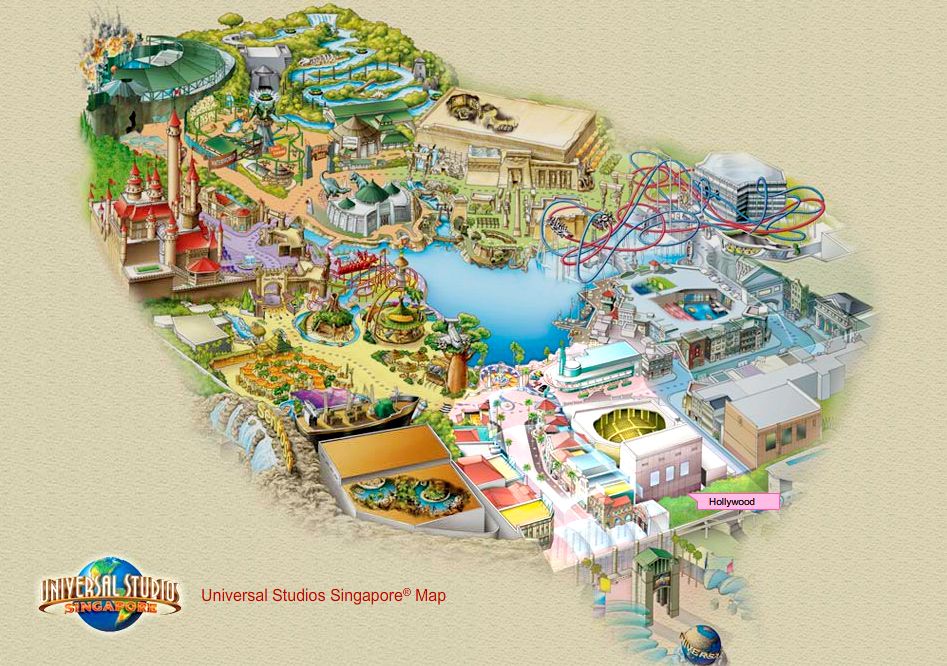 Yesterday was revealed more details and the map of the awaited new Universal Studios theme park in Singapore. Famous Universal Studios classic attractions like Jurassic Park or the Mummy will be in the park but the park, that should open early next year will include 18 rides and attractions with some specially created or adapted for Singapore like the Shrek land or the Madagascar ride.
So, let's have a closer look on the map above. The theme-park will feature seven zones, each with its own iconic food outlets and entertainment attractions. The entrance is located at the bottom left of the map and guests will enter in the Hollywood section. Visitors can expect Broadway-style theatre modelled after the famous Hollywood Pantages Theatre and walk down Hollywood Boulevard complete with the famous Walk of Fame.
If you turn right when you'll arrive at the lagoon you will enter the New-York section for a slice of the Big Apple, from NY-style pizza to movie-set scenes, including a special effects stage with Steven Spielberg who offers behind-the-scenes peeks and Stage 28 for star wannabes who get a chance to be part of a movie production.
Next land, going up north on the map will be Sci-Fi City. Sci-fi buffs will have a city of their own and be able to join in the Human vs Cylons battle on the Battlestar Galactica dueling coasters, supposedly the tallest of its kind in the world. Another battle in this zone is the highly-anticipated Transformers ride which debuts at Universal Studios Singapore before heading out to the US theme-park.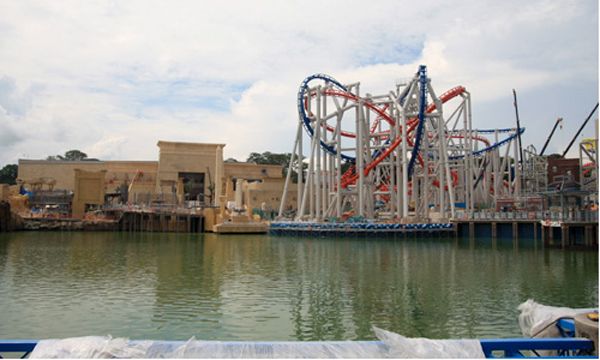 On the picture above, the Egypt land under construction is on the left and the Battlestar Galactica dueling coasters on the right.
The two next lands are for adventure-seekers as they will be able to trip to the 1930's Golden Age of Egyptian Exploration to discover the Sphinx, Pharaoh's tombs and mummies in the Revenge of the Mummy attraction, or take on the Lost World zone inhabited by dinosaurs at the redesigned Jurassic Park Rapids Adventure and Waterworld, with death defying stunts.
Above and below, Dinosaurs are arriving in the "Lost World" of Universal Singapore.
Jump on D&M to read the full article with more pictures, land description and artwork of this new Universal Studios Singapore!


Disney and more: Universal Studios Singapore map and details revealed !