Universal's Islands of Adventure
Logo:
Theme Song:
YouTube - Jurassic Park theme song.
Park Mascots:
Overview:
Around every bend is another epic adventure. Around every corner awaits another once-in-a-lifetime thrill. Take an unforgettable journey through the uniquely themed islands of Universal's Islands of Adventure, where the world's most cutting edge rides, shows, and interactive attractions bring your favorite stories, myths, cartoons, comic book heroes, and children's tales to life.
Masked in the guise of an ancient marketplace, the Port of Entry is home to Guest Services, various merchandise shops, and restaurants. The Pharaoh's Lighthouse stands guard just outside the park, with its spotlight shining for miles around.
Map: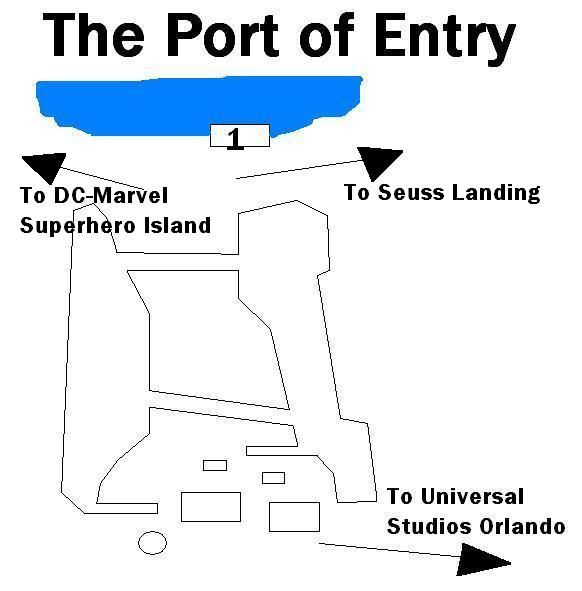 Attractions:
The Island Skipper Tours Port of Entry- Sail across the Inland Sea as you head to Jurassic Park, and DC-Marvel Superhero Island.
Shopping:
Universal's Islands of Adventure Trading Company
De Foto's Expedition Photography
The Port of Entry Christmas Shoppe
The Island Market & Export Candy Shoppe
The Island Outfitters
The Ocean Trader Market
Port Provisions
Dining:
The Blackwater Grill
The Croissant Moon Bakery
Cinnabon
Details:
The boats for the Island Skipper Tours will be a mix of the Jungle Cruise's boats, and Epcot's Friendship Boats.