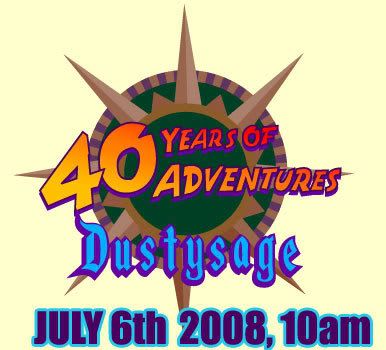 Come one, Come All!!!!!!!!!!

Join us at the Disneyland Resort to help celebrate a landmark birthday.

Dustysage is celebrating 40 years of adventures and we have a full day of excitement planned. The day will begin with a breakfast buffet at the Storytellers cafe (PM me by July4th if you are joining us) and then it will be a day of fun and excitement in the Magic Kingdom, at Dusty's Command, and a drink up at the hearthstone at 3:30pm.

The day is planned so that even if you are blacked out you can still join in at least some of the crazy fun.

Here is the plan.

UPDATED INFORMATION ON BREAKFAST!!!

Seating will begin at 9:00 am in groups of 6 all the way through to 10:30am
PLEASE BE THERE as early as possible We will seat groups in the order that they show up

DUE TO THE SIZE OF THE PARTY WE MAY NOT BE SITTING ALL TOGETHER.
WE WILL BE SEATED THROUGHOUT THE RESTAURANT IN GROUPS OF SIX BUT YOU WILL, OF COURSE, BE FREE TO ROAM AROUND AND SAY HI TO ALL THE MC FRIENDS AND WISH DUSTY A HAPPY BIRTHDAY

JULY 6TH
9:00am Birthday Breakfast Buffet at the
Storyteller's Cafe



12:00 noon meet





3:30 Drink up Birthday extravaganza at the Hearthstone



If you can join us for the breakfast at the Storyteller's cafe in the morning, PLEASE PM me by July 4th. Otherwise just come and go as you please throughout the day. The activities, aside from those listed, will be at Dusty's whim so you've got to be at one of them to know where we will be next.

HOPE TO SEE YOU THERE.