After months of anticipation, Gumball Rally 2010 has finally concluded. But we think most of you will agree that this was one event which will not soon be forgotten.



We had a maximum capacity of 300 people for our event. But those tickets sold out almost immeadiately, forcing us to find ways to boost the number of available spots and create a new 4 hour "Lite" Rally as well. In the end, nearly 600 contestants and staff joined us on May 1st to celebrate Disneyland and find out who the ultimate theme park visitors are.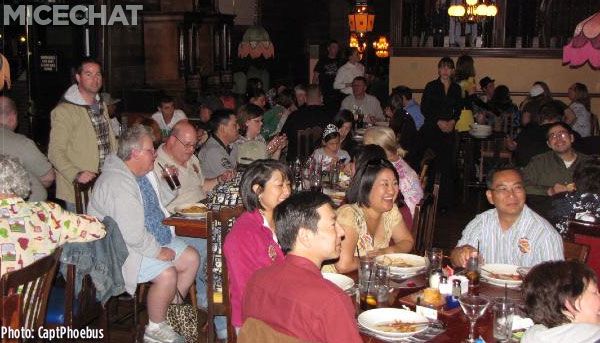 Our weekend began on Friday evening with a pasta party at the Old Spaghetti Factory where we packed the joint and loaded up on the carbs which we'd need to get through the next 24 hours.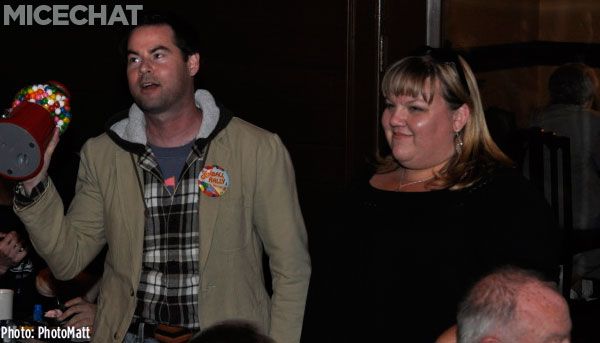 During the party, we gave away our very first staff award. The first recipient was IndianaJenn, our Gumball Gal. We simply couldn't produce this event without her and were honored to be able to present her with a gumball machine of her very own.

Rally staff began setting up the next morning at 5am to prepare for the teams. And by 7:50am we had released all of the teams to set off for their adventure in the happiest place of them all, Disneyland.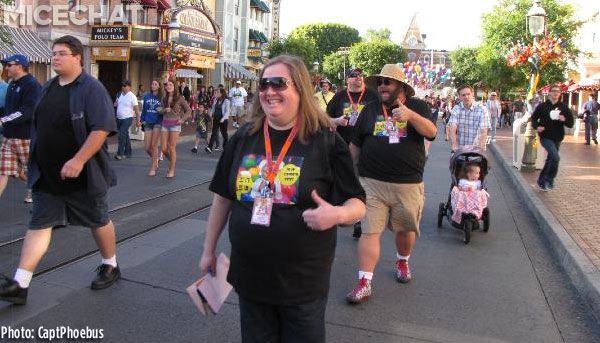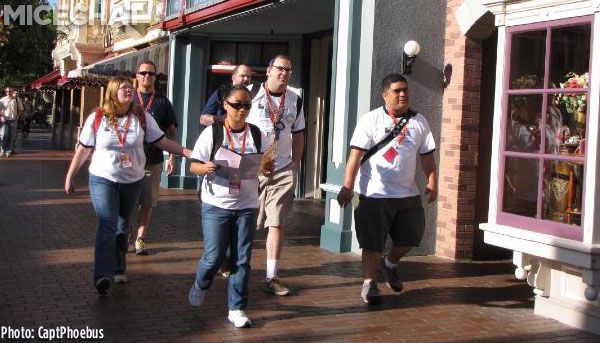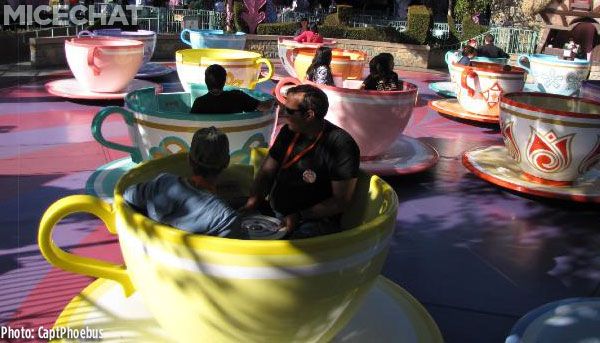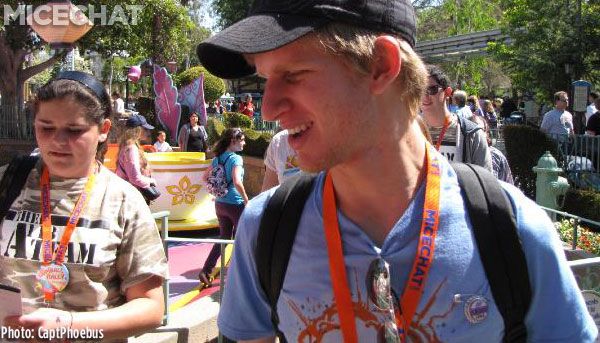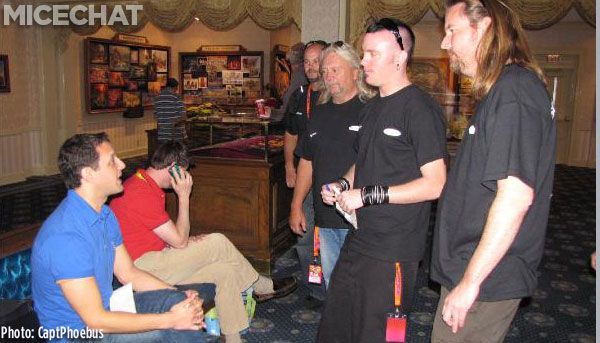 Even D23 got into the act, with their very own question in the Rally and a special mini game inserted into the event as well.

At the end of the night, we did our best to entertain the teams while they waited for the final results.

We gave away all sorts of awards: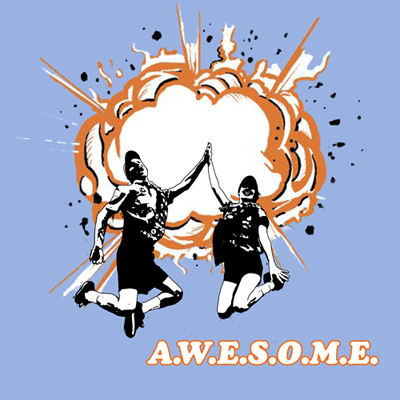 Best Team Name: A.W.E.S.O.M.E

(Aspiring Wilderness Explorers Surviving an Outrageous MiceChat Extravaganza)
Best Team Logo: Tiki Room Rejects

Spirit Award Winners (A TIE)
Pluto and the Bubble Bee (left) & The Fastpassers (right)

And, this year, we played a full game show "The Mouse Is Right" and gave away a couple thousand dollars worth of prizes while we rushed to complete the scoring of the event.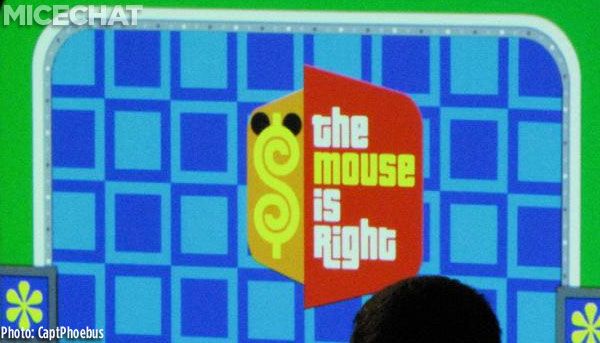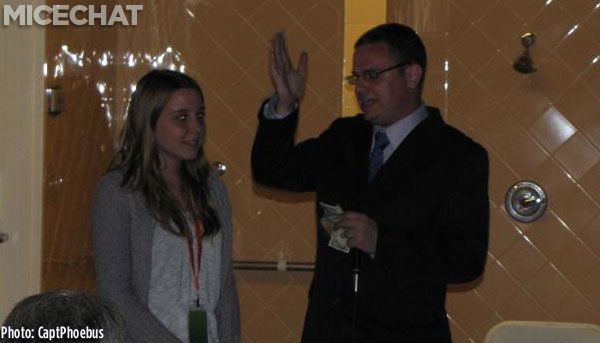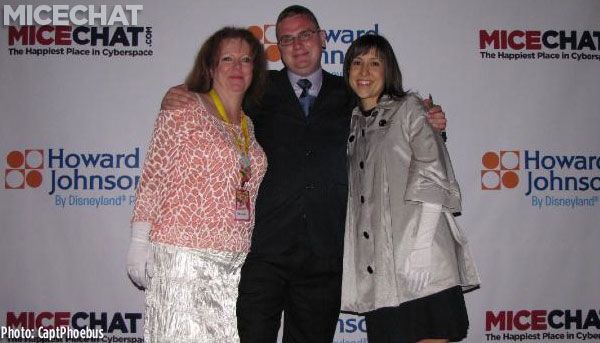 Hastin and his "Honeys" Lisa Pratt and HoJo's own Lorealle


But at the end of the day, there could only be one winner (for each of our 3 events)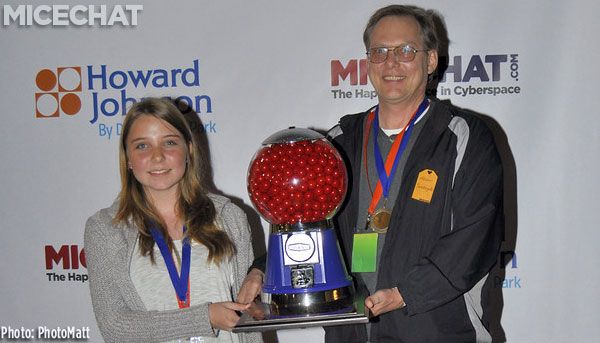 1st Place : Without a Clue Minus Two
97pts.

But there were lots of other proud winners as well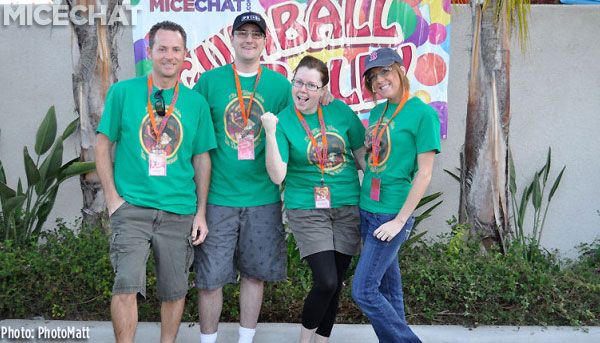 2nd Place : The Wildest Ride in the Wilderness
97pts.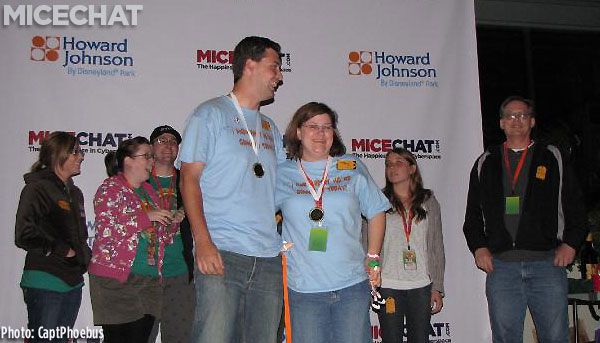 3rd Place: I Know What We're Gonna Do Today
96pts.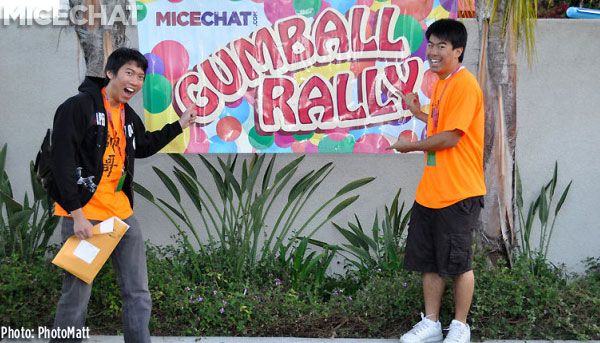 4th Place:Mushu's Merciless Mercenaries
96pts.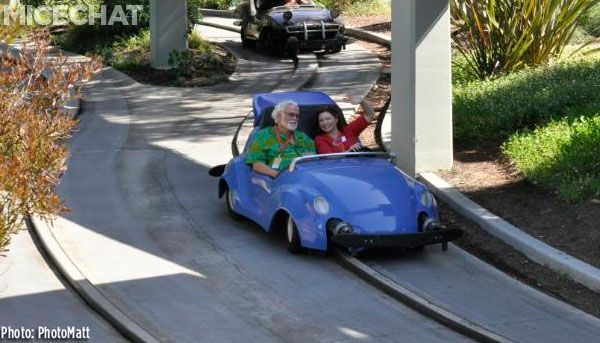 5th Place : Flights of Fancy
95pts.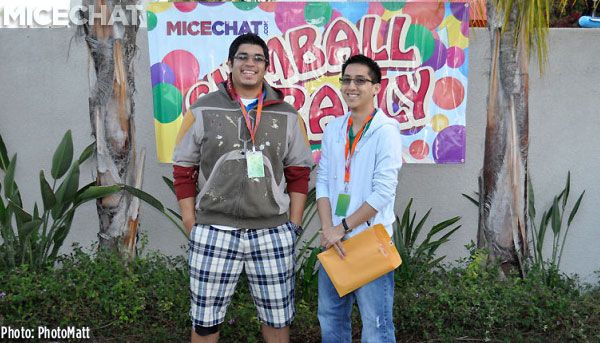 6th Place: team engdgt
94pts.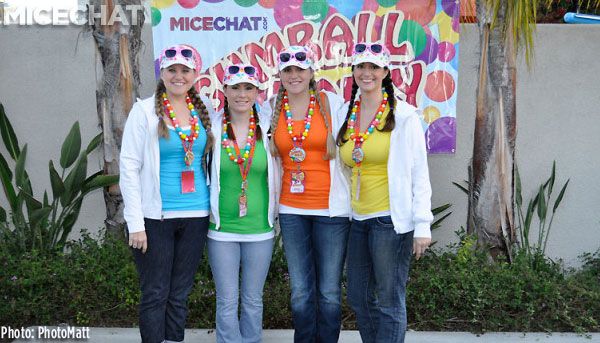 7th Place: Wonders in Wonderland
94pts.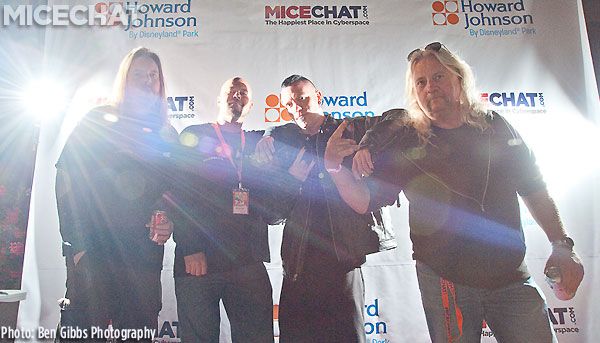 8th Place: Sons of Eisner
93pts.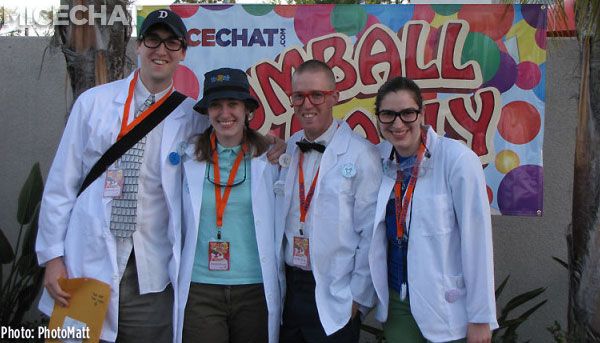 9th Place: Team Wait Time Loops
92pts.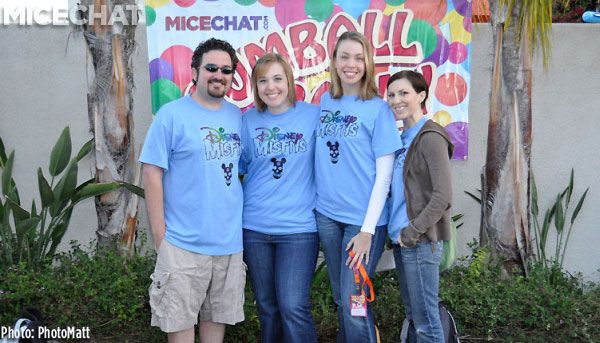 10th Place: Disney Misfits
92pts.

Gumball Rally Results
(Results for teams with scores above 70)
Don't come around here no more - 92 pts.
Pigs in Space - 91 pts.
Aurora and not Stitch - 89

Goof Troop - 89
1 ups - 88pts.
P+Kinur@+Dlr - 88pts.
2 Mouse Crew - 87
Pezz Sandwich - 87
The Infidels - 87
Hot Mess Family Robinson - 86
Disneyland Dominators - 86
Monstropolis' Most Wanted - 86
Team Rocket - 85
Steamboat Willie Vanillie - 85
The Dapper Dancers - 84
Little Monsters - 84
Poppins' Penguins - 83
Team Squirrels - 82
The Three Caballeros - 82
Imacgineers - 82
Main Attraction - 82
Mickey's Pals - 82
Mousewait Army - 81
Kids Incorporated - 80
Die Hard Disney Duo - 80
Ninja Mouse Task Force - 79
Project 55 - 79
Team Kittytron - 79
The Newsmakers part deux - 79
DLNT - 79
Girls on the run - 78
Tiki Room Rejects - 78
The Doombuggies - 78
Anaheim Steamrollers - 78
Angry Eyes - 77
B&L Consumer Complaint Division - 77
The Naggers - 77
Goat Trick Rodeo All Stars - 76
A.W.E.S.O.M.E. - 76
Not my Brother's Keeper - 76
Is it October Yet? IN 3D - 76
The Alley Cats - 76
Vegas Vipers - 76
The Astro Blasters - 76
Second to Last - 76
Team Roma - 75
Jungle Cruisers - 75
The Funsies - 73
Four P's in a Pod - 73
Walt's Wacky Warriors - 72
Disneymode - 71
Purple Roses - 71
Grumpy Tikis - 71
Green Town Dreamers - 71

Our 4 hour Rally teams also worked their hearts out for a shot at Gumball glory: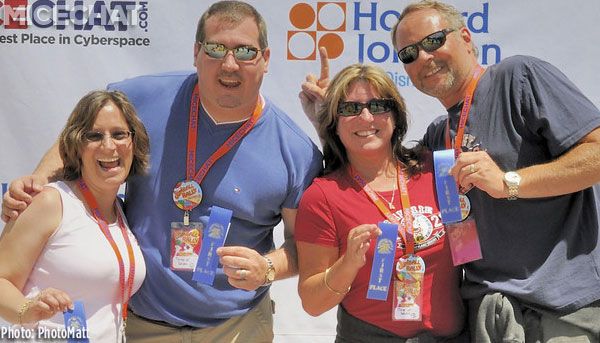 1st place 4 hour Rally: Team 3 of 7

FOUR HOUR Rally
Results
(Results for teams with scores above 25)

3 of 7 - 44

The FastPassers - 41
Si + Am if you Please - 40
The Tidy Ducks - 39
Gumballs? We're here for the food and Wine Festival - 39
Keep Your Arms, Legs, and Churros inside at all times - 39
The all 3 Team - 39
Tiggerific - 39
The Tipsy Terriers - 38
The Lilly Belles - 35
Keeping up with the Joneses - 34
The Five Best Friends - 34
Walt Disney's San Francisco - 34
Mickey Mouse Robot - 33
Kanine Krunchies - 30
Modern Day Princess - 30
Toon Patrol - 30
Pluto and the Bubble Bee - 29
Team Kelly - 28
Fairest of them all - 26


And we had a Family Rally on Saturday as well!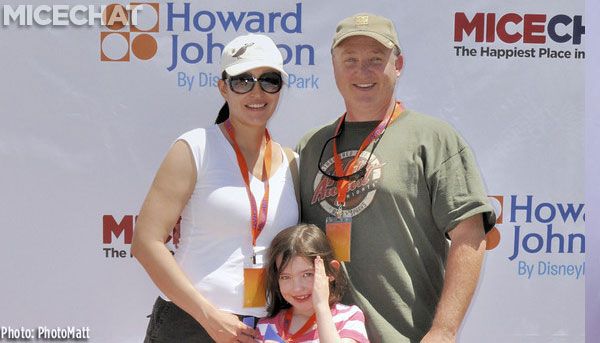 1st Place Family: A Bugga Runs Through it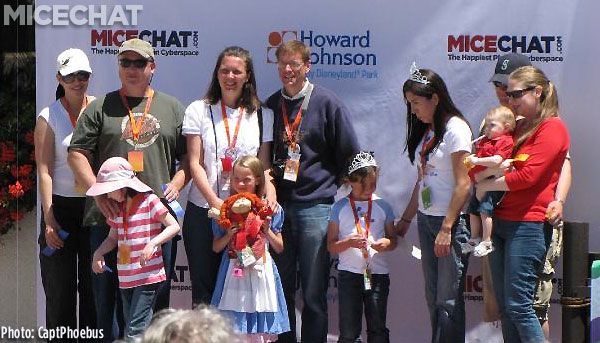 FAMILY RALLY Results
A Bugga Runs Through it - 44

Doughboy Family - 38
Yonderers - 37
Donald's Divas - 33



Events like the Gumball Rally don't just magically happen (though it may seem that way). Nearly a year of planning, a staff of over 100, and amazing sponsors all work together to make the the Rally a reality.


We'd like to thank our amazing sponsors for providing fantastic prizes and support of our event. Disney's Character Warehouse, Dianne's Estate Jewelery (Formerly Jewel of Orleans in Disneyland), Ruby's Diner, the Old Spaghetti Factory, Hotel Menage, and the fantastic folks at Disney's D23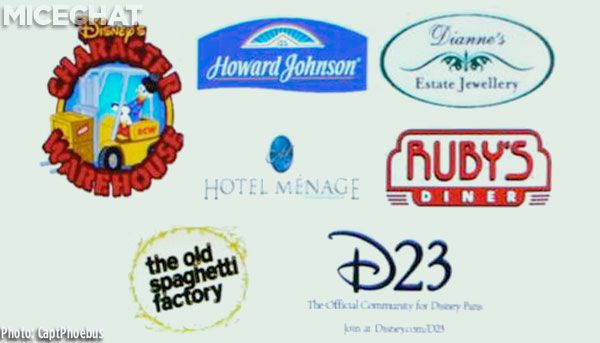 But there is one sponsor who went above and beyond the call of duty, turning their pirate themed pool area into MiceChat party central, decking the area out in award season red carpets and photo op backdrop, providing pizza for 600 people, providing free event parking, and quite simply being an incredible support network . . . The Howard Johnson Anaheim Resort. We hope you'll join us in supporting the fantastic HoJo Anaheim who always make MiceChat readers feel welcome and comfortable! They've earned our undying love!

And to our remarkable staff of Writers, Testers, Scorers, Event Planners, Photographers, Game Show Hosts, Columnists, Computer Nerds, Electrical Cord Tapers, and Gumball Wranglers . . . THANK YOU, THANK YOU, THANK YOU for making this our best run event ever. You ROCK and your accomplishments were noticed and appreciated by everyone! (MiceChatter Tinkermonkey has already started a great thread devoted to the wonderful folks who make this event tick): http://micechat.com/forums/disneylan...lly-staff.html

For more photos, thoughts, and trip reports from the Rally, check out our Disneyland section. Here are a few of the current discussions: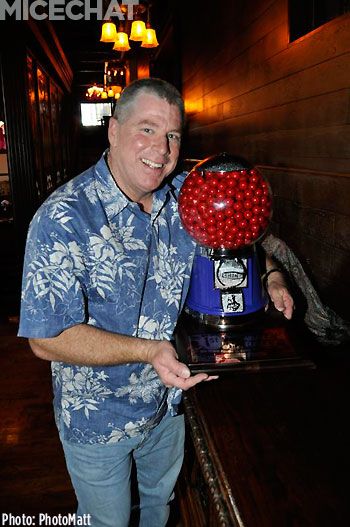 Old Man Gumball is already planning next year's trophy
Until we roll again, thank you for your support and for making this our most spectacular Gumball Rally ever. We LOVE the Rally and the spirit of fun it brings with it. We simply can't wait until the gumballs roll once more! We hope to see you all again very soon.

-Dusty and the Amazing MiceChat Crew