Mice

Chat's

Ho

Ho

Ho

liday

C

e

l

e

b

r

a

t

i

o

n

UPDATE: STORE NOW CLOSED! THANK YOU FOR YOUR SUPPORT AND HAPPY HOLIDAYS!

For years, we've been wanting to put together a holiday party for our readers and members. This year, thanks to Knott's Berry Farm, we'll finally be able to do just that.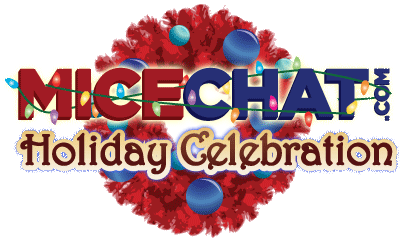 Join us Sunday, December 12
Description: Bring your family to come spend a magical day with your MiceChat family at Knott's Merry Farm and help us celebrate 50 Years of the Calico Mine Ride as well as the Christmas season.

Tickets On Sale Now Through December 8th ONLY. Don't miss out!!!


Our itinerary will include:
11:00AM - Meet at the Calico Mine Train to wish a belated happy birthday to this 50 year old treasure. And, of course, we'll take a spin on this California classic!
11:30 - We'll leave from the exit of the Calico Mine Train for a brief Ghost Town history walk led by Eric Lynxwiler (Co-author of Knott's Preserved) - Learn a bit about this historic Orange County area which predates Disneyland by about 15 years! The tour will last about half an hour and will end at the Birdcage Theatre, where we'll meet for a special performance.

12:15 VIP seating at the Birdcage Theatre for a special holiday performance of "Gift of the Magi." We will enter from the private backstage side of the theater and then meet the talented cast of the show as we take our VIP seats. While we are waiting, we'll learn a bit about the history of the Bird Cage Theatre and also about the some of the myths surrounding Knott's history!
1:30

Enjoy a delicious Christmas feast in the

Hacienda Room of Spurs

restaurant for our Holiday BBQ! Your meal includes sliced roast beef, sliced turkey, apple stuffing, yam casserole, cheese tortellini, ambrosia salad, pumpkin pie, gingerbread cookies and more! Yum!!!

2:30 we'll head toward the Charles Schultz theatre to view a performance of the wonderful ice show, "It's Christmas, Snoopy!. VIP seating is located at ground level directly across from the bumper cars. If it won't be too much of a distraction for other guests, we'll hear about the history of this interesting location in the park and its Boardwalk/Roaring 20's/Gypsy Encampment roots.

4:00 We will head to the Calico stage for our special VIP viewing location for the cheerful Peanut's Holiday Parade. This parade includes all the Peanut's characters as they get ready for the holiday. While we wait for the parade to reach our location, we'll gaze upon the Calico Mine ride and and discuss its history in the park and its landmark status in theme park history.

Extended Fun - The parade is our last scheduled event. Head off and enjoy Knott's Crafts Village, the rides OR hang out with Dusty and Fishy as they take a stroll through Snoopy's Christmas Light Spectacular and then watch the tree lighting in the front of the park at 6pm.

Knott's is expecting big crowds due to the toy drive and holiday activities. Therefore, it is important that we keep tightly to the schedule. It may be necessary for us to cut some of our tours and talks short in order to make our show and dining engagements. If you are running late or separate from the group, please look at the schedule and meet up with us at the next stop. Thank you for your flexibility and understanding.

Come early or stay late (the park is open 10am until 8pm) to also experience:
Knott's Christmas Crafts Village - filled with dozens of artisans in a Victorian holiday wonderland of strolling carolers, musical groups, community choirs and lavish holiday decorations.

Elf Mountain - Santa's Elves have invaded the world famous Timber Mountain Log Ride!
Santa's Toy Barn - visit with the man of the hour – Santa!
Snoopy's Christmas Light Spectacular -

hundreds of thousands of twinkling white and multicolored lights accompanied by a festive soundtrack merrily light up the nighttime sky in Camp Snoopy from dusk (abount 5:30) to Park closing.

And we haven't even mentioned that the park is just filled with rides!
This is an event for all of our readers (and family and friends of our readers) - registered or not. Join us for as much or as little of the scheduled events above as you'd like. We hope you'll be able to join us.
Event Cost: $48.00 per person* (Includes Ticket, Dinner, Tours and Special Event access)
. For those who already have annual passes or park tickets, you can purchase a dinner and event only ticket for $32*. (* Plus nominal PayPal fees)


PLEASE NOTE: the store will require you to create a username and password. This is NOT tied to your MiceChat username and password. The systems are not linked.
Voting helps us plan out the event and work with Knott's on seating arrangements, etc. Thank you for your help. Please share this message with all of your family, friends, and MicePals!


Wishing each and every one of you a very happy holiday!