MICE

CHAT

GUMBALL RALLY - MAY 14, 2011 - EVENT SOLD OUT!

Gumball Rally 2011 has now sold out. To add your name to the waiting list, please send your name, contact info and team size to dustysage@micechat.com. In the event another team has to cancel, we may be able to add another team from the waiting list.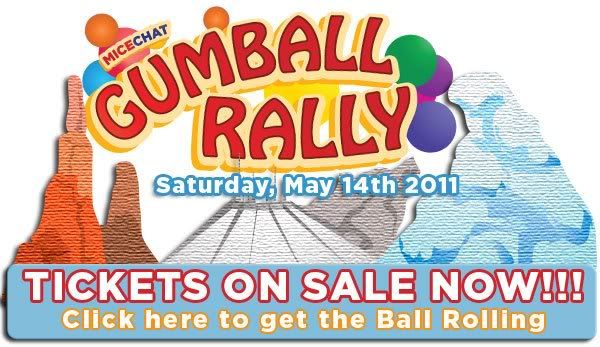 Click HERE for Rally Information Page
Click HERE to Sign Up (Past Party Only)
What is the Gumball Rally? It's a contest to find out who can ride the most attractions at the Disneyland Resort in a single day! Sound fun? You bet it is! And you can join us:

Our Gumball Rally just keeps getting bigger and better every year. This year, we are including a lite breakfast at the ESPN Zone in Downtown Disney and have nearly $2,000 in prizes and giveaways (Sponsored by the amazing folks at Fairy Godmother Travel) for our Award Party at HoJo (AND a special game show to help keep you entertained while we wait for the results).

Due to the limited availability of ESPN Zone and Howard Johnson, we will only be able to allow 500 participants in this year's event and will not be able to offer the Half Rally (however, we'll plan a special Half Rally for the Fall).

In addition, there will be a pre-race Pasta Party on Friday evening May 13th and a MiceChat Mega Meet at Disneyland on Sunday the 15th of May.

We hear, over and over again, how much fun this event is. Whether you are in it to win it or just want to experience a unique way to enjoy the parks, the Gumball Rally is for you. The event is great of people of all ages, family friendly, and lots of fun.

Promote it!

Rooms and Travel Info
Are you ready to roll? SIGN UP TODAY!