Welcome to MiceChat Nights of Horror at Universal Studios ORLANDO Halloween Horror Nights.


[CENTER]
JOIN US THURSDAY, Oct 20th
Universal Studios Orlando Halloween Horror Nights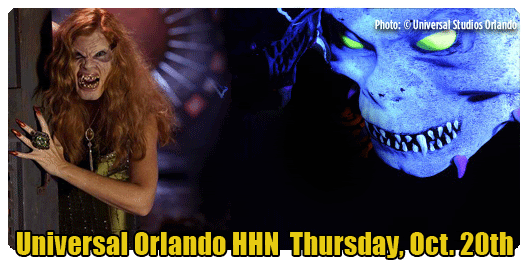 Universal Orlando Halloween Horror Nights is amazing. We attended last year and were blown away by the fantastic sets and creative concepts behind the mazes. This event isn't as gory at the Hollywood event but even larger in scope with more mazes and entertainment throughout the park.
[CENTER][LEFT][CENTER]This is a meet up event where we will all purchase our own tickets and get together for Dinner and crossover inside the park. We plan on purchasing the front of the line passes as well (since the event takes place close to Halloween on an expected busy night) so please plan for that. Everyone will be responsible to purchase their own tickets.
For those joining us for Harry Potter in the morning, we will be arriving at Islands of Adventure around 9:30am. Lunch at the Three Broomsticks at 11:30am.
We are meeting at Finnegan's Irish Pub inside Universal Studios park at 4:45 for dinner and crossover to Haunt (based on table availability).
If you'd like to join MiceChat for Potter, lunch, dinner or Haunt, please contact Dustysage
Here is a bit more information about the ALL NEW mazes coming to this year's event:

Here's your host . . . Lady Luck
She's a beauty with an attitude
Nevermore: The Madness of Poe:
"step into the mind of the iconic writer, where every turn of the page takes you closer to the brink of insanity. Each room will bring to life one of Poe's famous literary masterpieces.


The Forsaken:

Tells the story of Christopher Columbus' cursed fourth ship that was "condemned to a watery grave", but now the "mutinous and cursed crew" of that 4th ship has returned with a vengeance. This house will take you through an old forte and deep into the cursed ship itself.

H.R. Bloodengutz Presents: Holidays of Horror
This maze continues the tradition of a comedy house where you will "join creature, H.R. Bloodengutz, in his final televised broadcast as he presents a SCARE-a-thon of holiday based horror."

The Thing:

This haunted house, where "paranoia spreads like an epidemic among a group of researchers in an isolated Antarctic outpost as they are infected, one by one, by a horrifying creature from another planet", will accurately recreate the sets, props and creatures found in the upcoming movie.

Saw N' Steam: Into the Machine:

This steampunk house is based in a world where all of the water on the planet has dried up. Needing steam to help power the city, once inside the Machine you will experience "spinning blades and massive, crushing pistons await you around every corner as you are forced deeper into the bowels of a mechanical nightmare."
The In-Between:
"An ominous portal reveals a 3rd dimension where all is not what it seems: a realm where our world and another collide. Surrounded by fiendish creatures, your eyes will deceive you with every step through this phantasm of terror.
Winter's Night: The Haunting of Hawthorn Cemetery
"As snow falls on this normally serene gothic cemetery, the deceased souls that occupy its confines have their sights set upon you, insuring that the chill you feel up your spine is more than just the cold of night."

Nightingales: Blood Prey
"Within every war, the Nightingales have appeared. Able to transform themselves to fit any setting, these savage banshees feed on the weak and helpless. Patrolling WWI era trenches, you discover that you are more than just at war.. you're being hunted."


Acid Assault Scare Zone:
"For decades now the city has been degrading from the effects of Acid Rain that still falls today, caused by factories which sprung up on the city's edges during the 20th century. Those that have lived and survived the blistering decay are all alone in the city. Survivors have stripped the city of a life to sustain their own...dare to enter the ACID ASSAULT."
Canyon of Dark Souls Scare Zone:
"Upon entering into the Canyon of Dark Souls, you will feel like a small spec of humaity as the overwhelming sense of death surrounds you. Creatures that dwell within the Canyon are not welcoming so walk slowly as to not disturb them."

Grown Evil Scare Zone:
"Enter, if you dare, into our garden where Evil grows. Nature has taken this once well manicured sanctuary back from the humans who once kept it. Now the creatures that inhabit the garden are making any human that enters their prey."

NightMaze Scare Zone Maze:

"Journey through the ever changing maze of darkness. This all black maze will morph and change as you walk through it. You will not be scared the same way twice!"

7 - Scare Zone:
"As daylight shines upon our Temptresses, their appearance, though evil, allows you the spectacle of beauty. As night falls, these seven tempresses will show their true colors and take on their true Fatal Evil forms. Beware of your own temptations."

You Luck Has Run Out Scare Zone: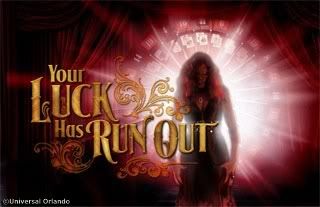 "Enter if you dare into the lair of the LUCKY! Your choices will determine if you make it out alive. Witness lucks deadly wrath, will she choose you to be her next victim? "

Death Drums:
Universal is describing "Death Drums" as a "seductive, hard-hitting and raw extreme drumming experience." This show will have three performances at night and each show will be different. It will be performed in New York by the main lagoon. Light posts have already been set up for the show.

Much thanks to DisnyFan89. The Horror Nights review posted above was excerpted from the
Orlando Parkhopper, for more photos and information, please check it out HERE