UPDATES:
EVENT DAY PACKET PICK-UP TIMES AND LOCATIONS
Gumball Rally event day registration and packet pick-up will be at the

Picnic Area

just outside of Disneyland's front gate (near the tram unloading area) beginning at 8am. For the remainder of the day, the MiceChat crew will be located at the old Motorboat Cruise Dock (AKA - Fantasia Gardens), located between Matterhorn and Small World. If you need help or have questions, you may stop by to see us at any time.
MiceQuest event day registration and packet pick-up will be held at the old Motor Boat Cruise dock (AKA - Fantasia Gardens), located between Matterhorn and Small World, beginning at 6 pm (The quest will start promptly at 7:30 pm). PLEASE BE ADVISED that this is around the time that the parade starts and it may be difficult to make your way to this area. Please allow yourself plenty of time to reach the MiceChat crew area.
Dessert Party Ticket pick-up. If you are participating in either the Rally or the Quest, you will be given your Dessert Party tickets as you turn in your packets at the end of the night. If you purchased the Dessert Only Ticket, you may pick it up at any time prior to 10pm at the MiceChat Crew area (Motorboat Cruise Dock).
IMPORTANT NOTE FOR ALL PARTICIPANTS: Both events end at 10pm. Please make sure that you have turned your packets in PRIOR to 10pm.
No late packets will be accepted.
There will be a huge rush of people all reaching the MiceChat team area at the same time. If someone is in front of you, please get in line. All packets will be accepted in the order they were received. The winning teams are the ones with the most points. In the event of a tie, the winning team is the one that finished first. Therefore, it is in your best interest to finish as early as possible. Please keep an eye on this thread for more information, tips, and suggestions. You don't need to read through the entire thread. All official information will be added to the very first post of this thread as well.
The Lost Bar After Party
For those of you who still have energy to burn after the Dessert Party, please join us at the Lost Bar (next to the Disneyland Hotel pool) from just after the Dessert Party until they throw us out.

Event Information:
MiceChat Gumball Rally and Mini MiceQuest
MiceChat is proud to announce our first major event in the parks (aside from all of our wonderful meets) on September 30th. We will be holding two separate events on the same day: an all day Gumball Rally and an evening Mini Quest event (descriptions below). We will end the day with a dessert party in the Festival Arena behind Big Thunder Mountain.
Gumball Rally: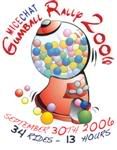 Have you ever wondered if it was possible to ride every attraction in just one day? We are about to find out! The Gumball Rally is an all day event that promises to find out who the quickest and most clever park visitor really is. Event participants will receive points for each attraction that they ride in a single day. The person with the most points wins! We don't want to spoil the surprise by telling you too much, but there are additional elements to this event that will keep you on your toes with your thinking cap screwed on tight.
This promises to be one of the most exciting (and exhausting) events ever held at the park.
Mini MiceQuest: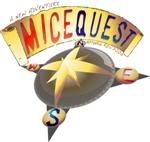 Join us for a thrilling romp through Disneyland Park, in the magical evening hours, as we seek adventure in the happiest place on earth. MiceChat has long planned to host a quest event in the park. Our very own Kevin Yee of MiceAge was the original architect of ADD Quest as well as the first Mouse Adventures. So this isn't so much a first for us as it is a return. The Mini MiceQuest is a short but thrilling 2 hour event in the evening hours at Disneyland park. We won't ruin the event with too many details, but you will of course need to be prepared to answer questions which can only be answered by visiting various locations within the park.
Dessert Party: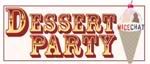 Both events will end at 10pm in the Festival Arena where we will host a MiceChat party for all the tired participants and their friends. For those who don't wish to enter either the Rally or Quest, you can still participate in the party by purchasing a dessert party ticket.
Tickets are currently offered at a reduced price through the end of July and some events may have limited availability. Payments are made through PayPal. If you are unable or unwilling to use paypal, please contact Monorail Man or DustySage via PM for additional assistance.
We realize that the date chosen for this event is a Saturday and will be a blackout day for some annual passes; however, we needed to choose a day with long operating hours for the Gumball Rally. Our next major event will be a full MiceQuest and will take place on a Sunday in the Spring.
We have priced the events as low as possible. Our primary goal was to create an event which would be fun for as many people as possible and which could be priced at a reasonable level that people could afford. Any additional funds raised above and beyond our goal and our costs will be donated to CHOC Children's Hospital. We would love to be able to write a big check for the children of CHOC Hospital.
You may participate alone or in teams of up to 4 individuals for either event. We will have lots of spotters working the event to make sure that everyone is playing fair and that no one is disrupting the enjoyment of the parks for the regular day guests at Disneyland.
While we will have prizes, these events are really about having a great time at the parks and meeting with friends or making new ones. Whether you are a Disneyland regular or a rare visitor, you'll still be able to compete and have a lot of fun in these events.
The Legal stuff: For your safety and the safety of others, please follow all rules of Disneyland Park and obey the instructions of Disneyland cast members at all times. No running, aggressive behavior, pushing, or in any way disrupting the enjoyment of regular park guests will be allowed. Those found cheating or breaking the rules of the event or of Disneyland will have points deducted or will be asked to leave the events. Tickets are non-refundable. Those under the age of 16 must be accompanied by an adult (21 years or older). All event participants must purchase an event ticket.
Participation is at your own risk. Event tickets do not include park admission.
UPDATES:
Looking for a team?:
http://www.micechat.com/forums/showthread.php?t=28462
EVENT LOGOS

for your t-shirt designs:
MiceQuest Logo
Gumball Rally Logo
If you would like to purchase logo items that have already been created, you may visit the Rally and Quest stores at the links below: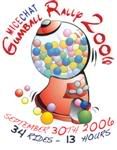 Gumball Rally Logo Merchandise: www.cafepress.com/gumballrally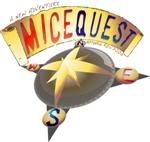 MiceQuest Logo Merchandise: www.cafepress.com/micequest
Questions that have been asked regarding the event:
Q - Do I have to be a member of MiceChat to play?
A
- No. Anyone can play as long as they purchase a ticket.
Q - I don't have a team and would like to play on one, what do I do?
A
- We have started a thread for people looking for a team (of for a team looking for another member):
Click Here
Q - How will the Rally be affected by rides that are closed or which close during the day.
A
- That is part of the fun of the event. Everyone will be in the same boat (so to speak). Which attractions you choose to ride at any given time of the day, may impact how you finish.
Q - If you don't complete every attraction in the Rally, can you still finish.
A
- Sure. You can finish whenever you'd like. Points will be awarded for each attraction completed. The team with the most points wins. We hope that someone will complete all of the open attractions for the day (but you never know).
Q - Can I compete in both the Rally and the Quest?
A
- No. The Rally and the Quest are both happening at the same time (although the Quest starts later in the day). You'll need to pick one event or the other.
Q - What if there is a tie?
A
- The team that turns their score sheet in first will win in the event of a tie. If two tied teams turn their sheets in at the same time, the team that registered first will win. So, it is score first, completion time second, and registration date third. Or we could just take a bribe (whatever is easier at the moment).
Q - What if we finish late?
A
- That is part of the game. You must finish by 10 PM. No score sheets for either event will be accepted after 10 PM on Dusty's watch (so sync up with him before you start if you are worried).
Q - Can I bring my kids along?
A
- That is up to you. They will slow you down and might prevent you from winning. Anyone 13 or older will need to be registered for your event or your team will be disqualified. No one will be able to enter the Festival Arena without a ticket, so you may need to buy a Dessert Ticket for kids aged 3 - 12. Children 2 and under are permitted into the event for free by Disney.
Q - Is the dessert party included in the event ticket for the Rally or the Quest?
A
- Yes. If you register for the Rally or the Quest, you will get a free ticket to the Awards Party. Those who do not participate in the Quest or Rally but want to attend the party can purchase a Party only ticket.
Q - What time do the events start and when can I pick up my packet?
A
- The Rally will start a park opening (rope drop). The Quest will start at about 8 pm. You can start lining up to pick up your packet about an hour before the event (we may not pass them out until about 45 minutes before the event). The Quest participants will be held together until exactly 8 pm.
Q - Why are you asking for contact details?
A
- We will need to contact the leader of each team prior to the event to let them know where the registration table will be located. Further, we may have additional information that we need you to be aware of.
Q - What if it rains?
A
- The event will be held rain or shine.
Q - What if I can't compete but have already purchased a ticket?
A
- Event tickets are non-refundable. However, if you contact us in time, you may be able to transfer your ticket to someone else who would like to compete.
Q - Can we use Fastpass on the Gumball Rally?
A
- Yes, Fastpass is allowed. It is a regular part of the park operation and a major factor in the guest experience. However, teams must stay together and everyone in the party must have a ticket. If one person on the team has a bogus ticket and is not permitted to ride, we will deduct the ride from the team and/or issue penalty points if one of our spotters catches an infraction.
Q
-
How do I know if my admission has been accepted to the event
A
- If you registered through PayPal, you will receive an email confirmation from PayPal. The first week of September all team captains will receive an email asking them to confirm their team name and information regarding each member of the team. We will also post the same information to this thread.