So ye be seekin' adventure and salty ole pirates......Aye mates, wenches, scallywags, and scurvy dogs meet Pirates of the Caribbean trilogy actors Marty Klebba (Pirate Marty), Lee Arenberg (Pintel) and other crew members of the Black Pearl!
They all will be signing autographs for Marty's charity, Coalition for Dwarf Advocacy on Sunday, May 20th, starting at 1pm at Pirates N' Plunder.
Marty will have tshirts for sale as well as glossies from POTC and handmade swag for purchase.
Free goodie bags for urchins, powder monkeys and child pirates!
Hosted by Pirates N' Plunder and POTC Interactive Project.
Pirates N' Plunder is located at:
7013 Greenleaf Avenue
Whittier, CA 90602
562-698-9400
ALL arr welcome to support Marty in this fantastic charity!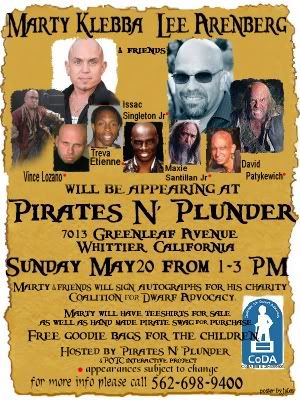 Pirate attire welcomed!
For those wishing to have directions, Pirate N' Plunder is about 15 miles from Disneyland
Directions here arr:
Take the I-5 NORTH toward LOS ANGELES go 13.5 miles to:
The I-605 exit where you'll go 4 miles to the North.
Then, exit at WHITTIER BLVD, turning right at the offramp.
From there, take WHITTIER BLVD to HADLEY ST, turning left.
Turn RIGHT on GREENLEAF AVE and arr shoppe is on the right side of the street. If there is no street parking, there are two large lots to the rear of arr building.
We hope to see you here and support an excellent cause!
Pirates N' Plunder
7013 GREENLEAF AVE, WHITTIER, CA 90602
562-698-9400