I belong to the "49-ears" chapter of the NFFC (National Fantasy Fan Club), and I just received a flyer about the
2007 fund raiser
to be held in Oakhurst, California on Saturday August 11th. It's the biggest turn-out of Disney Legends yet. Read on!
Special guest this year include, Disney Legends Marty Sklar and Bob Gurr, Michael Broggie-Disney Railroad Historian, Margaret Kerry- model for Tinkerbell, Virginia Davis-former child actress from Walt Disney's "Alice" comedies in the 1920's, and Disney artist Ron Dias.
Check out this link for more info.
I attended last years tri-tip dinner when the guests were Bob Gurr, Margaret Kerry, and Virginia Davis. It was a very lightly attended event... maybe 35-45 people. It was an excellant opportunity to have a great one-on-one conversation with Bob Gurr.
Bob Gurr enjoys his nightly martini in his special Mickey Mouse martini glass.
Me and Bob Gurr pose for a picture with his creation, the Disneyland Monorail.
Mr Gurr even signed my Monorail, and he was sure to point out the taillights that he designed.
Bob Gurr fields questions from the audience.
Virginia Davis talks about working with Walt Disney
in the 1920's!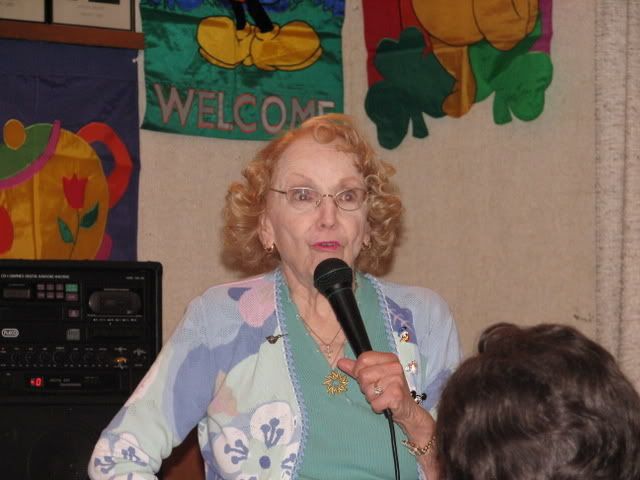 Margaret Kerry discusses modeling for Tinkerbell.
If you're planning a vacation to Yosemite this summer, you might want to plan it around this event. The dinner is buffet-style, all-you-can-eat. And for $30 it's a heck-a-deal considering the company you'll be keeping!
Oakhurst is about 45 minutes north of Fresno on Highway 41, and about 1/2 hour south of Yosemite National Parks "South Gate" near Wawona.
If you're not a member of the NFFC yet, I'd highly encourage it. You get to meet some great Disney fans, and you also get informed of great event such as this!
Hope to see you there!