The following information regarding Halloween Haunts in Southern California is from MiceChatter "Elly." Kudos and thank you for a putting together all of this frightening information for us!

Its that time of year again, jack o'lanterns are being carved, fog machines are being fired up and screams of terror typically followed by nervous laughter are being heard at haunted houses and events across the country. All Hallows Eve is just around the corner and there are plenty of ways to have spooky fun in Southern California. There are several new ways to get scared along with the standards we've come to love over the years. - Elly




- - -

Knott's Halloween Haunt

This image has been resized. Click to view the full image. The original image is sized 800x600.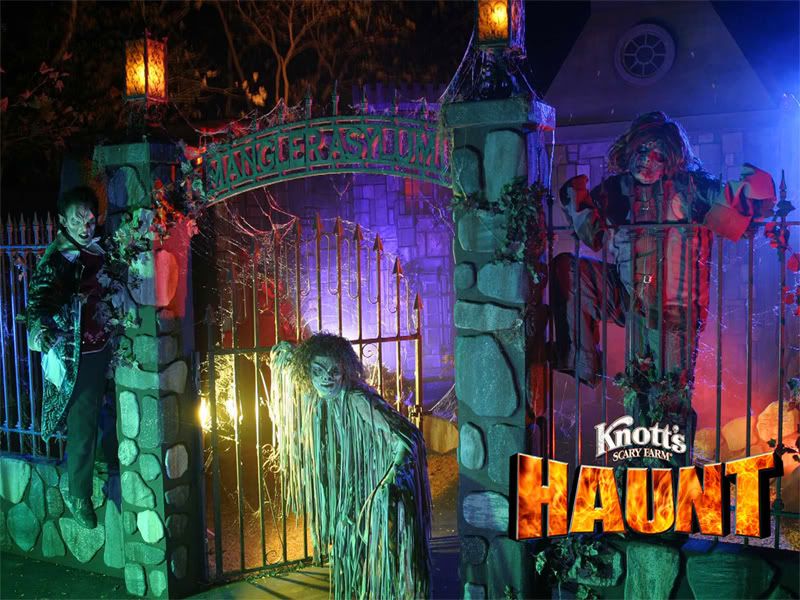 Once again Knott's Berry Farm has been transformed into Knott's Scary Farm and the veil has dropped unleashing a multitude of monsters. This year Knott's has an amazing 13 mazes, including 6 new experiences--the most I can ever remember debuting in one year. If you're anywhere near Buena Park, California take the time to Walk In and Freak Out. New mazes for 2008 include:

The Slaughterhouse

Alien Annihilation
Quarantine
The Labyrinth
Cornstalkers
Club Blood
Welcome to Club Blood where the music is hypnotic and the cocktails are bloody. In the dark underbelly of the city, human victims are drained of their life to nourish the children of the night. Join the hypnotic dance macabre and explore the dark side of the undead.
The reviews of the event, which opened on September 26th, have said that 2008 may be THE year to go to Haunt if you've never been before. Once again the Knott's Berry Farm Resort Hotel is offering combo packages of various costs which include your room for the night plus admission to Haunt and much more dependant on the Hotel package of your choice. More info can be found at KBF Resort Hotel - Haunt Room Packages

Official Knott's Haunt Website
- - -

Universal Studios Hollywood Halloween Horror Nights

USH this year is warning everyone to "Get Ready To Live Your Worst Nightmare". Freddy Kruger is back, along with Jason and Leatherface, to terrorize guests in 2008. And, as the HHN Hollywood website states:



Halloween Horror Nights is back at Universal Studios Hollywood.

And for the first time ever, Freddy KruegerFreddy will chase you through a never-ending web of terror.

Then, revisit Freddy in his own, all-new Nightmare on Elm StreetLeatherfaceJason
- - -


Queen Mary's Shipwreck
2008 marks the 14th annual Halloween Terror Fest at the Queen Mary in Long Beach. Shipwreck features a variety of activities including 7 mazes, live bands and two different dance party locations. Quote:
Shipwreck is known for having the longest and most terrifying Mazes of all Southern California Haunted Attractions!
FOR THE 14th YEAR
, all Mazes have been Re-Vamped and Re-Intensified featuring more Scares and more Special Effects than ever before! Be prepared for the most Terrifying Shipwreck ever! This year, navigate your way through 7 Terrifying Mazes, all located throughout the 12 Haunted Decks of the Queen Mary and on the adjacent Deadly Docks!
http://www.queenmaryshipwreck.com/


- - -


Six Flags Magic Mountain's Fright Fest
Magic Mountain's annual Fright Fest returns for more scares in 2008.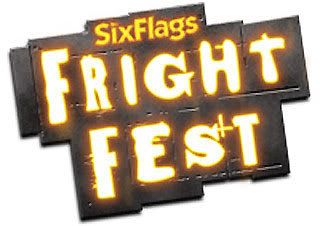 Six Flags Magic Mountain Website

- - -


The Haunted Cellar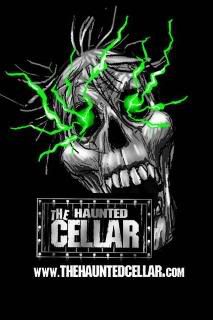 This year Orange County's Haunted Cellar has a new home at the Anaheim Garden Walk. A visit to the official website reveals a glimpse of The Haunted Cellar's legend:

The Cellar

Late at night you can see him there, behind the rusty gates,

the grounds keeper of the old cemetery . An eerie presence,

like a ghost, amidst the graves in the darkened landscape.

Standing there for years, listening. Listening to the stories

of the dead. Stories of vengeance, and hate, filled with

bitterness, anger, and unrest. The ground was full of fury.

A fury only he could understand.....

To read the rest of the legend visit The Cellar's website.
The Haunted Cellar at the Anaheim Gardenwalk opens October 3rd and is open the 4th, 5th, 10th, 11th, 12th, 17th, 18th, 19th, 24th, 25th, 26th, 27th, 28th, 29th, 30th and 31st and November 1st starting at 6pm with various closing hours.

- - -


Seaside Haunt

Ventura County's Seaside Haunt, located at the Ventura County Fairgrounds, has two all new mazes this year:

Mutiny to Purgatory
A zombie pirates attraction in which you find yourself exploring the corridors of a haunted ghost ship.

Blood Beach Haunted Mansion
A haunted mansion located overlooking the cliffs of the sea with over 20 terror filled rooms

- - -


The Official Saw Live Action Haunted Attraction

This image has been resized. Click to view the full image. The original image is sized 799x483.
Perhaps the most anticipated new haunt in Southern Califnornia this year, the Saw Haunted Attraction, based on the horror movies of the same name, is located in Brea. It opened on September 26th and runs through November 2nd. With ticket prices at just $13 and a well established horror movie storyline to be based off, this could be the most exciting of the smaller haunts. Check out their official website for more information.


- - -


Coffin Creek
Based on a legend of 14 days of rain in Southern California and its resulting flooding, Coffin Creek is located in Corona, CA and opens on October 17th.

As the flood waters subside from 2 week of flooding, 13 coffins were discovered in the wooded area next to River Rd and Archibald Ave in the city of Corona. "The coffins are believed to from the abandoned Guasti Cemetery in the city Ontario" said Officer Willmans. Officer Willmans went on to say "The coffins were found by some locals floating in a small creek that runs through the woods. The authority's and locals started referring to this area as Coffin Creek. The authority's continue to search the woods for the remains of the 13 coffins. Only 2 coffins had the remains found nearby. The remains of 2 other empty coffins were found in the woods, some 30 yards to the west of what is now called Coffin Creek. As the sun rose, Officer Willmans said " We had to stop searching last night, those woods got really creepy after dark. I called off the search when I started seeing and hearings things, strange things......
Check out the Coffin Creek website for directions, hours of operation and ticket pricing.
- - -


Pirates of Emerson
One of the largest Haunted Attractions in Northern California and featured on multiple television shows highlighting haunts across the country, the Pirates of Emerson returns to Fremont, California for 2008. Pirates of Emerson is open from now until November 2nd and boasts:

The 2008 season will be our 17th year of presenting the Pirates of Emerson, a Halloween Adventure. We are completely unlike the traditional haunted house; we have taken this to a much, much higher level. At our Dark Adventure, we have created an environment where you are actually in the scenes. We have made extensive use of special effects, robotics, animation and interaction. While we do have the obligatory scream in your face areas - they are relatively small.
What started out as a small group of friends with a few props in a backyard has grown into a major commercial attraction covering almost a 5 acres.
Visit their website for directions, tickets and any further needed information.
- - -


Spooky House
Boasting two houses, Spooky House Mansion and Darkwater Aslyum, Spooky House returns to its location in Chatsworth and is open now until November 2nd. Their website gives us some chilling descriptions of their houses:
Quote:

Spooky House Mansion
The most terrifying Haunted Experience opens this Halloween Season! The All New Redesigned Spooky House Mansion is our signature attraction and it will be scarier than ever. Larger for 2008 with 25 rooms, this foreboding 2-story manor features a ride in the Hellavator, claustrophobic secret passages, torture chambers, bodies in the kitchen, a taxidermy trophy room and undead zombies attacking from every direction!


Darkwater Asylum
For 20 years, the murders around Chatsworth went unsolved. People thought they were safe outside of the confines of the gates of Darkwater Asylum, situated on the edge of the Reservoir. They were wrong. Year after year, horribly mangled bodies were found in the surrounding fields, but authorities were still baffled.. You will enter this lost asylum and discover the secrets of a dark and bloody past. Warning: Extremely scary and very disturbing. Not recommended for younger children.
- - -


Fearplex
Returning to the Fairplex in Pomona for 2008, Fearplex opens on October 10th and will have not one, but two houses for this season, Mangler's Haunted Asylum and Lanterman Manor. Also returning this year is Fearplex's family friendly shows on October 12th and 19th from 7pm until 8pm. Visit their website for ticket information, maze descriptions and directions out to the Fairplex.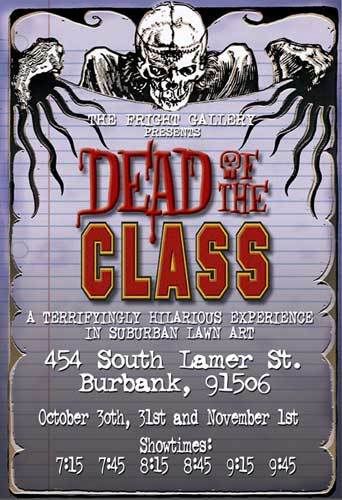 After a two-year break, The Fright Gallery has decided to produce a new show this year! After much discussion, and planning our 2008 show will be presented as "Dead of the Class"!

The Fright Gallery usually keeps their show as much of a "secret" as they can, and of course love our fans coming back year after year, and bringing new blood to witness our spectacular. They do not advertise, or let the media intrude in any way.

On show nights it gets extremely congested on the street and the further away you can park the better! Enjoy a short walk through the quaint neighborhood and help alleviate the limited parking. Please respect their terrific and patient neighbors as you approach and leave the show area, and keep noise to a minimum.


The list of Halloween events is ever evolving and we've only scratched the surface of what this season has to offer. If you've got a haunt you'd like everyone to know about please do link its information in a reply to this thread. Mice Chat reaches across the United States and beyond in its membership, and you never know when you might list a haunted attraction that is local to someone else. As the Mistress of the Dark, Elvira, was always fond of saying....Unpleasant dreams everyone.


A huge thank you to MiceChatter "Elly" who put all of this information together for us. Please be sure to leave her a thank you note on her profile page:
Elly's Profile Page