I just returned from an advance screening of the film.
Congratulations to all at Walt Disney Animation Studios!
'Bolt' is a hero worthy of adopting and very easy to take the journey with.
The look of the film from the animals' fur to the unique colors and textures of locations ranging from Silver Lake to New York, rural Ohio, sun-bleached Las Vegas to Hollywood's backlots is dazzling. The work of Art Director Paul Felix and his team is fully realized here and lives up to the next great steps forward in the Studio's storied history.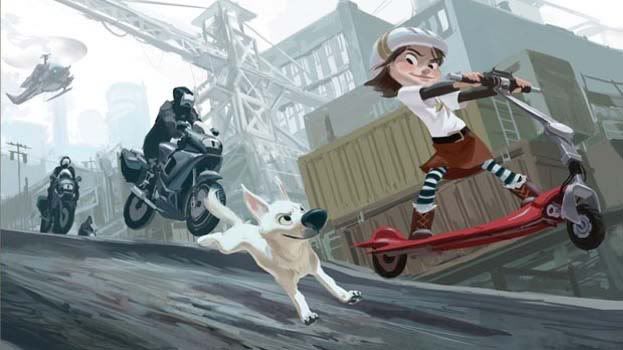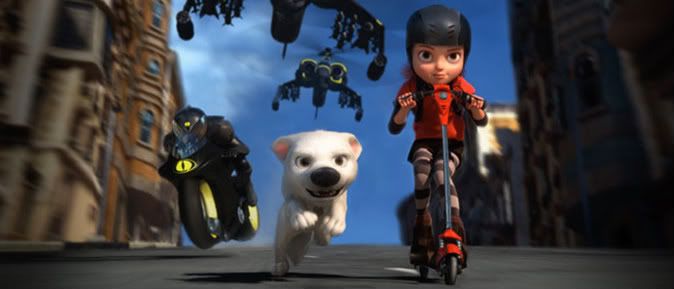 Walt Disney Animation Studios
The cast delivers simply fun performances. John Travolta as
Bolt
and Susie Essman's (of hilariously profane 'Curb Your Enthusiasm' fame)
Mittens
have a ball, Mark Walton's
Rhino
is in one and Miley Cyrus gives heartfelt, heartstrings life to
Penny
,
Bolt
's person.
The Gillian Welch song is terrific and the Miley/John end-credits duet set to a very cute, completely different, almost childlike, style of animation sets the right bouncy exit tone.
The script (co-written by Chris Williams and Dan Fogelman) is truly funny, warm, exciting and will surprise you. Calling cats "degenerate creatures of evil" (to big laughs from the kids in the theatre) gives you a sense as to the playfulness of it all. And wonderful Pixar-esque details are sprinkled throughout, particularly on a certain dog's tag, on through the Production Babies credits!
Expect box-office business (and hamster sales) to be swift.
And yes,
Rhino
is BeAwesome!
'Bolt' opens in theatres November 21
BOLT - The Official Website for Walt Disney Pictures' Bolt
More on the cinematic influences and latest animation advances on 'Bolt' at:
http://micechat.com/forums/features/...into-bolt.html