HIGH SCHOOL MUSICAL 3: SENIOR YEAR - EXTENDED EDITION (2008)


Starring Zac Efron, Vanessa Hudgens, Ashley Tisdale, Corbin Bleu, Lucas Grabeel and Monique Coleman
Directed by Kenny Ortega
Rated G
Zac Efron and Vanessa Hudgens.
Hard to believe it's been three years already, isn't it?
In January 2006, "High School Musical" surprised everyone as the highest rated ever Disney Channel Original Movie. A #1 soundtrack and best selling DVD followed, along with a closet-full of television and music awards. Disney parades, mass merchandise and a top-rated TV sequel joined the fray, then, last fall, HSM finally hit the big screen, making buckets of cash to no one's surprise at all.
"High School Musical" has been viewed by more than 250 million people speaking over 20 different languages in a hundred-plus countries.
So, umm, yeah, the HSM3 DVD coming out today might do ok.
Oh look! Corbin Bleu (center) in a musical number involving sports.

In "High School Musical 3: Senior Year," the seniors of East High approach graduation and get ready to face the real world (as real as can be expected coming from a high school that knows nothing of drugs, sex or racial tension). Like HSM3's two predecessors, count on Troy (Efron) and Gabriella (Hudgens) to be torn between doing what their friends and family tell them and what their hearts tell them; a half dozen "JEEZ, just KISS already" moments between the smitten teens; and a steady stream of perky musical numbers (at least one occurring in a cafeteria and another involving sporting goods). If you're over the age of 12, you'll roll your eyes at much of what you see, but you'll find it hard to dislike a movie so sincerely upbeat and wholesome. You'll forget the musical numbers five minutes after you hear them, but you'll be tapping your toes from the opening title through the closing credits. Try as you must, it's impossible to hate "High School Musical."

Don't make that face at me. You know I'm right.

You already ordered it for your kids, didn't you?

Other DVD's released earlier this month . . .

SPACE BUDDIES (2009)


Starring Bill Fagerbakke, Diedrich Bader and Kevin Weisman
Directed by Robert Vince
Rated G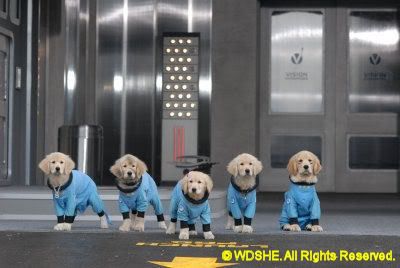 Quick, name the movie franchise that Disney has beaten into the ground worse than any other in the company's history . . . and no, it's not "High School Musical."

"Air Bud."

Released to theaters in 1997, "Air Bud" was a good-natured piece of family fluff about a golden retriever that played basketball and helped a young boy deal with his father's death and make friends. It spawned a myriad of fairly popular (and profitable) direct-to-DVD releases: "Golden Receiver," "World Pup," "Seventh Inning Fetch," and "Air Bud Spikes Back"--there was apparently no sport the pooch couldn't master. All this eventually led to "Air Buddies" about Bud's puppy offspring (and they TALK!). "Air Buddies" begat "Snow Buddies" (a Buddy adventure in the Great White North) which brings us now to "Space Buddies." In this installment, the oh-so-adorable pups rocket to the moon, looking for adventure with a Russian dog named Spudnik (get it?), only to discover what they really want and need is the love and companionship of the humans they left back on earth.

Awwww.

In 2006, "Air Buddies" actually managed to pump some life into the franchise, but no matter how many different places you put them, there's only so much cute you can squeeze out of talking dogs. The Air Bud/Buddies franchise has gotten old and stale, even by direct-to-DVD standards.

On March 3rd, Walt Disney Studios Home Entertainment will release the "Air Bud: Special Edition" DVD with "Dog-U-Commentary" (get it?) from the Buddies.

Somebody, please make it stop.

OLIVER & COMPANY - 20TH ANNIVERSARY EDITION (1988)


Starring the voices of Billy Joel, Joey Lawrence, Cheech Marin, Bette Midler and Dom DeLuise
Directed by George Scribner
Rated G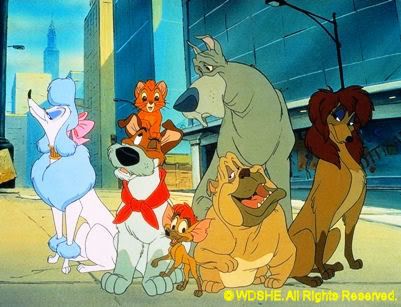 In 1988, near the end of Disney Animation's 20+ year fallow period following Walt's death, the once beleaguered studio was on the verge of returning to prominence under Michael Eisner (remember when he was a force for good?). A year before "The Little Mermaid" launched Disney's modern golden age and two years after "The Great Mouse Detective" helped erase the bitter taste of "The Black Cauldron," Disney released "Oliver & Company," an urban take on "Oliver Twist" with a mostly animal animated cast. Marking its 20th anniversary, Disney has re-released "Oliver" to video this month and it's good to have it back.
"Oliver & Company" follows the story of orphan kitten Oliver (Lawrence), abandoned on the mean streets of New York City. Through circumstance, naivete and a bit of perseverance, he hooks up with street savvy mutt Dodger (Joel) and his ragtag gang of doggy hustlers. They do the dirty work for the incompetent crook Fagin (DeLuise), who's on the hook to the evil loan shark Sykes (Robert Loggia) and has three days to settle his debts or face the consequences. In the course of helping the gang, Oliver is taken in by lonely little rich girl Jenny, and ends up having to choose between sharing a life of comfort with a vain, pampered show poodle (Midler) or hanging with the homies that have taken a shine to him.
"Oliver" boasts one of Disney's better voice casts and perhaps its most underrated song score with contributions by Billy Joel, Huey Lewis, Bette Midler and Barry Manilow. The animation, however, is not among Disney's best, with rough edges and rotoscoping that suggest a limited budget rather than an intentional style (these were the Eisner days, after all). There is a sense of energy and fun to the animators' work though, a precursor to what was to come over the next ten years.
Bonus features include "making of" docs shot at the time of "Oliver & Company's" initial release and its re-release in the early 1990s. Also featured are the Pluto animated shorts "Lend a Paw" and "Puss Cafe."