Miley Cyrus writes her first book, targeting her most loyal fans.
Miles to Go - First Ever Book from Superstar Miley Cyrus - Goes on Sale Today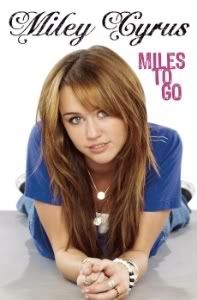 NEW YORK--(
BUSINESS WIRE
Miles to Go
, the first ever book from international teen superstar Miley Cyrus, goes on sale. (
Miles to Go
, Disney-Hyperion Books, $24.95, ages 8-12)
In
Miles to Go
, Miley shares her inspiring story, spanning from her Southern roots in Tennessee to the excitement of her record-setting triumphs in TV, music and film through never-before-seen photos, family stories, and a look at her inner circle of loved ones. Throughout the book, Miley has included pages of doodles, poems, song lyrics, and musings in addition to fun anecdotes and touching stories.
Disney Book Group and Parragon Books will publish
Miles to Go
, Hannah Montana & Miley Cyrus:
Best of Both Worlds ConcertBolt
and stars in
Hannah Montana: The Movie,
which will be released April 10. Nearly 15 million Hannah Montana books have been sold worldwide.
Since its inception in 1991, Disney Book Group has amassed an array of best selling authors and illustrators, including Rick Riordan and his
Percy Jackson
series
; We Are the ShipFairy Haven and the Quest for the Wand;ClementineArtemis FowlMadam PresidentKnuffle Bunny Too!
and
The Pigeon Wants a Puppy,Science Fair;American Heroes
series;
The
Runaway Dolls
by Ann M. Martin, Laura Godwin, and Brian Selznick; and
Burning Up: On Tour with the Jonas Brothers
. Disney Book Group also publishes best selling titles from key Disney franchises including
High School Musical
,
Disney-Pixar Cars, Disney Fairies, Hannah Montana,
and
Playhouse Disney