Universal Studios Japan : Is the new " Space Fantasy " roller-coaster a super Space Mountain ?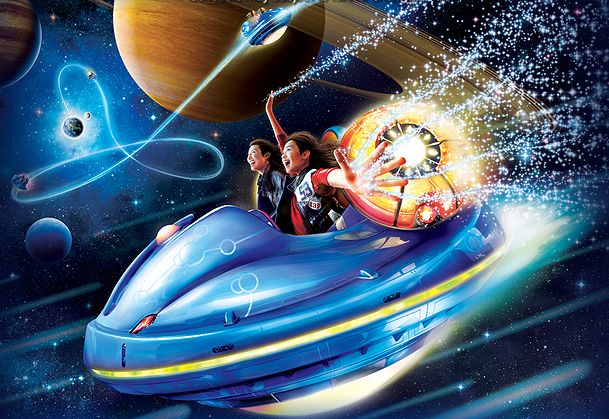 I can't believe i've never heard - until today - about this new Universal Studios Japan attraction! Anyway, better too late than never as we say, so all my thanks to Matthew who sent me today a kind email about it. "Space Fantasy" as the ride is called apparently looks a lot like Space Mountain - guests are sent across the universe - but there is some technical improvements and also a typical Japanese story line.
First, Space Fantasy is not a simple roller-coaster as it is a "spinning" roller coaster! Designed if i'm right by MACK each part of the train - in which guests sit back to back - is spinning during the ride, but not during all the ride.
Described by Universal Studios as "a new ride to experience the Universe" guests are "departing from the Earth with the mission to save the Sun", nothing less! According to the press release aboard the "solar shuttles" "You will have a close-up view of the stars and exploring through the asteroids, and experiencing the changing speed which varies along with the story. At the climax of the ride, you will encounter and go into the Sun!" So, it's a space themed roller coaster and just like at DL Space Moutain the ride is full of galaxy projection effects or even huge meteorites like at DLP.
Screamscape
Have a look at the videos in the full article and enjoy the ride!
http://disneyandmore.blogspot.com/20...new-space.html