Pretty much everything you need to know about John Lasseter is summed up in this cartoon by Disney Legend Floyd Norman: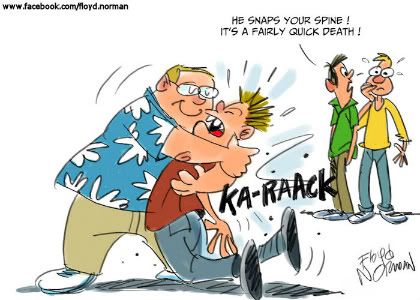 Lasseter is a hugger.
You could see it on display at last month's D23 Expo. During the Walt Disney Studios presentation inside the D23 Arena at the Anaheim Convention Center, when Disney/Pixar's chief creative officer was on stage introducing his guests, everyone got a big bear hug from him. Writers, directors, animators, Billy Crystal, John Cryer, hugs all around. Lasseter really loves his creative people and it shows.
Compare that to Walt Disney Studios chairman Rich Ross, who held court at the same presentation. For him, it was all about polite, professional handshakes.
Yeah, I think I'd rather work for Lasseter.
There's nothing stuffy about this studio executive. From his collection of tropical print shirts to the toys that overwhelm his office at Pixar, Lasseter exudes informality with all he does. He's not a polished speaker--he punctuates most of his sentences with "you know"--but he talks excitedly and with a twinkle in his eye about every project he's involved in. It's impossible not to get caught up in his enthusiasm. He possesses a particular childlike glee when the subject turns to Disneyland. He's a huge Disney fan who grew up an hour away from the Happiest Place on Earth and who used to be a Jungle Cruise skipper--he's seen his share of the backside of water. Thank him for bringing back Tomorrowland's 1960s-era Flying Saucers in the form of the upcoming Luigi's Flying Tires for Cars Land at Disney California Adventure and his face lights up. "OK, that is AWESOME!"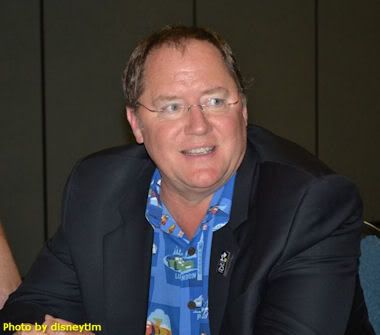 John Lasseter
It was a serendipitous stroke of luck (thank you, Dusty Sage) that I was invited to join the MiceChat crew in a round table discussion with John Lasseter at the D23 Expo. We were promised five minutes with the man, but Lasseter stayed for 45 talking about Pixar's early days, the studio's upcoming film projects and the DCA expansion. It was a relaxed and insightful conversation with a creative genius and computer animation pioneer who loves his work, is generous with his time and appreciates the passion and support of Disney/Pixar fans.
The Early Days of Pixar
Lasseter graduated from CalArts in 1979 and shortly thereafter went to work for Disney as an animator, contributing to such films as
The Fox and the Hound
and
Mickey's Christmas Carol
. In 1984, he left Disney and joined George Lucas's special effects computer group at LucasFilm. It was there that Lasseter provided the character design and animation for
The Adventures of Andre & Wally B.
, an experimental computer animated film that premiered at the Siggraph computer graphics conference. In 1986, Steve Jobs purchased Lucas's computer graphics division to form a separate company called Pixar. "Back then," says Lasseter, "Pixar was a computer company. It was not an animation studio. We were just doing a little animation research."
That little bit of animation research led to a number of short films created by Lasseter that became cartoon classics. The same year Pixar was founded, Lasseter animated its breakthrough short film,
Luxo Jr.
, an uncomplicated story about an architect's lamp meeting a rubber ball. "It's the height of simplicity," says Lasseter. But, as he notes, that simplicity didn't come without its share of challenges. "Computers back then filled a room, you know. And we had one interactive system that was a very old system. Bill Reeves and Eben Ostby were working with me. They said, 'We don't have enough computer power to do any moving cameras,' which was the thing you did in computer animation."
Luxo Jr.
To free up computer processing power, a compromise was needed. So, the entire film was shot from a fixed point of view with no background, only a wooden floor that gave way to darkness. That lack of detail, however, helped contribute to the charm of
Luxo Jr.
"It made it so there was nothing to distract you from the story and the characters," says Lasseter. "And so that's, I think, part of the reason it made it the first computer animated film that was entertaining to audiences."
Luxo Jr.
was entertaining enough to be nominated for an Academy Award for Best Animated Short Film, the first computer animated film to be so honored.
In 1988, Lasseter wrote, animated and directed the short
Tin Toy
. Back then, he was (and still is) an avid toy collector, particularly wind-ups, "I was an animator and everything that had kind of cool movement really inspired me." He put this inspiration to work in
Tin Toy
, the story of a musical wind-up terrorized by a drooling monster baby. Technically innovative at the time for its depiction of both mechanical and human movement,
Tin Toy
would go on to win an Oscar, the first for both Lasseter and Pixar.
It wasn't just computer technology, however, that made
Tin Toy
stand out. The film was also very clever and entertaining. When "Tinny" hides out under a couch to escape his infant tormentor, it results in one of the funniest gags in any Pixar film. Suddenly, all those 1s and 0s inside a computer processor weren't just creating pretty pictures, they were making audiences laugh. "Even though I loved the medium of computer animation," says Lasseter, "I always viewed it as a tool. And it's what Frank Thomas and Ollie Johnston and Woolie Reitherman and Eric Larson all taught me--and my teachers at CalArts. It's not the drawings. It's what you do with (them). It's the personality. It's the story. It's the emotion that you're putting across."
Innovation is great, but story always comes first. It's a simple approach Lasseter shares with a famous predecessor. "I think in the same way that Walt Disney always pushed technology in the service of the story, it's what Pixar's always been about too."
A Little Boy's Toy Story
During the early days of Pixar, Lasseter called it "a dream" to one day produce a computer animated feature film. In retrospect, it seemed inevitable. In 1991, Pixar signed a deal with Disney to produce and distribute feature-length animated films. Four years of hard work later, the dream became a reality with the release of
Toy Story
, a film written and directed by Lasseter. The story of when Buzz met Woody opened to critical raves and big box office, becoming the highest grossing film of 1995. It would be nominated for three Oscars and earn Lasseter a Special Achievement Award from the Academy of Motion Picture Arts and Sciences.
Toy Story
For all the accolades
Toy Story
received, though, one of Lasseter's most memorable moments happened in the days following the film's release, more than 1,500 miles away from Pixar. As he recalls, "It was five days after
Toy Story
had come out. My family had gone down to Disney World to see the
Toy Story
parade that was at the Disney-MGM park...We were changing planes in the Dallas/Ft. Worth airport and we were getting off of the airplane. It was back in the day when people could meet others at the gate. There was this mom standing there and a little boy--he was about four years old--was holding a Woody the cowboy doll.
"Here's a character that I'd worked so hard on creating for the last four years of my life, and now seeing it in the hands of this little boy I realized this character doesn't belong to me anymore. It belongs to him. That's his toy.
"People kind of laugh at it, but, honestly, I think of that little boy every day when I'm working at Pixar. It made me realize why we do what we do, you know? And, it's what drives me. It's what drives all of us at Pixar. To me it's not about the box office. It's about that little boy. It's not about the quarterly earnings report. It's about that little boy. That little boy represents the audience out there, you know? And it's not about Hollywood or
Variety
or
Hollywood Reporter
or anything like that. I always say that there's a big world between San Bernardino and Newark, and that's who we make these movies for."
Pixar's "Brave" New World
With
Toy Story
, Pixar began a remarkable run of films hailed by fans and critics alike, including
A Bug's Life
,
Finding Nemo
,
The Incredibles
,
Wall*E
and
Up
. Next summer, Pixar will release its 13th full-length animated feature,
Brave
, a fairy tale steeped in medieval Scottish folklore. Says Lasseter, "I love these kinds of stories and we (have) never made one."
In
Brave
, the lead character, Merida (Pixar's first female lead), is the courageous daughter of Scottish royalty and is pretty handy with a bow and arrow. Determined to follow her own path, Merida will defy family tradition and set into motion a series of chaotic events that will threaten both her and the kingdom she lives in. This will hardly be an old fashioned damsel-in-distress fairy tale, which is just fine with Lasseter. "I love to challenge myself and all our people as storytellers...so that's part of what's exciting. I also knew (
Brave
) would push our art form. Computer animation likes to make something like this room, as geometric as it can, as perfect as it can. That's when it's happiest. You do something as organic as a period film, especially like in a medieval Scotland, it's about as opposite as what is natural for computer animation as you can get. Because every little thing--a rock, a stone or whatever--has history to it. It's been there a long time...Also, it's cold there and people wear lots of clothes and you don't know how hard that is to do."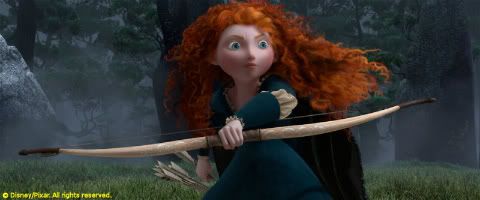 Brave
Pixar has always excelled at taking conventional story archetypes and putting an original spin on them. They've done it with buddy movies (the
Toy Story
trilogy), superheroes (
The Incredibles
) and spy thrillers (
Cars 2
). They're promising to do the same with
Brave
. But, with this broad range of stories and animation styles, is there really such a thing as a "typical" Pixar movie? Lasseter says there isn't. "I guess you could sort of say Pixar films have this something that every Pixar film has. I would challenge you to look at every one. They're all vastly different in subject matter, in basic story line, in emotion, where the character arc and humor and types of personalities (are). We want them all to be incredibly entertaining, appealing, and emotional and beautiful. But, that's where it stops. We challenge ourselves because we want to do things differently...
Brave
has been so exciting for us because of how different it is for the studio, and actually how challenging it is for the studio. We're so excited about it. I mean it's really, really fun."
Putting the Disney Back in Disney California Adventure
Among the many hats Lasseter wears at Disney, one of the most exciting ones for him is being principal creative advisor at Walt Disney Imagineering. "Imagineering is just so much fun for me," he says. "I call it dessert."
When he took on his role at Imagineering in 2006, it didn't take him long to set his sights on Disneyland's ugly sister across the Esplanade, which lacked the appeal and theming of the Magic Kingdom. "There's a magic to Disneyland, the original park. And, when California Adventure opened up (in 2001), it was not a Disney Park. It was a Disney park on a budget.
"When you go to Disneyland, you go to a certain place and certain time and you're transported. When you went to California Adventure, there was none of that. I said, 'We've got to fix this.' I was a dog with a bone. I was not going to let that go."
Lasseter's tenacity led to a huge face lift and expansion of Disney California Adventure that, when construction finishes in 2012, will cost in excess of $1 billion. "I think we came up with an incredible five-year plan that we're actually coming towards the end of. Cars Land and the whole Buena Vista Street, Carthay Circle Theater, and the Red Car and all that stuff is nearing completion. But, the whole goal was to just take parts of California Adventure and make it a Disney Park, take you to a different place and time to get that unique thing only Disney parks have."
Among the changes and additions already made to Disney California Adventure are the World of Color water and light show ("There's just a feeling it gives you," says Lasseter. "I love that."), the Silly Symphony Swings ("Everybody likes a swing ride. I mean, come on, what's not to love about that?") and The Little Mermaid - Ariel's Undersea Adventure ("An awesome dark ride with animatronics--a classic thing.").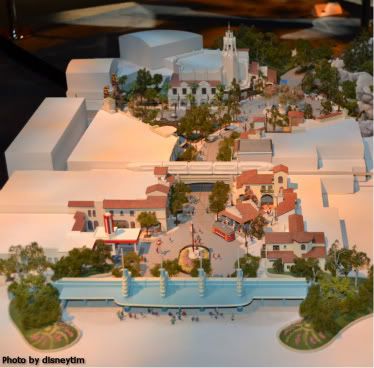 Buena Vista Street Model
Still in progress is a complete makeover of DCA's main gateway. Gone forever is the metal sculpture of Sunshine Plaza, giving way to Buena Vista Street, a recreation of Los Angeles in the 1920s complete with Red Car Trolleys and the Carthay Circle Theater where Walt Disney's
Snow White and the Seven Dwarfs
premiered. "Main Street of Disneyland is the town of Walt Disney's childhood," explains Lasseter. "The main street of California Adventure is the American town where Walt has started his studio. And I just love that duality of it. It gives it a purpose and a story."
The most ambitious project of the expansion is Cars Land, Pixar's Carburetor County come to life. Dominating the skyline on the south end of DCA, Cars Land will be the home of Radiator Springs residents Lightning McQueen, Mater, Sally, Doc Hudson and the rest of the
Cars
gang. Set against massive Southwest mesas and rock formations will be the Test Track-inspired E-ticket attraction Radiator Springs Racers. "It's amazing!" says Lasseter. "I mean, this is a 12-acre land. The Radiator Springs Racers is six acres. It's the biggest single ride Disney's ever made."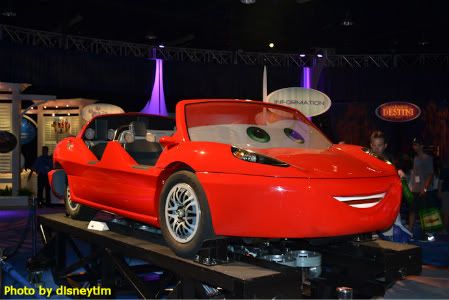 Radiator Springs Racers Ride Vehicle
Cars Land isn't just about thrill rides, though. Lasseter is just as enthused about Flo's V-8 Cafe, which will give diners a panoramic view of the entire area. "No one's gonna wanna leave," he says with a smile. "They'll sit there with a beer all day, a glass of wine, and it's like, 'I'm good. Kids, go ahead, I'm right here. This is fine.'"
Without a hint of exaggeration, Lasseter points out that the exciting rides and compelling vistas of Cars Land have Disney executives concerned about excessive crowds in 2012. "They're worried that the demand for California Adventure is going to be much greater than capacity. That's the problem you want. You want it to be so good that people have to wait a long time."
Lasseter believes that "quality is the best business plan" and isn't afraid to take on the suits holding the purse strings to get the new-look DCA just right. "I literally said to one guy--we were talking about cutting this, cutting that. I said, 'OK, are you going to take it upon yourself to stand at the exit of the ride and explain to everybody who gets off the ride why it's successful because we stayed within the ridiculously low budget? Are you? If you are, I'm good. I'm in.' It's like at Pixar. We will work on a movie 'til it's great because you have four years to make it great. So, make it great so it lasts forever."
Legacy
As Pixar marks its 25th anniversary this year, "make it great" is a fitting slogan. This is the mantra Lasseter brought with him when he took on his expanded duties at Disney. And through it all, he's never lost sight of what inspired him as a child growing up just a stone's throw from Disneyland and continues to drive him now. "There's that emotional entertainment that the films of Walt Disney gave us that you never forget. It's the wonder, you know. It's just that feeling you get. It's that feeling walking past the ticket booths and the gates and the turnstiles and under the tunnel of the Main Street station and walking into Disneyland. And going into Adventureland. And going into Frontierland. And going through the castle. There's a wonder that Disney's always sort of given me and given all of us. And that's all I've ever wanted to do. I'm a fan, but it's also been such a big inspiration for me to do that--to give back to other people."
Group hug, everybody.
Floyd Norman cartoon used with permission, www.facebook.com/floyd.norman.