This week's DVD releases from Buena Vista Home Entertainment (available June 19th) celebrate imagination and friendship, one with cutting-edge CG effects, the other with old-school animation. Both charm and delight.
BRIDGE TO TERABITHIA (2007)
Starring Josh Hutcherson, AnnaSophia Robb, Zooey Deschanel and Robert Patrick
Directed by Gabor Csupo
Rate PG for thematic elements including bullying, some peril and mild language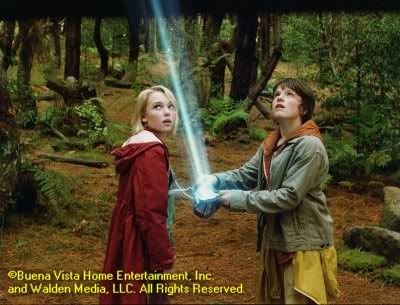 A light in the forest: AnnaSophia Robb and Josh Hutcherson
"Just close your eyes and keep your mind wide open," Leslie Burke (Robb) tells Jess Aarons (Hutcherson). With that, the two childhood friends embark on a journey of their own imaginations to the mythical, magical world of Terabithia, where they battle giants, hairy vultures and their own fears.
Jess and Leslie are artsy outsiders in school, he a talented artist from the wrong side of the tracks, she an aspiring writer and daughter of two successful authors. They're both the targets of bullies, but react in totally different ways. Jess is withdrawn and passive, while Leslie chooses creative ways to respond to her tormentors. They become fast friends and create Terabithia out of an abandoned treehouse just a rope swing away from the real world. This is where they escape the pressures of their adolescent lives and, at the same time, learn how to deal with them.
The advertising for this film suggests that
Bridge to Terabithia
is a CG-fest a' la
The Chronicles of Narnia.
Nothing could be further from the truth and it's to the movie's credit that it focuses on the friendship between Jess and Leslie and their relationships with the school bullies, Jess's stern father Jack (Patrick) and their caring music teacher Ms. Edmonds (Deschanel--oh, those blue eyes). The impressive visual effects only take center stage when the kids' imaginations take flight during the second half of the movie--and for a brief time at that. The effects serve the story, not the other way around, and allow the very human and very emotional (keep a box of Kleenex handy) themes of the movie to shine through.
In the end,
Terebithia
impresses with solid performances (Robb is terrific as the plucky Leslie) and heartfelt storytelling.
"Welcome to Terabithia. I am your host, your giant host."
Bonus Features
"Digital Imagination: Bringing Terabithia to Life"
"Behind the Book: The Themes of Bridge to Terabithia"
Music video "Keep Your Mind Wide Open" performed by AnnaSophia Robb
Two audio commentaries: Csupo, writer Jeff Stockwell and producer Hal Lieberman; Hutcherson, Robb and producer Lauren Levine
THE MANY ADVENTURES OF WINNIE THE POOH: THE FRIENDSHIP EDITION (1977)
Starring the voices of Sterling Holloway, Sebastian Cabot and Paul Winchell
Directed by John Lounsbery and Wolfgang Reitherman
Rated G
It's a Pooh parade!
Before mass merchandising saturated every aspect of your baby or toddler's life, the Winnie the Pooh stories were a charming and wistful Disney interpretation of A.A. Milne's classic children's tales of the "bear of very little brain" and his adventures with Christopher Robin in the Hundred Acre Wood. They were glorious in their simplicity, hand-drawn animation against muted but lush backgrounds, inspired by the stuffed toys of a boy's bedroom that knew nothing of iPods, video games or text messaging.
The Many Adventures of Winnie the Pooh
is the feature-length cobbling-together of three short cartoons,
Winnie the Pooh and the Honey Tree
(1966), the Oscar-winning
Winnie the Pooh and the Blustery Day
(1968) and
Winnie the Pooh and Tigger Too
(1974). Geared for children, but never childish, the movie revels in the joys of youth, where a little mud and a balloon can turn you into a black raincloud and a pot of honey is a treat best enjoyed with friends.
Winnie the Pooh
brought together one of the best collections of character voices ever for a Disney cartoon. Disney legend Sterling Holloway voiced Pooh with understated curiosity, frustration and innocence--no one can say "Oh bother" like he did. Paul Winchell made Tigger lovable (Woohoo!) despite all his obnoxious "bouncing" and John Fiedler's Piglet is an excitable but loyal friend. Holding it all together is the gently authoritative Sebastian Cabot (better know to those-of-us-of-certain-age as "Family Affair's" Mr. French) as the narrator.
A delight from start to finish,
The Many Adventures of Winnie the Pooh
strikes the warm, nostalgic heart in all of us.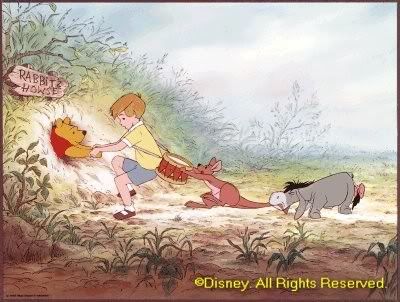 We're gonna need a bigger rabbit hole. Christopher Robin and friends try to get Pooh unstuck.
Bonus Features
"The Story Behind the Masterpiece"

"Winnie the Pooh Art Gallery"

"The Wonderful Thing About Tiggers" sing along song

"A Day for Eeyore" short cartoon

"My Friends Tigger and Pooh" bonus episode