Buena Vista Home Entertainment releases six (!) new television collections on DVD this week ranging from the Tick to Tim the Tool Man and from Cody to Cory to a less famous Disney duck. Tops on the list, though, is a collection of classic episodes from the brilliantly creative mind of the late Jim Henson.
THE MUPPET SHOW: SEASON 2 - SPECIAL EDITION
With Guest Stars Steve Martin, Elton John, Peter Sellers, Julie Andrews, Madeline Kahn, Bob Hope, John Cleese and many others
Rated G
Most sensational, inspirational, celebrational, Muppetational! This 4-DVD collection includes all 24 episodes of
The Muppet Show's
1977-78 season, arguably the best one of the syndicated series.
After a successful first season,
The Muppet Show
started stretching more creatively, fleshing out regular characters (this is Miss Piggy's breakout season as a symbol of female empowerment) and ratcheting up production values (the elaborate opening number, featuring the now familiar rows of Muppets under individual archways, made its debut). The show also began attracting bigger named guest stars who could raise their coolness factor a few notches just by appearing. It's with these episodes that Kermit, Miss Piggy, Fozzie, Gonzo and the rest of the furry cast began shifting from being simply entertaining to becoming entertainment icons.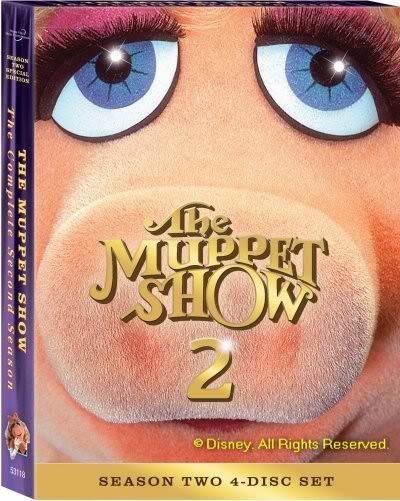 Highlights:
Zero Mostel confronts his "fears," represented by a bevy of Muppet monsters. With his bug eyes, scruffy beard and twitchy index finger, Mostel could've passed for a Muppet himself.
Milton Berle trades barbs with balcony hecklers Statler and Waldorf. The old codgers get the best of Berle in this hilarious sketch.
Gonzo develops a crush on guest star Madeline Kahn. Though ultimately played for laughs, the storyline is surprisingly touching, a reminder that warm sentiment was as much a part of the Muppet oeuvre as music hall comedy.
Dressed in feathers, Elton John performs "Crocodile Rock" to a group of admiring (and possibly hungry) crocodiles. John later sings "Don't Go Breakin' My Heart" in a duet with Miss Piggy.
Peter Sellers steals the show again and again, embodying a series of outrageous characters. The best: a mad gypsy violinist and a sadistic, Strangelovian masseur.
All the recurring sketches of the show are here, including the groan-inducing puns of "Veterinarian's Hospital" and the porcine send-up of
Star Trek
and
Star Wars
, "Pigs in Space." It's a tribute to Jim Henson, Frank Oz and the entire Muppet cast and crew that
The Muppet Show
holds up so well 30 years later. Never trying to be topical, its comedy is timeless (only guest star Steve Martin's "Excuuuuuse me" shtick seems dated) and its music is elegant and charming, whether being performed by a piano-playing dog or a chorus line of nine-foot hairy monsters.
Bonus Features:
The Muppets Valentine Special - A rarely-seen show from 1974 makes its DVD debut.
The Muppets on the Muppets - Behind the scenes "interviews" with Kermit, Miss Piggy, Fozzie, Rizzo the Rat and others. Their recollections of Jim Henson are not to be missed
"Keep Fishin'" Music Video - Performed by Weezer and the Muppets.
Legal Stuff: MUPPETS and The Muppet Show are trademarks of The Muppets Holding Company, LLC. All Rights Reserved.