BY THE NUMBERS
-
High School Musical
soundtrack albums sold in the USA to date:
4.1 million
-Albums sold internationally:
2.8 million
-Singles and downloads sold of
High School Musical 2
's
What Time Is It
:
267,000 in 3 weeks
-Viewers of first
HSM
broadcast Jan. 20, 2006:
7,732,000
-Viewers of HSM July 22, 2007:
5,791,000
-Average of 24 airings:
4,645,000
-Sales of
HSM
DVDs in USA/Canada:
4.2 million
-DVDs sold internationally:
3.7 million
-
HSM
U.S. concert tour gross:
$25 million
Source: Disney, Billboard Boxscore, Nielsen Soundscan, Nielsen Media Research, USA TODAY research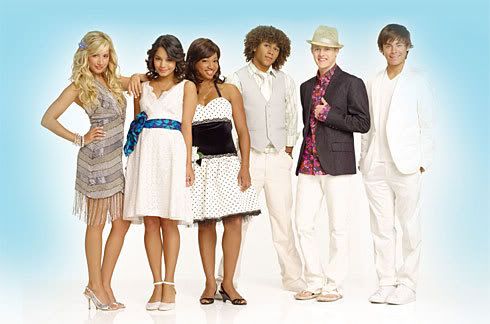 Can 'High School Musical' do it again?
By Bill Keveney
USA TODAY
August 10, 2007
What time is it?

If you're a preteen or teenager — or the parent of one — you probably know the answer.

It's seven days, a few hours and way too many seconds until the sequel to the surprise TV hit of last year, High School Musical, airs on the Disney Channel on Aug. 17. Disney has given the movie's young fans a glimpse of what's to come by releasing What Time Is It, the first music video from High School Musical 2.

If you're not sure what this is all about, here's the score: High School Musical is a pop culture and marketing phenomenon, innocent enough for the Disney Channel and cool enough to fuel a new generation's interest in musicals.

Since its premiere in January 2006, the original two-hour TV movie has been seen by roughly 160 million people, according to Disney. It has generated $500 million in sales of DVDs, soundtracks (it was the No. 1 album of any type for 2006) and other retail items. There has been a concert tour by the cast and a stage version that just opened in Chicago. An ice show premieres in New York next month. The movie also has inspired about 2,000 real-life high school musical productions, Disney says.

Now the question is: Can Disney catch lightning in a bottle again, and come up with a sequel as popular as the original?
Full article at:
http://www.usatoday.com/life/televis...terstitialskip