September 3, 2007
THURSDAY AUGUST 23, 2007 12:00 PM EDT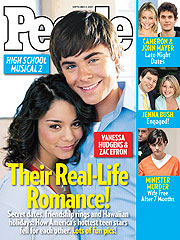 COVER
Yup, they're dating. An inside look at the under-the-radar romance
between
High School Musical'
s
Zac Efron
and
Vanessa Hudgens
High School Sweethearts
They're the hottest teen stars on the planet – and yes, their romance is for real. Everything you (and your kids!) want to know about High School Musical's Zac Efron and Vanessa Hudgens
As the 17 million fans who tuned in to the Aug. 17 premiere of High School Musical 2 know, the fictitious romance of East High students Troy and Gabriella is of the very old-fashioned sort; it took all the way through last year's blockbuster High School Musical and most of the sequel – the most watched show in cable TV history – for them to sneak in a first kiss.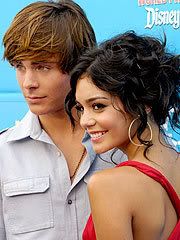 "They really are good role models," says an
HSM
source of the couple
(at the
HSM2
premiere at Disneyland on Aug. 14).
"It's not just a put-on."
Photo by: Chris Pizzello / AP
Hello, Zanessa.

While they were shooting the first High School Musical in 2005, a real-life romance quietly blossomed between teenage stars Zac Efron, 19, and Vanessa Hudgens, 18, PEOPLE reports in its latest cover story.

And while filming its sequel, HSM2 this spring, the two were still going strong. "They were sitting on each other's laps and holding hands," says a restaurant hostess who was on the scene. "It was really cute."

Efron and Hudgens, both raised in California, have kept their romance scrupulously low-profile. On the HSM2 set, "if you didn't know they were dating, you wouldn't know they were dating," says a production source. "They're really good at not being obvious."

Not that they didn't become more open as news of their relationship gradually leaked out. And why hide?

"Two people fell in love," says costar Monique Coleman. "Who cares? We're good kids."
For more on Zac & Vanessa's romance, including photos from their Hawaiian holiday and early yearbook pics, check out the latest PEOPLE, on newsstands Friday
http://www.people.com/people/magazine/0,,,00.html