October has arrived and local Halloween events are starting to take shape at locations around the southland. From smaller haunts such as "The Haunted Cellar" at The Block at Orange or "Seaside Haunt" at the Ventura County Fairgrounds to larger events at Knotts Berry and Universal Studios Hollywood, there are a multitude of ghoulish delights to partake in this Halloween season. We've assembled a list of some of the frightful things to keep you up late at night throughout this Halloween season.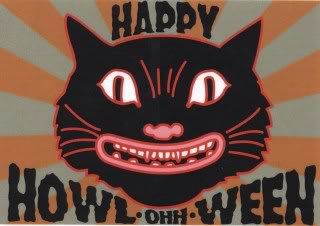 - - -
Knott's Halloween Haunt

From its humble beginnings in 1973 Knotts Berry Farm has transformed every October into Knott's Scary Farm, the first theme park to embrace Halloween and the terror that comes with it.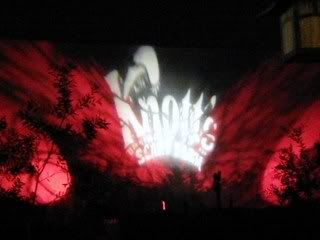 Are you afraid of the Park? You should be given the 11 mazes and two re-themed rides Knotts has lined up for their terrified guests this year. Joining returning favorites such as 13 Axe Murder Manor, The Asylum and Feary Tales are 5 all new mazes/re-themed rides as Knotts tries to hold onto the title of Best Haunted Event as designated by the 2007 Golden Ticket Awards. Featured attractions at this year's haunt are:
BEOWULF Labyrinth into Darkness
The Lake (New for 2007)
Darkness has a legacy. Every legend has a king. Every man has a demon. Paramount Pictures film, Beowulf, follows the epic poem, set in 5th century Denmark, of the great hero, Beowulf who defends King Hrothgar and his people in three great battles against the monsterous Grendal, Grendal's vengeful mother, and a fire-breathing dragon.
PYROMANIAX
Timbermountain Log Ride (New for 2007)
A fire bursts out on the mountain due to a tragic accident at the resident Moonshine Factory. It seems the locals have been using toxic waste to make their libation, and now the lethal fumes are turning everyone (including the Fire Fighters) into murderous mutants.
THE DOLL FACTORY
Wilderness Dance Hall (New for 2007)
In an old, abandoned toy factory, the Marionette Murderer, a psychotic serial killer turns his beautiful victims into life-size porcelain dolls for his personal collection. Tour his twisted museum of death and disfigurement, and hope to escape his mechanical lair.
KILLER CLOWN KOLLEGE
Behind Xcelerator (New for 2007)
Welcome Freshmen, to your initiation into Clown U and it's fearsome Fraternity.
BLACK WIDOW'S CAVERN
Mine Ride (New for 2007)
Enter the old, abandoned mine, now overrun by deadly spiders. Get caught in the web of the horrific arachnids as you travel on the old miner's path of doom.

Knotts offers several Halloween Haunt packages at the Knotts Berry Farm hotel, which include a variety of choices from an overnight stay and two tickets to Haunt - to packages that include something new for 2007, collectible Haunt Key cards. More info can be found at:
http://www.knottshotel.com/haunt/index.htm
official Knott's Halloween Haunt website
- - -

Universal Studios Hollywood Halloween Horror Nights
After disappearing from the local Haunt scene after its run in 2000, USH returned to their own brand of terror last year. This year the biggest news from Halloween Horror Night is the addition of three of the biggest names of modern horror: Jason, Freddy and Leatherface in their own themed mazes.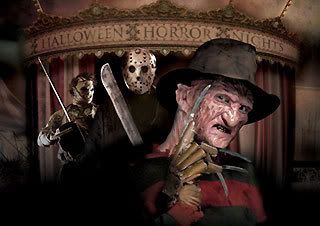 Universal makes big claims on their Horor Night web site
USH HHN website
:
There's only one event big enough to scare everyone in Los Angeles: Universal Studios Hollywood's Halloween Horror Nights, the most terrifying Halloween experience in Southern California.

If you dare, enter the worlds of Jason, Freddy and Leatherface as you encounter four all-new horrific mazes. And witness the horror as each character comes to life when you step off the Terror Tram,
and onto Universal's Backlot.

This October at Halloween Horror Nights, prepare for the most intense fear of your life - only at Universal Studios Hollywood.
Halloween Horror Nights will be terrifying guests October 5, 6, 12, 13, 19, 20, 26, 27, 28 and 31.
Universal Studios Hollywood - Halloween Horror Night website
- - -

Queen Mary's Shipwreck

2007 marks the 13th annual Halloween Terror Fest at the Queen Mary in Long Beach. Shipwreck features a variety of activities including 7 mazes, live bands and two different dance party locations. Some say the Queen Mary is a haunted ship, which makes it the perfect place for a haunt: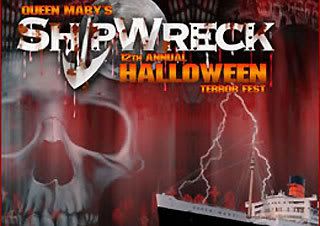 Every October the Queen Mary in Long Beach transforms into "The Most Terrifying Place On Earth" for Shipwreck, the Queen Mary's Halloween Terror Fest.
Each year Shipwreck unveils a new creation that delivers ultimate horror to the daring mortals that brave this terrifying event. Admission includes unlimited entry to all Mazes, Purgatory Park featuring Live Bands, the 3 level Dance Party in the Queen Mary's Exhibit Hall and a second Dance Party housed within the all new Dome of Doom! Plus, don't forget to visit the frightfully sexy Fright Mistress in her private lair.
Everyone knows the Queen Mary is haunted and is no stranger to haunted happenings. Throughout the years, Queen Mary employees, guests and visiting psychics have reported unexplainable events and paranormal activity aboard the ship. Visitors to Shipwreck will have the opportunity to encounter these areas as they descend deep into the bowels of the ship and navigate the closed corridors and dark hallways of this massive haunted vessel!
http://www.queenmaryshipwreck.com/
- - -

Six Flags Magic Mountain's Fright Fest
Magic Mountain's annual Fright Fest returns for more scares in 2007.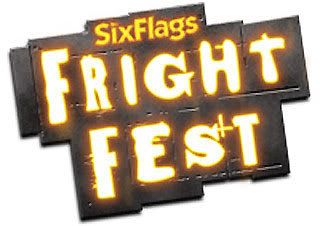 It's family by day and fright by night at our annual Halloween Fright Fest. Bring the little ones in the daytime for trick-or-treating, bobbing for apples and kid-friendly fun. Because, when the sun goes down, well, let's just say it's not for the faint of heart.

Six Flags morphs into a town of ghosts and ghouls. Roller coasters become monstrosities in motion. And scares await you at every turn.
Fright Fest is on Fridays, Saturdays, Sundays, October 6-31; plus Monday-Wednesday October 29-31.
Six Flags website
- - -


The Haunted Cellar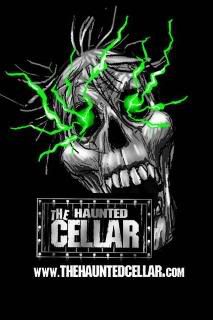 Even SoCal malls get into the action. The Block at Orange (near Disneyland) has completely redone its entry into the haunt world with an all new maze this year.
Located in suite 112. (Across from the Vans skate park.)
The Haunted Cellar's website,
http://www.thehauntedcellar.com/,
includes not only information on how you can apply to be a monster, but also the legend of the Cellar itself as well as a gallery of some of their talent including MiceChat's own Kritter!
- - -

Medieval Times Haunted Castle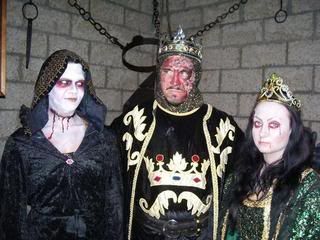 Already known for their jousting dinner shows Medieval Times on Beach Blvd. in Buena Park adds a few scares to your evening's entertainment for the Halloween season. Included with the cost of your dinner show ticket is a trip through their Haunted Castle haunt. See their
website
for a detailed back story and the official
Medieval Times website
for contact information.
- - -

Seaside Haunt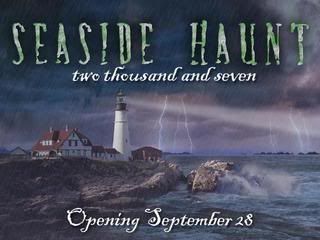 Ventura County's Seaside Haunt, located at the Ventura County Fairgrounds, boasts a very interactive website including a video presentation of their attraction's legend. Visit
http://www.seasidehaunt.com/kill.html
for more informations on this haunted house.
- - -

Spooky House

Relocated to Chatsworth, Spooky House returns for 2007 year boasting two attractions, Darkwater Asylum and Spooky House. Visit
http://spookyhouse.com/index18.htm
for more information on what you can expect starting September 28th.
- - -

Fearplex
Opening October 12, 2007 at the Fairplex in Pomona is Magler's Haunted Asylum. Fearplex include children's matinee shows on October 21, 22, 27 and 28 from noon until 4p.m. For more information visit their website at
http://fearplex.com/
- - -
The list of Halloween activities and locations is always changing. We've added just a few of the ones that we've found on our own. If you have additional haunts and/or information that you'd like to add to the list, please submit a message below!