Disney Expands Resort Business on Oceanfront Property in Hawaii
Luxury Family Resort Planned for Ko Olina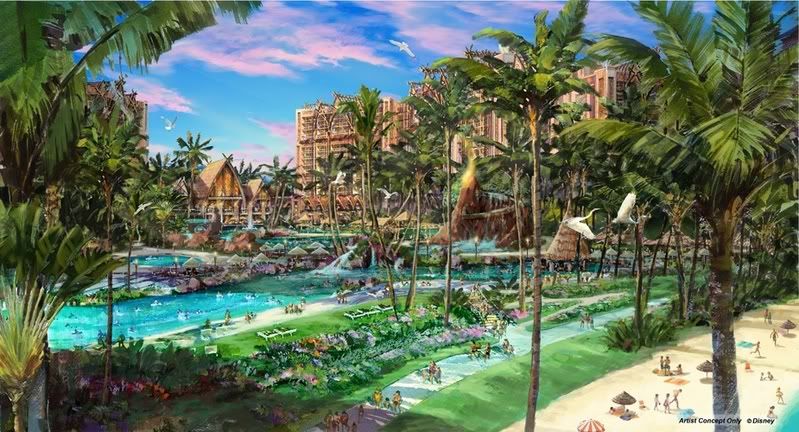 BURBANK, Calif.--(BUSINESS WIRE)--Walt Disney Parks & Resorts (NYSE: DIS) announced today that the company has finalized plans to purchase 21 acres of oceanfront property on Hawaii's island of Oahu.
The property, located on the island's western side in the picturesque Ko Olina Resort & Marina, Honolulu's premier resort destination, will be home to Disney's first mixed-use family resort outside of its theme park developments. The expansive resort, scheduled to open in 2011, will have more than 800 units including hotel rooms and villas for Disney Vacation Club, which is Disney's rapidly growing timeshare business.
"This resort hotel will give our guests another way to visit an exciting part of the world with a brand they trust," said Jay Rasulo, Chairman of Walt Disney Parks & Resorts. "In fact, Hawaii has been among our most requested Disney Vacation Club getaway locations beyond our theme parks. We are looking forward to building a special family resort that honors the cultural diversity of Hawaii and reflects the spirit of aloha that makes this location so unique."

Consistently ranked as one of the top family destinations in the world, Hawaii's natural beauty and extensive offering of family activities make it an ideal location for a Disney resort.
"Disney and Hawaii have something special in common, and that is the recognition of the importance of 'ohana,'" said Hawaii Governor Linda Lingle. "We are pleased that a company known for providing families with a way to spend quality time together is investing in Hawaii. This is a wonderful opportunity for our residents who will develop careers at the new resort as well as people from around the world, who will visit our state to stay at this exciting new destination. Disney's presence in Hawaii opens new opportunities for innovative partnerships in non-tourism-related sectors, including new media and digital technology."
Upon completion, the resort hotel is anticipated to create more than 1,000 new jobs on Oahu and opportunities to develop long-term professional careers. Disney was recently named one of the top places to launch a career by Business Week magazine and is a competitive employer.
Honolulu Mayor Mufi Hannemann said, "As a mayor who works out of Kapolei on a regular basis and who has launched numerous economic development initiatives there, I know people in West Oahu will be excited that Disney has decided to build its new resort in Ko Olina. My family and I have visited most of the Disney parks and resorts around the world, and are huge Disney fans. I believe that Disney can help our city build a livable community in Kapolei where people can live, work and raise their families. We look forward to welcoming Disney to Honolulu as our new corporate neighbor."
Ko Olina
The new resort hotel will be the latest addition to the Ko Olina development, known for its sweeping ocean views, picture-postcard white sand beaches and tranquil crystal blue lagoons.
Jeff Stone, President of The Resort Group and master developer of Ko Olina, has been working closely with Disney on the land acquisition and project. "Ko Olina means 'place of joy,' and I can't imagine a more perfect fit here than a Disney resort that will bring joy to people from around the world," Stone said. "For many years, it has been our vision to continue to expand Ko Olina as a premier vacation destination for families and business travelers, and this new Disney resort hotel is making that vision a wonderful reality."
Senate President Colleen Hanabusa said, "Disney is known for making dreams come true, and the choice of Disney to build its new resort on the leeward side of Oahu sends a positive message to our youth. This will be a place that residents will be proud to see built, and having Disney as a neighbor has the potential to inspire our youth to dream about the possibilities for the future right here in our own community."
Disney Vacation Club
Part of the Disney resort hotel in Ko Olina will be dedicated to Disney Vacation Club, a timeshare program that helps families enjoy flexibility and savings on vacations for decades to come. By becoming a member of Disney Vacation Club, families can enjoy vacations at Disney destinations worldwide as well as more than 500 other popular Member Getaways vacation locations around the globe.
Disney Vacation Club has grown to serve more than 350,000 individual members from more than 100 countries and all 50 U.S. states.
"We are delighted to create a place in Hawaii that our Disney Vacation Club members can call home," said Jim Lewis, President of Disney Vacation Club. "We know that both our existing members and new members will be thrilled about this resort in Ko Olina."
Design Work
Designs for the resort are still being finalized by Walt Disney Imagineers, who have been traveling extensively throughout Hawaii for the past several months as they garner ideas to develop a resort celebrating Hawaii's vibrant culture and rich heritage. The team is working closely with local architects, engineers and cultural advisors, conducting research and exploring the region, building on a tradition that has long been a hallmark in the creation of everything from Disney films to Disney vacation destinations.
Plans for the resort hotel are expected to be finalized and revealed in early 2008.
Disney's Hawaiian Heritage
While the announcement marks Disney's first resort hotel development in Hawaii, the company's love affair with the islands began in the company's infancy with founder Walt Disney. From the 1937 Mickey Mouse animated short "Hawaiian Holiday" to the Hawaiian setting of Disneyland's groundbreaking Enchanted Tiki Room attraction, which debuted in 1963 and established the Audio-Animatronics art form, to the inclusion of Disney's Polynesian Resort at the Walt Disney World Resort, Walt often pulled inspiration from the popular islands.
Walt Disney Pictures continued the Hawaiian legacy in 2002 with the hit animated film "Lilo & Stitch," an original story about a Hawaiian girl who tames a seemingly untamable alien by teaching the meaning of "ohana," the Hawaiian tradition of family. The Walt Disney Company also does extensive film work in Hawaii, including on-location production for the hit ABC series "Lost." The feature film "Pearl Harbor" was also shot on location in Oahu.
"We are very excited about becoming part of the Ko Olina community," Rasulo said. "Clearly, Hawaii already has a special place in our hearts and in Disney's history. Building a resort hotel in Hawaii is the next chapter in our effort to create immersive Disney experiences that allow families to reconnect and recharge in the areas of the world they most long to visit."