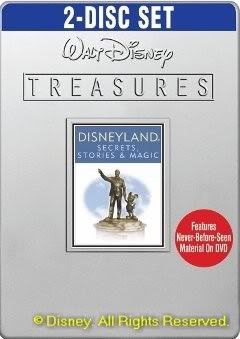 As I was watching the "
Disneyland: Secrets, Stories and Magic
" documentary on the new Walt Disney Treasures DVD of the same name, I was struck by three things:
1. For a $32.99 suggested retail price, Disney sells you a one hour and 21 minute infomercial packed with bonus features.
2. Try as it might to escape, the "new" "Disneyland Secrets" doc is hopelessly trapped in 2005—and already feels dated.
3. I think I love Tony Baxter.
Baxter, the Disney Imagineer whose credits include Big Thunder Mountain Railroad, Splash Mountain and the Finding Nemo Subs, is the best thing about this oft-delayed DVD originally scheduled for release two years ago during Disneyland's 50th Anniversary. His reminiscences (especially with the late Bruce Gordon) about long gone Disneyland attractions like the Flying Saucers and never built "lands" like Liberty Street and Edison Square are Disney geek gold, not to mention his insightful commentaries on the restored Cinemascope film "People and Places: Disneyland, USA" and the lengthy time-lapse footage of "
Building Walt's Dream: Disneyland Under Construction" (gotta love that moving gazebo on Main Street).
The remainder of the more than 5 1/2 hours of material on this 2-disc set is mostly hits, with a few annoying misses largely on the titular documentary.
Magic is to be Told, Not Sold
The "
Disneyland: Secrets, Stories and Magic
" feature opens smartly enough with comments from various Disney notables, particularly Imagineer Marty Sklar and Buzz Price, the man who wrote the original Disneyland feasibility study. They offer their recollections about how virtually everyone told Walt Disney that his idea for a theme park carved out of Anaheim orange groves was insane and would never work. Shortly thereafter we're treated to a montage of clips, mostly present day, to illustrate how the critics were wrong. We see Disneyland magic in full bloom--sweeping park panoramas, waving costumed characters, iconic ride moments and happy children, all accompanied by an energetic orchestral score--but it looks and feels just like a Year of a Million Dreams commercial or any number of Disney corporate marketing presentations. Thankfully, the doc doesn't spend an excessive amount of time on these splashy quick edits, eventually settling in on the more satisfying nostalgia and archival footage I was expecting. But the damage is done. For all the historical insight (and there's a lot, make no mistake), I had trouble getting past the idea that Disney was trying to sell me something, an unnecessary preaching to the choir that left me feeling just a bit jaded.
And before you say it, I know Walt Disney was a master salesman when it came to promoting Disneyland and its sponsors on his TV shows (just watch how hard he hawks Kodak cameras on the "Wonderful World of Color" features on Disc 2). This was a time pre-cable and pre-Internet, though. He had comparatively limited opportunity to promote his new theme park to the public, so he seized every chance he could. That he masked it so well as entertainment was a credit to his ability as a showman. The Walt Disney Company of today is not nearly as subtle.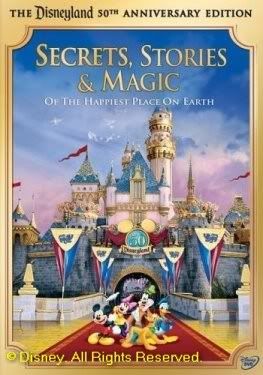 Once Upon a Time: Disney's original box art
for the planned 50th anniversary release.
On "Disneyland Secrets," Disney rolls out all its big names, past and present, to talk about Walt and his little park that could: Diane Disney Miller, Roy E. Disney, artist Herb Ryman, George Lucas, Imagineers Baxter, Gordon, Sklar, Rolly Crump, X Atencio, Tom Fitzgerald and Eric Jacobson, composer Richard Sherman, archivist Dave Smith, current and former suits Bob Iger, Jay Rasulo, Michael Eisner, Dick Cook, Bill Sullivan, Bob Matheison and Ron Miller. Want irony? The high-profile Matt Ouimet, who guided Disneyland through its miraculous 50th anniversary, appears in the feature. His low-profile successor Ed Grier does not. And don't forget Julie Andrews. She acts as de facto hostess of the documentary and is the ambassador for Disneyland's 50th anniversary celebration (just like her on-screen graphic says)
But wait, wasn't the 50th anniversary over two years ago (forget that the "celebration" lingered on much longer)? Yes it was, but most of the interview footage appears to have been taped prior to the anniversary. The average viewer may not pick up on it, but Disneyphile's will. References to Pirates of the Caribbean only mention one movie and nothing is said about the Johnny Depp additions to the ride in 2006 (Rasulo makes a brief comment about the enhancements in an obviously tacked-on segment near the end of the feature). Michael Eisner appears to be in charge in front of a desk adorned with Mickey Mouse items (didn't we run him out a while ago?). Tomorrowland looks way too 98-ish. The Finding Nemo Subs are in the planning stages. Ed Grier is still missing.
You can't expect a film like this to be up-to-the-minute current, but you also can't pass off 2-year old (or older) interviews as "new" without updating the significant events that occurred since. You're left with a brand new documentary that's already dated. This may not be a big deal years from now, but today it undermines the historical tribute "Disneyland: Secrets, Stories and Magic" is trying to be.
It's not totally without merit, however. It's still Walt. It's still the park he built. It's still the magic no other Disney park will ever quite reach. Great stories abound: Herb Ryman's 11th-hour design of the park, the Black Sunday grand opening, the Flying Saucers tribute (still the favorite ride I never rode--I would've been big enough to ride the year they tore it down), Rolly Crump's Museum of the Weird that somehow became the Haunted Mansion, Tony Baxter's proof that the hatbox ghost really existed, John Lasseter's tales of being a sweeper and a Jungle Cruise skipper. Many of these stories are etched in the collective memories of die-hard Disney fans everywhere, but how nice to have them presented all at once and available to a whole new generation of fans. Disney just needs to remember that timeless nuggets like these don't need slick marketing overkill to be appealing, just the passion of the creative people who were there and inspired them.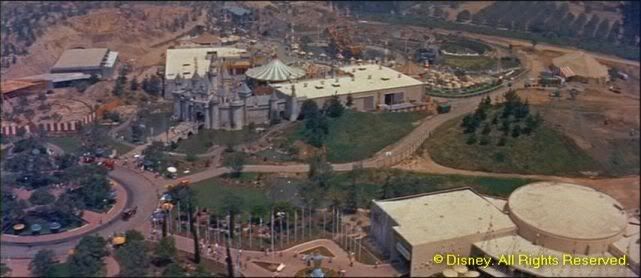 Soaring Over Disneyland, 1956: Screen shots don't do justice to this Cinamascope flyby.
Disneyland Like You've Never Seen It Before
Accompanying "Secrets" on Disc 1 is the restored 1956 documentary "People and Places: Disneyland, USA," a look at the park less than a year after its grand opening, narrated by Disney legend Winston Hibler. If you can put this one up on a big screen, do it. Originally filmed for theaters in widescreen Cinemascope, you get a view of Disneyland that shorter angle television cameras at the time could simply not capture. The opening helicopter shot that circles the entire park is stunning--Frontierland is positively huge. You'll definitely be superimposing in your mind current Disneyland attractions on the original layout--Splash Mountain on the Indian Village, the Matterhorn on the empty hill next to Fantasyland, Disney's California Adventure on . . . well, never mind.
Watching "Disneyland, USA" is a trip through the Wayback Machine to a time when men and women dressed up to go to Disneyland. The parking lot and hotel trams are tiny compared to today and drive you
right up to the park entrance
. The Richfield Autopia has no center rail. Conestoga wagons, stagecoaches and pack mules traverse the back country of Frontierland. Jungle Cruise skippers keep the jokes to a minimum. There's no Mickey, Minnie or any other original Disney character to greet guests. Stores on Main Street sell products that are actually themed to their surroundings--no mass merchandise. There's not a thrill ride to be found. We can debate (and on MiceChat we certainly do) whether what's evolved over the last 50-plus years is progress, but one thing's for sure. Today's Magic Kingdom is not your mama's (or your grandmama's) Disneyland anymore.
Don't miss watching "Disneyland, USA" with the commentary track by Leonard Maltin and Baxter. Maltin is the same congenial, non-challenging host he's always been on the Disney Treasures, but Baxter brings the fresh insight and passion of someone who was
there
and bought hook, line and sinker into Walt Disney's dream. Baxter literally grew up in the Disney organization, working in Disneyland as a teenager and eventually becoming an Imagineer mentored by Disney legends. He's a Disney historian at heart with many stories to tell and he clearly loves telling them. Listen to his commentary and you will definitely learn something about Disneyland you never knew before.
But Wait, There's More: Fun Filler and Bonus Features
The "Wonderful World of Disney Trivia Game" on Disc 1 is great fun for both serious Disney fans and newbies. Answer a question about each land in the park and you can unlock additional bonus features on "A" through "E" ticket menus. The features are enjoyable, but they're all pretty short and can be a bit of a tease. I would've liked a longer look at Walt's apartment over the firehouse and to see the inner "guts" of the original Matterhorn Bobsled track, not just the outside portions of the ride. Some of the "Advanced" trivia questions are quite challenging and obscure, so if you want to quickly advance to the bonus features, choose "Beginner."
Of course, if you're impatient, you can see the menu screens right here: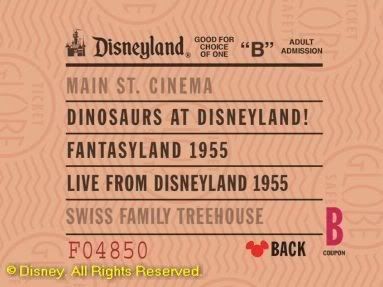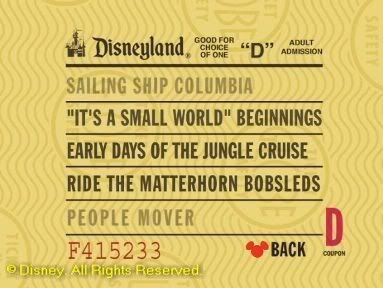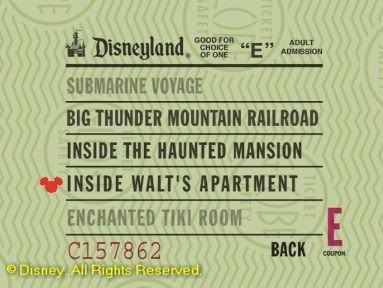 Spoiler
Feeling nostalgic for Globe Tickets? Also included in the DVD package is an authentic printed reproduction of a Disneyland 15-attraction ticket book from 1959, the year the first E-ticket ride was introduced.
Disc 2 contains three television episodes from "The Wonderful World of Color" that spotlight Disneyland at various times from the early to mid-1960s. "The Golden Horseshoe Review" is a 1962 celebration of the 10,000th performance of the legendary Frontierland show starring Betty Taylor and Wally Boag. It features made-for-TV performances by Ed Wynn, a hoot with Taylor atop his piano-bicycle, and Annette Funicello (natch), who seems a bit detached and out of place in a western dance hall setting. Also included are "Disneyland Goes to the World's Fair" and "Disneyland Around the Seasons," which redundantly provide similar information about It's a Small World, the Primeval World and Great Moments With Mr. Lincoln on the same DVD (although it's great to see the original Lincoln World's Fair show almost in its entirety). "Disneyland Around the Seasons" is notable for featuring Fantasy on Parade, complete with Santa Claus, and showing highlights from one of the early Candlelight Processions. The episode is also particularly bittersweet as it was the first "World of Color" show to be broadcast after Walt's death in December 1966.
Also on Disc 2 is "Operation Disneyland," a closed-circuit show distributed only to ABC television affiliates in 1955, documenting the enormous effort it took to air the live Disneyland grand opening broadcast "Dateline Disneyland" hosted by Art Linkletter, Bob Cummings and Ronald Reagan. "Dateline Disneyland" is part of the Wave 1 Walt Disney Treasures set
Disneyland, USA
. If you can still find it or are fortunate enough to own it, pair "Dateline Disneyland" with "Operation Disneyland" to get an even better understanding of the enormous effort it took to pull off the live broadcast using 1950s technology.
The final feature, "
Building Walt's Dream: Disneyland Under Construction," was culled from over 300 hours of time lapse footage taken while Disneyland was being built. If you've ever seen "The Walt Disney Story" or the 50th Anniversary exhibit at the Disneyland Opera House with the Sleeping Beauty Castle hyperspeed construction video, you've no doubt seen snippets from this material. The DVD features 38 minutes of footage taken from multiple vantage points in and around the park. It's best seen in small doses, even with Tony Baxter's commentary, because it does get a bit tedious after a while. Nevertheless, it's strangely fascinating to watch and remains a priceless record of Disneyland's early days.
More Disney Treasures Debuting This Week
Also included in this year's wave of Walt Disney Treasures is
The
Chronological Donald, Volume 3
, featuring 31 of Donald Duck's late shorts from 1947 to 1950 and the long-awaited (by cartoon and Disney geeks anyway)
Adventures of Oswald the Lucky Rabbit
, Disney's recently reacquired cartoon series produced by Walt before he created his legendary mouse.
Oswald
has not been available for preview yet (not to me anyway), but I hope to get a look at it very soon.
All three of these Walt Disney Treasures DVD's will be in stores on Tuesday.
So will
High School Musical 2.
Hooray. :botox: