OK, TR time...
My dad and I left our house at 7:15 in order to take the train to the ferry which took us into Manhattan. Another train ride took us a couple of blocks away from the venue.
We arrived at 9:00 just in time to see Lucky pose for his publicity shots and film. Since we did not have tickets, we waited for 30 minutes or so for the box office to open. We were first in line so there was no problem
.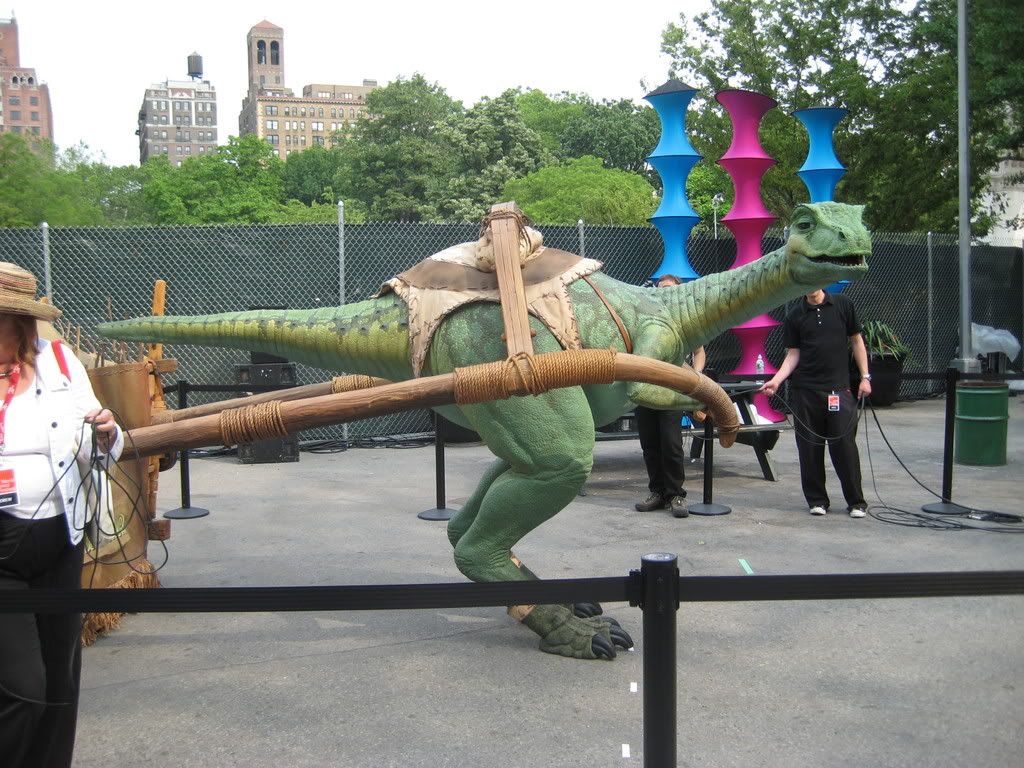 Lucky got is few minutes of fame when a video was shown of he and Scott Trowbridge searching for the theater. A few minutes later, Scott (an imagineer) entered the stage - panting -.
The first demonstration was a roller coaster one with Rick Turner. Max from the audience was called up to the stage and was situated in a gyroscope looking mechanism.
Rick manually turned and twisted the mechanism to a video of Cali Screamin' at DCA.
Max was given his very own 'barf bag' as a keepsake.
Then came Asa Kalama as part of the Special Effects demonstration. He brought out a dryer exhaust aluminum tube and began spraying the audience with dense fog. In the meantime, Scott sprayed the audience with his MasterBlaster3000!!!...a tiny water gun. The stage crew then brought out another mechanism which ejected puffs of compressed air a couple hundred feet out into the audience.
Next came Ben Schwegler, a Chemical Engineer
, who works in the fireworks division of WDI. He deals with "fate and transport" which means that he is concerned with what happens after the launch. What he does is he designs the shells. Once the shells burst, chemical reactions occur which create pretty colors, shapes, and booms.
He did a demonstration in which an alcohol was mixed with Strontium, Copper and Barium and then ignited to produce red flames, blue flames and green flames. Of course many more chemicals are used such as Aluminum, Titanium Oxide and Lithium Carbonate.
Amber Samdahl was next of the Computer Science division. She works with Artificial Intelligence. A small rectangular stage was brought out containing 14 cameras which record movement. Two audience member were called up and were told to dance around the stage. The screens on either side of the theater showed a Pirate and various other computer simulations which duplicated the volunt'ear's' every move.
Last was Anne Savage, a biologist from the Animal Kingdom. She explained what she and her colleagues at the AK do to keep species from becoming endangered. As part of the Wildlife Conservation program, she tracks wild animals using GPS transmitters attached to the animal. This includes Sea Turtles.
As a demonstration, a family of four was called to the stage and was put in to an 8ft elephant tracking device. The device normally fits around the neck of an elephant recording it's movements and sounds.
Last but not least, Crush had a Q and A segment which was cute.
The presentation was very informative.
All of the imagineers were in the lobby of the theater answering questions. I was able to speak with Ben for a few minutes. We talked about different classes and just ChemE in general since that is what I will be studying in the Fall.
The is a terrible picture of us talking. We both posed nicely for a picture but said photo was no where to be found after I had uploaded the pictures. Thanks Dad!